The Samsung 860 EVO has been around for quite some time now and it is still one of the highly regarded SATA III SSD among the PC enthusiasts. As the successor to the 850 EVO, the supposed word's bestselling SSD, the 860 EVO is equipped with Samsung's 4th-gen V-NAND technology and MJX controller which according to Samsung, offers better ECC capable of up to 51% better-sustained performance and 4 times higher Total Bytes Written (TBW) rating than its predecessor.
After the announcement of the Movement Restriction Order (MRO) here, I've been hearing rumors of PC components parts going up from various sources and decided to upgrade the 240GB SSD on my current leisure time PC to a Samsung 860 EVO 1TB which I've been considering for quite some time now. So without any further ado, let's take a look at what does the Samsung 860 EVO has to offer.
Specifications
Model
Samsung SSD 860 EVO
Form Factor
2.5 inch
Interface
SATA III (6Gbps)
NAND Flash
Samsung 3bit MLC 3D V-NAND (TLC NAND)
Controller
Samsung MJX controller
Capacities
DRAM Cache

4GB LPDDR4: 4TB
2GB LPDDR4: 2TB
1GB LPDDR4: 1TB
512MB LPDDR4: 250GB, 500GB

Sequential Read/Write Speed
Up to 550MB/s read and 520MB/s write
Random Read/Write Speed (QD32)
Max. 98K IOPS and 90K IOPS
Software
Magician Software for SSD management
Endurance (TBW)

4TB: 2400 TBW
2TB: 1200 TBW
1TB: 600 TBW
500GB: 300 TBW
250GB: 150 TBW

Device Sleep
Warranty
5 years or up to 2400 TBW
Packaging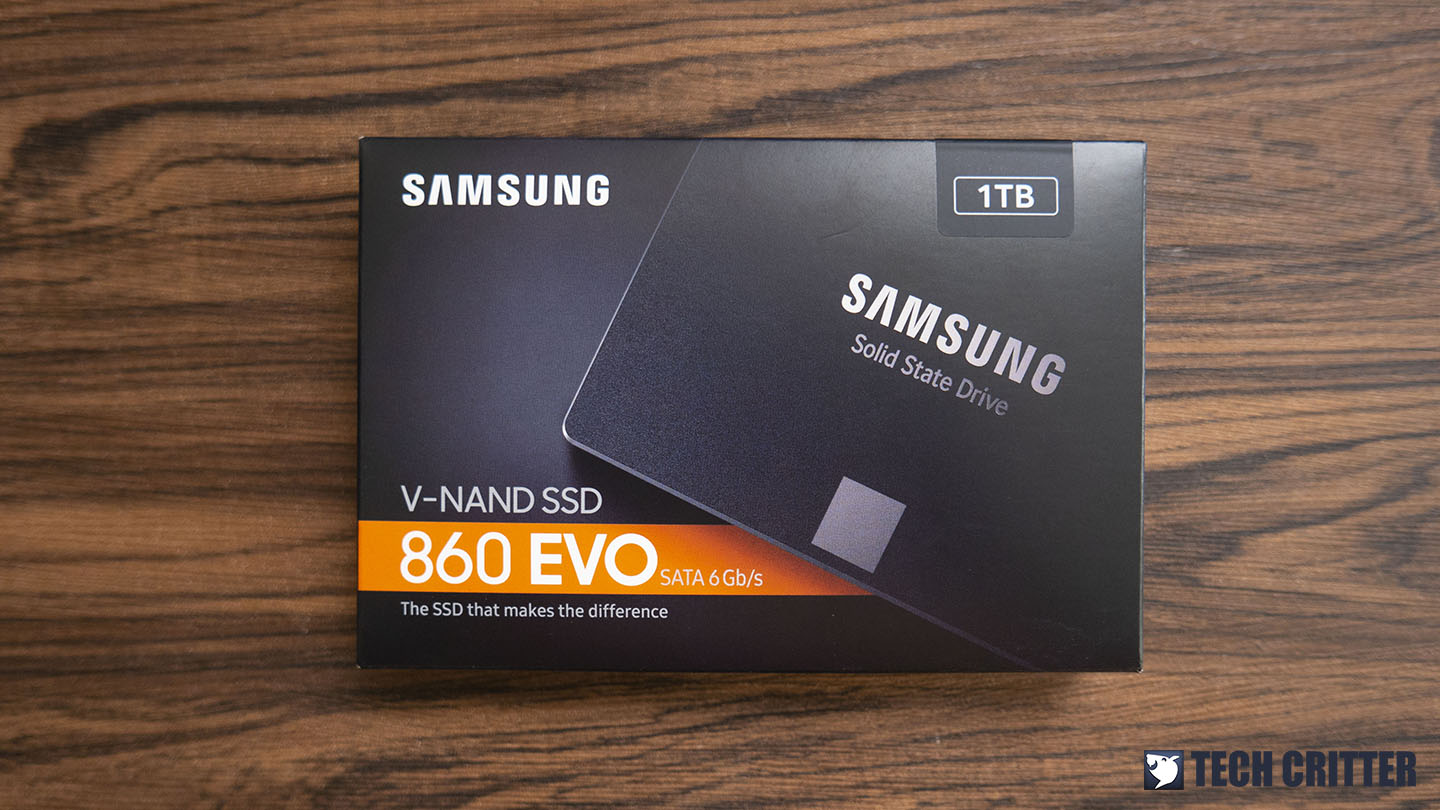 The Samsung 860 EVO SSD comes in a black-colored box this time, which is the exact opposite of what we've seen on its previous 850 EVO that comes in a white-color package. From the design of the box, we can definitely see that Samsung is basically telling you how good their product is with a rather ballsy claim of 'The SSD that makes the difference'. With the 850 EVO highly regarded as one of the best 2.5-inch SATA SSD you can get during its time, it's only natural that many would expect to see some improvement and better performance on the 860 EVO.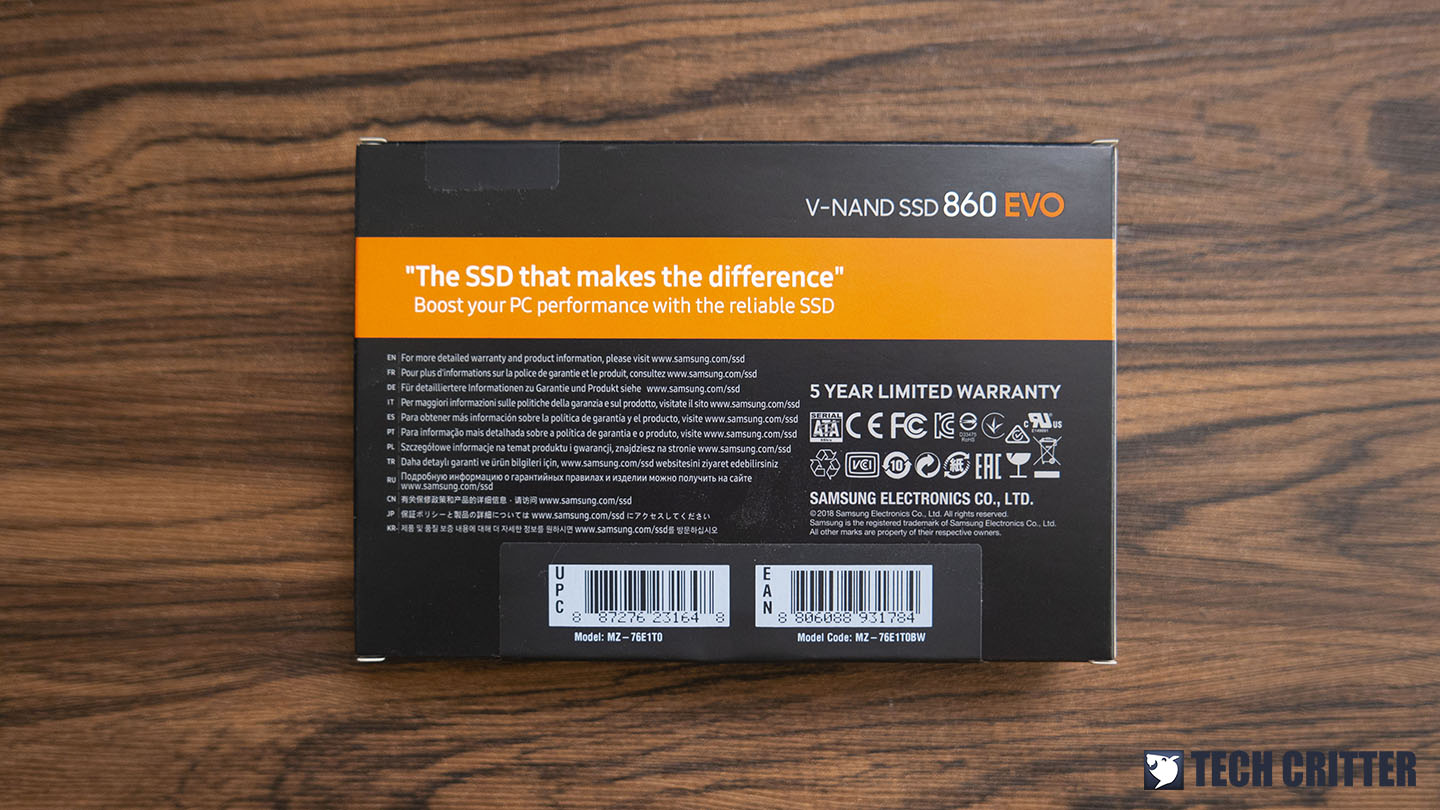 Not much information can be found at the back of the box and Samsung is basically telling you to visit their product page at www.samsung.com/ssd if you need more information on this product. The only message you'll get is probably the 5-year limited warranty and Samsung's bold claim on how good their SSD is.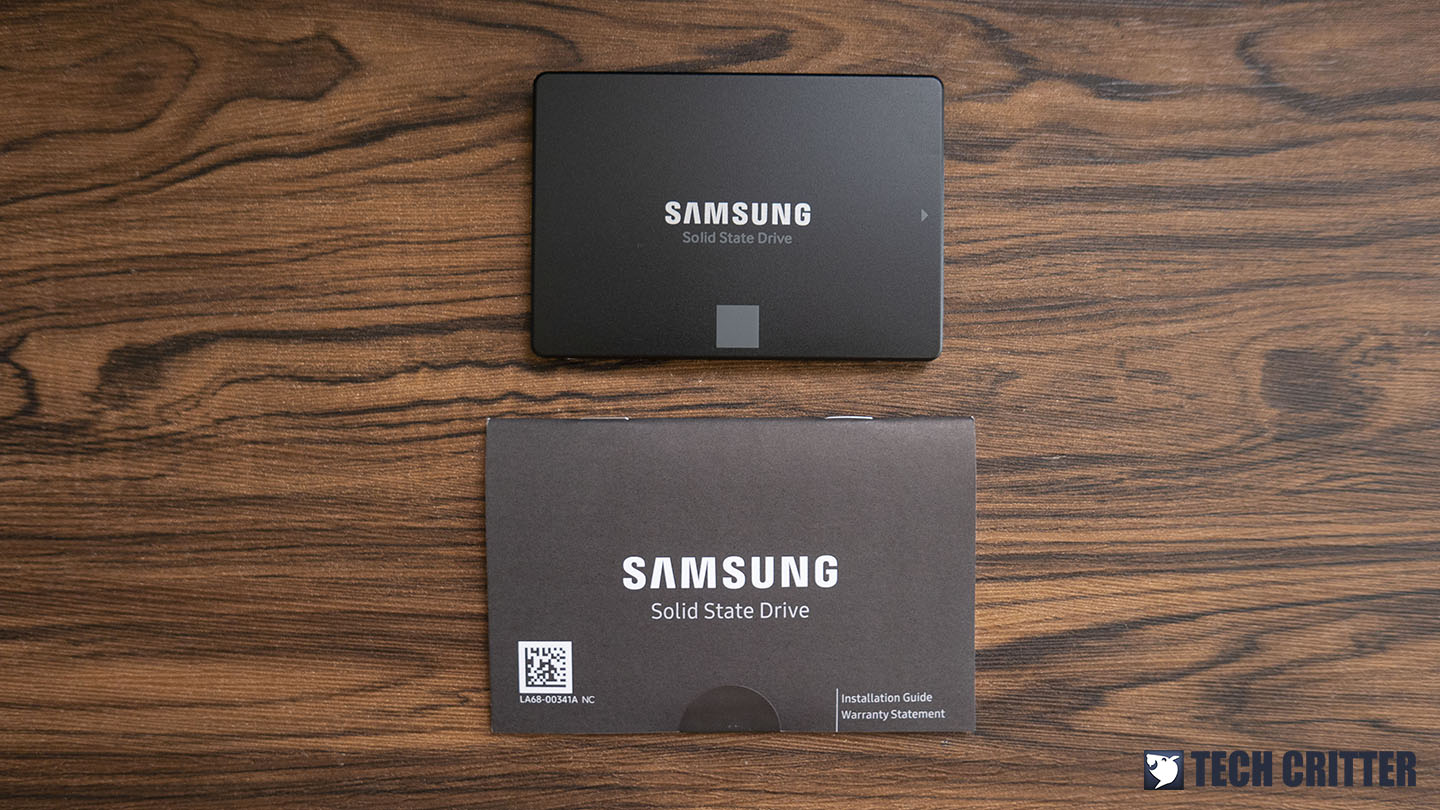 The content of the box is rather simple this time as compared to the Samsung 850 EVO. Aside from the SSD itself, the installation guide and warranty statement are now combined together into one and no more CD for the software because you can now download the required software on Samsung's minisite for tools and software.
Samsung 860 EVO SSD Overview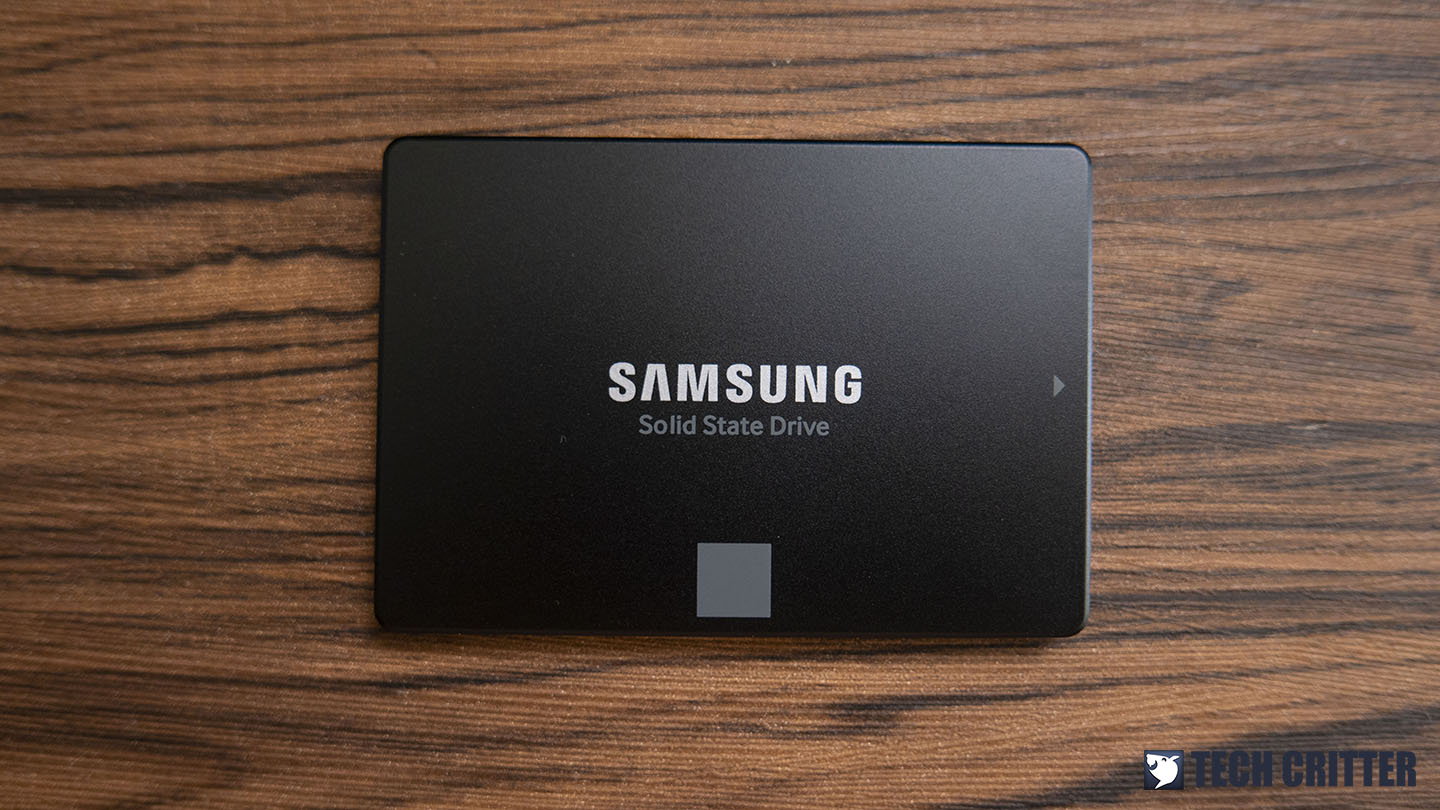 If you have previously owned a Samsung 850 EVO, the Samsung 860 EVO is almost identical to its predecessor in terms of design – black-colored Aluminum enclosure and the iconic grey-colored square. Although it feels just like another 2.5-inch SATA SSD we have in the lab, I can understand why some people are attracted by its looks, especially the grey-colored square on top of the Aluminum enclosure.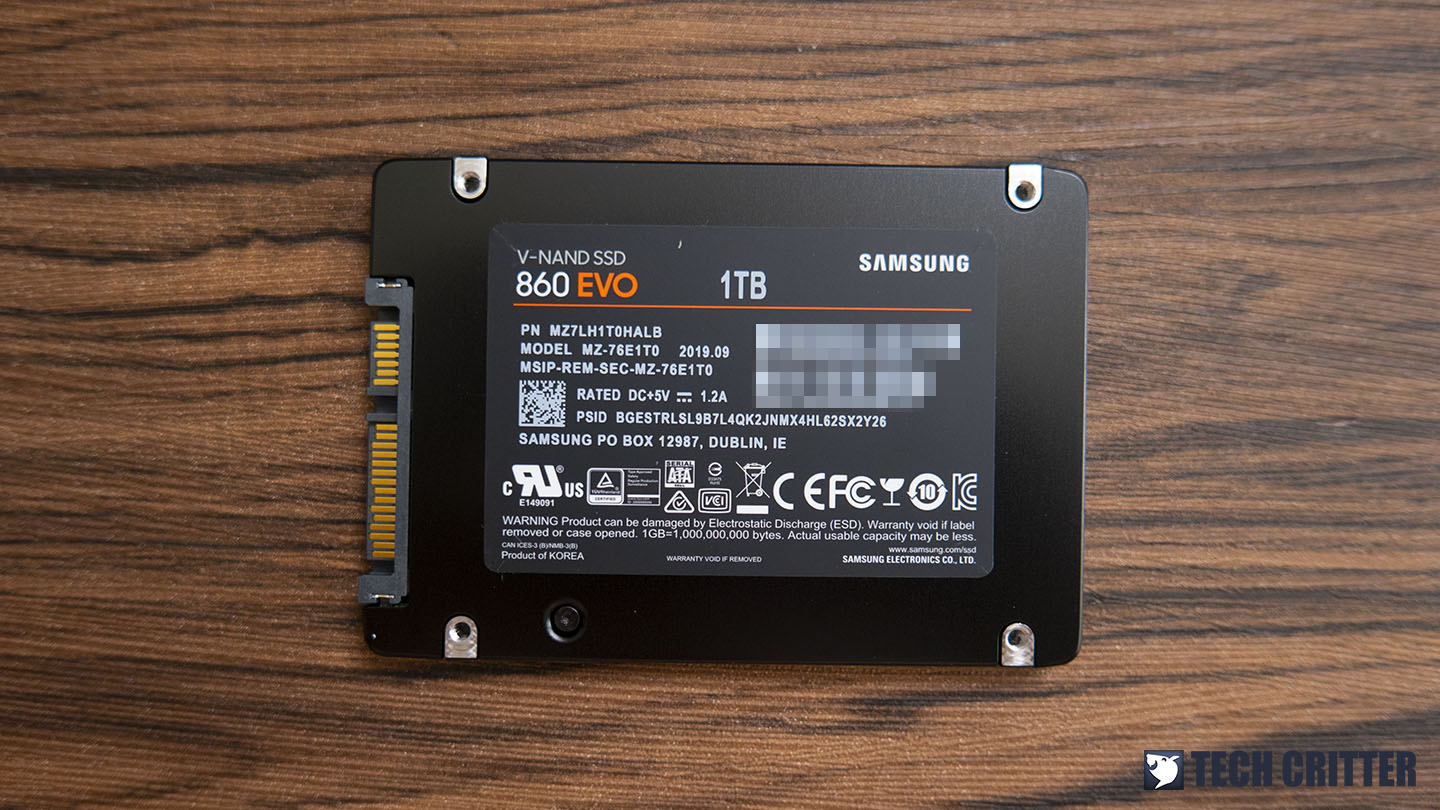 At the back of the enclosure, you'll find the label of the SSD with details such as the serial number, production date, etc. If you wish to take the SSD apart just to have a look at what's inside, you will need to remove a total of three pentalobe security screws on this side, one visible, two hidden under the label.
The SSD wasn't taken apart for this round as I don't have the right-sized tool to get the job done, but I've confirmed with several reliable sources on the parts used for the 860 EVO 1TB and this is what you should know. Under the enclosure, you'll find two 512GB Samsung 3bit MLC 3D V-NAND (actually TLC NAND) which totals up to 1TB in capacity, a Samsung MJX controller and a total of 1GB LPDDR4 DRAM cache.
Test System Setup
| | |
| --- | --- |
| CPU | Intel Core i7-8700K @5.0GHz |
| Motherboard | ASUS ROG Maximus X Apex |
| Memory | G.Skill Trident Z Royal 16GB @3600MHz |
| Graphics Card | Gigabyte GeForce GTX 1050 D5 2G |
| Power Supply | Cooler Master V1200 Platinum |
| Primary Storage | Kingston KC2000 1TB |
| Secondary Storage | WD Black 6TB |
| CPU Cooler | Thermaltake Floe Riing 360 |
| Chassis | Cooler Master Test Bench V1 |
| Operating System | Windows 10 64bit |
Synthetic Benchmarks
CrystalDiskMark
Developed by a Japanese coder that goes by the nickname Hiyohiyo, CrystalDiskMark is one of the most frequently used SSD Benchmark utility to measure SSD's read and write performance.
AS SSD Benchmark
Widely used SSD benchmarking utility that uses incompressible data to simulate the worst possible scenario for an SSD and thus giving a much lower sequential read and write speed result than what has been stated by the manufacturer as a result of the heavy workload.
ATTO Disk Benchmark
The most frequently used benchmarking utility by many manufacturers for performance specifications. As ATTO Disk Benchmark uses compressible data rather than incompressible data, it results in higher benchmark scores.
File Transfer Speed Test
For this test, we're using a collection of test data that consists of large and small files (both compressible and incompressible) ranged from 4GB to 100GB to see how well the SSD can handle these files when it's filled up to 96% of its maximum capacity. As I've noticed some anomaly in the initial test, the test setup is readjusted where files are being copied to and from Samsung 860 EVO with another PCIe Gen3 x4 SSD. With the sequential read and write performance of the PCIe Gen3 X4 SSD rated at 3480MB/s read and 3080MB/s write, we can ensure minimal performance bottleneck during the test.
The read performance isn't exactly the 550MB/s as what we've seen in the synthetic benchmark but if we compare it with other SATA SSD we have, the 500MB/s average read speed of the Samsung 860 EVO is easily one of the fastest around.
Moving on to the write performance, there's hardly any drop in the average write speed even for large files (16GB above) is involved. Write performance drop are usually very significant on DRAM-less SSD but I can say that the 1GB DRAM cache on the Samsung 860 EVO is definitely making a lot of difference here, especially for the performance that is near to 500MB/s, which is quite unusual even on SATA SSD with DRAM cache.
Final Thoughts
Looking at the performance the Samsung 860 EVO 1TB is capable of, I would say that it's easily one of the best performing SATA III SSD I've used despite being more expensive than most of the SSDs available in the market. The Samsung Magician software for the SSD is optional but it's surprisingly well designed and packed with functions that you'd normally find on better SSDs and its proprietary software.  Though I would like to point out that the 3bit MLC 3D V-NAND naming for its TLC NAND flash that is somewhat misleading, as some might think that it's actually using MLC NAND flash because of the naming.
Price-wise, the Samsung 860 EVO isn't the most affordable SATA III SSD around for sure, especially for the 1TB model which is priced at RM 759. For the amount of money I've spent on the Samsung 860 EVO 1TB, I don't really regret the purchase even though I could have opted for an NVMe SSD that runs 3~5 times faster and cost almost the same as this SSD. I would have gotten an NVMe SSD for my main PC without any doubt, but since it's actually for my leisure time PC which the motherboard doesn't even have a M.2 slot to begin with, the Samsung 860 EVO 1TB is just the right candidate for the upgrade.
It's way much costly than most SATA SSD you can find in the market, but I would still recommend the Samsung 860 EVO mainly for the well-designed software and performance it can deliver, given that you have some extra budget to spend on a better SSD for your system.
Pros
Good overall performance
Well-designed Samsung Magician software
Comes with 1GB DRAM cache
5-years warranty from Samsung
Cons
Price is on the higher side