AMD has pretty much dominated the headlines with the success of their Ryzen series desktop CPUs. The hype is real and people are expecting the same success with the Ryzen mobile CPUs. Unfortunately, the Ryzen 3000-series mobile CPU has been a huge disappointment where the R7-3750H couldn't even beat the Intel Core i5-9300H. Now, I'll leave the Ryzen 4000-series mobile CPU discussion to the end of this review. Let's just pretend AMD has not released them, so the alternative way to enjoy that raw Ryzen power is to put a desktop-class CPU into a laptop chassis. 
Before your start to point out how Linus Tech Tips has reviewed a laptop that is practically identical with this one, yes this is Clevo's design and it is no longer surprise that brands are engaging ODMs in product manufacturing. Nonetheless, the review sample we received from LEVEL51 comes with the following specs:
LEVEL51 Forge 15R Specifications
LEVEL51 Forge 15R
CPU
AMD Ryzen 5 3600
GPU
NVIDIA GeForce RTX 2060
RAM
16GB DDR4-3200
Storage
512GB NVMe PCIe 3.0 x4 SD
Display
15.6″ 1080p 144Hz IPS
Battery
62Wh
Dimensions & Weight
361 x 258 x 32.5 mm
2.7kg
Price

RM4999
Video Review
Design
The LEVEL51 Forge 15R is designed to take in a desktop-class AMD CPU. Even though the maximum TDP has been limited by the BIOS to 65W, that is still a lot of heat to take care of. The chassis is indeed thick but at 32.5mm, it is still reasonable and 2.7kg is way lighter than what I initially expected it to be. There isn't much to brag about the plain chassis design. It's simple and clean.
I like how the Forge 15R has plenty of vents for cool air intake. Still, you might want to slightly prop up the laptop to allow better airflow under the chassis.
Display & Audio
The 15.6-inch display has a matte finish to reduce reflection and glare. The panel has a full HD resolution and supports a 144Hz refresh rate. The colour accuracy should just be good enough for your gaming needs instead of highly demanding creative projects. The 6.4ms Motion Picture Response Time (MPRT) is decent enough consider the price you're paying for this laptop.
When it comes to the audio entertainment, I'm kinda disappointed with the speaker configuration on this laptop. The placement of the speaker basically killed the whole audio experience. It is facing directly downwards to the table surface and there's no room for the sound to "escape". It sounds ridiculously dull and soft. Seriously, I've heard better sounding audio coming from an array of smaller speaker units found in the ROG Zephyrus G14.
Ports & Connectivity
Whoever decided on the port options on this laptop, I don't even know what he's smoking. First, the good decisions, we have USB 3.2 Gen2 ports for both Type-A and Type-C options. It is even ridiculous that we're getting three different ports for external monitors. Then the joker of them all – that single USB 2.0 Type-A port. It's 2020 and I don't understand why some manufacturer still holding on to USB 2.0. Oh and that microSD card reader, I mean, does a standard SD card reader that expensive? or there's not enough space?
Gigabit Ethernet
2x USB 3.2 Gen2 (Type-A)
MicroSD card reader
3.5mm mic & headphone jack
USB 2.0 (Type-A)
USB 3.2 Gen2 (Type C) with DisplayPort 1.4
HDMI
Mini DisplayPort 1.4
Charging port
Keyboard & Trackpad
In order to fit in the number pad, they have to somehow slightly reduce all the key surface. It is a common practice by some laptop keyboard manufacturers and that makes the transition from one another laptop a kind of hassle. It is actually usable as the typing experience is relatively standard with a decent key travel distance.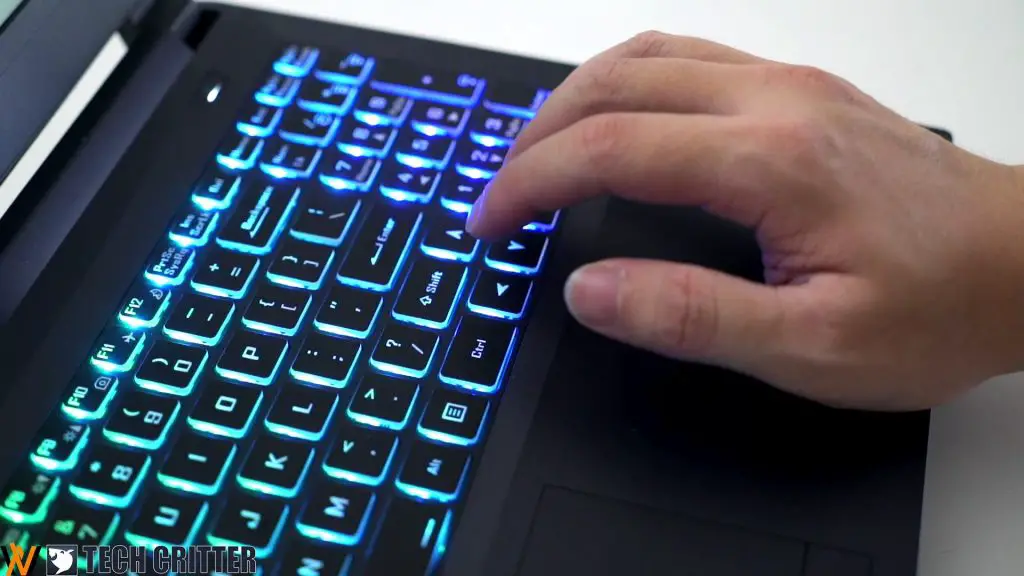 I personally don't like how the arrow cluster is blended into the rest of the keyboard, prone to pressing the wrong keys.
RGB fans will be delighted with the per-key RGB backlit. Not that RGB will improve your gameplay experience. Meanwhile, the trackpad is for sure usable especially with the Windows Precision Touchpad driver. Just that my biggest complaint will be the awful click mechanism that comes with it. There's no travel and it feels mushy to press. Since you're carrying this huge laptop alongside with it's power-brick, a gaming mouse will solve the problem by avoiding that terrible trackpad.
Performance
Synthetic Benchmark
The BIOS has limited a 65W TDP for the CPU. Even if you slot in a 3950X, yes you will get the benefit of the 16-core 32-thread's power but not at the maximum level. That is to prevent overheating and subsequently damaging the rest of the computer. Do take that into the consideration when choosing the next CPU to upgrade.
It is a shame that the Ryzen 5 3600 actually losing out against the Ryzen 7 4800H mobile CPU. Multi-core performance is understandable as the R5-3600 only has 6-cores while the R7-4800H has 8-cores. Just that the single-core performance from the R7-4800H is so remarkable that it makes us wonder is it worth getting AMD Ryzen 3000-series desktop CPU when the 4000-series' announcement is just around the corner.
Storage Benchmark
The Samsung PM981a drive was initially run at PCIe 2.0×4 speed even though both the motherboard and the drive is capable of supporting PCIe 3.0×4 speed. Obviously we have to troubleshoot for the issue.
Since we have two M.2 slots, a simple slot-swapping is the easiest test we could do. Guess what? we're getting a full PCIe 3.0×4 speed. For some reason, the first M.2 slot refuses to run at full speed even though we're not running two sticks of NVMe SSDs. Besides, it is more common for the B450 chipset to drop from 4 lanes to 2 lanes instead an outright protocol downgrade. We can only guess it is either a faulty slot or factory pre-configured the slot to run with B450's PCIe 2.0 lanes.
Gaming Benchmark
The NVIDIA RTX 2060 is performing remarkably well on this laptop. Given with a better cooling solution, we're getting lower GPU temps and higher FPS compared to the TUF Gaming A15.
Thermals
Speaking of thermals, we're getting pretty good numbers even though sometimes the CPU average temp hovers at over 90 degrees Celsius. That goes without saying, the fan noise is equivalent to a jet engine.
Upgradability
The Forge 15R is probably one of the easiest laptop for users to upgrade. First of all, the bottom chassis is secured by just five screws and the bottom lid slides off instead of having the need to pry open.
The key highlight is no other than the ability to upgrade the CPU as it uses the same AM4 socket found on desktop motherboards. Just that you need to take extra precaution when removing the heatsink as it is secured down by a couple of different screws.
The dual SODIMM slots are easily accessible and will support up to DDR4-3200 RAM modules.
Two M.2 slots available to take in 2280 SSDs. The top one will support both NVMe & SATA while the other one only recognizes NVMe drives.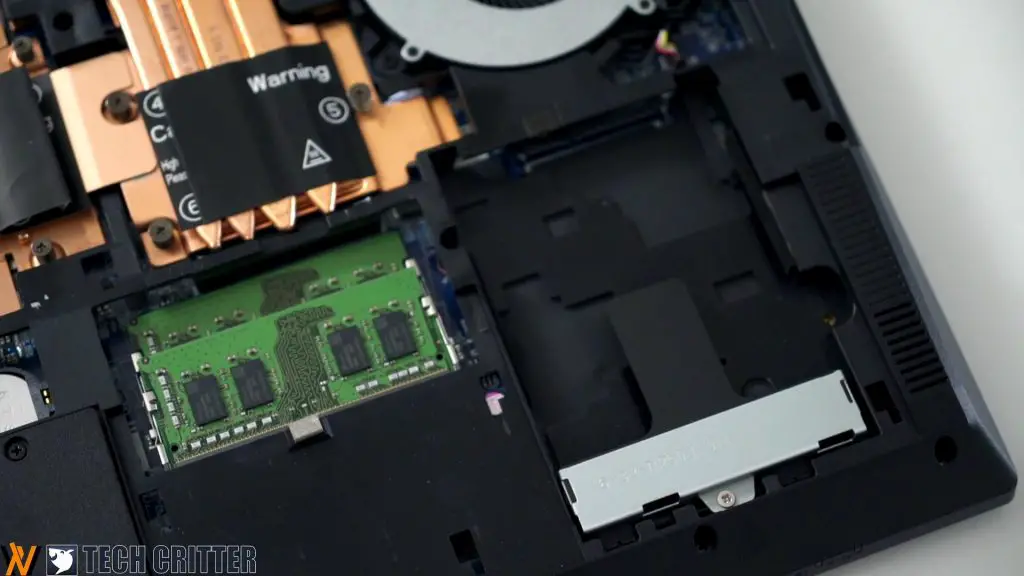 There is even an extra 2.5-inch SATA drive bay.
Battery Life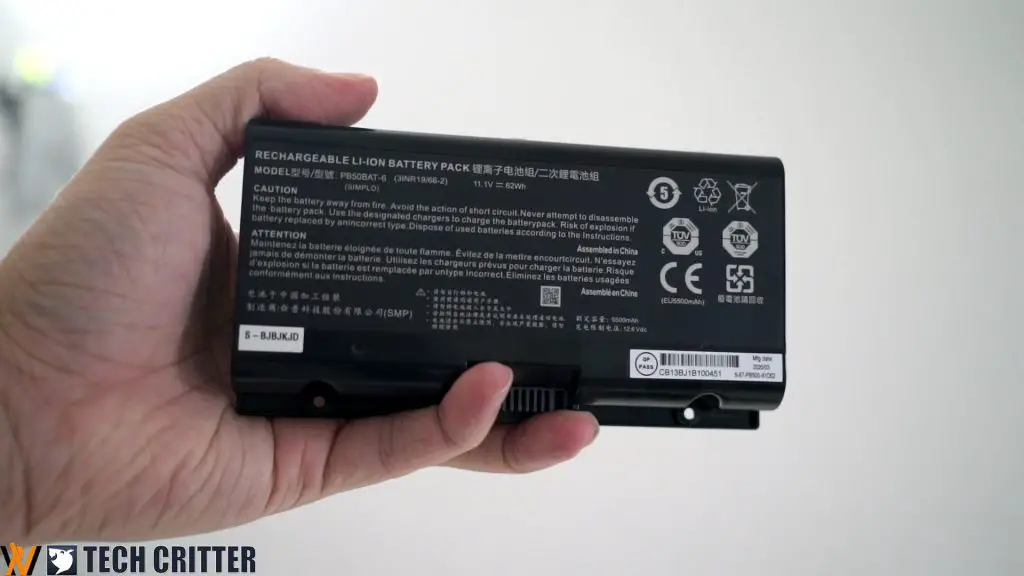 A single full charge of the 62Wh battery can roughly give you 90 minutes of run time. That is with regular usage such as Google Chrome web browsing and YouTube video streaming. Truth be told, the battery comes with this laptop only serve as an UPS.
Final Words
Our review sample retails at the price of RM4,999. The closest competition you can get at this price is the Acer Predator Helios 300 with Intel Core i5-9300H, RTX 2060, 8GB RAM and 512GB SSD. Honestly, we can't compare them because the LEVEL51 Forge 15R sacrifices the portability and battery life for that extra performance.
If we just shift our focus to the recently announced ILLEGEAR ARES V, well, what can I say, they are basically the same chassis made by Clevo. For some reason, the same configuration ILLEGEAR ARES V is about RM500 more expensive than the LEVEL51 Forge 15R.
If you're looking for a desktop replacement that you can bring around may be due to your work nature, the LEVEL51 Forge 15R is a good choice considering that other than the GPU, you can pretty much upgrade everything else. Not to mention if there's a BIOS update for the chipset, this laptop *might* be able to support the upcoming AMD Ryzen 4000-series desktop CPU.
Pros
Surprisingly lightweight
Decent choice of IO
Good display
Per-key RGB keyboard
Good performance
Good cooling performance
Cons
USB 2.0 still exist
microSD card reader instead of full-size SD card reader
Poor audio experience
Easy access to the internals
Upgradable desktop-class AMD CPU