The KLEVV CRAS C720 is ESSENCORE's latest series of PCIe Gen3 NVMe SSD. While the consumer PC industry has started moving into the bleeding edge PCIe Gen4 SSD, the fact is, most of the consumers in the market are still looking at the PCIe Gen3 or even SATA SSDs because of the better price and performance ratio. We're going to leave that topic for another day as we focus on the KLEVV CRASS C720 performance.
Video Review
KLEVV CRAS C720 Specs
Host Interface
NVMe PCIe Gen3x4
Form Factor
M.2 2280
Capacity
256GB, 512GB, 1TB, 2TB
Controller
Phison
Flash
strictly-selected 3D TLC NAND Flash
Dimension (LxWxH)
80 x 22 x 2.15 mm
Weight
8g
Warranty
5 Year Limited Warranty
READ / WRITE
256GB
512GB
1TB
2TB
Sequential Read (MB/s)
3,200MB/s
3,400MB/s
3,400MB/s
3,400MB/s
Sequential Write (MB/s)
1,300MB/s
2,400MB/s
3,100MB/s
3,100MB/s
TBW (TeraByte Written)
170TBW
280TBW
565TBW
1,550TBW
The KLEVV CRAS C720 comes in simple packaging.
The product feature description and performance table are well presented at the back.
What you get out of the box is just the SSD on a transparent plastic tray. There's no additional heatsink or thermal pads included as most of the modern motherboards nowadays comes with a pre-applied thermal pad and heat spreader.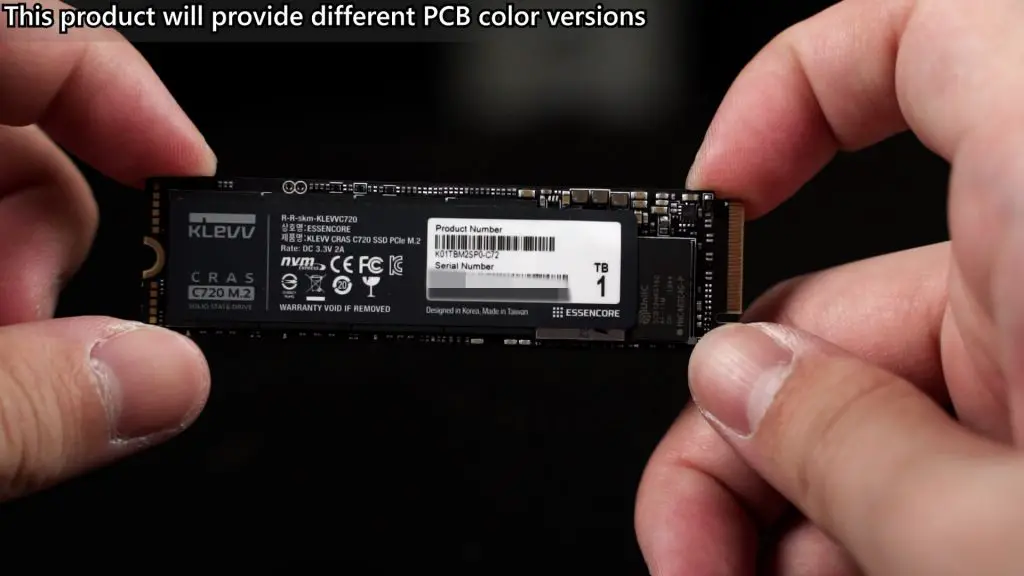 The C720 combines the latest revision of the Phison E12S controller with the 3D TLC NAND flash. While our review sample comes with a 1TB storage capacity, you can also opt for 256GB, 512GB and even 2TB capacity depending on your local availability. The 2TB variant will not be available in Malaysia.
The 1TB variant has 4x 256GB NAND chips soldered on the top side of the PCB, leaving the other side empty.
Performance
Crystal Disk Mark
ATTO Disk Benchmark
AS SSD Benchmark
Copy to SSD
Temperature
Conclusion
All in all, the CRAS C720 has been performing just as good as how KLEVV claims it to be. Granted the temperature might get a bit toasty if used without any heatsink/heat spreader at load, for normal day to day usage, it is unlikely to push the SSD to that extent but since most of the modern motherboard nowadays already comes with a pre-applied thermal pad and heatsink, high temperature shouldn't be your concern.
If you're in the market looking for a cost-effective yet high-performance NVMe SSD, The C720 is an excellent choice since you don't need to pay extra for that bleeding edge PCIe Gen 4 technology while still enjoy high storage capacity and speed.
Malaysia SRP
256GB – RM229
512GB – RM359
1TB – RM689
2TB – not available
Where to buy (Affiliate links)
Distributor info
Sun Cycle Sdn Bhd
website: https://www.suncycle.com.my/