HP Malaysia has just officially launched the brand new HP Spectre x360 series of high-performance lifestyle laptops last week. While we didn't get to try out the 14-inch variant but what we have in the 13-inch version which is equally impressive at a smaller footprint.
After spending the past two weeks working from home with this laptop, I'll be sharing with you my personal experience and what you can expect from this laptop.
Video Review
Build Quality and Design
When I first took the laptop of out its packaging sleeve, I am immediately impressed by the build quality. The CNC aluminium chassis is robust and feels dense in the hands. The sandblasted surface finish on top of the silver colour scheme is resistive to fingerprints. That means you don't have to get annoyed by all the visible oily fingerprints and trails especially on those aluminium laptops with a brushed finish.
The chamfered edges throughout the chassis add a different personality to the overall look and feel. Not to mention the unique 45-degree angled top edge design is probably going to cost them quite a bit. Was it necessary? Not in terms of usability but in terms of design, yes, it sure does leave a special impression.
Even the USB-A port has to use this kind of spring-loaded RJ45-alike connector since the design of the chassis is way too thin at the edge.
Heck, even the charger cable is premium.
3.5mm audio combo jack
USB-A
Micro SD card reader
webcam kill-switch
2x Thunderbolt 4
As a convertible laptop, users have 4 different ways to use the Spectre x360. Traditional clamshell mode, cinema mode, tent mode and tablet mode. The rubber spacers on the keyboard panel prevent the screen from scratching the keyboard as well as serving as the feet when using cinema mode on a flat surface.
The Spectre x360 maximised the keyboard surface usage. While it may seem cramp at first, the actual typing experience is satisfactory. The keys are well spaced apart and have good travel distance. In other words, you don't need to sacrifice typing experience to build a reasonably thin laptop.
One thing I don't like about this keyboard is the lack of short cut to enable/disable the function action keys.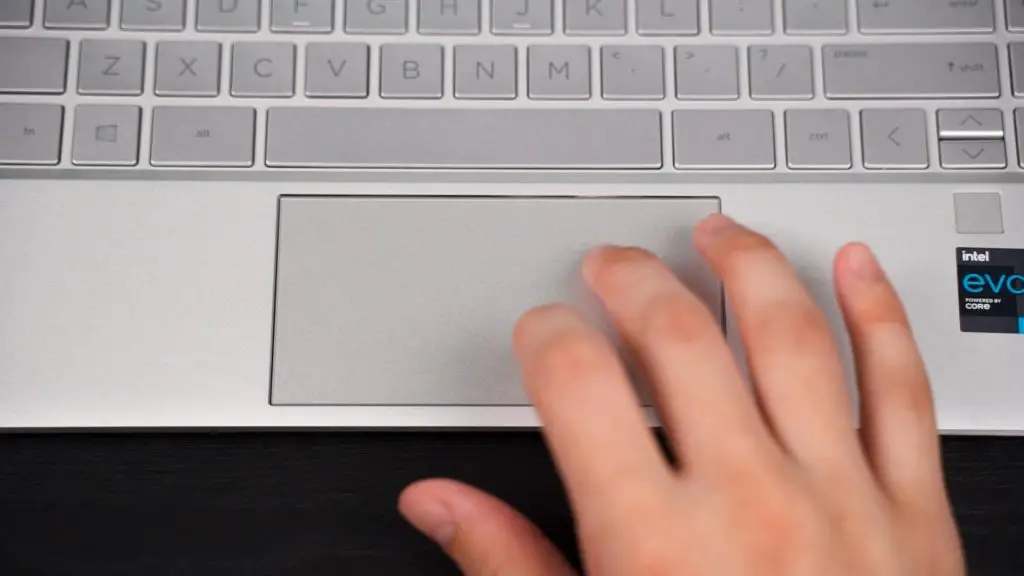 Given that this laptop has a 16:9 screen aspect ratio, there isn't much room for the trackpad, so HP went along with a wide trackpad. The glass tracking surface combined with Windows Precision Trackpad driver provides an excellent user experience. Worth mentioning is that the palm rejection is working really well for a Windows laptop.
The fingerprint scanner under the arrow cluster is supported by Windows Hello sign-in option. Unfortunately, that's pretty much what' you'll be getting since the webcam is not compatible.
I know only a small portion of the users are actually using Windows Hello Face but still, it is quite a bummer since this is a premium laptop.
Display
Moving on, let's talk about the display. HP has opted for an OLED panel manufactured by AUO. At first, I didn't notice it was an OLED panel because usually, OLED will have a higher brightness level. Then again, the deep black level and vivid colours eventually give it away.
After verifying it with our colourimeter, it shows this panel has about 97% of sRGB colour gamut coverage. On top of that, the glass surface also contributes to the overall sharp images and deep colours. Of course, another reason why they use glass is that this laptop is a convertible.
I must give credits to HP for this hinge because it doesn't wobble that much even when you're using the touch screen in laptop mode.
Performance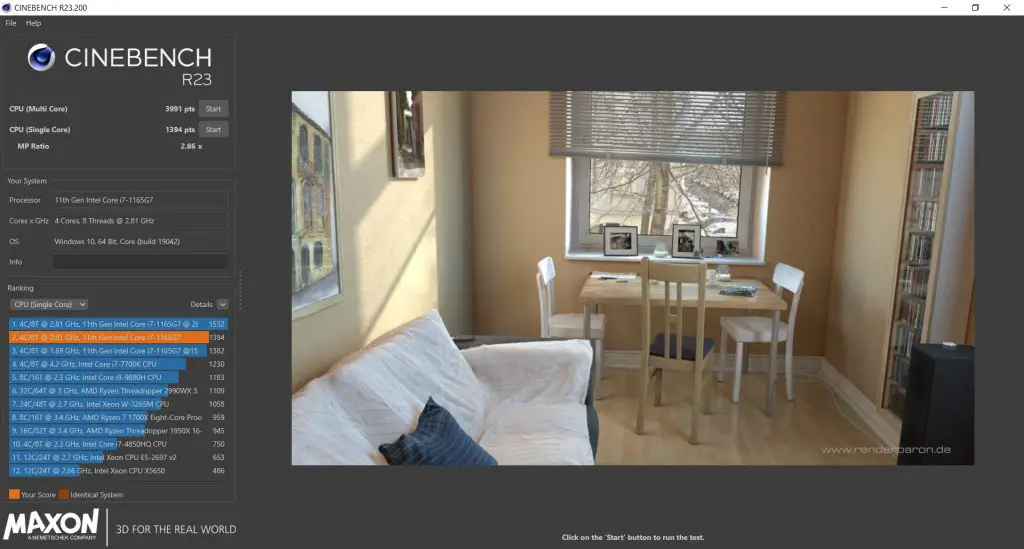 Once again, just like how our previous review on the laptops that uses the Intel Tiger Lake chip, the HP Spectre x360 is equally impressive when it comes to the performance they could pack in this small chassis. The one we have in our labs come packed with the following specs:
Intel Core i7-1165G7
Intel Iris Xe Graphics
16GB RAM
1TB NVMe SSD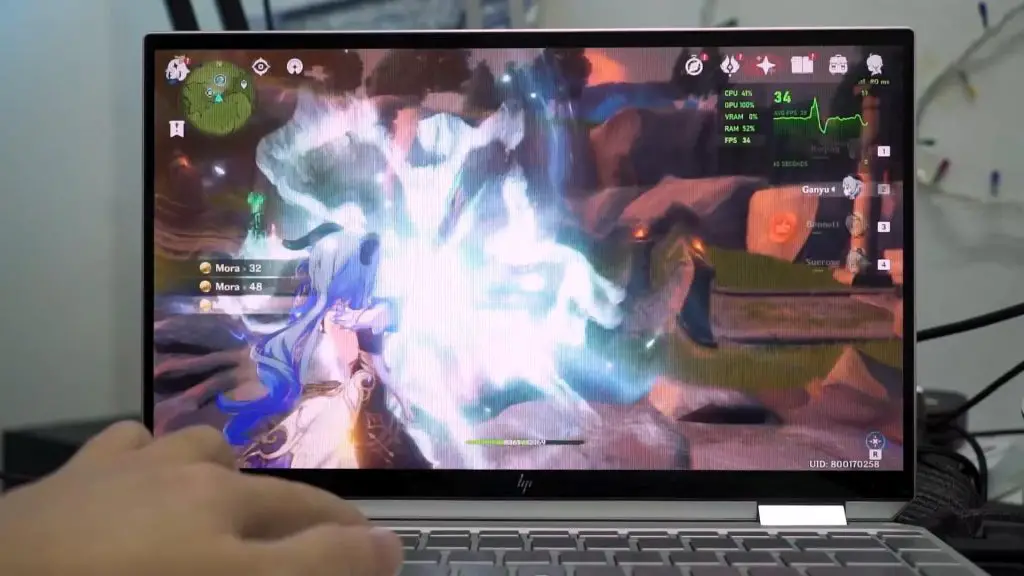 What makes the 11th Gen Intel Core CPU stands out from its 10th gen counterpart is the improved iGPU performance. Now you can even do some light gaming on this kind of thin and light laptops. Genshin Impact at maximum graphical settings can achieve somewhere between 30 to 40 fps.
You can even play older triple-A title such as the GTA V on this laptop at Normal graphical settings. We're getting a very good framerates at about 50-60 fps.
Battery Life
A single full charge of the built-in 60Wh battery can last for about 9 to 10 hours of continuous usage. Our use case scenario is heavily biased
While the official claim it can achieve 17 hours or so battery life, that is actually achievable if you lower the screen brightness and use the laptop conservatively.
Conclusion
At the end of the day, I can really recommend this to those who are looking for a premium built 2-in-1 laptop for casual and entertainment use. The display is an excellent choice for movies and even casual gaming. On top of that, the 16:9 aspect ratio will not leave any black bars on the screen when viewing the same aspect ratio videos or even those 2:1 videos. While I can't really say if you should go for the 13 or 14 variant, because that depends entirely on your personal preference. Personally, since I'm using my laptop mostly for work purposes, I would pick the 14-inch for the 16:10 aspect ratio. Then again, those who are OCD with the black bars will definitely hate the extra blank space at the top and bottom when watching movies.
Our 13-inch Core i7 variant comes at the official price tag of RM6,899 which is about RM200 less than the 14-inch variant. In this case, for productivity purposes, I would suggest you get the 14-inch Core i7 version, while for entertainment & general purposes, get the 13-inch Core i5 variant which comes at a much lower price tag of RM5,699.