Since CES 2021, there are a lot of new laptops in the market that is packed with the new RTX 30-series or RTX 3000 series of laptop GPUs. At the time of recording, we have the RTX 3080, the RTX 3070, and also the RTX 3060. But, these 3 laptop GPUs can operate at a wide range of wattages – and I have to emphasize that this is not new. The RTX 20-series of laptop GPUs are already doing this – but they have the distinction of Max-P (a.k.a. "standard") and Max-Q.
There are pros and cons to doing this – but ultimately, there is a lot of confusion caused by this change – so let's talk about them here today.
Firstly, we have to talk about some features included with the RTX 30-series Laptop GPUs. Within NVIDIA's own website for the RTX 30-series Laptop GPUs, it boasts two new features – Dynamic Boost 2.0 and also Whisper Mode 2.0. If we look into the details, then this configurable wattage for its GPUs makes sense.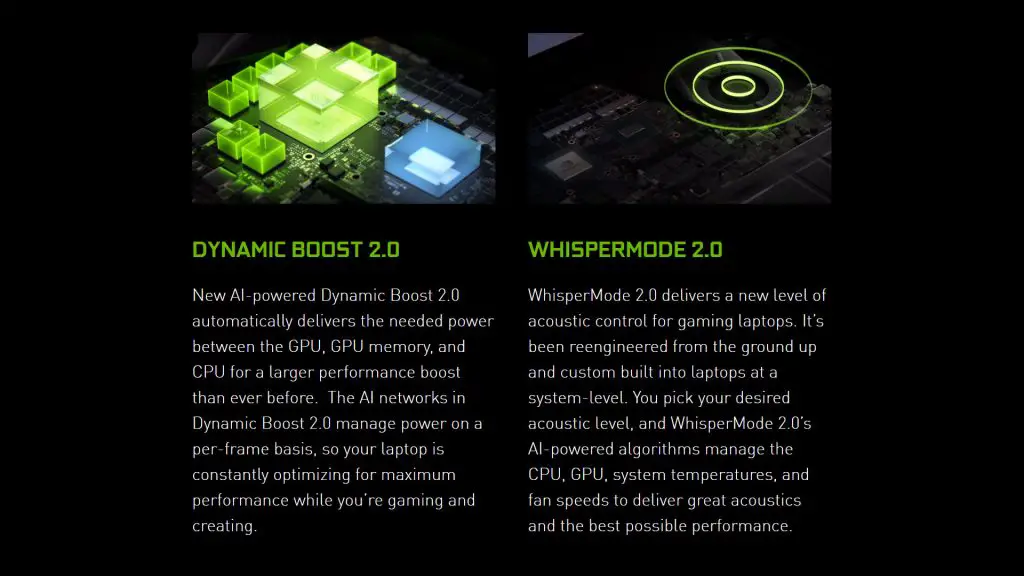 Let's take a hypothetical laptop with 150W power budget whereby the CPU take 50W and the GPU takes 100W.
Dynamic Boost 2.0 works by taking a power budget that's available and splitting it between both CPU and GPU. But because some games require more power from both GPU and GPU memory but less CPU power, then the Dynamic Boost 2.0 will do its magic and supply more power to the GPU part instead.
Hence that's why in the case of the Zephyrus Duo 15 SE GX551Q, we get 130W maximum – that's the highest achievable wattage through Dynamic Boost 2.0.
The reverse also works as well, whereby some of the GPU's power is rerouted to the CPU if the task requires more CPU power.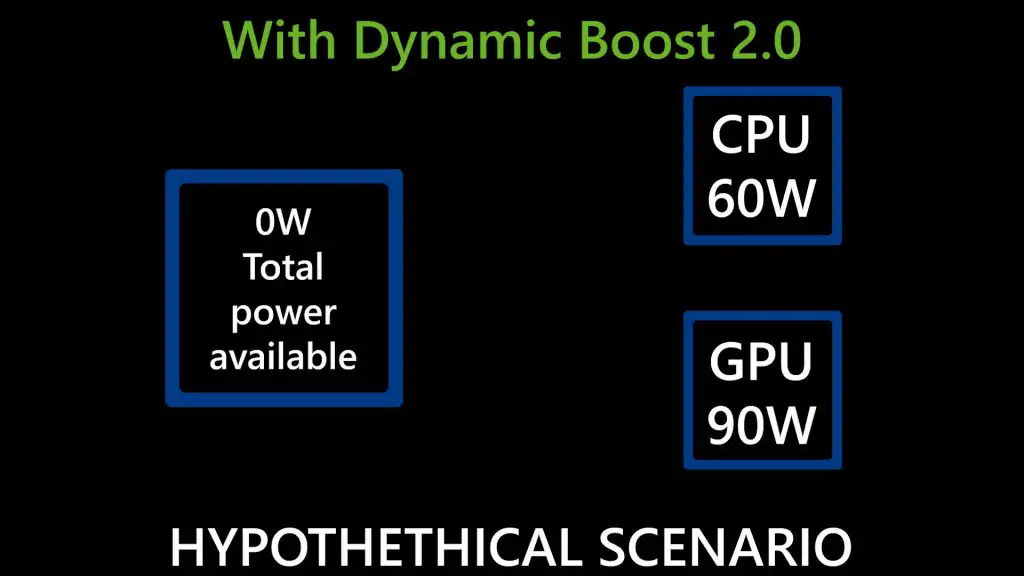 As for WhisperMode 2.0, it's pretty similar to Dynamic Boost 2.0 but in a different perspective. We pick the acoustic level and then it'll automatically optimize the CPU and GPU performance according to that acoustic level while maintaining a certain level of thermal output.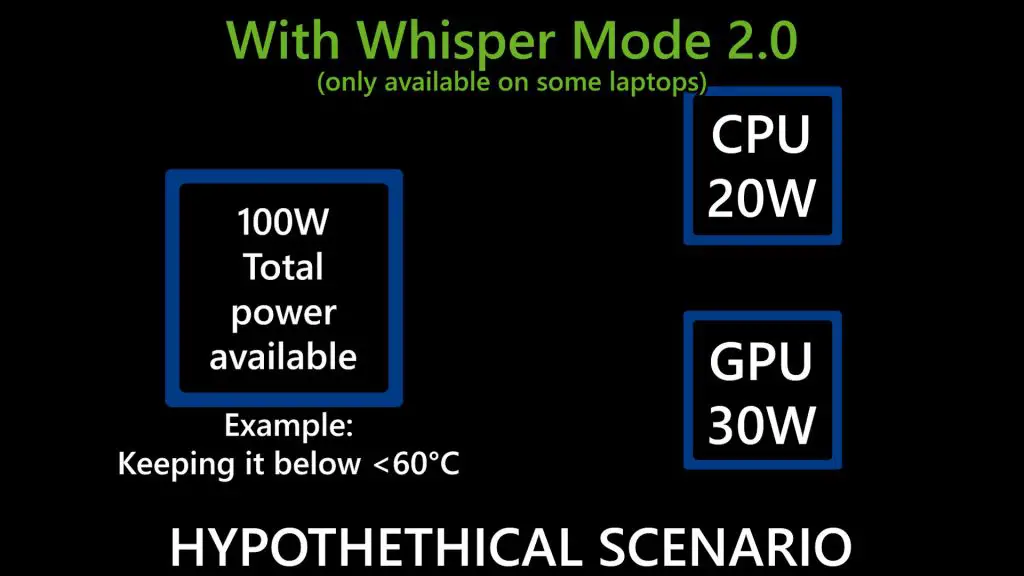 But what's confusing here is that on NVIDIA's spec sheet, the operating wattage can vary between a supremely huge range. That means the Zephyrus Duo 15 SE GX551Q with its RTX 3080 Laptop can typically run at 115W and can boost up to 130W, but maybe some other thin-and-light machines that also have an RTX 3080 might only run at 80W. And obviously, the graphical performance between both of these laptops is going to be different.
That will raise a lot of confusion for customers – and reviewers included. Nvidia took heed of this and is now requiring all laptop manufacturers to state their clock speeds and total graphics power on online product pages. That is a step in the right direction to help everyone – gaming laptop shoppers have an idea of how a particular laptop is going perform even before reviewers test the laptop.
ASUS did this for all of their ROG laptops with full transparency.
But isn't the notation of Max-Q or Max-P in the name of the laptop GPU much better than what we have now? Well, yes actually.
Let's put another hypothetical laptop with a 180W power budget. 50W goes to the CPU, which leaves 100W for the GPU.
A typical Max-Q – from experience – is at 90W. That means at the end, I still have 40W left.
So by removing the Max-P and Max-Q distinction, laptop manufacturers have total granularity to maximize all of the available power for performance and tune it up to 130W.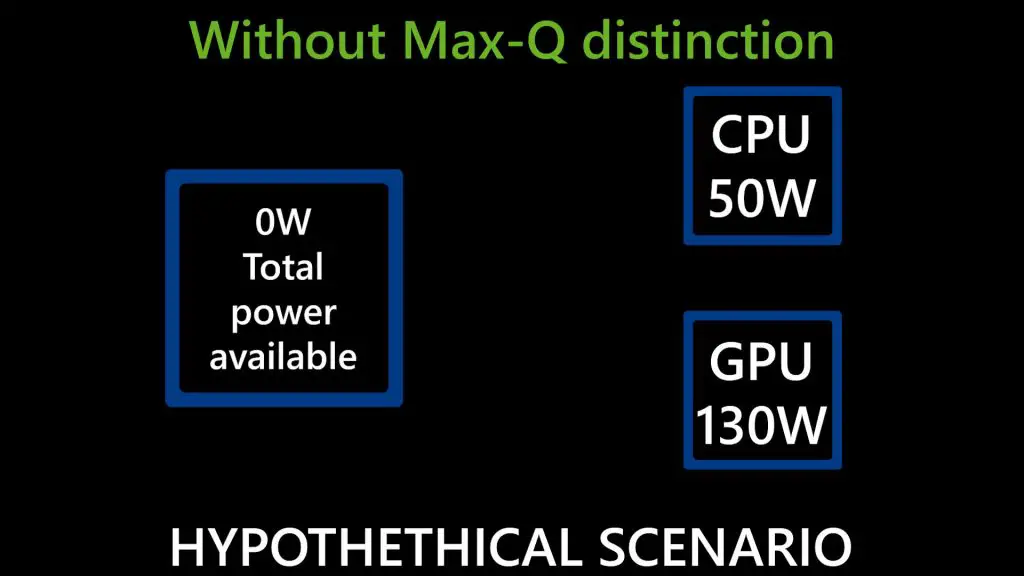 But, we already predicted that it can be abused if manufacturers did not list the specifications of how a particular GPU performs in a laptop. This is why NVIDIA requiring laptop manufacturers to list out the clock speeds and wattages is a great step forward.
And yet, the new configurable TGP for GPUs is not new. The RTX 20-series of laptop GPUs already have this – but they have Max-Q distinction if it's below or at 90W. The RTX 30-series Laptop GPUs do not have the Max-Q name.
So, I think that what NVIDIA is doing here is giving the laptop manufacturers the power to granularly tune their laptops to however they want to perform – just that the transitional period now is going to cause confusion.