The ASUS Zenbook S 13 OLED UX5304 is a laptop that has been making headlines for its impressive thinness and lightness. The laptop is marketed as being just 1 kilogram in weight and 1 centimeter in thickness, which is quite impressive. But, after using the laptop for about 2 weeks, I've discovered that there's more to this laptop than just its weight and thickness.
To achieve the Zenbook S 13 OLED's slim form factor, ASUS had to re-engineer many of the laptop's existing parts and shave off millimeters. The entire lid, including the display, is now thinner than before, but ASUS still managed to pack in a magnificent 13.3-inch OLED screen with 2880×1800 pixel resolution at 16:10 aspect ratio and 60Hz refresh rate.
The color accuracy of the display is also astonishingly high, with our colorimeter reporting about 100% across all 3 color gamuts and with the maximum ΔE of only around 2.27. The maximum brightness is a bit low, though, as our colorimeter only reports around 370 nits, which could be an issue if you want to use the laptop outdoors.
ASUS managed to fit in Windows Hello facial recognition, and the laptop also has a custom boot animation that I've not seen in any other ASUS laptop so far. The keyboard has also been trimmed down to achieve the laptop's thinness, which was a concern for me.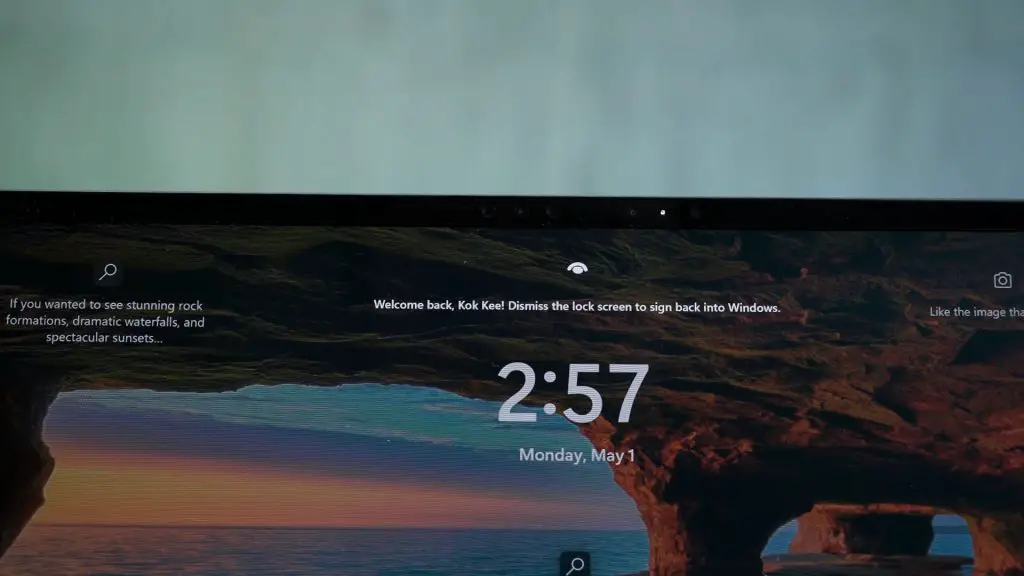 The trackpad is also good, with excellent tracking and palm rejection, but I would've preferred a touchscreen for a laptop like this, which unfortunately would add more thickness to the screen.
One of the challenges of making a laptop this thin is the cooling system. If the laptop is too thin, then it may not have enough space to fit in proper heatpipes and heatsinks, which could lead to overheating issues. However, ASUS managed to come up with some clever solutions to address this.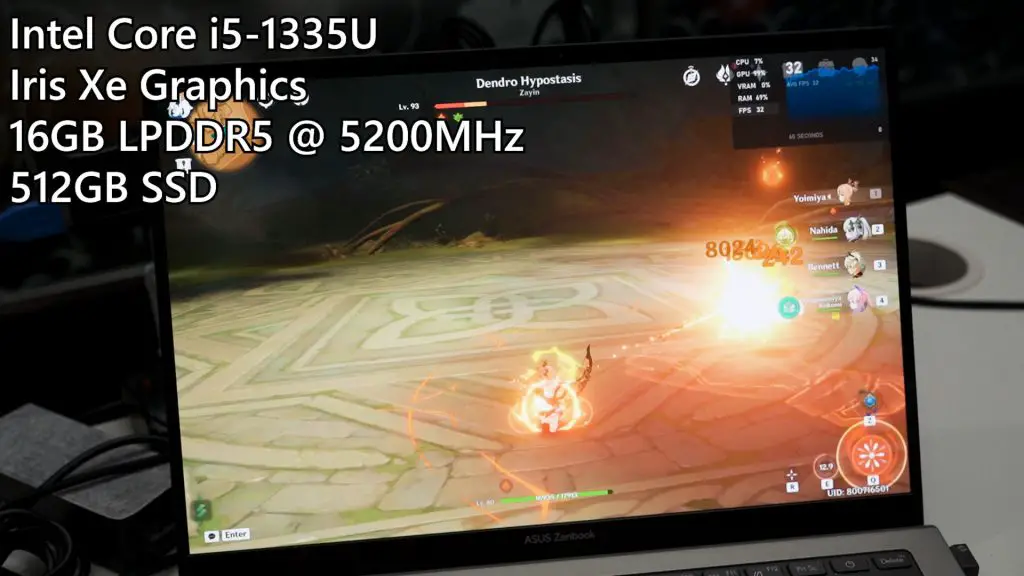 The laptop is powered by an Intel Core i5-1335U processor, Intel Iris Xe integrated graphics, 16GB of DDR5 RAM at 5200MHz, and comes with 512GB of SSD. I tested the laptop's gaming performance with Genshin Impact at the lowest graphical quality, and it can't really go beyond 30fps, which is to be expected given the Iris Xe's capabilities at its 2880×1800 pixel resolution.
However, lowering the graphical setting to 0.6x render resolution can improve the performance to around high 40 and low 50 fps, albeit at the cost of a more pixelated display. Since we tested the laptop at the performance power profile, the fan noise was at full speed, and it was quite loud.
Another big marketing point of this laptop is its power draw. ASUS claims that the laptop can sustain up to 20W of power, which is quite impressive for a laptop this thin. However, in practice, the laptop can't quite sustain 20W of power. From my testing with Genshin Impact, I observed that the temperature can easily hit 90 C, which is already thermally throttling. The maximum sustained power draw is around 17W, which is still 2W higher than the nominal 15W.
Moving on to the keyboard and touchpad, I must say that the typing experience on this laptop is superb. It surely does remind us of the Apple Butterfly switches, but this is so much better than that.
Overall, I think the ASUS Zenbook 13 S OLED UX5304  is an excellent laptop that caters to a specific audience. If you prioritize portability, style, and also get actually good performance out of it, then this laptop is definitely worth considering. The performance is decent, the screen is beautiful, and the build quality is top-notch.
Where to buy? (Affiliate links)