ASUS introduced another budget laptop recently and I've spent a lot of time using this laptop to prepare for other reviews – but don't have the time to actually do the review for this laptop. Anyway, this is the ASUS Vivobook 16 M1605Y. This is going to be a rather short and straightforward video and I don't want to waste anyone's time, so let's just go through the specs of this laptop.
It is available in two variants and has a RM400 price gap, but I highly recommend you to just get the higher-end variant because of the RAM and the extra bit of performance. I promise you, it's worth the price.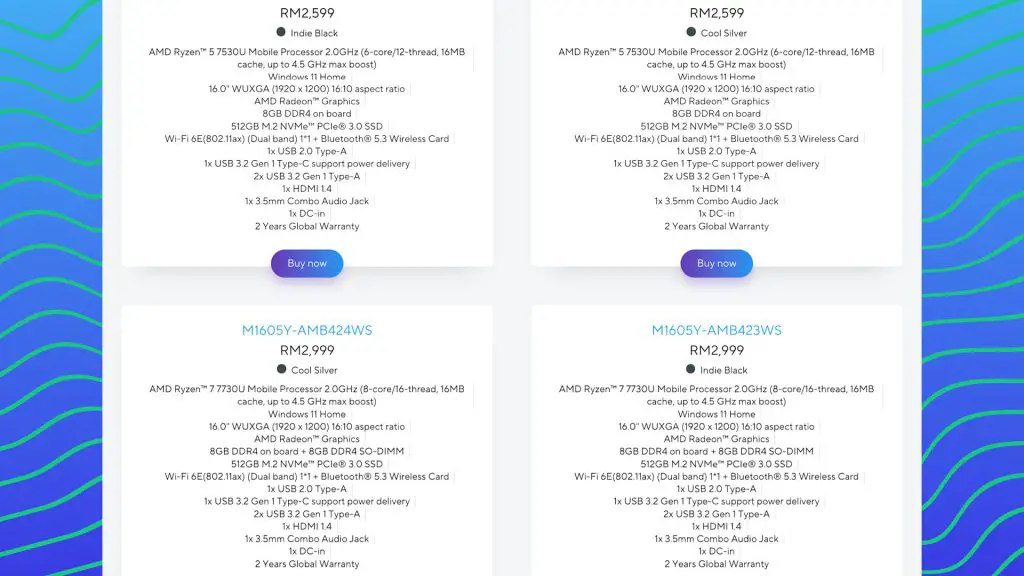 For our particular unit, it comes with:
AMD Ryzen 7 7730U processor
AMD Radeon graphics that I have no further information about
A total of 16GB DDR4 RAM in dual-channel mode
512GB of PCIe Gen 3 NVMe SSD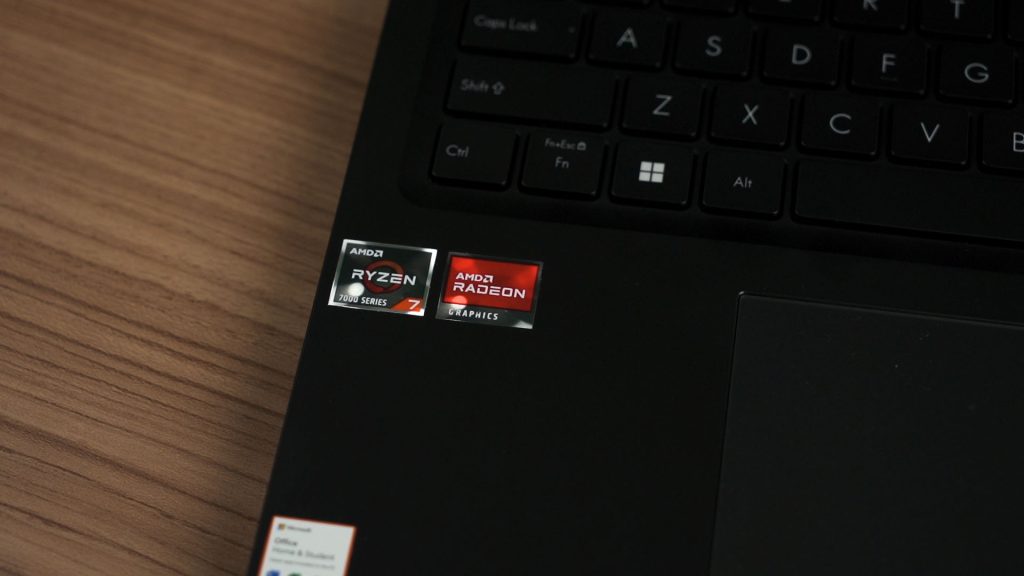 So as you can see from the specs list, yeah it is using an older generation of hardware – PCIe Gen 3 SSD, but that's not an issue since you won't be able to saturate the bandwidth anyway. I'm not concerned about this laptop using DDR4 RAM – I'm more concerned about the amount of RAM. Having 16GB RAM is the new minimum, that's why I recommend you get this higher-end variant. We'll return to this later.
In terms of performance, using the performance mode that can be toggled by pressing Fn+F, I tried Genshin Impact at the lowest graphical settings and surprisingly – we can get somewhere near 60fps and it's consistent. I'm actually happy with the gaming performance overall – especially since this is a low-powered laptop.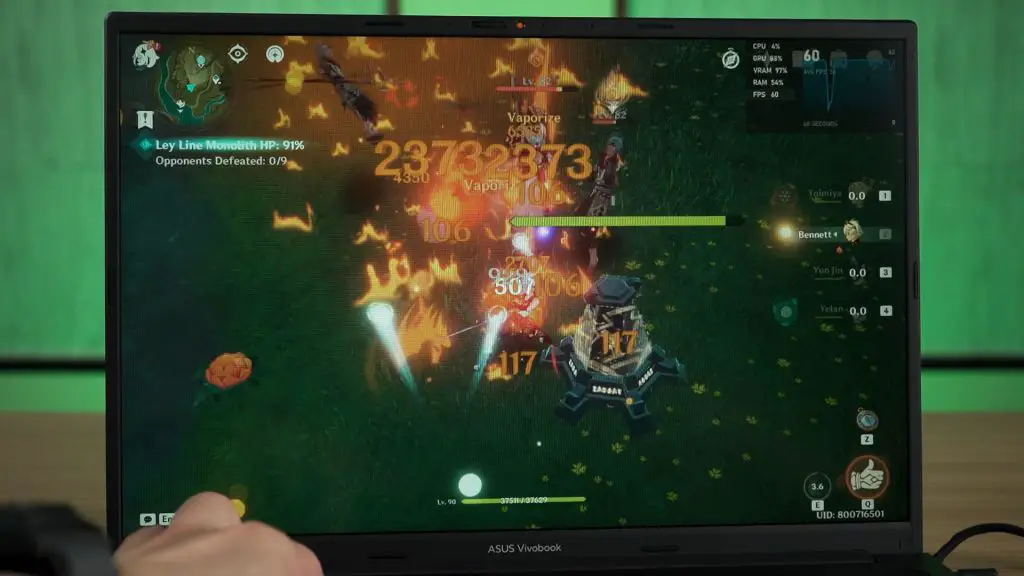 But of course, because this is a budget laptop, the speakers aren't exactly the best.
Another cost-cutting measure ASUS did to trim the price down is the screen. This is a big 16-inch IPS LCD screen. While that is not an issue to me, the screen quality is not that good. Our colorimeter reports very low color accuracy which is why the game just looks… a bit washed out.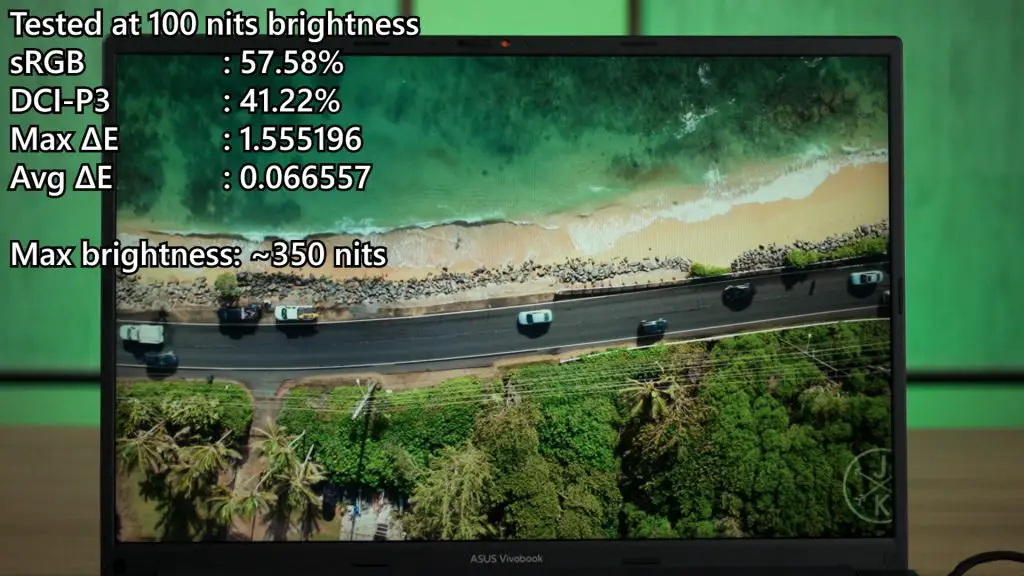 As for the max brightness, it's at around 350 nits – which is typical for this laptop.
The keyboard does feel okay to type on, as the travel distance is adequate and the keys are bouncy enough.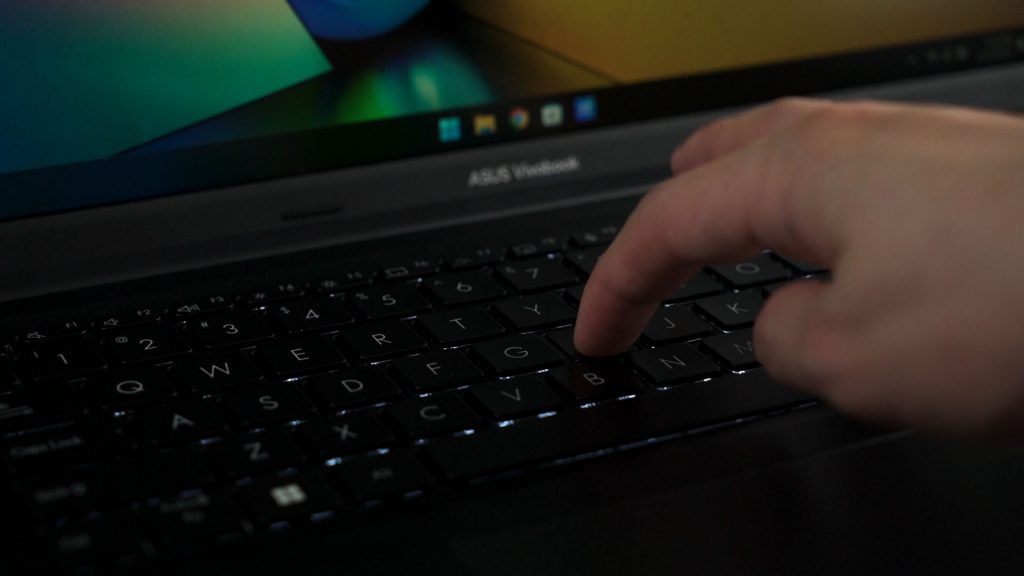 The trackpad is surprisingly good for a laptop of this price range since the palm rejection is good.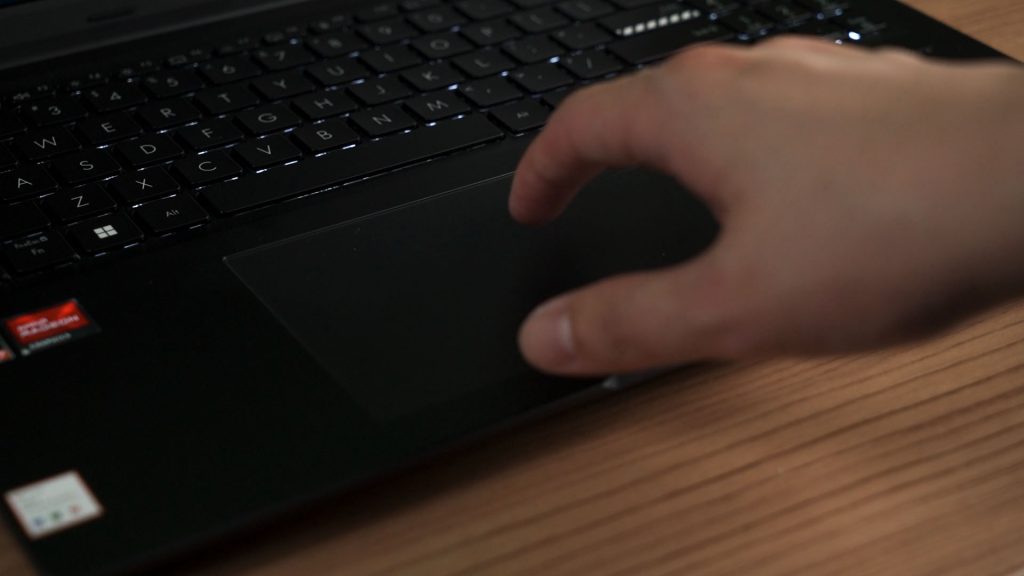 As for the ports, we have all of these ports. I still wish ASUS to flip the positions of these ports. Currently, if I want to use an external mouse then I'll just hit everything connected to the laptop.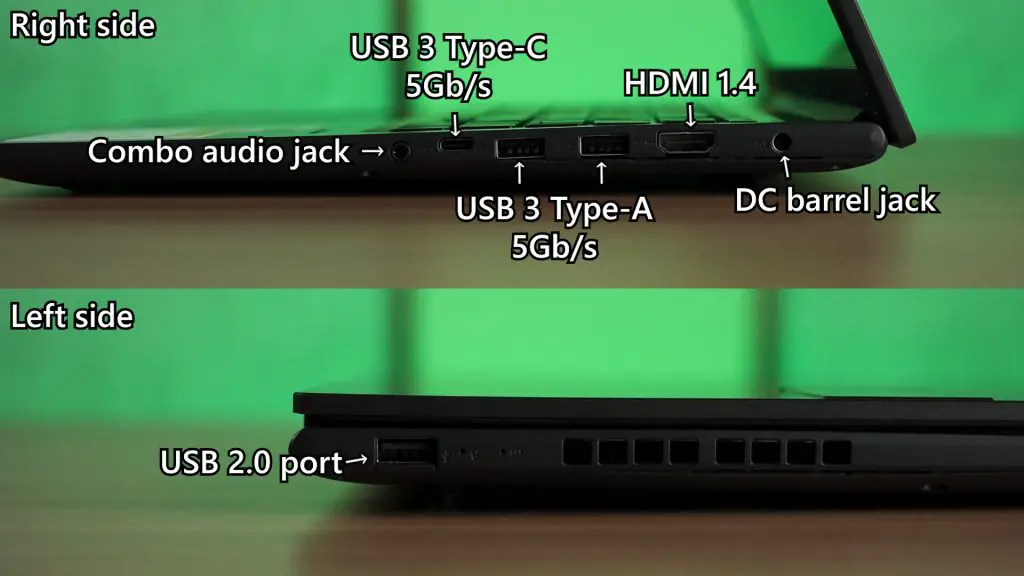 And hey, we can charge the laptop using either the included 45W charger via the barrel jack, or use the USB-C port to charge the laptop.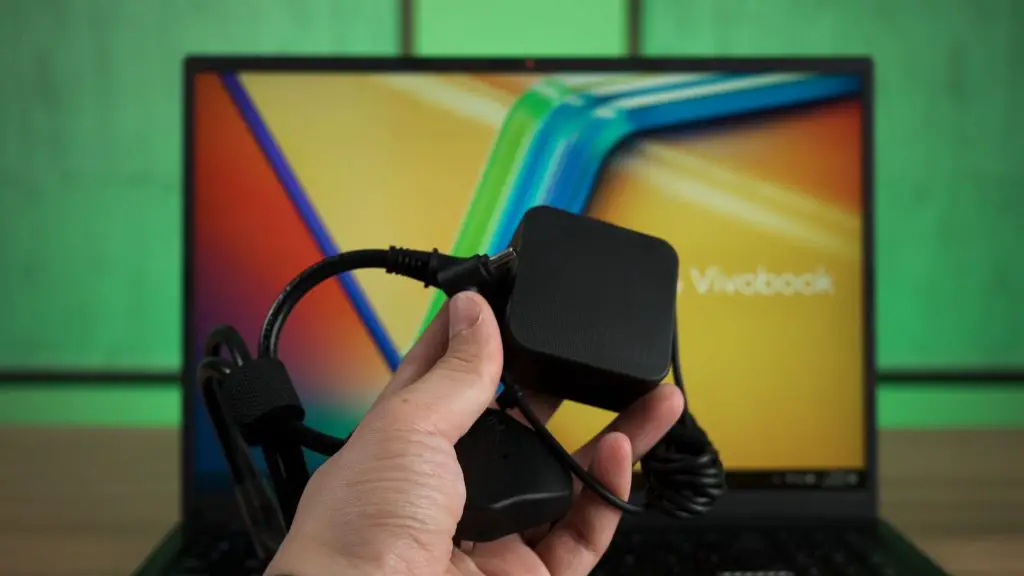 As for the battery life, it comes with a 42WHr battery and through my typical usage of Google Chrome, Spotify, and some YouTube in the mix – we can get around 5 hours in the silent power profile. I can get around 5 hours of battery life which is kind of expected given that tiny 42Wh battery.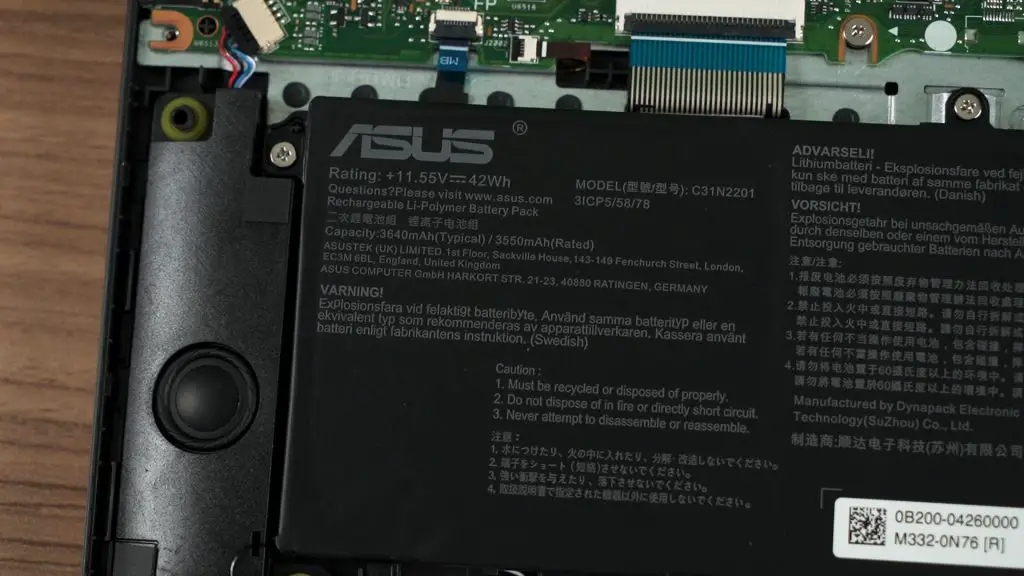 The overall design of the laptop is very simplistic but I'm just not a fan of that bulging ASUS badge. It is rather lightweight because of its rather plasticky construction. Now, using plastic in a laptop is not a bad thing. I actually dropped the ASUS Vivobook 15X K3504 and hit one of the corners first. and that laptop shown in our review is actually after the drop. It has some scuffs but otherwise looks fine – and it is also slightly crooked. Everything else worked the way it should – so good job in terms of construction there.
In terms of upgradability, there is one SO-DIMM RAM slot that we can mess around with. If you bought the higher-end model, then this slot will be taken up by an 8GB DDR4 RAM stick. The SSD can also be swapped out if 512GB is insufficient for you – and the same goes for the WiFi card. Everything else is soldered onto the motherboard.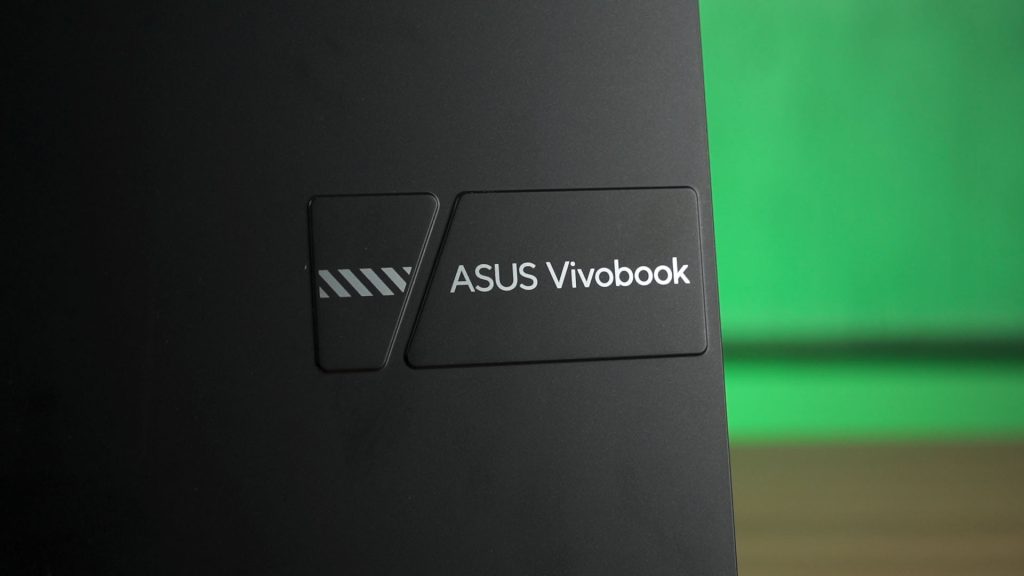 Overall, for the price of just RM3k, this is a decent laptop. It's just that the screen is a bit disappointing. However, if you look back at ASUS's other older laptops – like the ASUS Vivobook M1503, then you'll get a much better OLED screen at around the same price, and you get a much more powerful CPU too – but less RAM and a slightly smaller screen.
Where to buy? (Affiliate links)