We are back once again with the ASUS ExpertCenter series of mini desktops. This time, we have the ExpertCenter D7 D700SD – and this is a rather typical desktop but just made to be tiny – hence that's why the full name of this desktop has the word SSF in it, which means "small form factor".
Let's start with the price. For our specific unit, the price is high at around RM3,200 but remember – this is an ExpertCenter series of desktops that is meant for enterprises because of the warranty services that ASUS offers. But we end users can buy it and use it at home.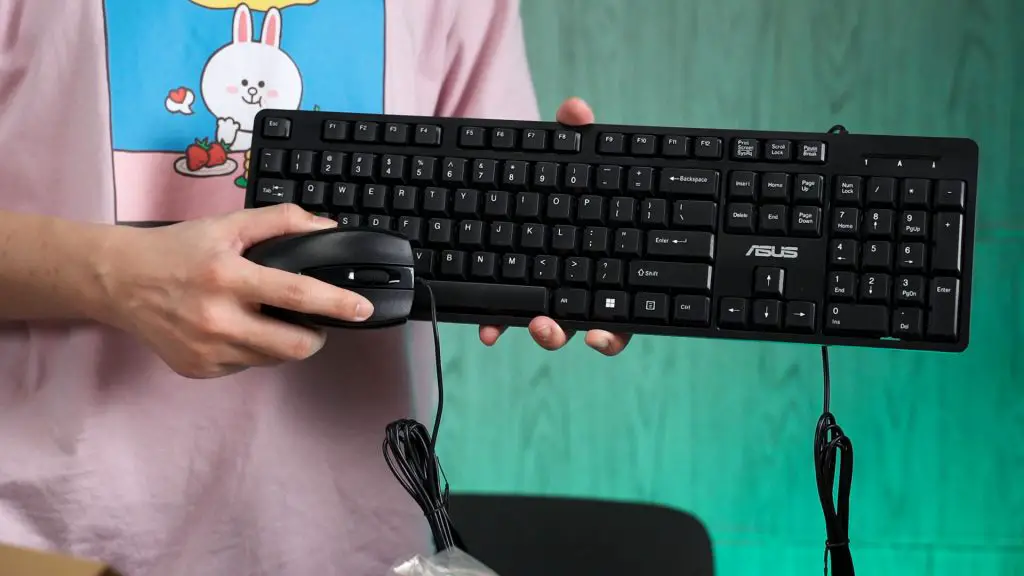 You'll also get a simple keyboard and mouse combo to get started too. If you want to use this, you can. They're not bad but they can get you started.
Okay, so the desktop in itself is actually pretty decked out. At first glance, I immediately fell in love with the amount of ports available on this desktop. Seriously, the number of USB ports here can put most PC cases to shame. We have lots of USB-A ports – some of them are 5Gb/s and some of them are 10Gb/s. We even have a USB-C port here too – alongside an SD card reader and smart card reader depending on what variant you choose.
Let's not forget that there are more USB 2.0 ports at the back of the desktop too.
That Intel Core i5-12500 with 8GB of RAM means you can do quite a lot of stuff with this machine. We downloaded a random Excel file with 50k entries and used the pivot table functionality to create pie charts – and there was no slowdowns or serious lagging – so that's good.
I mean, the Core i5-12500 is quite overkill for office usage anyway. Technically, if you get this desktop, you could let your kids play some games on it. You could even try to fit in a GPU too if you want.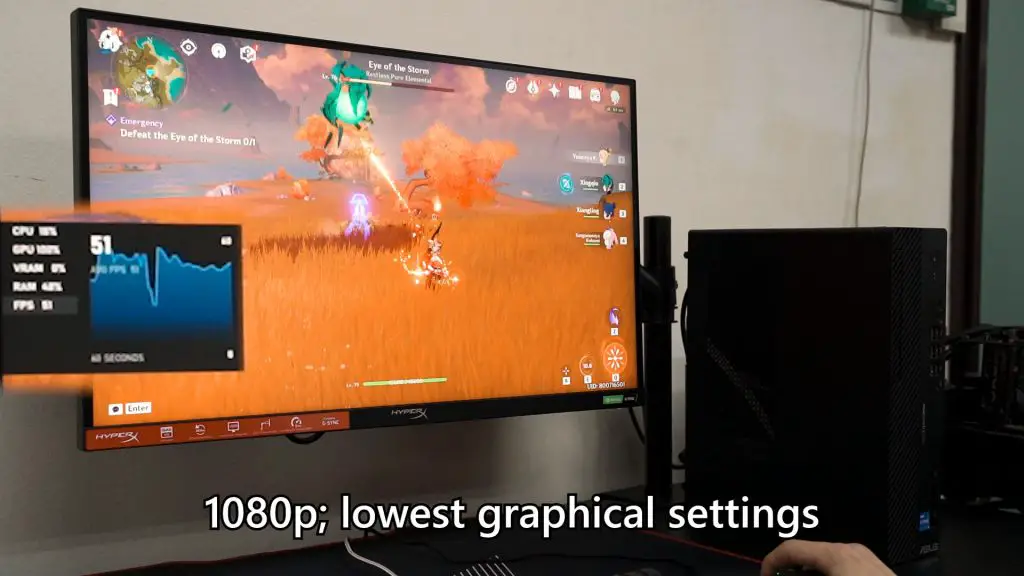 However, your choices are quite limited. You'll have to find a low-profile GPU to fit into this tiny case, and you'll also need to find one that has a low TGP so that it doesn't require any additional 6-pin or 8-pin PCIe power connector from the power supply. The latter one is simply because the power supply doesn't have any.
From what I can find, the best low-profile GPU that you can get right now is the NVIDIA GTX 1650 Low Profile variant. I'd say that this GPU will make this desktop become a small yet powerful PC – and you can even use it to edit some videos. Perfect for LAN parties too, I think.
If you do want to upgrade some other things, then this desktop is actually very simple to open up. It's entirely toolless, actually. I advise you watch the entire disassembly process in our video instead.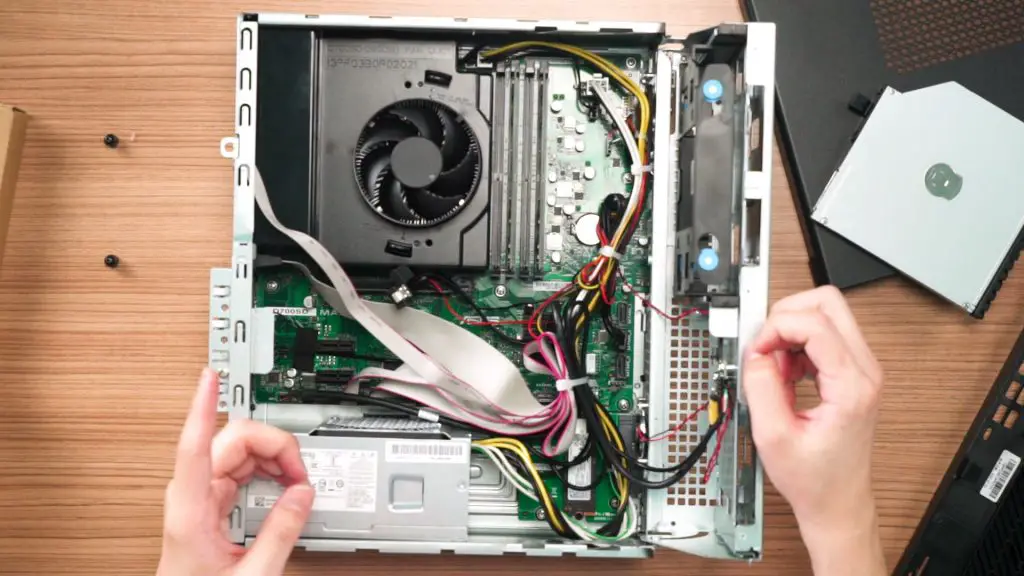 Here, we can see that there is a 3.5-inch HDD caddie that is empty so we can easily just add another hard disk if we want to. There is also another 2.5-inch drive slot if you want to use it. We do have the aforementioned PCIe x16 expansion slot as mentioned earlier – so you need to find a low-profile graphics card to make use of this slot. Digging through the cables at the lower right corner, we can see the M.2 SSD here. We can also add another M.2 SSD right beside the PCIe x1 slot.
As for the RAM slots, surprisingly, there are four slots and only two of them are in use. That means if we want to upgrade it in the future, we can.
I don't know why the CPU cooler has a shroud around it, and we can take it out too. From what I can see, there is a CPU socket underneath the cooler but I don't advise you to upgrade the CPU since half of the EPS connectors aren't populated – simply because the power supply doesn't have any extra.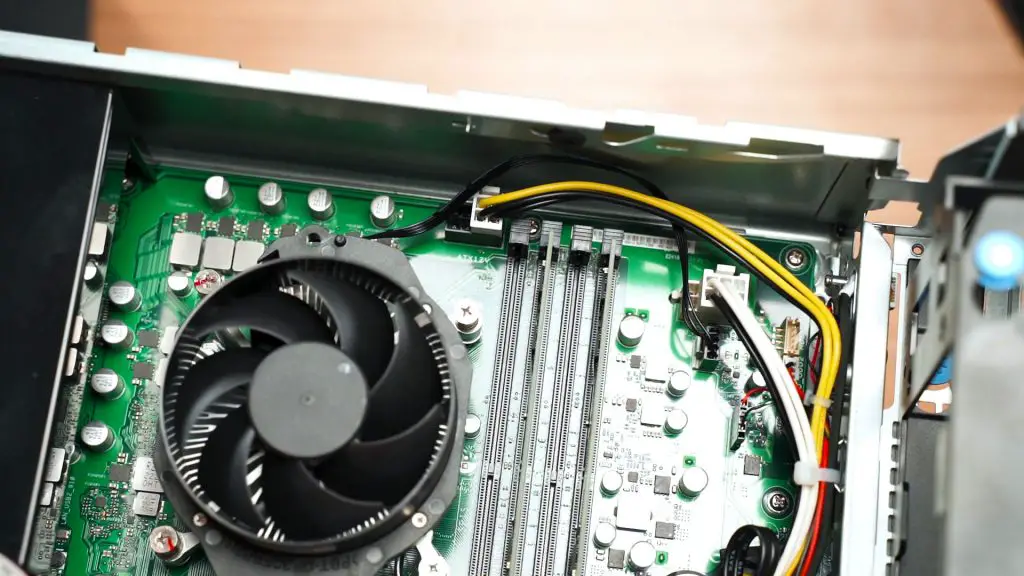 Should you buy the ASUS ExpertCenter D7 SFF (D700SD)?
So, all in all, for enterprises, this is going to last for quite a few years to come. You'll also get the ASUS Service Package offers a wider range of solutions that go beyond the standard warranty to meet the needs of business-critical IT environments – that's what it says on their website. Remember, if your computer doesn't work means the employees can't work – and that means revenue is not generated. These services are important for enterprises.
As for home users though, I think the main reasons are because of its small size and also upgradability – especially the graphics card. Finding low-profile GPUs are surprisingly easy and the price is about the same as the standard-profile variant too.
But if you don't want to add a GPU to this desktop, then why not get an AIO PC? We have reviewed a few AIO PCs in the past and I think they're a good alternative to this kind of small form factor desktops.
Where to buy?
ASUS ExpertCenter D7 SFF (D700SD)
NVIDIA GeForce GTX 1650 Low-profile GPU