The Chrome OS was introduced 8 years ago by Google with the intention of harvesting cloud technology as opposed to the conventional local hardware-based computing. We first saw the Chromebook launch in Malaysia with YESxSamsung 4G Chromebook as well as its cooperation with the Ministry of Education. Since then, Chromebook has been pretty much known as the laptop for educational purposes in the country when in fact it has more to offer under its belt.
The operating system itself has undergone numerous updates and added support for installing and running Android applications through the Google Play Store. That makes the Chrome OS an exceptional alternative to those who just want to have a laptop with a lightweight OS to get things done.
Today, we will be reviewing the ASUS Chromebook Flip C434T which I have been using it daily since I got my hands on it 2 weeks ago. Let us see what ASUS has to offer for the price of RM2399.
ASUS Chromebook Flip C434T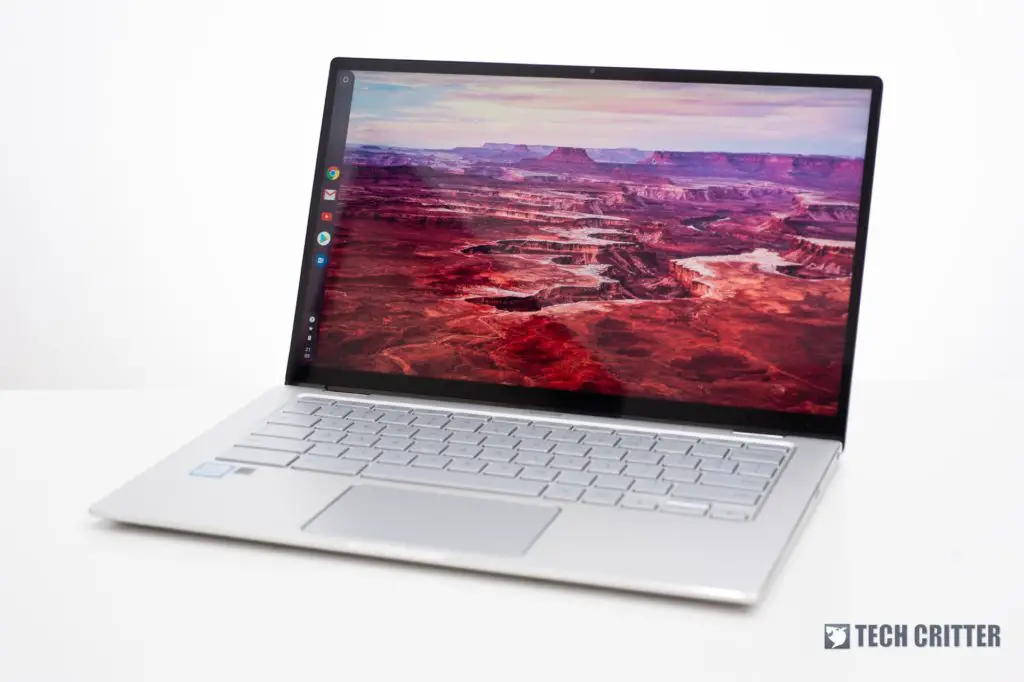 As the name, "Flip", suggests, this is a convertible laptop where the hinge is capable of 360-degree rotation. Which means you can use the Chromebook in four different setups – standard laptop mode, theatre mode, tent mode and tablet mode.
Personally, I think the touch experience is very dependent on the content you're interacting. For instance, it works really well with Android apps but not to say the same with desktop optimised websites.
The Chromebook Flip has an exceptional build quality. The all-aluminium chassis provides a sturdy usage experience while looking remarkably sexy. The edges are chamfered and the sand-blasted finishing on the surface makes the Chromebook Flip a joy to handle. It weighs at just 1.45KG and 16mm thin, making it a wonderful laptop for travellers.
Display & Keyboard
The NanoEdge slim bezels allow the laptop to appear smaller than any other 14-inch laptops out there in the market. The 14-inch IPS panel has a full HD 1080p resolution and it supports capacitive touch. For multimedia consumption, the wide viewing angle and 100% sRGB colour space are not going to disappoint unless you're hoping for an ultra-high-end panel for content creation which might prove to be a challenge on limited OS functionalities and hardware capabilities on this Chromebook.
Moving towards the keyboard section, the layout is obviously different from your regular keyboard because it is designed for Chrome OS in mind. The lack of a left Windows key allows both CTRL and ALT keys to stretch out. The caps lock key has been replaced by the Search key which works as bringing up the App panel. On the other hand, the function row is pretty much replaced by the shortcut keys.
The keyboard has while LED-backlit, unfortunately, you can't disable or adjust the brightness. Nonetheless, it is not blindingly bright and I have no qualms over it. As for the typing experience, it feels just as nice as many other laptops out there. The standard scissors switch with membrane contact under the well-sized keycaps provides a good travel distance and feedback.
As for the trackpad, I'm rather surprised by the accuracy of the finger tracking as well as the gestures' response. It is honestly as good as the Windows Precision Driver. The physical left/right-click buttons are found underneath the trackpad. The click mechanism is less sophisticated than what I'm expecting from a premium Chromebook. Don't get me wrong, the trackpad buttons work fine, just that I was looking forward to a more refined experience for the price I'm paying.
IO
Smaller laptops usually sacrifice connectivity for a slimmer chassis. Sometimes, manufacturers set to lose more than what we should in order to attain that few millimetres of thickness reduction. We're glad the Chromebook Flip C434T did not go down the same route as MacBooks with its IO ports.
USB 3.1 Gen 1 Type-C (5Gbps)
USB 3.1 Gen 1 Type-A (5Gbps)
3.5mm audio combo jack
Volume rocker
Power button
microSD card reader
USB 3.1 Gen 1 Type-C (5Gbps)
Chromebook User Experience
When I first got my hands on the Chromebook Flip, the first question that comes to my mind was how should I review this laptop without being obsessed with numbers and benchmarks like what we usually did with other laptops. Chromebooks have a whole different way of interpreting mobile computing especially how it specifically tackles our modern Internet lifestyle.
In order to test out the laptop's capabilities, I have brought the Chromebook Flip as my primary computer during my trip to Singapore for the Acronis #CyberFit & Formula 1 Racing Week. It was a 6-days trip and to be completely honest with you, deciding to bring a non-Windows or non-macOS laptop on a solo work trip is making me nervous. What if the laptop couldn't cope with my requirements? What if I needed that Photoshop template? All these questions kept popping up in my mind.
Turns out, as long as I have Internet connectivity, I can get my work done. Throughout the week, all my articles were churned out using the Chromebook Flip while on-the-go. I just turn on my mobile hotspot and get on to work on WordPress just like how I've done with any other laptops in the past. That just showed an Internet browser is pretty much all I need.
The default apps that come pre-installed with the Chromebook are mostly web-apps, for example, when you click on the Google Docs icon, it will bring you to Google Chrome's new tab loading docs.google.com. So if you want to have offline alternatives, thankfully, the Chrome OS supports Android application and through the Google Play Store, you can get whichever app that could work while offline. In this case, I have Microsoft Word as my alternative text editor. Then again, I have to point out that not all Android apps would behave normally.
Battery Life
The battery life on the ASUS Chromebook Flip is exceptional. It is probably one of the rare laptops where it actually meets the manufacturer's claim – 10 hours. A single full charge could last you a single full workday use. Even with heavy YouTube streaming, I would still get 8 hours of battery life.
Charging is done through the USB-C port on either side.
Final Words
So, as a writer, I'm loving the ASUS Chromebook Flip. The build quality and compact form factor make it an excellent device for travel and on-the-go work. While Chrome OS is kind of restricting in some way since it doesn't run standard Windows or macOS applications. Nonetheless, with the support of Android apps, there are still plenty of alternatives around albeit some of them are terrible.
Then again, I did survive the 6-days work travel with it and I honestly enjoyed learning a new OS from scratch. Things like looking for basic stuff such as Chrome/Android apps to accomplish a certain task to the advanced keyboard shortcut keys is sort of a reminder to us how we took some features for granted on other systems.
At the end of the day, we still need to come back to the price tag of the ASUS Chromebook Flip. At the price of RM2,399, this is not a cheap Chromebook, especially when Chromebooks are usually sold as an affordable laptop. Not to mention you can get a decent Core i3 Windows-based laptop but of course without the same battery life. Ultimately, what you're paying is for the premium build quality and that excellent display.
In other words, if your work and entertainment are mostly done through an Internet browser, I can assure you that Chrome OS is definitely a great choice. Those who are looking for a Chromebook knows what they want and what they're missing out. So… I can safely say this is more like an affordable alternative to those expensive & premium Windows Ultrabooks.
Pros:
Excellent build quality
Convertible
Excellent display
Good keyboard
Decent trackpad
Excellent battery life
Cons:
Price
(Subjective) Chrome OS is not for everyone