So you're looking for a superwide monitor on a tighter budget – then you stumbled across the Fire Legend Acer AOpen 43XV1C P, also known as the Acer Nitro XV431C in other countries. This is a 43.8-inch 32:9 monitor with a resolution of 3840×1080 and can go up to 120Hz refresh rate.
After spending about 2 weeks with this monitor, we are here to share our experience of using this monitor with you.
In one of our previous videos where we randomly unboxed 3 monitors, the first one we unboxed was this monitor. As a quick recap, the 43XV1C comes with an all-white design, except the bezels of the screen. Even the cables included in the box are white too! Now this is rare.
Also, when we unboxed it, we stated that there is also another spacer adapter thing that is supposedly meant for VESA mounts. And I was right. That adapter is to convert that recessed 100x100mm mounting hole to protrude out and become 75x75mm VESA mount.
Since we're not VESA mounting this monitor, we left that in the box and used the included stand. The installation process is completely toolless, which is something that I personally appreciate.
The monitor's included stand is also really flexible as it has height, tilt, and pivot adjustments too. Nice.
We should also take a look at the ports first – and I really like how Acer or AOpen made the ports perpendicular to the monitor instead of parallel. Just makes it easy to plug in other cables after setting up the monitor on the desk, you know?
Anyway, for the inputs, we have:
HDMI 1.4
HDMI 2.0
DP 1.2 x1
Probably this setup is for a gaming console on the HDMI 1.4, then your laptop and desktop on either HDMI or DisplayPort.
We don't need any cutting edge HDMI 2.1 or DP 1.4 here since this monitor has a resolution of 3840×1080 pixels, or as Acer calls it – DFHD. Not "definitely full HD", but "dual full HD" as in two 1080p monitors side by side, combined into a single display, making it an aspect ratio of 32:9 with a diagonal measurement of 43.8-inches.
However, if we are to create an imaginary vertical line in the middle and divide the monitor into two parts, creating two 16:9 monitors side by side, those two monitors will be at around 23.8-inches, commonly-known as 24-inch monitors.
It can also go up to a maximum of 120Hz refresh rate with support for AMD FreeSync Premium to eliminate screen tearing – very important for a monitor like this – and it is also entirely flat. Now, I am personally using the Acer Nitro XV340CKP at home – a 34-inch monitor with 21:9 aspect ratio. That monitor is also flat and I have said that to look clearly at the 4 corners of the screen, I had to slightly move my body around. I wished this monitor to be ever so slightly curved – like maybe 2500R will be good.
When it comes to this supremely wide monitor, I think it needs to be curved. Currently, if I want to see the far corners of the screen, it is… very difficult.
That aside, we did our color accuracy test on this monitor too. Since it is so wide, we split our test into 3 different sections. The color gamut coverage values are good and very consistent across the 3 sections, but the maximum average brightness does have some slight deviation. I don't expect it to be consistent throughout the entire screen, since it's so wide anyway.
The monitor really looks good, and we don't have any complaints. Even the OSD menu is rather decent and does what it needs to do. Oh, it is also here that we can configure the RGB strip at the back of this monitor. It's literally RGB – as in red, green, or blue.
But how is it like to actually use this monitor? Well, personally speaking, by doing some mental math, a 32:9 aspect ratio with a diagonal measurement 43.8-inch is kinda short. And yes, Mr John used this monitor and he also said that it needed more vertical height.
However, he said tried something random – to pull the monitor closer to him and use it for racing simulators. By changing the settings in the game and make it "feel" like we are sitting in the driver's seat, it actually feels better than a curved superwide monitor.
The overall user and gaming experience is the same as what we highlighted before – it's never as easy as just downloading your favorite game and having it work instantly. Also, the fish-eye effect appears once again on the 43XV1C. This is an inherent issue on monitors wider than the standard 16:9. To learn more about ultrawide and superwide gaming experience, watch our previous video here.
Then comes the price. At RM2,499, I'd say that this monitor is a rather interesting one. There are no other 32:9 monitors with the resolution of 3840×1080 pixels on the market. Looking at the price though, I think we can get two monitors of the same or higher spec than this 43XV1C, and still be cheaper. But, the main selling point of this 43XV1C is its superwide, bezel-free experience. I just wish that it's slightly curved, then it'll be a perfect monitor for this segment.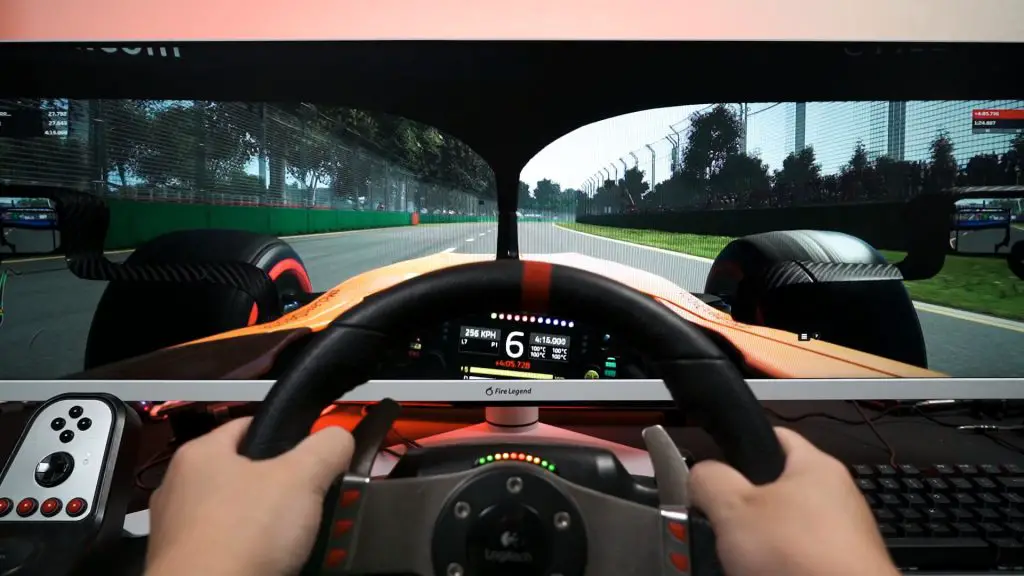 Where to buy the AOpen Fire Legend 43XV1C?