Previously only available to the system integrators, the Ryzen 5 5600G and Ryzen 7 5700G Zen3 APUs are finally available for the consumers from August 5th, 2020 onwards. We're able to get our hands on the Ryzen 5 5600G this time for a quick test against the Ryzen 5 5600X and Ryzen 5 3600X just so we can see what kind of performance it can deliver.
Specifications
| | | | |
| --- | --- | --- | --- |
| Model | Ryzen 5 5600G | Ryzen 5 5600X | Ryzen 5 3600X |
| Cores | 6 | 6 | 6 |
| Threads | 12 | 12 | 12 |
| Base Clock (GHz) | 3.9 | 3.8 | 3.8 |
| Boost Clock (GHz) | 4.4 | 4.6 | 4.4 |
| L2 Cache (MB) | 3 | 3 | 3 |
| L3 Cache (MB) | 16 | 32 | 32 |
| Integrated GPU | Radeon Vega 7 | – | – |
| GPU Boost Clock (GHz) | 1.9 | – | – |
| PCI Express Version | PCIe 3.0 | PCIe 4.0 | PCIe 4.0 |
| TDP (W) | 65 | 65 | 95 |
Unboxing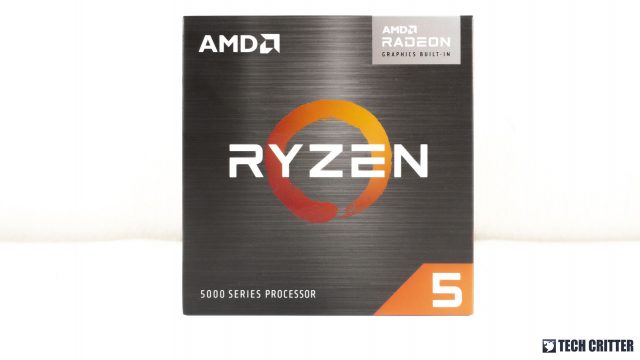 As the overall design of the box is very similar to the one on the Ryzen 5 5600X, you can identify it from the label on the top right corner of the box or just simply the cutout at the side of the box. Similar to the Ryzen 5 5600X, the Ryzen 5 5600G comes included with a stock cooler, which is the Wraith Stealth.
Although it does feel like a downgrade as compared to the Wraith Spire you'll find on previous Ryzen 5 processors, AMD's decision to include a Wraith Sleath is still understandable because of the lower-rated TDP of 65W on the Ryzen 5 5600G. Of course, the cooler is just enough to handle the processor for normal use cases and you'll definitely need a 3rd-party cooler if you want to go any higher than the default settings.
While it's technically a part of AMD Zen 3 architecture release, the Ryzen 5 5600G lacks the support for PCIe 4.0 and has its L3 cache halved to 16MB, unlike the 32MB L3 cache you'll find on the usual Ryzen 5. Though it's equipped with a 7 core Radeon Vega 7 as the integrated graphics solution, offering a more powerful graphics performance than what the competitors can deliver.
Test System Setup
For our games benchmark test, we've selected a number of AAA titles to run at its highest possible settings using the following setup under an ambient temperature of 31°C:
| | |
| --- | --- |
| CPU | AMD Ryzen 5 5600X / 5600G / 3600X |
| Motherboard | MSI MEG X570 GODLIKE / ASUS ROG Strix B550-I Gaming |
| Memory | TEAMGROUP T-FORCE XTREEM ARGB DDR4-3200 CL14 |
| Graphics Card | MSI Radeon RX 6800 Gaming X Trio 16G |
| Power Supply | Cooler Master V1200 Platinum |
| Primary Storage | Corsair MP600 2TB |
| Secondary Storage | WD Black 6TB |
| CPU Cooler | Cooler MasterLiquid Master ML360R RGB |
| Chassis | Streacom Open Benchtable BC1 |
| Operating System | Windows 10 64bit |
CPU Performance
Starting off with the CPU performance test, we've done the same sets of tests for all the three CPUs (Ryzen 5 5600G, 5600X, and 3600X) without any adjustments to the CPU clocks, followed by the Ryzen 5 5600G overclocked to 4.6GHz so we can have a better look at the performance difference between the CPUs.
V-Ray Benchmark 4.10.07
Corona 1.3 Benchmark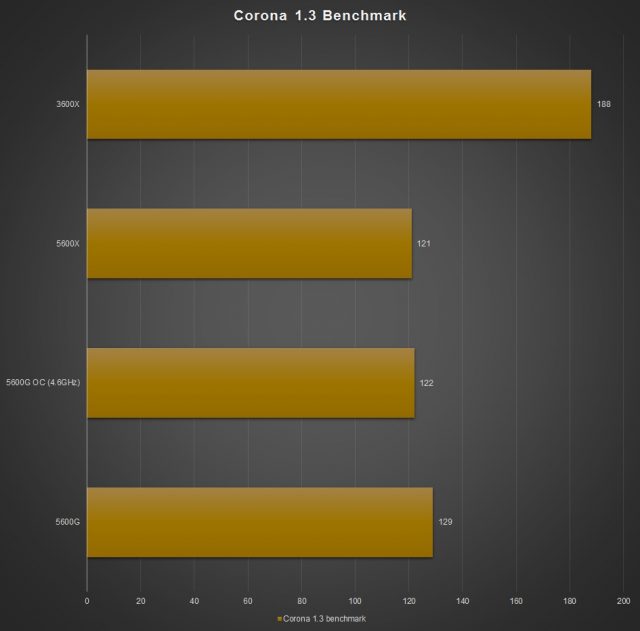 Blender 2.82 – BMW 2.7 CPU Benchmark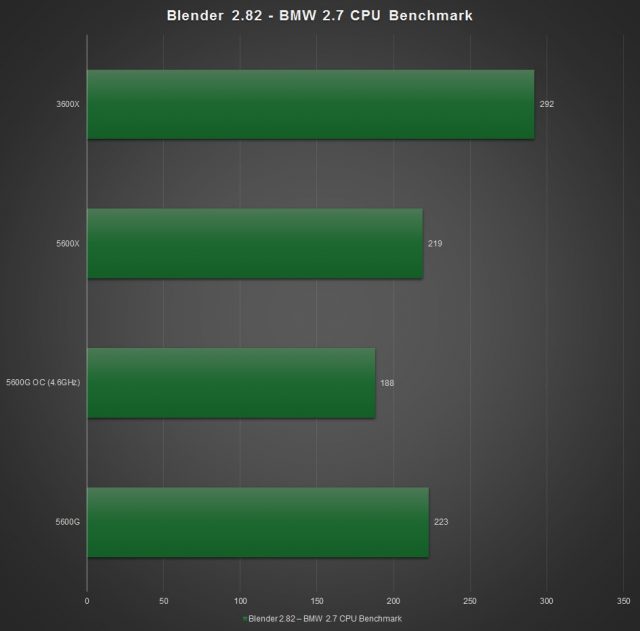 Cinebench Single-Core Benchmark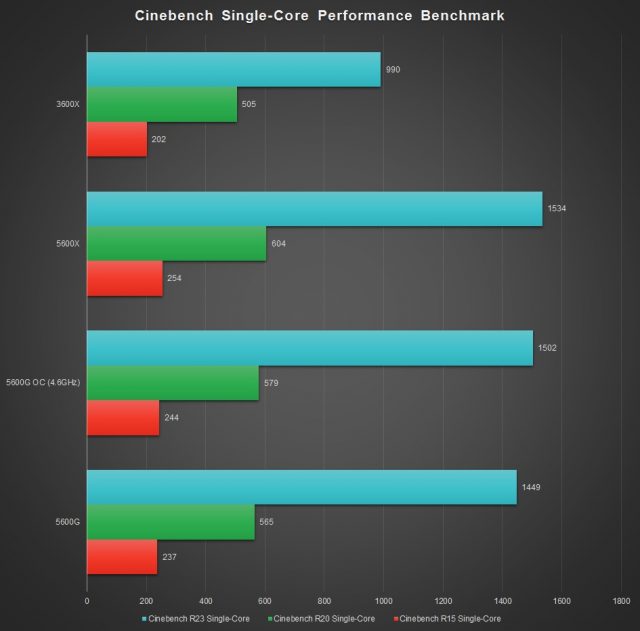 Cinebench Multi-Core Benchmark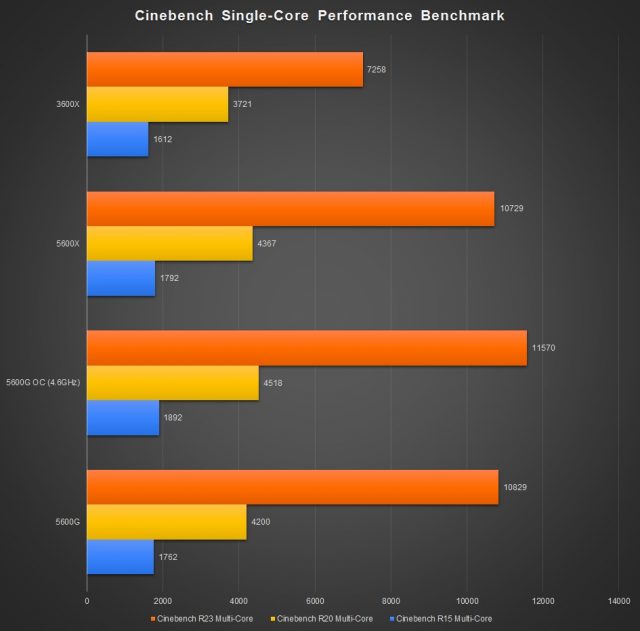 HWBot X265 Benchmark
File Compression & Decompression Benchmark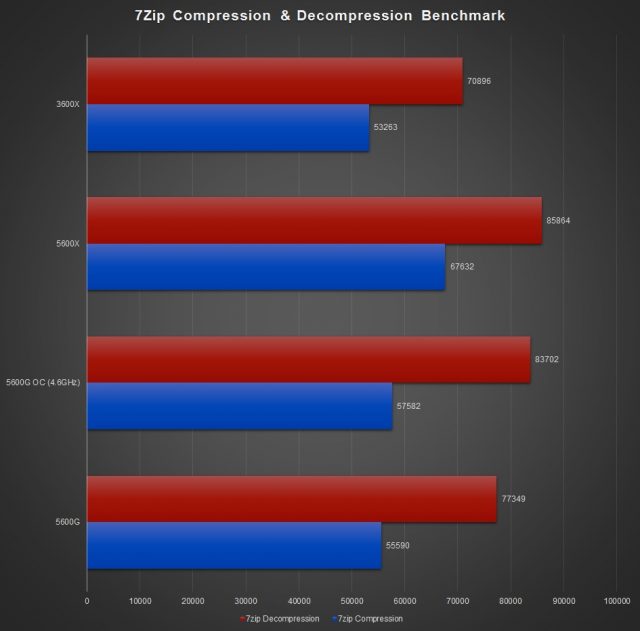 Synthetic CPU Benchmark
From the performance numbers above, it's clear that the Ryzen 5 5600X is a still better choice for what it's capable of. If you insist on having the Ryzen 5 5600G that comes with the integrated graphics solution and wanted to overclock it for more performance, you'll have to resort to a better cooling solution instead of relying on the Wraith Stealth stock cooler.
For the Ryzen 5 5600G we're using for the test here, it requires a 1.38V on the Vcore to run stable for 24/7 operation and it'll instantly hit 95ºC or more the moment you start stressing it with any CPU intensive workload. By using the Cooler MasterLiquid Master ML360R RGB, we're able to get a rather comfortable load temperature peaked at 72ºC with the Ryzen 5 5600G running at 4.6GHz.
Integrated Graphics Game Performance
Just a quick reminder before we get into this – this is an integrated graphics solution with only 7 GPU cores and you can't expect it to be able to perform on par with something like the GTX 1050. As going with high settings is definitely out of the question, the only goal here is to see whether it can handle some of the AAA titles with the lowest settings at 1080P resolution.
Based on the test results above, we can see that the Ryzen 5 5600G is actually capable of handling some games at 1080P but that's pretty much what it can deliver at this resolution. We have the test done with different memory speeds of DDR4-3200, DDR4-3600, and DDR4-4000 to see if there's any reason to go with high-performance memory kits like those DDR4-4000+ but turns out that DDR4-3600 is still the sweet spot for this.
We have done the same test with memory speeds of DDR4-4133 and above but the performance increment is barely noticeable at this point. Knowing that DDR4-3600 is pretty much the one to go for with the Ryzen 5 5600G, lowering the game resolution to 720P will give you more frames but that is only if you don't mind trading off the fidelity for more performance.
CPU Game Performance
This is something to take note of in case if you plan to have the Ryzen 5 5600G as a temporary solution during the current ongoing GPU shortage until you can get your hands on a dedicated GPU in the near future. We've done three different sets of tests using the MSI Radeon RX 6800 Gaming X Trio 16G with the Ryzen 5 5600G, 5600X, and 3600X to get a better grasp of what kind of performance you can expect to see from the three Ryzen 5  CPUs.
Despite the similar specifications between the Ryzen 5 5600G and 5600X, the latter is clearly performing better in all the games benchmarks and the higher L3 cache is part of the reason why. While some can argue that the slight difference in performance isn't really something to worry about since the performance numbers are technically very similar, we'll still recommend going with the Ryzen 5 5600X for the long run. You can still choose the Ryzen 5 5600G of course, given that the built-in Radeon graphics is something you really need for your build or other purposes.
Memory Overclocking
Moving on to memory overclocking, I was excited at first after a quick check at the specifications from various motherboards which stated that the Ryzen 5000 APUs can support up to DDR4-5000 but the result didn't really turn out as expected. Getting on DDR4-4000 is fairly easy since Zen 2 but DDR4-5000 is still a bit of a challenge and effort even if it's supported by your motherboard.
In our case, we hit the limit at DDR4-4800 CL20 with both the Ryzen 5 5600G and 5600X using the TEAMGROUP T-FORCE XTREEM ARGB and it refuses to go any higher than that. Even with the XPG Spectrix D50 Xtreme that has an XMP profile with a rated speed at DDR4-4800, it requires some adjustments on the Vdimm and timings in order to get the system to POST. Though it's still better than the Ryzen 5 3600X at least, which can only go up to DDR4-4533 CL18 with the same memory kit.
Final Thoughts
If you're here for the latest features the Zen 3 architecture has to offer, the Ryzen 5 5600G is definitely not what we will recommend due to the lack of PCIe 4.0 support and the halved L3 cache as compared to the Ryzen 5 5600X. To put it simply, the Ryzen 5 5600G is more of a solution for those who want to build a compact small form factor build or a simple all-purpose system that is good enough to provide all the basic necessities.
The overall performance is still reasonable and it's technically a nerfed Ryzen 5 5600X but I'd say the price of RM 1,239 is still something which I consider to be on the higher side because of obvious reasons. Overclocking it might give you some extra boost on the performance but the halved L3 cache as compared to the Ryzen 5 5600G alone is enough for us to recommend going straight for the Ryzen 5 5600X if you're planning to get it as a temporary solution while waiting for your turn to finally get a dedicated GPU in the midst of the global GPU shortage.
As for those who are really here for the built-in Radeon Vega 7, it's definitely one of the better performing integrated graphics solutions available in the market right now for those who are looking for it. The built-in Radeon graphics might not be as powerful as an entry-level 1080P gaming graphics card but it's still more powerful than what the competitor has to offer for now, which isn't half bad if you ask me.