The embargo has finally lifted for the Radeon RX 6700 XT and you can expect to see both the reference model and custom design from the board partners from March 18th onwards. In this review, we'll be taking a look at the reference Radeon RX 6700 XT and going up against the RX 6700 XT, we have both the NVIDIA GeForce RTX 3060 Ti and RTX 3070, just so we can have a better idea of what kind of performance you can expect from this card.
Specifications
| | | |
| --- | --- | --- |
| Model | AMD Radeon RX 6700 XT | AMD Radeon RX 6800 |
| Compute Units | 40 | 60 |
| Stream Processors | 2560 | 3840 |
| Ray Accelerations | 40 | 60 |
| Game Clock | 2321 MHz | 1815 MHz |
| Boost Clock | 2425 MHz | 2105 MHz |
| Memory | 12GB GDDR6 | 16GB GDDR6 |
| Memory Clock | 16Gbps | 16Gbps |
| Infinity Cache | 96MB | 128MB |
| Memory bus width | 192-bit | 256-bit |
| Bandwidth | 384 GB/s | 512 GB/s |
| TDP | 230W | 250W |
| Suggested PSU | 650W | 650W |
| Power Connectors | 1 x 6-pin, 1 x 8-pin | 2 x 8-pin |
| Display Outputs |  1 x HDMI, 3 x DisplayPort | 1 x HDMI, 2 x DisplayPort, 1 x USB Type-C |
| MSRP | $479 | $579 |
| Launch date | 18th March 2021 | 18th November 2020 |
Unboxing
The reference RX 6700 XT ships in a rather simple packaging, similar to what we've seen on the RX 6800 reference card. Not much information can be found on the box here but you can definitely expect to see a much more attractive-looking packaging and design from the board partners when they hit the shelves.
Inside the box, you'll find the hardcover with foam, and the Radeon RX 6700 XT itself sits tightly in the middle of a foam. No other accessories can be found inside the box except for the user's guide which can be found right under the hardcover.
The Radeon RX 6700 XT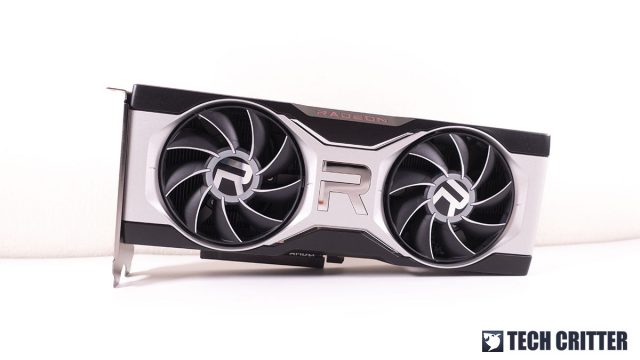 Design-wise, the RX 6700 XT reference card shares the same vibe as the RTX 20 series Founders Edition cards but with the same color scheme as the rest of the previously announced Radeon RX 6000 series reference card. The most notable difference here is that the RX 6700 XT is equipped with a dual-fan cooler instead of the triple-fan cooler that you'll find on the RX 6800 and above. I'm not a fan of the big R letter in the middle of the card but that's probably just my personal preference on the design part.
Apart from the dual-fan cooler design, RX 6700 XT now uses a cooler with heat pipes instead of the vapor chamber cooler that is only available on the higher-end models i.e the RX 6800, RX 6800 XT, and RX 6900 XT. The dual-slot compact form factor is probably one of the things I like about this card, as it can fit easily into pretty much most of the PC case you'll find in the market.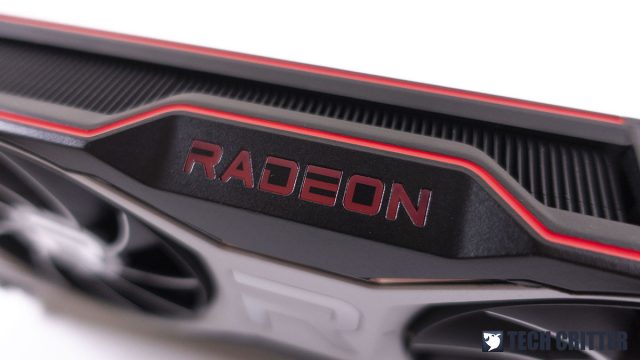 RGB fans aside, if you're one of those users who fancies glowing GeForce or Radeon logo on a reference design graphics card, this is definitely something that's worth your attention.
While it shares a similar power supply requirement as the RX 6800 (650W), it comes with a slightly lower TBP of 230W, and it requires a single 8-pin and 6-pin PCIe power cable to operate. Honestly, I was expecting the RX 6700 XT to come with a lower requirement like a 550W power supply and single 8-pin PCIe power connector before the official announcement but turns out that it's higher than my initial expectation.
At the back of the card, you'll find a fully-covered design on the backplate that is unlike the higher-end models with the GPU bracket and capacitors exposed. PCB sagging is probably the last thing you want to worry about as the entire card with the cooler is very solid and you can easily crush a walnut shell without leaving a dent on the cooler (not recommended).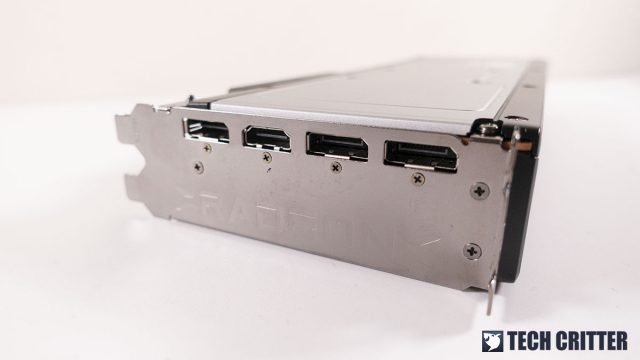 For the display output, you'll find 3 x DisplayPort and 1 x HDMI port at the back of the card. Unlike the higher-end models, AMD has decided to not include a USB Type-C on the RX 6700 XT this time.
Test System Setup
The test is done using the following setup under an ambient temperature of 30°C:
| | |
| --- | --- |
| CPU | Ryzen 9 5950X |
| Motherboard | MSI MEG X570 GODLIKE |
| Memory | XPG Spectrix D60G DDR4-3600 CL14 |
| Graphics Card | AMD Radeon RX 6700 XT / NVIDIA GeForce RTX 3070 Founders Edition / NVIDIA GeForce RTX 3060 Ti Founders Edition |
| Power Supply | Cooler Master V1200 Platinum |
| Primary Storage | Corsair Force Series Gen.4 PCIe MP600 2TB |
| Secondary Storage | WD Black 6TB |
| CPU Cooler | Cooler Master MasterLiquid ML360R RGB |
| Chassis | Streacom BC1 Open Benchtable |
| Operating System | Windows 10 64bit |
The test is done separately for games with ray tracing features just so we can have a better idea of the RT and non-RT performance of each card tested.
Performance Comparison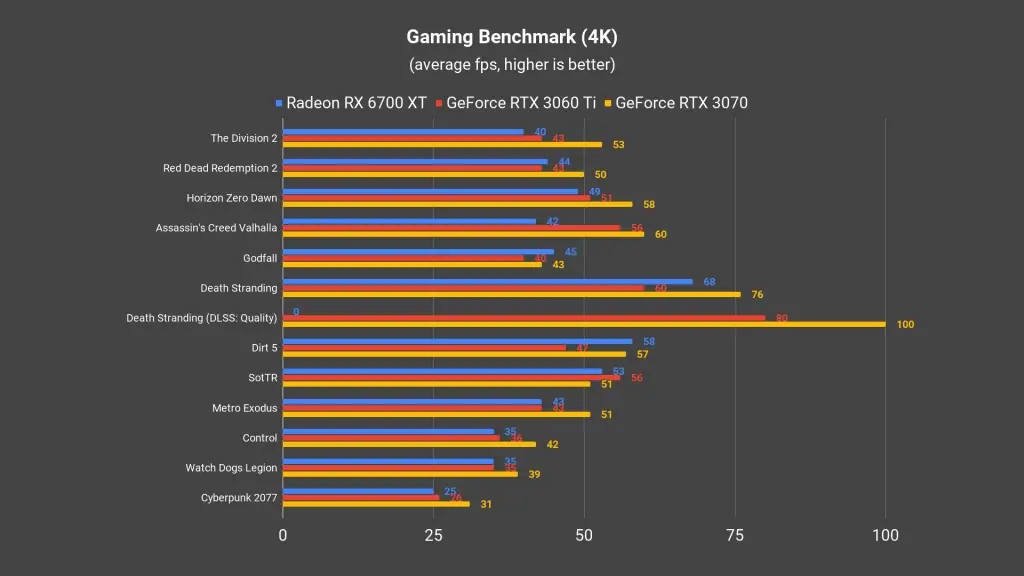 1080P is definitely a piece of cake for all the cards here but we're more interested in the 1440P performance, which AMD used to show the performance difference between these cards during the official product launch event. Based on the benchmark results above, the RX 6700 XT performs pretty well but it's not exactly overpowering the competition by a lot. The overall performance of the RX 6700 XT falls in between the RTX 3060 Ti and RTX 3070, which is pretty okay I'd say.
Ray Tracing Performance Comparison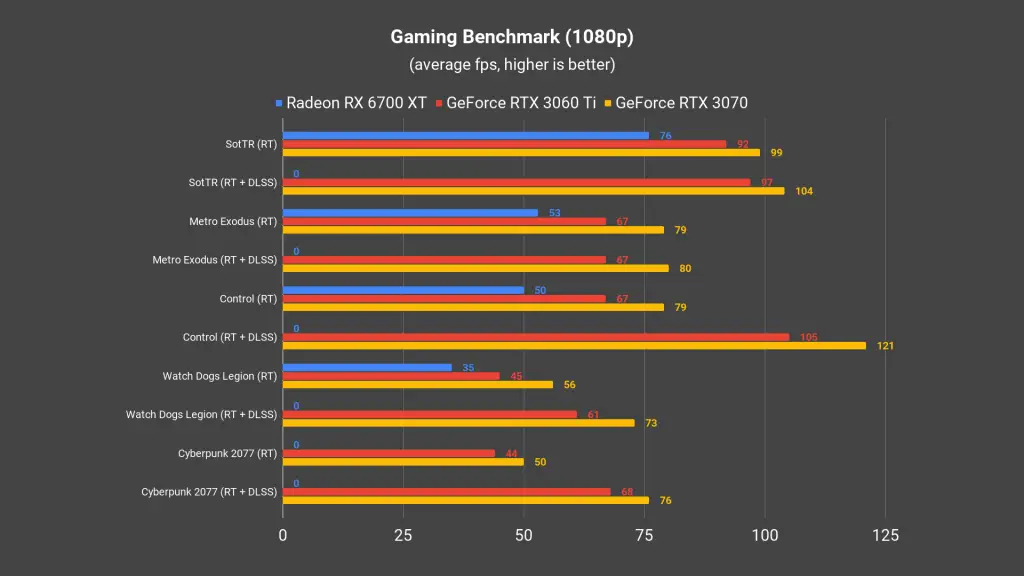 Moving on to the ray tracing performance, we can see that both NVIDIA cards still have the unfair advantage of having DLSS. Although the new AMD cards can now support ray tracing features, there still games that don't have ray tracing enabled for the AMD cards, notably the much controversial Cyberpunk 2077. Without DLSS, you'll be having a hard time with ray tracing even on 1080P with the RX 6700 XT, so the best way to enjoy ray tracing with this card is to lower the ray tracing settings from ultra to high or perhaps, medium.
Temperature & Power Draw
We've also compared the thermal performance and power draw for all three cards to see how hot the GPU will get and how much power is it drawing under load.
| | | | |
| --- | --- | --- | --- |
| | Radeon RX 6700 XT | GeForce RTX 3060 Ti | GeForce RTX 3070 |
| Idle Temp. (°C) | 48 | 40 | 43 |
| Load Temp. (°C) | 83 | 73 | 76 |
| Power Draw (W) | 190 | 195 | 220 |
Temperature-wise, the RX 6700 XT has the highest idle and load temperature among all three cards we've tested. Unlike the behavior on some of the reference cards that shows to have higher load temperature while playing games, the RX 6700 XT seems to have a pretty consistent load temperature across our games benchmark and FurMark stress test. Although the higher load temperature is much to be expected, you'll be able to see lower load temperatures on the custom models from the board partners, especially on the high-end tier RX 6700 XT that will usually be equipped with a beefier cooler.
As for the power draw, the power draw on the RX 6700 XT is somewhat lower than what I've initially expected, which is at 190W. This makes me wonder why do we still need an 8-pin and 6-pin PCIe power connector for the RX 6700 XT. We'll probably see a higher power draw on the custom design from the board partners, but I'm not sure if we'll be seeing any RX 6700 XT that requires only a single 8-pin PCIe power connected – I highly doubt that, of course.
First Impression
Now that we have a better idea of what kind of performance the RX 6700 XT is capable of, this is what I have to say about this card. Performance-wise, the RX 6700 XT is still a pretty good card which its performance is roughly in between an RTX 3060 Ti and RTX 3070. It's definitely not an RTX 3070 killer for sure, but the extra VRAM is something that will come in really handy for games that have resolution scaling features that will benefit from the extra VRAM the RX 6700 XT has to offer.
Ray tracing performance is much to be expected of course, since we have yet to see any DLSS alternative from AMD at this point in time. It's basically what we've experienced back then when NVIDIA first announced the RTX 20 series graphics cards and that's the time when some users are still doubting whether ray trading is just a gimmick feature that is bound to fail and fade away as time goes by. It's only fair to say that we'll have to give AMD some time before they can finally deliver the much-awaited FidelityFX Super Resolution to give its Radeon RX 6000 cards a boost on the ray tracing performance.
Now for the price, the price tag of $479 seems to be placing the RX 6700 XT in a rather tough position as it's not exactly coming close to the RTX 3070 in terms of the overall performance. What makes the price still somewhat justifiable is the extra VRAM that it has and will come in useful for some users. Of course, that's the data we have on hand for now as we're using a beta driver to test the RX 6700 XT, and the official driver on day one might show some performance improvement.
As of now, I won't recommend the RX 6700 XT to users who want to experience ray tracing for the first time but if you only want the raw performance and don't really care about ray tracing, this is probably an option to consider if you didn't manage to get your hands on the RTX 3060 Ti or RTX 3070.