After the long wait with the leaks and rumors all over the internet, NVIDIA has finally announced its GTX 1070 Ti today, which will be replacing the GTX 1070 for good?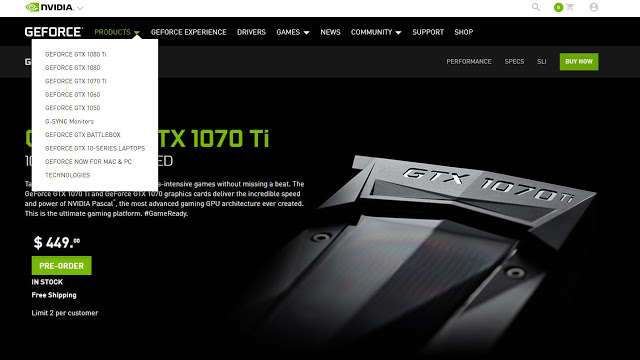 As seen on NVIDIA's
web store
, GTX 1070 is no longer in the product list and existing links that points to the old GTX 1070 product link on the web store has been directed to the product page of the GTX 1070 Ti. It is unsure if NVIDIA is really going to phase out the GTX 1070 and replace it with the GTX 1070 Ti.
Assuming if this is true, NVIDIA's decision on phasing out the GTX 1070 might be harsh to the AIB partners with a large a mount of GTX 1070 in stock, but it would somehow benefit the end-users who is planning for an upgrade – if the AIB partners decided to clear off their existing GTX 1070 at a ridiculous price point. 
The GTX 1070 Ti features the Pascal GP104 GPU that is used on both the GTX 1070 and GTX 1080. From the specs above, we can see that the GTX 1070 Ti comes with a total of 2043 CUDA Cores, 152 Texture Mapping Units, GPU clock of 1607 MHz and boost clock of 1683 MHz, a total of 8GB GDDR5 memory on 256-bit bus. 
Power wise, the GTX 1070 Ti is pretty much the same as the GTX 1070. It will still run on a single 8-pin power connector just like its predecessor with a mere TDP of 180W and a minimum requirement of 500W on the power supply.
[Update 28/10/2017]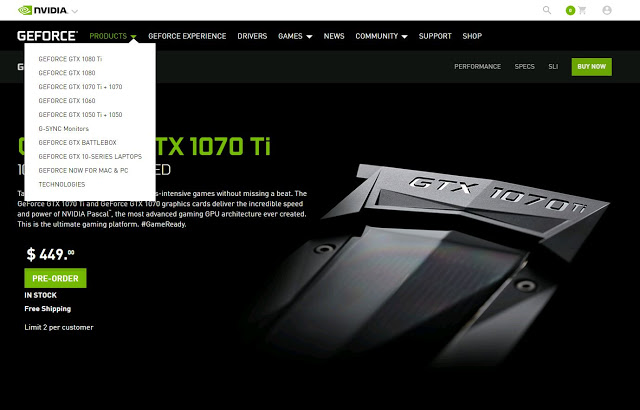 It appears that NVIDIA has updated their web store and GTX 1070 is again visible in the list. In the updated list, NVIDIA specifically grouped both GTX 1070 Ti and GTX 1070 as the GTX 1070 Family, and GTX 1050 Ti and GTX 1050 as the GTX 1050 Family. 
NVIDIA has made it clear that the GTX 1070 will not be replaced by the GTX 1070 Ti, but here's another thing that interests us after the update – where is the GTX 1080 Family?