It looks like we'll have new peripherals from Asus as they have announced their latest addition to the ROG family on September 19, 2017. All in all, there will be 4 peripherals, the ROG Pugio, ROG Strix Evolve, Cerberus RGB Mech Keyboard and Cerberus V2 Green.
All of them are priced competitively, I will indicate it as the article goes along, but warranty for the four products is at 24-months.
The ROG Pugio is an ambidextrous mouse featuring Aura RGB lighting across three zones, including angular light channels on the rear. Current ASUS Aura RGB lighting users will be able to sync the palette of millions of colors and lighting effects with the Pugio and the rest of their gaming setup.
Quick lighting synchronisation between Pugio and the ROG Claymore keyboard is also available and easily achieved with a press of the ROG Sync hotkey and pairing it with the ROG Armoury software will enable users take full advantage of performance adjustments and surface calibration settings, program, map buttons, create profiles and more.
The Pugio will be priced at RM439 MSRP
ROG Strix Evolve
The ROG STRIX Evolve mouse is a different story, featuring a changeable-shape design along with Aura Sync RGB lighting. The top cover is easily swap-able between four different ergonomic designs, to achieve equal comfort levels for both left and right-handed gamers. The mouse also features the classic and durable Omron switches rated for 50-million-clicks.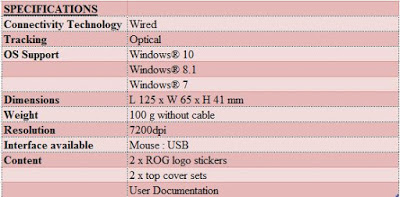 The ROG Strix Evolve is priced at RM369 MSRP.
Cerberus Mech RGB gaming keyboard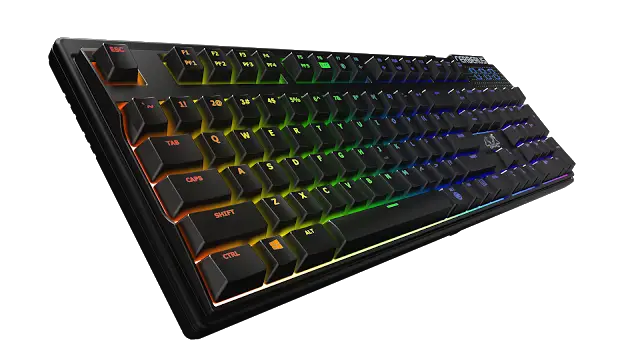 Cerberus Mech RGB features the use of mechanical Kaihua RGB switches with a choice between Red, Blue, Brown and Black switch variants, that provide tactile, lightning-fast response and an ultra-durable lifespan of up to 70-million keystrokes. The keys have full anti-ghosting, N-key rollover (NKRO) and individually programmable back-light with seven built-in lighting effects.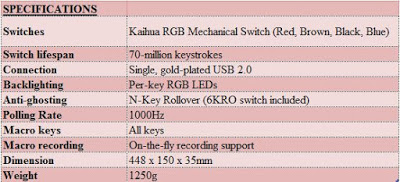 Cerberus Mech RGB Keyboard is priced at RM529 MSRP.
Cerberus V2 gaming headset
The Cerberus V2 headset promises to deliver pristine, high-fidelity audio, taking games to immersive new heights with impactful, lifelike sound effects and cinematic music. 
Featuring refined 53mm Asus Essence drivers, larger sound chambers, and wide frequency response, the Cerberus V2  is able to deliver hard-hitting bass as well as clear, detailed mid and high frequencies making it great for gaming and listening to music. Dual microphone system is present on the Cerberus V2, a detachable boom design with unidirectional pickup and also an in-line design with omni-directional pickup. This gives the users more flexibility and control of their communication between teammates.
Cerberus V2 is built with a newly designed tough stainless-steel outer headband along with a comfortable padded inner headband and soft, wrap-around ear cushions. The ear cushions are 30 percent larger than the original Cerberus and provide 50-percent-better sound insulation for better immersion and long gaming or music-listening sessions. It is available in a choice of three colours (red, green and blue), however, only the green version is available in Malaysia until further notice.
Cerberus V2 Headset (Green) is priced at RM309 MSRP.
No indication on when these peripherals will hit the market but we're hoping that we'll be reviewing them soon. 
About ROG
Republic of Gamers (ROG) is an ASUS sub-brand dedicated to creating the world's best gaming hardware and software. Formed in 2006, ROG offers a complete line of innovative products known for performance and quality, including motherboards, graphics cards, laptops, desktops, monitors, audio equipment, routers and peripherals. ROG participates in and sponsors major international gaming events. ROG gear has been used to set hundreds of overclocking records and it continues to be the preferred choice of gamers and enthusiasts around the world. Learn more about the choice of champions at http://rog.asus.com.