Today, the MSI-hosted 2015 Gaming Press Conference has drawn the attention of global media. The leading gaming brand will reveal the new global gaming tournament – 2015 Masters Gaming Arena, strategic partnerships and a diverse array of state-of-the art gaming gear.
MSI highlighted it's exclusive gaming laptop: the GT72 includes several innovations such as the latest concept Tobii Tech's eye-tracking live demo, NVIDIA G-SYNC; GT80 SLI features ultimate surround view performance, and GE72 adopts the Nahimic Sound technology, and the latest P series laptops featuring True Color technology. System product: the small-yet-powerful gaming PC: Nightblade MI, the continuation of the successful Nightblade series. Graphics card: the winner of the 2015 Taiwan Excellence Awards, MSI GTX 980 GAMING 4G. Motherboards: new high-end X99A GODLIKE GAMING motherboard.
Representatives from MSI's major allies Intel, A-Volute Audio Company (Nahimic Taiwan) and Rivet Networks introduce in turn their latest and greatest technologies in the conference. Intel unveils the method implemented for Intel's all-new 5th Generation Core processors to outperform its previous versions. A-Volute briefs the Nahimic Sound Technology and shows us its high definition sound quality on a GE72 laptop. Rivet Networks bring us the best possible networking solutions: KillerTM Wireless-AC 1535, the world's first network adapter to offer ExtremeRangeTM Technology.
Also SteelSeries and XSplit Gamecaster of SplitmediaLabs present their brilliant gaming peripherals and smooth live streaming in the big event.
MSI is excited to announce that the 2015 Masters Gaming Arena (MGA) will kick off with regional qualifiers for the United States, Europe and Asia. In June, the first qualifier starts in Asia and the rest of the regions in the following weeks. Gamers will be up for a US$200,000 prize pool plus free tickets to the United States in the Grand Finals.
MSI to Host US$200,000 Masters Gaming Arena 2015
MSI welcomes a new partnership with Blizzard Entertainment® and the Electronic Sports League (ESL) to kick-off MGA 2015, featuring StarCraft II® and Heroes of the Storm™, both developed by Blizzard Entertainment®. With MSI's powerful gaming gear, we look forward to see world's best players to show their astonishing skills in our games."
MSI Gaming Hardware Collection
MSI also highlighted its diverse array of gaming lineup of of laptops, motherboards, graphics cards, and AIO PCs, etc. Highlights include award-winning products: CES 2015 Innovation award recipient GT72 Dominator Pro, GT80 SLI; Gaming 24GE 2QE 4K All-In-One PC, and X99A GAMING 9 ACK motherboard. The motherboard has just also bagged the 2015 Best Choice Golden Award.
Check the latest MSI gaming gears up close and person at Taipei World Trade Center Nangang Exhibition Hall Booth #L0617!
Feature-packed gaming laptop GT72, comes with eye-tracking and G-SYNC
Today, MSI proudly announces the partnership with the eye-tracking experts at Tobii Technology and will begin R&D development on a fully integrated eye-tracking notebook for gamers. MSI will demonstrate prototypes of the device during the event.
MSI GT72 built in GTX980M 8GB GDDR5 graphics also sports NVIDIA® G-SYNC™ technology that brings better visual quality with adaptable FPS refresh rate, matching the gaming FPS refresh rate from 30~75Hz. That is to say, GT72 comes with a 17.3-inch display and many advanced hardware for ultimate efficiency and performance.
GT80, the gaming beast with SLI graphics to play surround view
The MSI gaming notebook series with the highest performance has always been the GT Series. MSI GT80 features stellar performance, easy upgrades and a full-size mechanical keyboard.
The GT80 goes above and beyond to give gamers a desktop experience in a notebook, with a 18.4-inch display, best and latest mobile Core i7 Quad Core CPU and NVIDIA GeForce GTX 980M SLI of dual graphics.
Cooperated with SteelSeries, the rig is the first gaming laptop mechanical keyboard equipped with Cherry MX switches. The laptop also embedded gamer-oriented wireless connectivity, the Killer's new ExtremeRange with KillerTM Wireless-AC 1535, makes the GT80 Titan a gaming beast.
More immersive sound, powered by Nahimic: GS/GE series
MSI includes Nahimic, an audio performance technology on its GS60/70 and GE62/72 laptops. Nahimic features the ability to enhance sound quality and precision to deliver an immersive virtual 7.1 sound over your standard stereo.
Nahimic, the powerful sound improvement technology, has been widely acclaimed in military and aeronautics industries where the clarity of sound is essential and vital.
There will be a live demonstration on GE72 laptop of the Nahimic sound along with SteelSeries gaming headsets on the spot.
Featuring True Color Technology: the Essence of Elite, Prestige series
Powered by the latest 4th generation Intel quad core processor and NVIDIA GeForce GTX 950M/960M GPU, the Prestige laptops deliver true-to-life and close to 100% sRGB image quality with MSI True Color Technology.
MSI True Color Technology guarantees that each panel in a MSI notebook comes with the finest precision in color.
Inspired by boutique fashion and high-precision instruments, the new MSI Prestige series is simple yet sophisticated – with silky silver metallic exterior design and the white light backlit keyboard in the interior.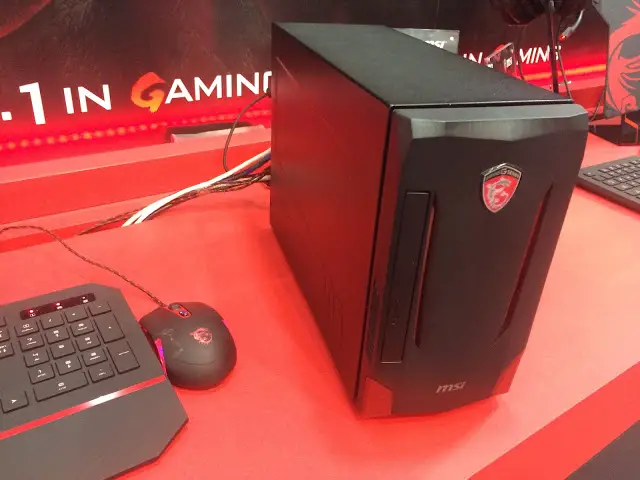 Nightblade MI: the lean, mean, gaming machine
Following the success of the MSI Nightblade, MSI is ready to add a new member to its family soon: Nightblade MI. The smallest and powerful gaming PC equipped with the latest Intel core i7 processor and a full size NVIDIA® GeForce® graphics cards for gaming is ready to take on and display the latest PC games in high detail.
Enforced with Military Class components inside the Nightblade MI is set to deliver stable and energy-efficient performance, even in the longest gaming sessions. The all-new MSI Nightblade MI is ready to handle any blockbuster PC game in the highest details and high frame rates.
New lineup of Gaming All-in-One PCs
MSI will display a lineup of new gaming All-in-One PCs, featuring the latest Intel® Core™ i7 and i5 processor and NVIDIA® GeForce® GTX960M and GTX970M graphics.
The CES 2015 Innovation award receiver, MSI Gaming 24GE 4K (previous named AG240 4K Edition GAMING AIO) features full HD and 4K versions for a complete PC solution for 4K video editing and encoding. Accompanied by the latest GTX960M graphics, Intel Core i7 CPU and integrated with an all new Nahimic Audio Enhancer, the gaming All-in-One PC brings you an immersive gaming experience like no other.
The AG270 2QC 3K features a 27″ panel with a 2560×1440 (3K) resolution which provides a better viewing angle than regular TN panels. This wide-view panel takes image clarity to a whole new level, displaying images more sharp and vivid compared to full HD LCD displays. The AG270 comes with an Intel® Core™ i7 CPU, a GTX 970M graphics card and speakers developed by Yamaha.
Cooler, quieter, Better gaming graphics cards
MSI ushers in its elite line-up of GAMING graphics cards, including the GTX 980 GAMING 4G, the winner of the 2015 Taiwan Excellence Awards. On top of that, MSI also releases its MSI GTX980 Ti GAMING 6G graphics card, featured with 6GB of VRAM and powered by the renowned Twin Frozr V cooler, which features a premium LED illuminated MSI GAMING Dragon that can be controlled by a new feature on the exclusive MSI Gaming App.
Both models equip a back plate which carves out dragon insignias to increase structural rigidity and completes the exquisite appearance. Along with the new funky LED functions and the easy tuning GAMING APP, GTX 980 Ti GAMING 6G delivers a silent and cool gaming experience.
Next to that, MSI proudly shows off its brand new premium SLI bridges, supporting 2-way and 3-way spaced SLI setups. It features a charismatic LED backlit G
AMING shield which can be controlled by the MSI Gaming App and is forged out of high quality materials. Complementing the looks of MSI GAMING graphics cards, this SLI bridge is the ideal link for a true MSI GAMING SLI setup.
X99A GODLIKE GAMING, ONE BOARD TO RULE ALL
MSI rolls out its super high-end X99A GODLIKE GAMING motherboard at COMPUTEX. The X99A GODLIKE GAMING is world's first RGB LED motherboard, supporting more than 2000 colors and many style presets such as breathing, flashing and waving.
The X99A GODLIKE GAMING employs the latest Audio Boost 3 PRO technology to deliver crystal clear sound quality and lossless audio compression. For efficient data transfer, Turbo M.2, SATA Express and USB 3.1 are supported. The X99A GODLIKE GAMING also adopts the latest Killer DoubleShot-X3 PRO. Smart teaming with two Killer Ethernet chips and Killer 1535 Wi-Fi module, X99A GODLIKE GAMING can provide up to 2.867Gbps of network bandwidth for hardcore gamers. The Mystic Light, another special feature, lets users easily control the LED light effects with the MSI Gaming APP on OS and the Mystic Light APP on Android mobile devices.
X99A GAMING 9 ACK, COMPUTEX Best Choice Golden award winner
Recognized for its extraordinary technical ingenuity and outstanding design, the X99A GAMING 9 ACK motherboard bags Best Choice Golden Award in the Gaming & Entertainment category. MSI offers the best GAMING motherboards and was the first vendor to release USB 3.1 motherboards on the market while offering a complete assortment.
With a look and a feel that stand out in the market, the striking design of the X99A GAMING 9 ACK motherboard is highlighted by a premium presentation and an amazing set of features. MSI GAMING motherboards is meant to gamers and power users that just want to enjoy extreme long gaming sessions or get the most speed out of their system as both can find features that help them get the best performance out of their systems.