MYSTIC LIGHT RGB LEDs, Audio Boost 3 PRO and Killer DoubleShot-X3 PRO ensure a gameplay experience out of this world
MSI, world leading in motherboard technology, announces the most powerful X99 gaming solution, the X99A GODLIKE GAMING motherboard. Featuring Killer DoubleShot-X3 Pro, Turbo M.2 connectivity, 2X Faster USB 3.1 Type-A and Type-C and a whole new gaming oriented LED feature, MYSTIC LIGHT, the X99A GODLIKE GAMING is the most powerful motherboard to serve you in battle.
Style your PC with the RGB LEDs from Mystic Light
The X99A GODLIKE GAMING is world's first RGB LED motherboard, supporting more than 2000 colors and many style presets such as breathing, flashing and waving. Make your build look on fire or cold as ice. You are in control. Simply select any of the colors from the palette to match the systems' design. Just change it to another one using the easy to use Mystic Light APP available on PC, phone and tablet, and make your PC look & feel brand new! With 2048 different colors and 7 different LED modes, the Mystic Light provides infinite possibilities for gamers to personalize their gaming rig.
DoubleShot-X3 PRO, team up latest KillerTM 1535 Wi-Fi with Dual-LAN
Killer DoubleShot-X3 Pro allows the 2x killerTM Ethernet connectors and the KillerTM 1535 Wi-Fi adapter to work together for the ultimate high speed attack. The Killer Network Manager decides which apps runs on which connection for gaming traffic optimization. This will give you the max throughput as high as 2.867 Gbps. In addition, the latest KillerTM 1535 Wi-Fi AC provides a significant technology for gamers, the ExtremeRangeTM Technology. The ExtremeRangeTM Technology includes Transmit Beamforming, MU-MIMO Support and External Amplifiers and benefits gamers 2.4x of networking stability and 25% more of wireless performance. With the latest KillerTM 1535 Wi-Fi AC, gamers could take advantage of the various network usages in both gaming and streaming.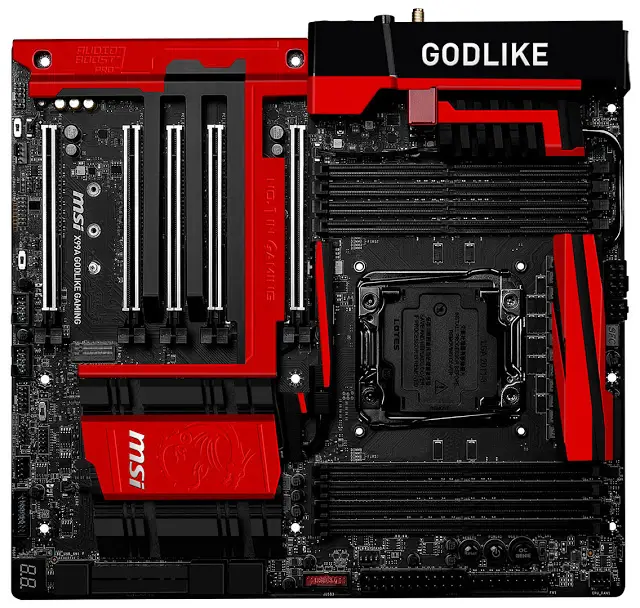 Heavenly sound with Audio Boost 3 PRO
Enjoy the best and purest sound through Audio Boost 3 PRO. New Audio Boost 3 PRO comes with a luxurious Hi-Fi ESS 9018K2M DAC, delivering studio-grade audio quality, onboard! This high-end dedicated onboard sound card delivers 120dB SNR 192 kHz/32-bit of purest sound quality via a dedicated 6.3mm stereo headphone out. Audio Boost 3 PRO makes sure you dominate the battlefield through crystal clear sound and pin-point precision.
With Nahimic, enjoy sound that pushes the limits of reality
At the very cutting edge of innovation, Nahimic sound technology has been approved for its quality and precision in projects undertaken by the military field, and also the aeronautics industry. Now, they are looking to make some serious noise in the world of gaming by becoming the next piece of your lethal arsenal. Nahimic places your user experience right at the heart of their software, offering you highly sought-after gaming benefits: Virtual Sound, Voice Leveler, Bass Boost, Noise Gate & Reduction and HD Audio Recorder. Lastly, Nahimic is unveiling their HD Audio Recorder for the very first time: this function will enable you to enjoy studio quality sound to immortalize your streamed games – all in one click!
2X FASTER USB 3.1 Type-C & Type-A combined
Transferring your favorite games, music and movies over USB has never been faster. USB 3.1 enables lightning fast transfer speeds up to 10Gb/s! The unique combo connector found on the X99A GODLIKE GAMING motherboard offers both a USB 3.1 Type-C and USB 3.1 Type-A connector. Get all the performance benefits from USB 3.1 combined with the convenience of the USB Type-C connector. This reversible connector allows for effortless connecting of USB devices. The USB 3.1 combo connector allows the use of USB 3.1 Type-A and Type-C at the same time.
Take advantage from next-gen storage solutions
Enjoy a blazing fast system boot up and insanely fast loading of applications and games with MSI GAMING motherboards. As SATA Express has never evolved into something real for gamers, MSI offers a whole new generation of high speed storage support through Turbo M.2, Turbo U.2 and 2X FASTER USB 3.1. Turbo M.2 transfers data through a PCI Express 3.0 x4 interface up to 32 Gb/s, making it 5x faster than SATA 3.0 solutions. With a Turbo U.2 Host Card which fits in a M.2 slot, the X99A GODLIKE GAMING also supports the latest and greatest high performance SSDs such as the new Intel 750 series. With support for NVMe, data transfer speeds have never been faster. As a result of innovative engineering the X99A GODLIKE GAMING motherboard also offers both USB 3.1 Type-A and Type-C interface for the most convenient and fast mobile storage solutions.
SteelSeries Certified
Get the best experience for your SteelSeries gear by choosing MSI GAMING. Enthusiast gaming gear brand SteelSeries has officially approved MSI GAMING motherboards and other MSI GAMING products as 'SteelSeries Certified (SSC)'. Your SteelSeries keyboard, mouse and other top quality gaming gear work best on MSI GAMING products.
Designed for overclocking with patented Turbo Socket
With a rich history of breaking world records inherited from MSI's legendary Overclocking motherboards and the presence of unique OC features, the X99A GODLIKE GAMING has OC running through its veins. The patented Turbo Socket is one of the features that removes all limits by providing extra pins (2036 in total) for better overlocking of the Intel® enthusiast processors. Turbo Socket allows for higher DDR4 memory frequencies, lower latencies and enhanced stability while overclocking.
Model: X99A GODLIKE GAMING ACK
CPU support: LGA 2011-v3 socket for new Intel® Core™ i7 processors
Chipset: Intel® X99 Express Chipset
Network: Killer™ Gigabit Ethernet, Killer™ 1535 802.11 ac, BT 4.1
Storage: 1x Turbo M.2 32Gb/s, 10x SATA 6Gb/s (1x SATA Express including)
Connectivity: 5x PCI-e 3.0 x16, 1x USB 3.1 Type-C, 1x USB 3.1 Type-A 8x USB 3.0, 6x USB 2.0, 8-channel Audio Boost 3 PRO including 1x 6.35mm jack