A few days ago, MSI has revealed the next-gen gaming products running Intel's latest CPU together with several new monitors for the gamers, creators and office workers.
Desktops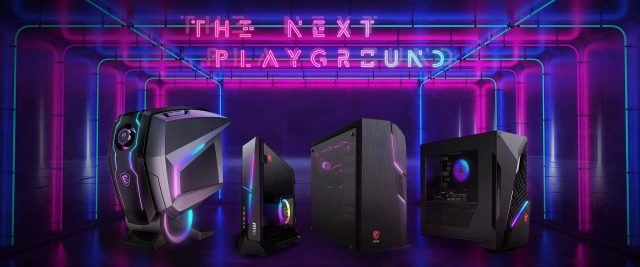 When we talk about the new Intel Alder Lake CPUs, of course, it is made for gamers around the world in order to claim back its title of "Best Gaming CPU" for 2021. Utilizing a brand new CPU architecture consisting of powerful P-Core and efficient E-Core, multi-threaded performance has seen improvements as much as 47% while overall gaming frame rates have been increased by more than 13%. Being the first platform to utilize DDR5 RAM and coupled with DirectStorage technology offered by Windows 11, the following 3 machines are MSI's first step into prebuilt next-gen rigs that will surely bring gaming to the next level.
MEG Aegis Ti5 12th
MEG Trident X 12th
MAG Codex X5 12th
CPU
Intel Core i9-12900K
Intel Core i7-12700K
Intel Core i9-12900K
GPU
NVIDIA RTX 3090
NVIDIA RTX 3090
NVIDIA RTX 3090
RAM

up to 128GB DDR5 4400Mhz (4x U-DIMMs)

Up to 64GB DDR5 4800Mhz(2x U-DIMMs)

Up to 128GB DDR5

4400Mhz

(4x U-DIMMs)

SSD
2x PCIe Gen4
1x SATA/PCIe Gen4
1x SATA/PCIe Gen4
1x PCIe Gen4
2x PCIe Gen4
1x SATA/PCIe Gen4
1x SATA/PCIe Gen3
HDD
1x 3.5 Drive Bay
2x 2.5 Drive Bays
2x 2.5 Drive Bays
2x 3.5 Drive Bays
2x 2.5 Drive Bays
Communication
I225-V(2.5G) + I219-V(1G)

Wi-Fi 6E AX211 (Gig+)

I225-V(2.5G)

Wi-Fi 6E AX211 (Gig+)

I225-V(2.5G)

Wi-Fi 6E AX211 (Gig+)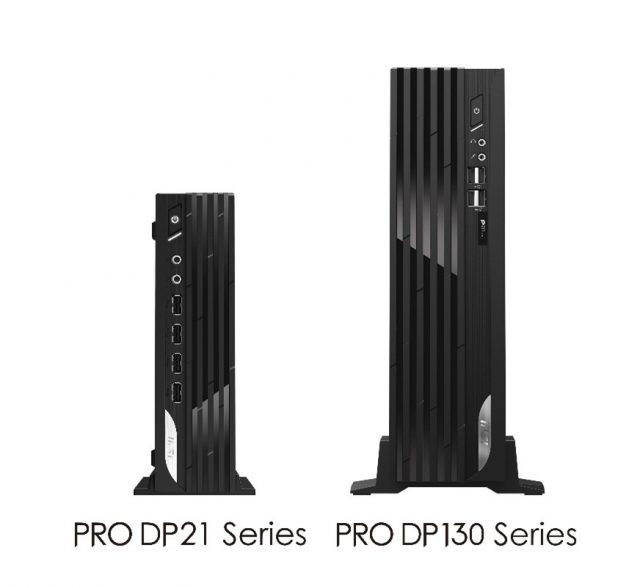 Aside from these gaming rigs, MSI also released a couple of new business-focused machines in the form of PRO DP21 and PRO DP130 that can be fitted into any home studio and workspace while staying low-profile. As a productivity PC that is business-ready, of course, it comes with TPM 2.0 to protect all your sensitive data while the internals can be configured to power through intensive tasks such as up to 12th Gen Intel Core i7 CPU + maximum 64GB RAM + NVIDIA GeForce GPU (DP130 exclusive). What's more, the MSI Center software can help you disable things that may hamper system performance and the Smart Priority optimizes resources for you depending on the workload.
All-in-One PCs
To utilize office space that is more cramped than usual, the new MSI Modern AM242 and AM272 series of All-in-One PCs are the go-to solutions for both office-based or home-based working environments. Running a slick and clean black or white color to emphasize modern concepts, the display comes with Anti-Flicker technology to reduce eye fatigue due to most remote workers are prone to work for a long time while the Low Blue Light mode helps elevate the eye issue more effectively. Thanks to the built-in webcam and microphone that supports noise cancellation technology, you won't need to buy external gears to have a good business use setup. Buy one, forget the rest.
Displays
For the monitors, we'll start things off with something special through MSI's new collaboration with AUO AmLED which is the MEG Artymis 341 Mini LED – the world's 1st 34-inch monitor running Mini LED technology that does the job of controlling brightness and color way better than its predecessor. Featuring an 800R center curved rate and up to 1000nits of brightness to meet the HDR 1000 rating, it also carries the QD Premium Color certification to perhaps become 2021's best gaming monitor for visual fidelity.
Speaking of QD Premium Color, 3 new QD versions of existing models have been refreshed as the Optix MAG274QRF-QD, MPG321QRF-QD, and MPG321UR-QD powered by a Quantum Dot film within the display itself but most importantly, the software optimization that calibrates the color to the best accuracy is the main carry of these 3 products. Other than that, these monitors are also console gamer's best friend as being a 4K 144Hz display through HDMI 2.1 with selected models carrying the KVM 3.0 for quick display settings and input switching, making them the solution for those who game on PC and consoles on a single display. Don't need to buy 2 of them when 1 does all the job.
For the console gamer, MSI also teased a new MEG 551U OLED that will be coming out next year so there's not too much information about it.
Moving onto the creator market, the new Summit MS321 series combines eye-care, ergonomic, superior color accuracy, and MSI's exclusive Productivity Intelligence app into a single package. Armed with an industry-leading configuration of 4K resolution + 136% sRGB + 95% DCI-P3 color gamut, each shipped unit is pre-factory calibrated and guaranteed to provide accuracy of Delta E <2. From a hardware perspective, it carries a magnetic hood to deflect external glare while the built-in card reader makes file transfer even easier. Additionally, quality-of-life features like ambient light sensors to automatically adjust brightness and color temperature and KVM functions to allow 1 set of input to work with 2 different systems displayed by the Summit MS321 can also be found.
If this is too much for the average you, then the Modern MD241 series sporting 7 different colors for 7 different moods/artistic styles should draw your attention as a decent business use display with a hint of personality.
Availability
Unfortunately, the first reveal of these brand new products doesn't come with information such as pricing and shipping dates so guess we'll need to wait for more.