LIAN LI has announced the new A4-H2O small form factor case created from the blueprints of the A4-SFX.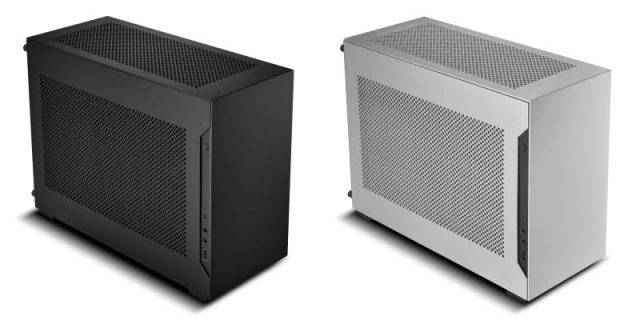 Made in collaboration with DAN Cases, the new A4-H2O succeeds the clean aesthetic and minimalistic concept of the A4-SFX but further expands upon the GPU size compatibility alongside AIO water cooling support, all the while staying at just 11L large, thanks to Daniel Hasen over at DAN Cases providing the new smart design while being manufactured with precision by LIAN LI. Featuring a new steel frame lanked with anodized and sandblasted aluminum panels that are perforated at the top and side to provide direct airflow to all hardware, each panel are secured to the case with snap pins to provide an easy, effortless removal process to get the DIY building started with a quick pace. Opening up the front panel and there's the access towards the GPU mount where it can support up to a triple-slotted 32mm long unit. On the other hand, the perforated bottom aluminum panel is also removable to mount an SSD and provide access to the PSU to enable easier cable management.
The compactness is also derived from the small footprint achieved through a sandwich layout with the Mini-ITX motherboard tray plus the removal SFX / SFX-L PSU mounting bracket secured on the left side of the case while the right side is for the GPU we just mentioned. On the top, the removable bracket can host up to 55mm of radiator + fan combo of a 240mm AIO with the CPU block going as high as 55mm in height.
Preorder Price
Available in colors of Black and Silver with choices of the riser cable rated for either PCIe 3.0 or 4.0, the LIAN LI A4-H2O is now available for preorder at the price of USD129.99 for PCIe 3.0 riser and USD164.99 for the PCIe 4.0 variant on sites including NEWEGG, Caseking, and Overclockers UK.