It's a great day for those who are holding out on some titles. Now, you can get some great titles via this Humble One day Special Bundle. Of course, there are tiers. 3 different tiers, to be precise.
To get everything in Tier 1, you'll only need to pay up $1. You'll get Streets of Rage, Crazy Taxi, Binary domain, and OlliOlli2: Welcome to Olliwood. For those who remember Crazy Taxi from many years ago, then this is a good chance for you to get it. Of course, it can be redeemed on Steam as well.
Tier 2 requires a payment of $6.43 and above, where you'll get Surgeon Simulator: Anniversary Edition (a personal favorite of mine), GRiD 2, Alpha Protocol, and also Operation Flashpoint: Red River. Honestly, the best deal for Tier 2 is Surgeon Simulator.
Tier 3 requires $9 or more, where you'll get Stronghold Crusader 2 and Marvel's Guardian of the Galaxy: The Telltale Series – which the latter is in limited quantities. Once the quantities run out, then you won't get GotG: The Telltale Series.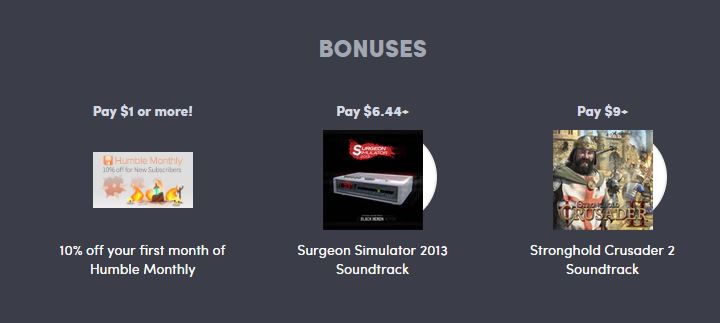 Honestly, I'll pay $6.44 to get the bonus – because Surgeon Simulator 2013's soundtrack is up for grab! I honestly love the soundtrack of that game and now I can get the soundtrack and the game together for quite a low price.
This time around, the purchases made will be supporting SpecialEffect a specialised UK-based charity dedicated to helping all people with disabilities enjoy video games.
Hurry up to https://www.humblebundle.com/games/one-special-day-bundle right now as you only have about 13 days left to buy this bundle.