The RTX 2080 is currently the second fastest consumer graphics card, after the RTX 2080 Ti that is as capable as a GTX 1080 Ti in SLI. While it's not as powerful as the RTX 2080 Ti, the RTX 2080 still packs quite a punch, especially with the RT and Tensor cores to drive the latest features of the existing and upcoming RTX games.
We managed to get our hands on another RTX 2080 this time, the GeForce RTX 2080 EX (1-Click OC) from GALAX. The main highlight of this card will be the 1-click overclocking features via GALAX's proprietary software, so let's just see what kind of performance can we expect from this card.
Specifications
GPU Model
GeForce RTX 2080
CUDA Cores
2944
Base Clock
1515 MHz
Boost Clock
1750 MHz
Effective Memory Clock
14000 MHz
Display Output

3 x DisplayPort (4096×2160 @ 60Hz)
3 x HDMI 2.0 (3840×2160 @ 60Hz)
1 x Type-C

Memory Size
8GB GDDR6
Memory Bus Width
256-bit
Memory Bandwidth
448 GB/s
Interface
PCI-Express 3.0 x16
Thermal Design Power
215W
Recommended Power Supply
550W (650W as recommended by NVIDIA)
Power Input
Dimension
285mm x 127mm x 52mm
Slot Size
2 Slot
Unboxing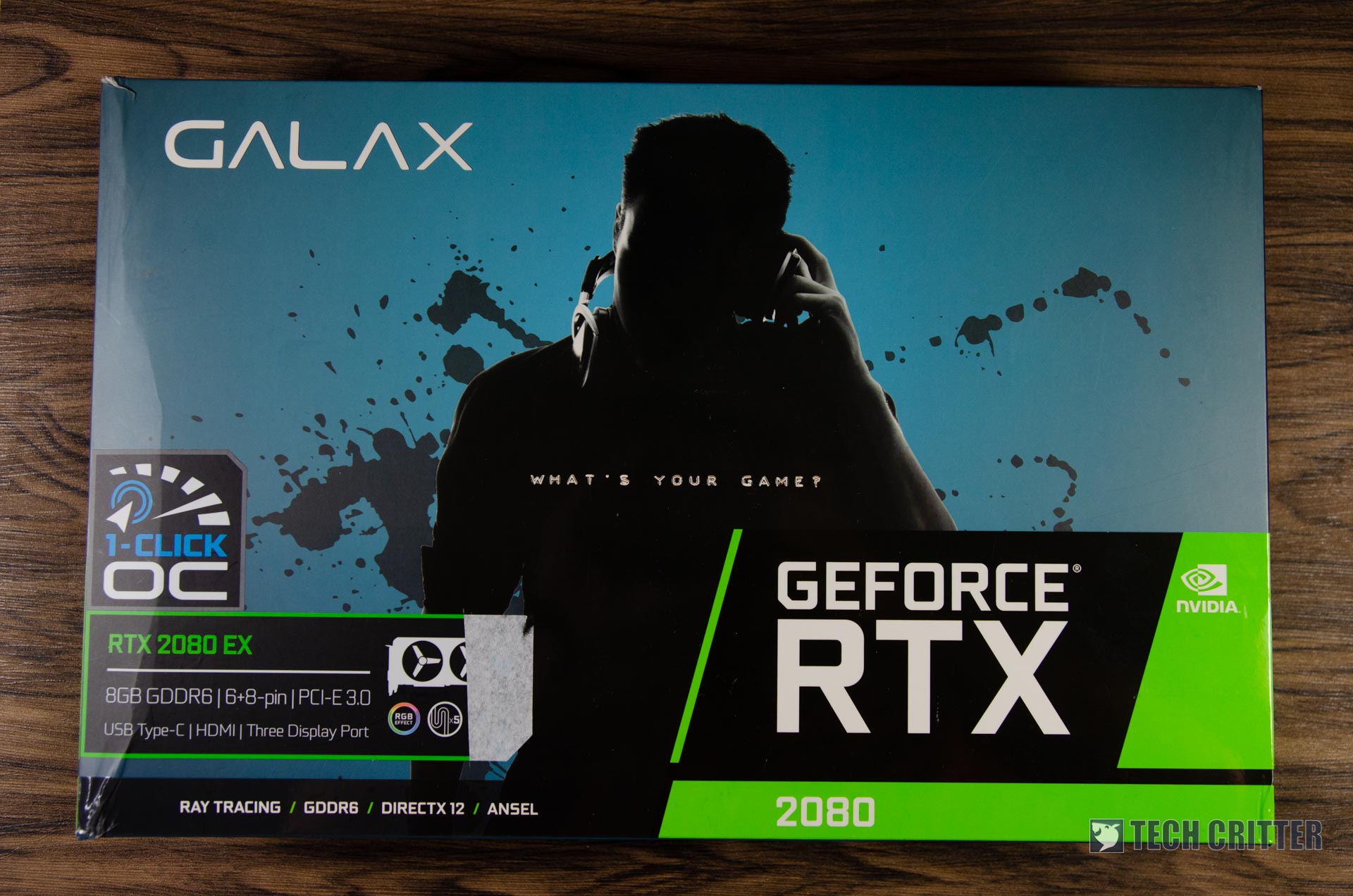 Starting off with the packaging, the GALAX GeForce RTX 2080 EX (1-Click OC) comes in a smaller and compact box as compared to the HOF edition. You'll see the familiar looking silhouette design, 1-click OC feature, NVIDIA Ray Tracing, GDDR6 memory etc.
At the back of the box, you'll find the brief description for some of the highlighted features of the GALAX GeForce RTX 2080 EX (1-Click OC).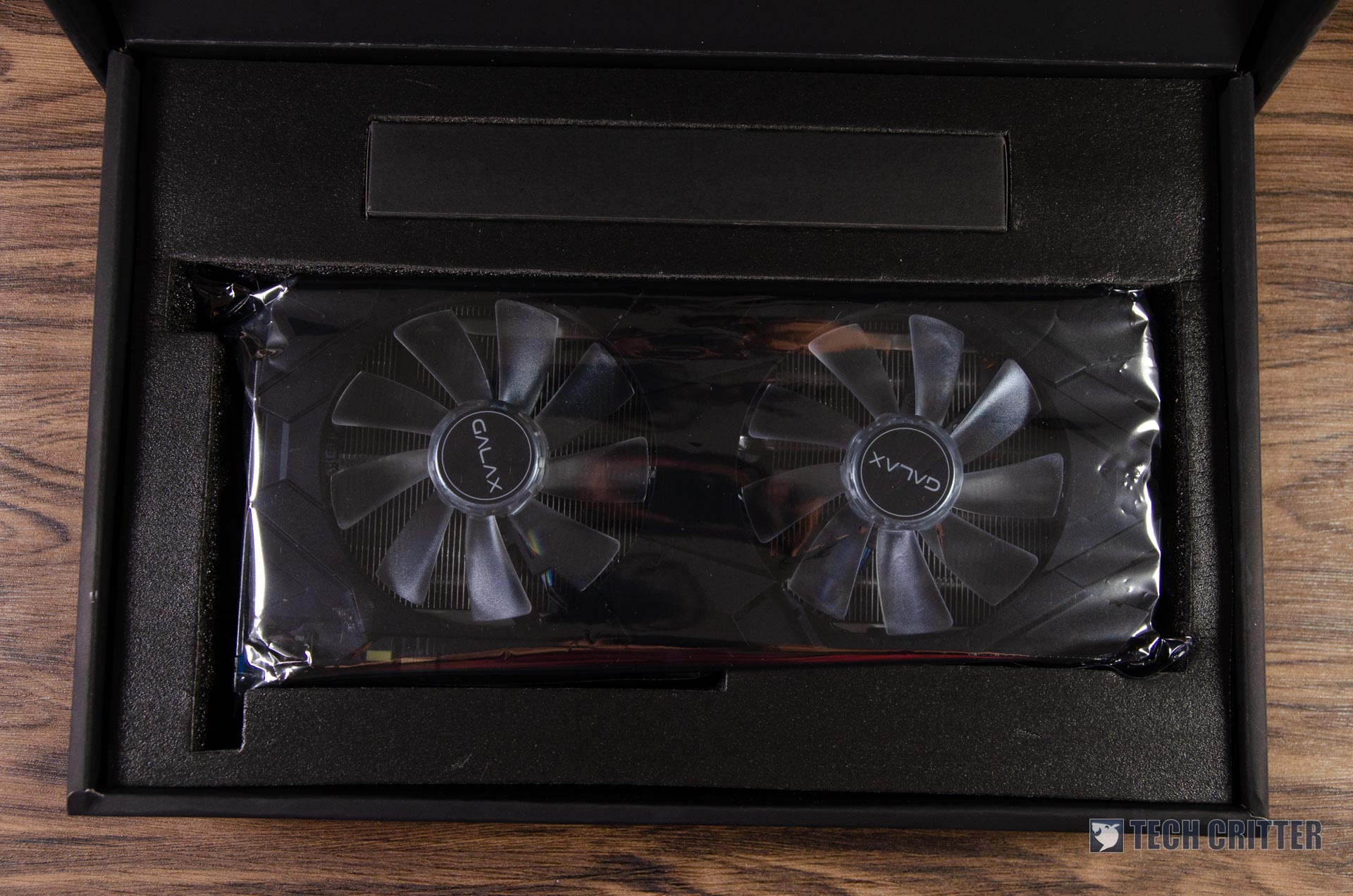 Inside the box, you'll find the card stuffed in a thick piece of foam that is supposed to protect the card from getting damaged from bad handling. It's not the best form of protection we've seen so far, but it'll still be able handle some minor shock or impact during shipping.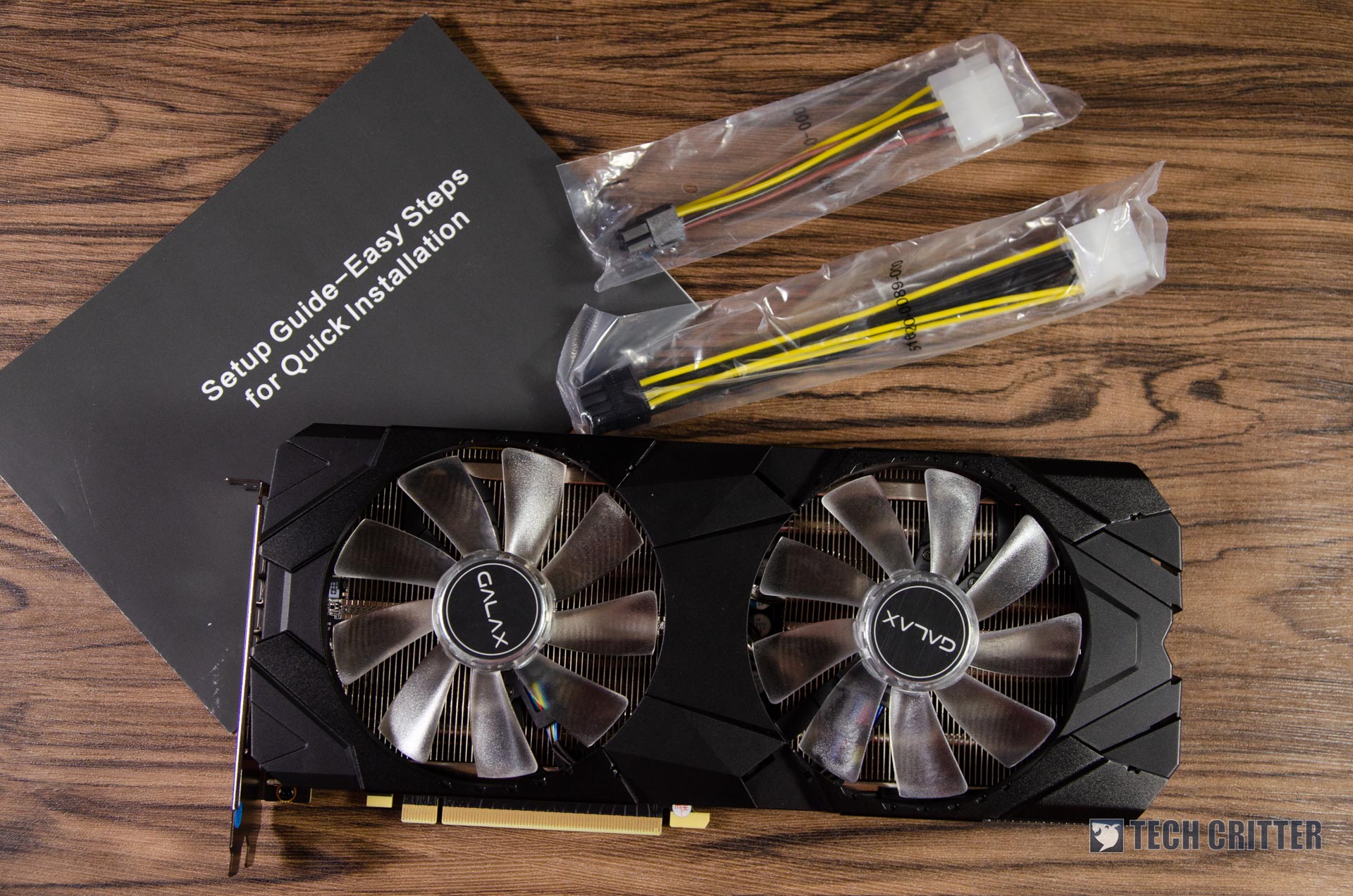 The content is rather simple here – you'll get a molex to PCIe splitter, 8-pin to 6-pin cable, user's guide and the GALAX GeForce RTX 2080 EX (1-Click OC).
The GALAX GeForce RTX 2080 EX (1-Click OC)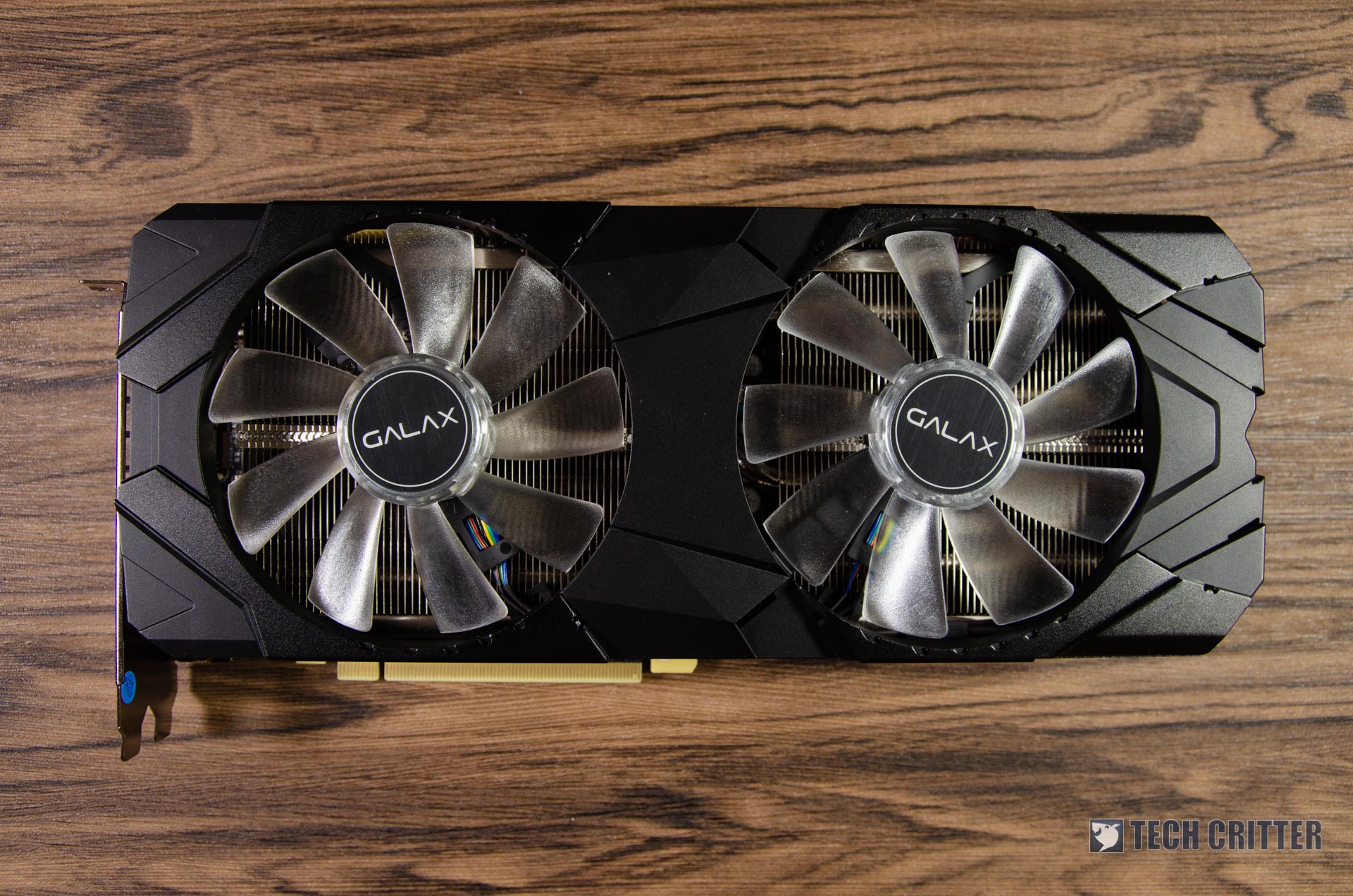 Design wise, the GALAX GeForce RTX 2080 EX (1-Click OC) looks rather plain at first glance, really. At least you still have that HOF like crown design on the GTX 10 series EXOC cards. I myself is a fan of graphics card with minimalist design, but I'll have to say that I'm not a fan of this design – Sorry GALAX.
While it's equipped with a pretty big heatsink for better cooling solution, the GALAX GeForce RTX 2080 EX (1-Click OC) isn't as thick as we've expected. It only takes up 2 slots, so it's very unlikely for you to encounter any clearance issue with this card.
You'll also find these thermal pads in between the PCB and the cooler. These thermal pads helps filling the gap between the onboard components and the base of the heatsink (if there's any) to improve the heat dissipation.
To power the card, you'll need a power supply with at least 550W or higher, one PCIe 6-pin and 8-pin connector each. That is according to the specifications provided by GALAX. I wouldn't really recommend going with the bare minimum, unless it's a power supply that has been certified with 80 PLUS efficiency. If you wanted to play it safe, just stay with the 650W as recommended by NVIDIA.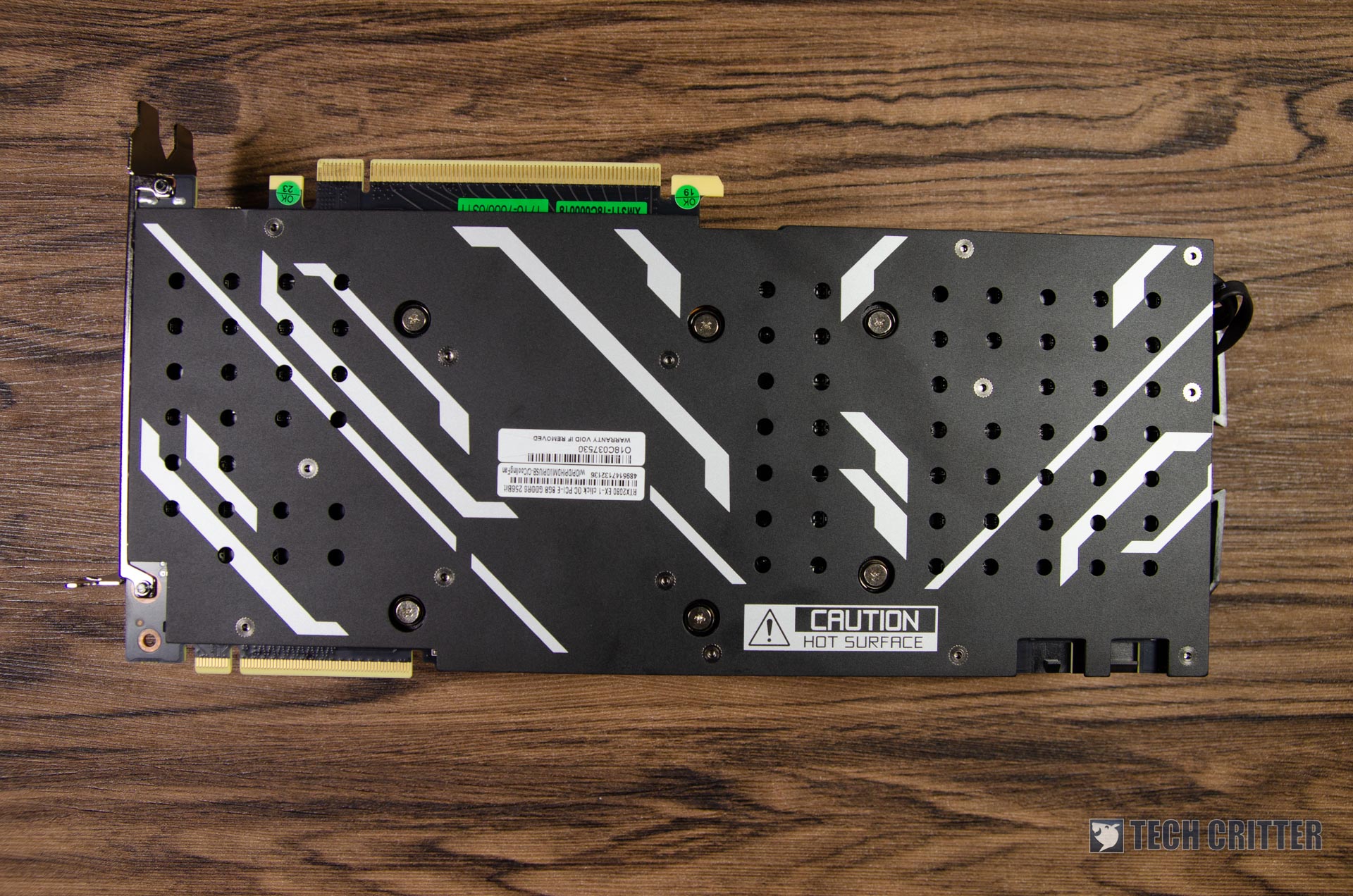 At the back of the card, you'll find a metal backplate that helps to enhance the rigidity of the card. Tiny holes on the metal backplate allows air to move in between the PCB and the metal backplate, which helps to improve the heat dissipation for components located at the back of the PCB.
The display output options you'll get on the GALAX GeForce RTX 2080 EX (1-Click OC) includes 3 x DisplayPort 1.4 ports, a HDMI 2.0b port and a USB Type-C port for VirtualLink.
RGB Lighting?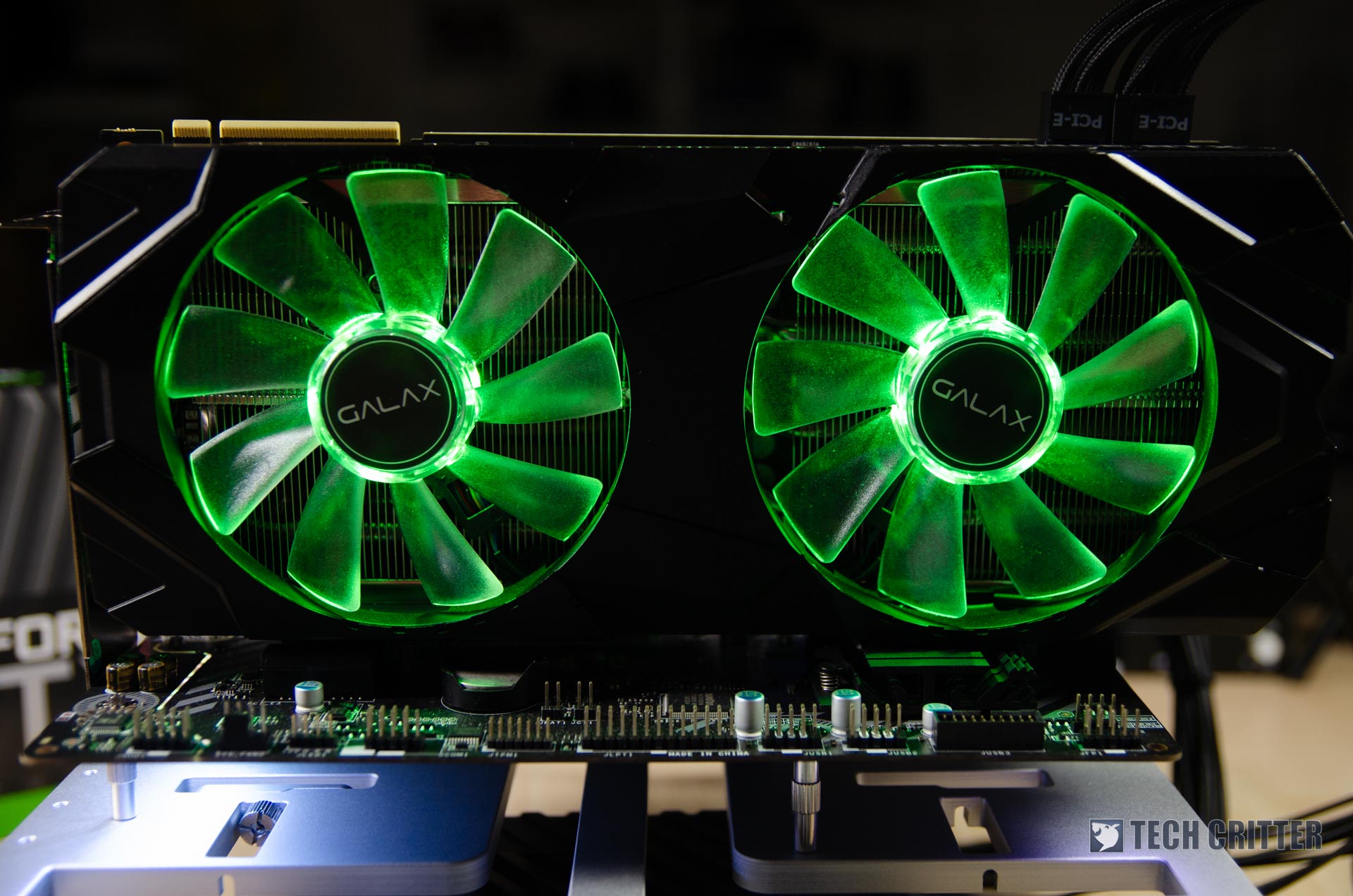 If you're into all the RGB blings, the GALAX GeForce RTX 2080 EX (1-Click OC) comes with a pair of RGB fans for its cooler. The RGB lighting on these fans can be adjusted using GALAX's proprietary software, the Xtreme Tuner Plus RTX.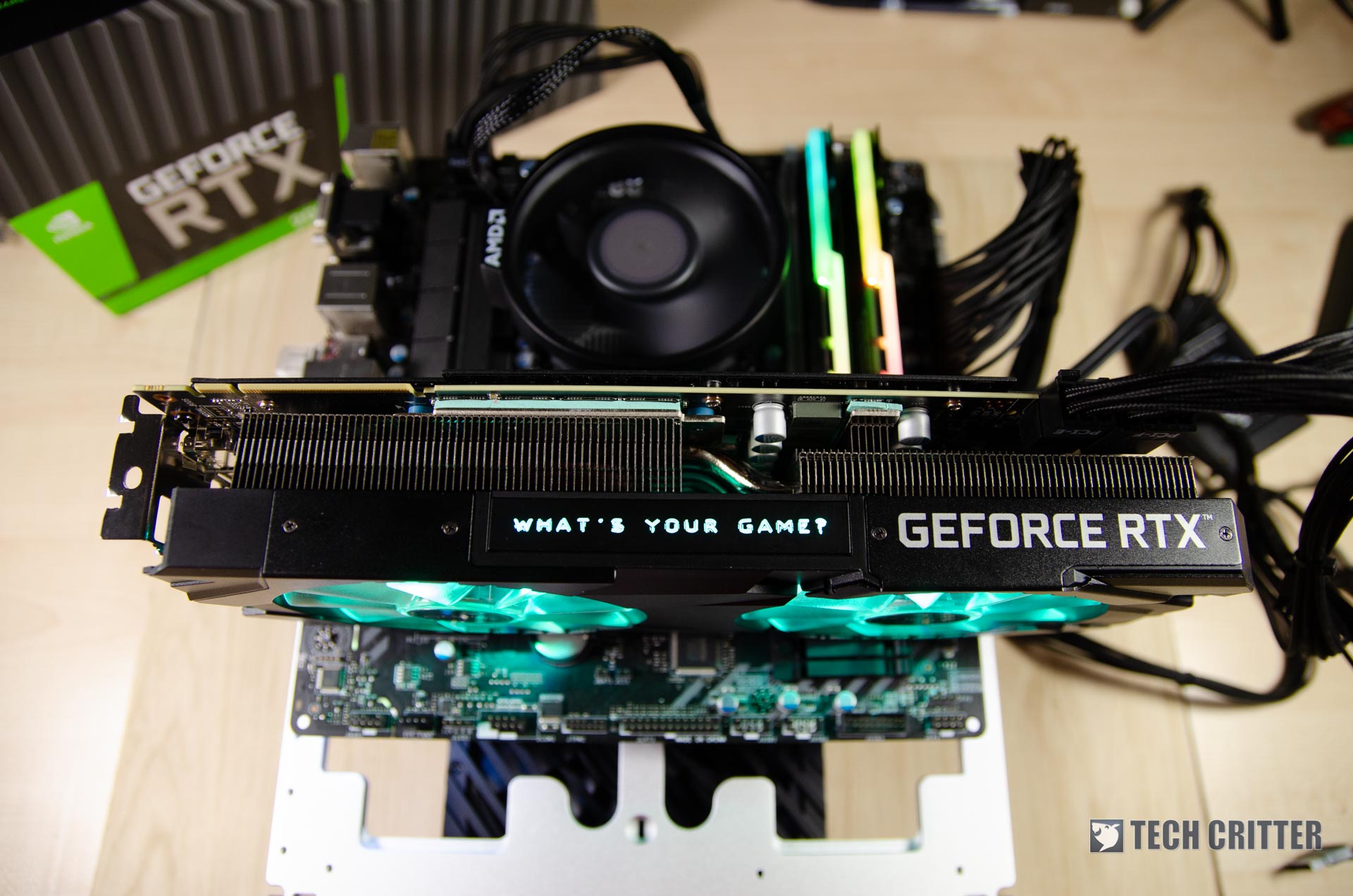 Other than the fans, you'll also have some RGB lighting on the 'What's your game?' tagline which can be adjusted with the Xtreme Tuner Plus RTX as well.
Test System Setup
For our games benchmark test, we've selected a number of AAA titles to run at its highest possible settings using the following setup under ambient temperature of 31°C:
| | |
| --- | --- |
| CPU | Intel Core i7 8700K @5GHz |
| Motherboard | ASUS ROG Maximus X Apex |
| Memory | G.Skill TridentZ RGB 16GB @3200MHz |
| Graphics Card | GALAX GeForce RTX 2080 EX (1-Click OC) |
| Power Supply | Enermax MaxTytan 1250W |
| Primary Storage | WD Black NVMe SSD 500GB |
| Secondary Storage | WD Black 6TB |
| CPU Cooler | Raijintek Orcus 240 |
| Chassis | Cooler Master Test Bench V1 |
| Operating System | Windows 10 64bit |
The test is done separately for games that support both DirectX 11 and DirectX 12 at the resolution of 1920×1080, 2560×1440 and 3840×2160.
Starting off 1080p, the difference in performance is pretty significant. The RTX 2080 basically out performed the GTX 1080 in almost every benchmark we've run here. The HITMAN is the exception here though, which the GTX 1080 actually performs 10% better on this.
The performance gap gets pretty significant as we move on to 1440p, just as we've expected. The GTX 1080 started to show signs of not being able to keep up with maintaining a stable 60fps in some of the games we've tested. The RTX 2080 on the other hand, still seems to be doing fine most of the time. Though, this seems to shows that the RTX 2080 is about to hit its limit with 1440p.
Based on the result for our 4K benchmark, we can see that both the GTX 1080 and RTX 2080 doesn't seems to be able to handle these games at 4K resolution.
Real-Time Ray Tracing Performance
Other than the latest 3DMark Port Royal upgrade from UL Benchmark, Battlefield V is the only game in the market that comes ready with one of the RTX feature, real-time ray tracing.
| | | | |
| --- | --- | --- | --- |
| GeForce RTX 2060 FE | 1080P | 1440P | 4K |
| Battlefield V (DX12) | 105 | 88 | 63 |
| Battlefield V (DX12 + DXR) | 80 | 57 | 36 |
With DXR enabled, you'll be able to notice the difference if you pay enough attention to the details while playing the game. The more realistic experience in game does shows the potential benefit in games in the future, but honestly, you won't pay too much attention to the details when you find yourself in a rather tough situation in game.
Performance drop is definitely a known issue and NVIDIA is already working on the DLSS update for the game. Enabling the DXR in Battlefield V will allow you to experience the real-time ray tracing features, but the main issue here is that it'll take a while before everyone can get used to the idea of having a more realistic lighting in the games that they're playing. That is especially when you're playing a fast-paced game, because surviving the situation will be the higher priority and looking at any of the realistic graphics.
So, 1440p is probably the maximum you can go for with the GALAX GeForce RTX 2080 EX (1-Click OC). If you really wanted to enjoy the game at 4K resolution, you'll have to opt for another RTX 2080 for NVLink or just go with a RTX 2080 Ti.
Temperature
These are the temperature we're getting without doing any adjustments to the fan settings. The GPU idle temperature is around 45°C and hovers around 70°C most of the time during our games benchmark. Enabling real-time ray tracing feature in Battlefield V will result in a  higher peak temperature reading at 73°C.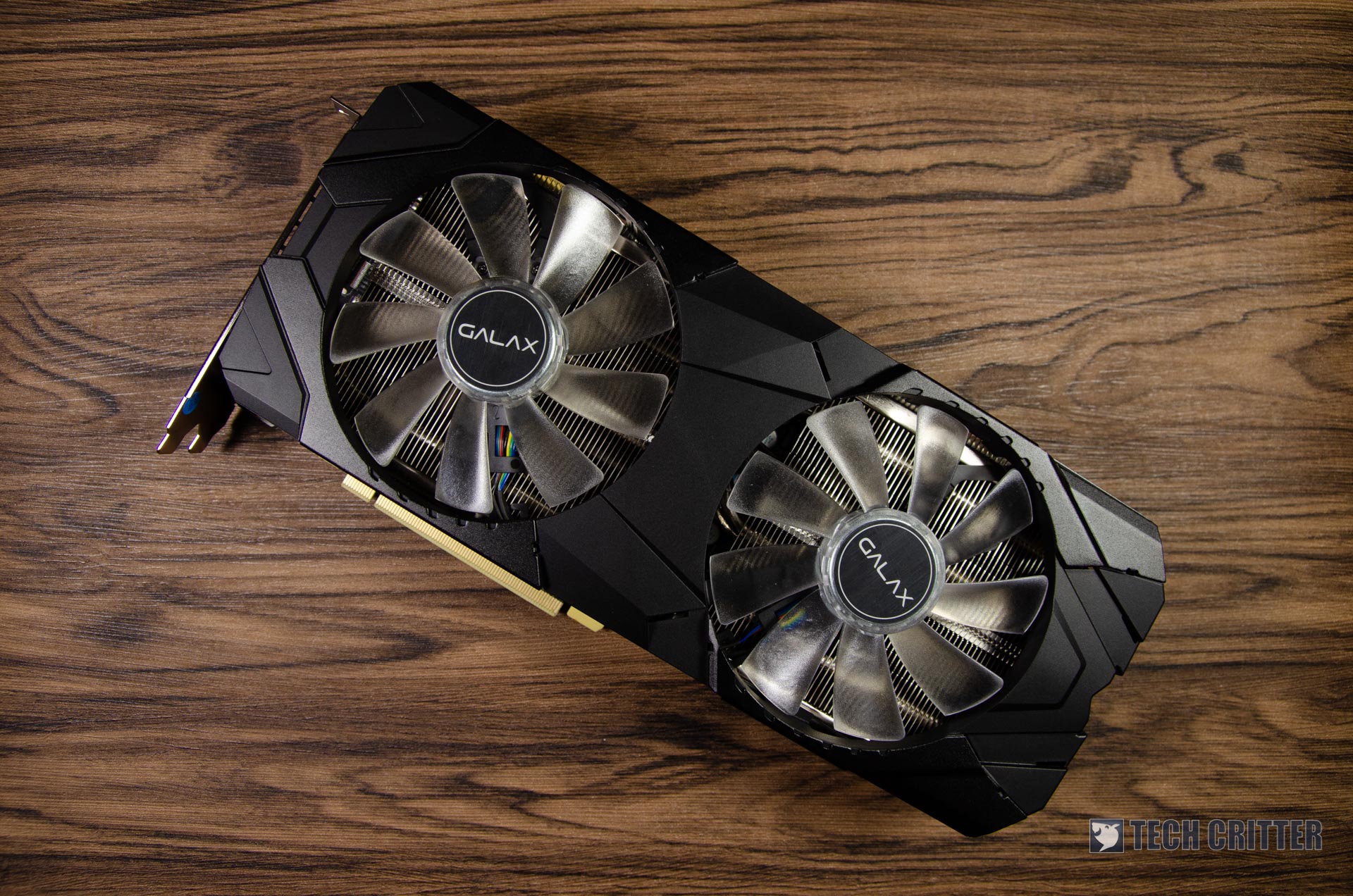 Verdict
The GALAX GeForce RTX 2080 EX (1-Click OC) performs pretty well in most of the AAA titles we've used for the test, but it does have its limit as well. 1440p is probably the highest you can go for if you want to have a pleasant 60fps gaming experience. 4K is just too much for the RTX 2080 to handle, as it really struggles on getting higher frame rates. Another RTX 2080 or just go straight with a RTX 2080 Ti is what you can do if you're really aiming for 4K gaming.
As for the cooler, it does get the job done even though I'm not exactly a fan of this design. The GPU temperature will usually be around 45°C on idle and 70°C on load, which is pretty okay for a 2-slot card. Though, you should take note that the backplate does get really hot over time and GALAX did actually included a warning notice. If you're installing this card in a proper PC case for daily usage, just make sure you have a good airflow because this is definitely going to release most of its heat into your system.
Now, if you're wondering if The GALAX GeForce RTX 2080 EX (1-Click OC) is really worth the upgrade, here's what you should know. It'll land you in a sweet spot for 1440p gaming for both non-RTX and RTX enabled. For those of you who plans to upgrade from a GTX 1070 or GTX 1080, the cheapest GALAX GeForce RTX 2080 EX (1-Click OC) you can find in the market now is at RM 3,199 – which is still quite a lot to pay for. If you have a limited budget but still really eager to give the RTX features a try, the GALAX GeForce RTX 2060 EX (1-Click OC) priced at RM 1,599 would be a better choice.
Pros
Decent performance on both RTX and non-RTX games
Free games included (Battlefield V and Anthem) for a limited time
Easy 1-click OC function with the GALAX Xtreme Tuner Plus RTX software
Comes with a metal backplate
Cons
Metal backplate gets really hot over time
The shroud feels "plasticky"