G.SKILL is thrilled to announce the launch of Trident Z Neo DDR4 memory series for the latest AMD Ryzen 3000 series CPUs on AMD X570 platform. Featuring optimized specifications for the new AMD platform, a new sleek dual-tone heatspreader design, and fully customizable RGB lighting, the Trident Z Neo memory series is the ideal DDR4 DRAM for your next AMD gaming system or workstation.
Optimized Performance for AMD Ryzen 3000
Computer systems with AMD Ryzen processors are known for its performance scaling with memory speed, and Trident Z Neo is engineered to achieve optimal performance with the latest AMD Ryzen 3000 series processors on AMD X570 motherboards. Under the latest AMD Ryzen 3000 series platform, DDR4 memory frequency support has increased by leaps and bounds, allowing the X570 chipset platform to run an unprecedented memory speed record of DDR4-5774MHz– the fastest memory speed ever achieved on an AMD platform under extreme liquid nitrogen cooling – as seen in the following CPU-Z validation screenshot with the MSI MEG X570 GODLIKE motherboard. (https://valid.x86.fr/u9f2jr)
Neo Design Elements
Designed with a contrast of black brushed aluminum and powder-coated silver for a bold heatspreader color scheme, as well as a beveled edge along the top tri-fin of the Trident Z family with an asymmetrical slant across the dual-toned heatspreader, the Trident Z Neo series introduces sleek new elements and adds character to your next RGB-enabled AMD system.
RGB Software Support
The smooth 8-zone RGB lighting on the Trident Z Neo is fully customizable and controllable via the Trident Z lighting control software, which already supports the Trident Z RGB and Trident Z Royal series, and is available for download from the official G.SKILL website. Additionally, the Trident Z Neo is also supported by third-party RGB software from motherboard vendors, such as Asus Aura Sync, Gigabyte RGB Fusion, MSI Mystic Light, and ASRock Polychrome.
Powerful Performance
With each module individually crafted with hand-screened high-performance ICs and custom 10-layer PCB with RGB lighting, Trident Z Neo will be available in DRAM frequency speeds of up to DDR4-3600 at a very efficient CL14-15-15-35 timing and in a wide range of capacity configurations, up to 64GB (16GBx4). As seen in the 5-hour stress test screenshot below, a Trident Z Neo 32GB (8GBx4) memory kit is running at DDR4-3600 CL14-15-15-35 on the ASUS ROG Crosshair VIII Formula motherboard, based on the AMD X570 chipset, with a 6-core AMD Ryzen 5 3600 processor.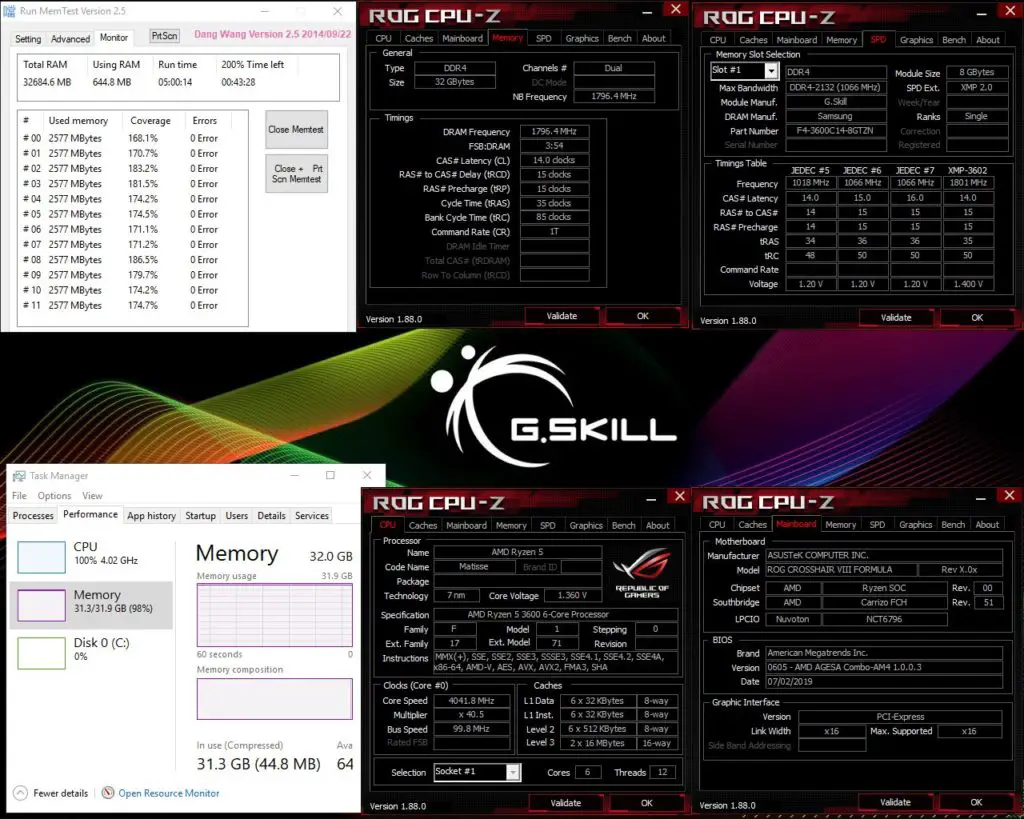 On the same platform, the screenshot below shows a Trident Z Neo 32GB (8GBx4) memory kit being stress tested at DDR4-3600 CL18-18-18-38 under 1.20V.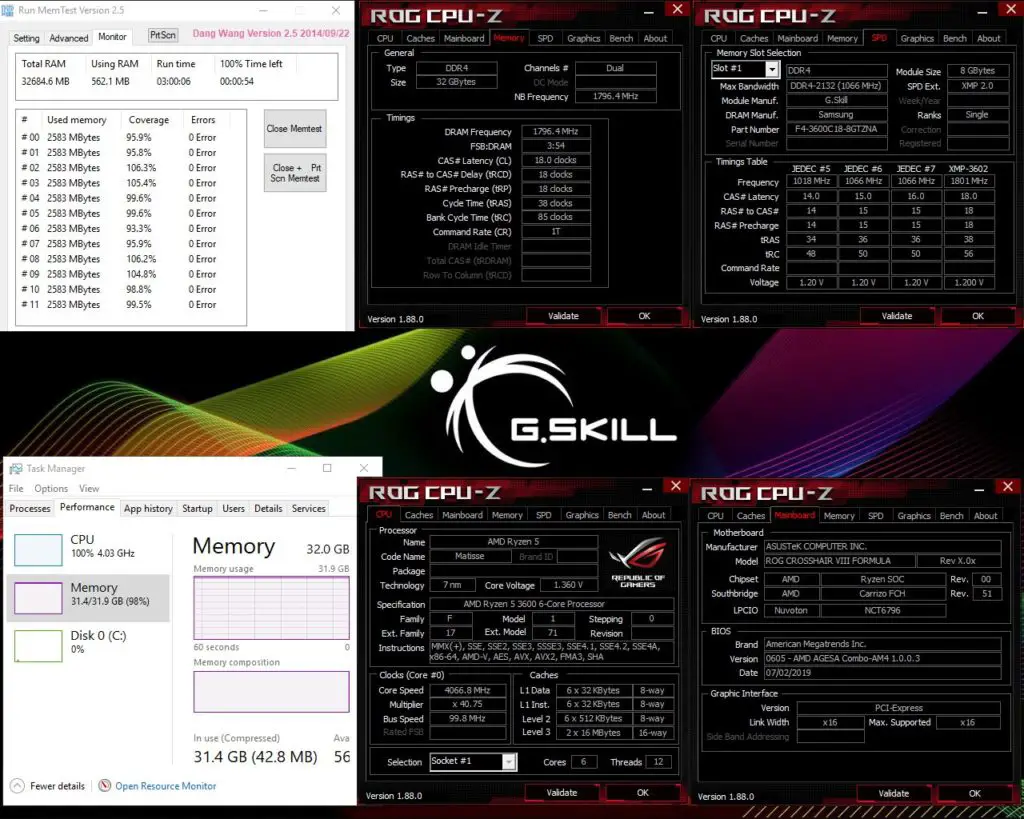 For a list of memory specifications for the Trident Z Neo series, please refer to the table below:
Availability
The Trident Z Neo series RGB DDR4 memory kits will be available via G.SKILL worldwide distribution partners within the month of July 2019.