Hello ladies and gentlemen, this is Jack from Tech-Critter bringing you coverage of Samsung's Gear S2 roadshow which was held at Sunway Pyramid Mall just earlier today.
Featuring their recently launched Gear S2, Samsung is offering folks a chance to know more about said product through their ongoing four day roadshow.
"We will welcome 2016 in just a matter of weeks and for most of us, a new year means a fresh start and a revival of our resolutions. As the leading innovator that offers the perfect gear to help our users get started and stay ahead, we are confident that the Gear S2 will be a great companion and a source of motivation for them. We want our fans to think of December as a fresh start, and then slide into January ahead of the game!" said Mr Lee Sui Siang, Vice President of the Mobile, IT and digital Imaging of Samsung Malaysia Electronics during the first of two Gear S2 roadshows
held in Sunway Pyramid.
Mr Lee Sui Siang, Vice President of Mobile, IT and digital Imaging of Samsung Malaysia Electronics just after he gave a few opening words during the roadshow
Mr Lee Sui Siang, Vice President of Mobile, IT and digital Imaging of Samsung Malaysia Electronics explaining the potential that smartwatches can bring
The roadshow started off with the lighting of a supersized Gear S2 watch face as a means of signifying the turn of a new year. Next thing you know, homegrown badminton superstar Dato' Lee Chong Wei decided to make a surprise appearance to test out the Gear S2's fitness capabilities!
Mr Lee Sui Siang and Dato' Lee Chong Wei setting up the heart rate monitor on their Gear S2
Off to the races! Mr Lee and Dato' Lee cycling their hearts out to see who is the fittest
Then out of nowhere, the local up and rising dance group known as Katoon Network presented their dance routine for the Gear S2, and it definitely hyped the crowd up quite a bit!
Katoon Network presenting their groovy dance routine they specially prepared for today's roadshow
Short solo performance by one of the male members of Katoon Network making the crowd go wild!
It was then followed shortly after by a golf putting tournament where the lucky winner with the fastest hole-in-one will walk away with a brand new Gear S2. Even Dato' Lee Chong Wei couldn't resist giving the putting tournament a shot!
Dato' Lee taking a shot at the putting green
Attendees giving it their best shot to potentially walk away with a brand new Gear S2 on their wrist
The ongoing four day roadshow will also simultaneously be held at IOI City Mall Putrajaya from 18th to 20th December. The roadshows consists of mini golf and cycling challenges, helpful and attentive Samsung representatives, booths where the actual devices are displayed for the public to get a general feel for it etc. all to actively engage the public and the fans with the functions that the Gear S2 can bring to the table and also offering them a glimpse into the impact that Gear S2 has the potential to bring to their day to day lives. Who knows, attendees of the roadshows might even have a chance to win a lucky prize!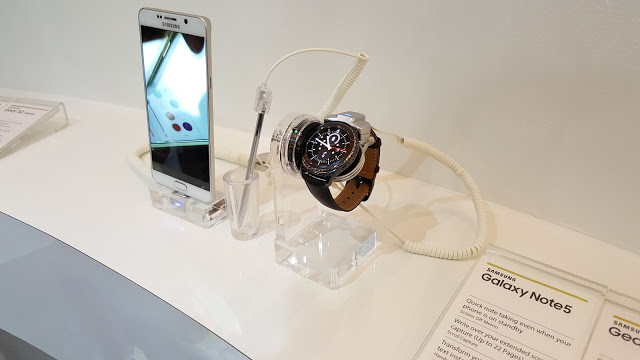 Going hand in hand with the New Year celebration, Samsung is extending two special promotions for the Gear S2 and Samsung's oipular mobile phone range, much to the delight of its fans. The promotions, based on first-come-first-serve basis at each roadshow are:
The first 100 customers to purchase a Gear S2 will receive a free band strap worth RM199.
The first 50 customers who purchase a Samsung Galaxy Note5 or the Galaxy S6 edge+ will receive a 10% discount for the Gear S2 plus a free band strap.
Terms and conditions apply as usual.*
The recommended retail price of the Samsung Gear S2 will be set at RM1,399 while the Gear S2 Classic is available for RM1,599. The Gear S2 is offered in Dark Gray and Silver whereas the Gear S2 Classic is offered in Black, both of which also come with additional changeable straps. If you're curious and want to know more details, feel free to visit their website
www.samsung.com/my
Overall, in my opinion Samsung really did hit the mark with their roadshows this time. The roadshows served as the perfect medium as an eye opener for the public towards the potential that smartwatches can bring to our day to day life so props to them. Do go and have a look at their roadshows if you have the chance, and even if you do or don't make it don't fret as our very own review of the Gear S2 is coming shortly! Once again, this has been Jack bringing you coverage of Samsung's Gear S2 roadshow, stay tuned for everything tech related right here at Tech-Critter. Thank you for reading and I hope you have a nice day!