The hunting season is back and the early technology adopters, students, home users, gamer gathered here at PIKOM PC Fair Kuala Lumpur Convention Centerand to hunt for bargain on their desired tech products. We're here once again to bring you as many content as possible from this PIKOM PC Fair, so let the hunt begin!
Entering the hall we find ASUS taking the first booth nearest to the entrance!
There's ASUS Zenfone demo unit for the crowd to try out.
The compact gaming machine, ASUS ROG GR8 unit is on display
The ASUS ROG Gladius is part of the bundle when you purchase ASUS ROG GR8!
He seems to be enjoying his time with the ASUS ROG GR8 alright!
With NVIDIA Smart Buy, Easy Win campaign going on, you're eligible to win awesome prizes from NVIDIA with a purchase of participating ASUS ROG gaming notebook .
And there's Thunder Match Technology with their HP booth and various models of notebooks from HP.
Here's the sleek looking HP Omen gaming notebook powered by NVIDIA GPU, more Smart Buy, Easy Win?
Dropping by Microsoft booth to support the girls…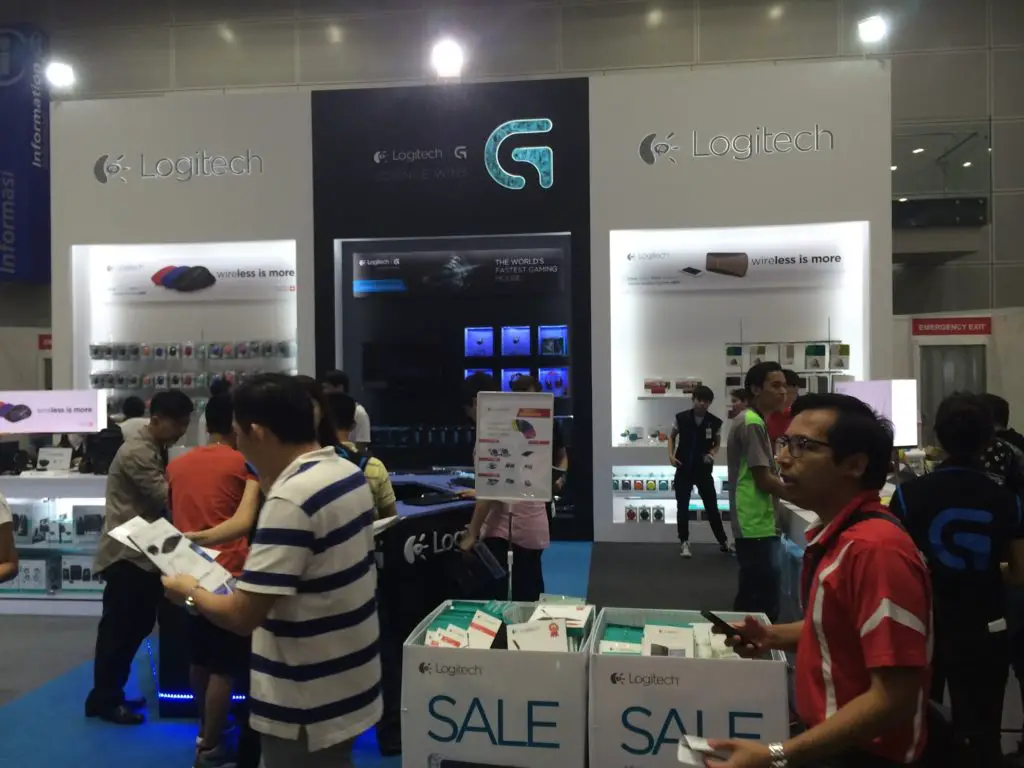 Logitech secured the front booth as well, but there's less gaming peripherals compared to what we've seen from the last PIKOM PC Fair KLCC.
No more spill disaster with the Logitech washable keyboard, K310!
The Logitech gaming mice lineup, what's yours?
Logitech's G710+ mehcanical keyboard with the authentic Cherry MX brown switches
We were told there's a promotion from YES, thanks to the ladies here at YES booth.
Checking out some of Acer's new notebooks…
The spectacular MSI Gaming notebooks booth is awesome as ever.
Pick your weapon of choice!
Joy to your ears! Wide range of Sennheiser products can be found here at ALL IT Hypermarket booth.
TDK, Targus, Fujitsu, Philips and Apacer products can be found here at ALL IT Hypermarket booth as well.
Instead of monitors, the only product you can find at BenQ booth is their projectors.
Aone Plus booth with wide range of AVF gaming peripherals
AVF branded headphones with various designs.
Thermaltake Tt eSports gaming mice, have you seen the dragon?
The horde of power banks and accessories for your mobile phones as usual.
Building a new rig? Jayacom is having promotion with a mystery gift!
Out of space to store your files? There's My Book and My Cloud from Western Digital to save the day!
Have you seen my snake?
Hi there! Anything new from Razer?
The Razer Leviathan with 5.1 surround sound mode and it features a wireless music streaming mode via Bluetooth 4.0 for seamless music listening.
Those who missed the chance to try out the Razer Blade Pro during its launch at ALL IT Hypermarket IPC Shopping Center, here's your chance to try it out!
The latest arrival, Razer Blackwidow Chroma
Aztech is renown for its network products and they're having a promotion now!
Not satisfied with your current modem router? The Aztech DSL7000GR modem router might be just the right modem router you're looking for!
Our local eSports star, Chong Xin 'Ohy' Khoo spotted at Hall 3 entrance!
Greeted by loud and powerful bass upon entering hall 4, the usual Vinnfier speakers lineup.
And Salpido speakers lineup.
Along with various brands like MiFa, Eacan, Avlab.
404 not found? Not really. Here's IdealTech booth, too bright to not to be noticed!
Our dear friend Han from Era of The Geek is here for the event coverage as well!
And what a surprise it is! The In Win D-Frame that we never thought would be here in Malaysia.
A smaller variant of the D-Frame, D-Frame Mini
The Corsair Gaming branded peripherals, a must to try when you're here at IdealTech's booth!
In Win 707 full tower chassis
In Win 703 Black mid tower chassis
In Win 707 full tower chassis
In Win 904 midtower chassis
In Win H-Frame mini, super compact chassis for ITX build!
A lineup of the latest ASRock Z97 and X99 motherboards
The X99 in mATX form factor, ASRock Fatal1ty X99M Killer
The slim line ASRock Z97 Aniversary, it's been quite a while since we last see a motherboard in this form factor.
Another of ASRock's latest X99 chipset motherboard, the ASRock X99 Extreme4
The ASRock Z97 Extreme9, one of ASRock's highest end Z97 chipset motherboard
The overclocking demo setup?
Featuring the Palit GTX980 Super JetStream
Latest self-contained liquid cooling system from Cooler Master, the Nepton 120XL
One of G.Skill's highest end DDR3 memory, the TridentX which capable of 2400MHz out of the box.
The great value gaming peripheral combo, CM Storm Octane Gaming Keyboard Mouse Combo.
Crowning jewel of IdealTech's booth, the In Win S-Frame.
The awesomeness just can't be described by mere words.
Enjoying the great view?
An awesome custom mechanical keyboard is seen at IdealTech's booth as well, assembled by our local mechanical keyboard enthusiast, Aaron Kho (or better known as zennasyndroxx by the mechanical keyboard community).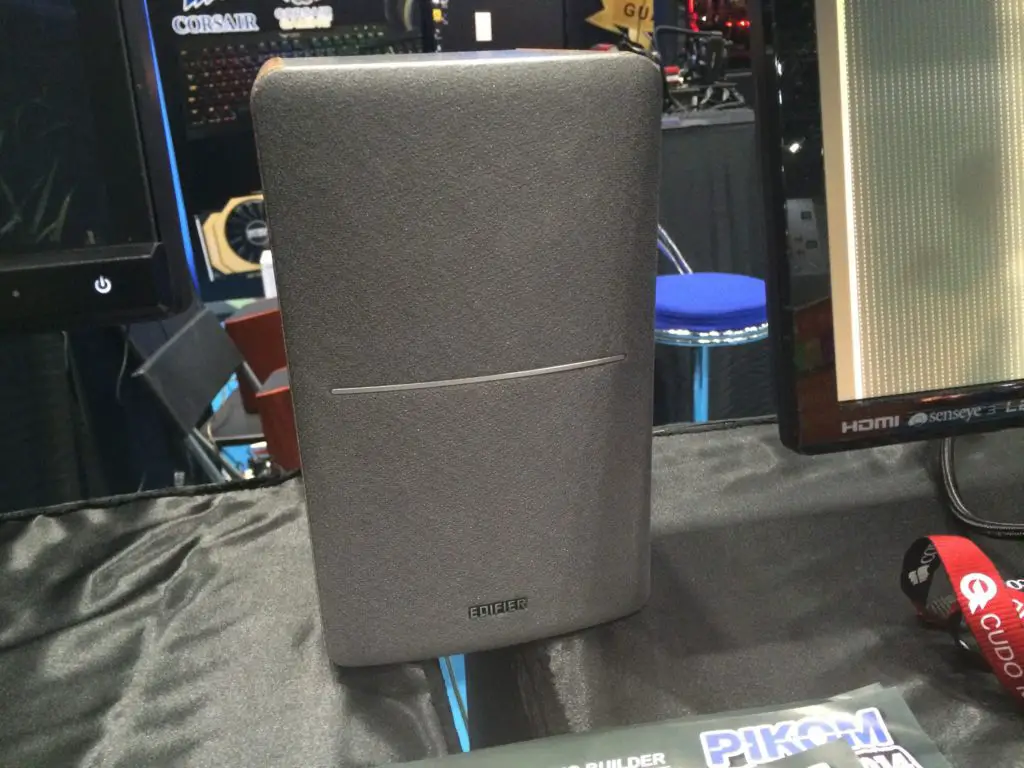 What's powering the sound system at IdealTech?
The green army…
G.Skill memory display units – which is your favorite?
Corsair AF series and SP series fans, LED or colored rings?
Prolimatech's fans can be found here as well, especially the Ultra Sleek Vortex fans that we've previously reviewed!
Moving on to TMT Online booth, Tesoro gaming peripherals anyone?
The Ducky Mini with its fancy LEDs!
And Duck Shine 4…
More gaming peripherals like ROCCAT, i-Rocks, SteelSeries up for grabs!
Oh wait… Since when Sensonic has their own gaming peripherals?
Say cheese!
Now this is something rare, NVIDIA's booth?
So we heard you like NVIDIA… Don't you?
NVIDIA powered gaming notebook from MSI Gaming
A new model from ASUS Republic of Gamers!
The AORUS gaming notebook?
Since when did Gigabyte have a notebook?
The HP Omen that we previously saw at HP's booth!
Psstt… Don't forget to join the NVIDIA Fanclub if you're supporting the green team!
Detailed plants from Far Cry 4, thanks to the latest NVIDIA Maxwell GPU.
And there's Alienware too!
The ultimate gaming monster powered by Intel Haswell-E CPU and 3 x NVIDIA GTX980 in SLI configuration, Area 51!
Alien crafted gaming notebook?
The SIM Racers booth, sponsored by Corsair Gaming?
Fully geared up for serious driving session!
Lucky draw is going on, are you the lucky winner?
Something caught our attention while passing by this area – Vector?
We're here at APES.my booth and things are just about to get started here!
This is something rare – a custom painted Vector Desk PC in white?
The DX Racer chair, you have to sit on it to believe it!
Dream of owning an awesome custom build PC? Here's APES.my to realize that dream!
Any doubts in custom built PC? The Guru(s) at APES.my is there to clear your doubts!
The compact yet awesome SilverStone RVZ01 spotted at APES.my booth!
The mark of the raven
The white colored Vector Benchcase from Cyberfusion is here as well!
That enjoyment!
An alpha male showing some of the latest products to a customer, Razer designed H440?
ASUS's latest STRIX gaming peripherals, coming soon!
The classic CM Storm Aluminum series gaming peripherals, have you collected the whole set of it?
Among the Razer gears lying around, the headphone stand however, is what we have the most interest in!
The LANParty Rig done by APES.my for Cyberfusion 2014! Any guess on how much does it cost in total?
The MOL DOTA 2 Championship is going on!
The serious looks on the caster's face
MSI Snap & Win campaign, lot's of awesome prizes to be won!
All you need to do is to snap a photos with the ladies at MSI booth and wait for the winner to be announced!
Just one more photo before we call it a day!
This is the end of the line now and that's the end of the first day of PIKOM PC Fair 2014 @Kuala Lumpur Convention Center. There'll be more promotion and special offers in the coming 2 days and you might want to consider dropping by to grab these offers – who knows you'll get some pretty good deals.
We hope everyone enjoyed reading our coverage for the PIKOM PC Fair 2014 @Kuala Lumpur Convention Center as we will have more cover on similar events in the coming future.