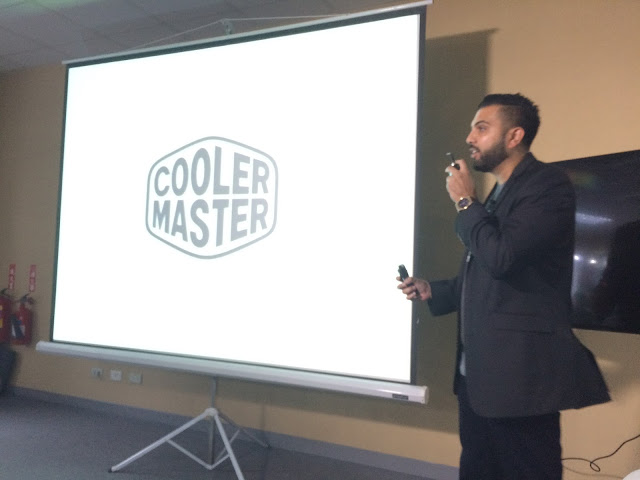 It's been a long while since Computex 2014 and we hasn't really heard of much updates from Cooler Master on what's coming on the PC DIY section. Today, Cooler Master has really surprised us with their new goal, which we strongly believe that this is probably something we've been waiting for all these while.
Instead of announcing just another repetitive design of chassis, PSU nor peripherals, Cooler Master's new slogan of "Make It Yours", aiming to rekindles the maker spirit, allowing users to customize things to their heart's content.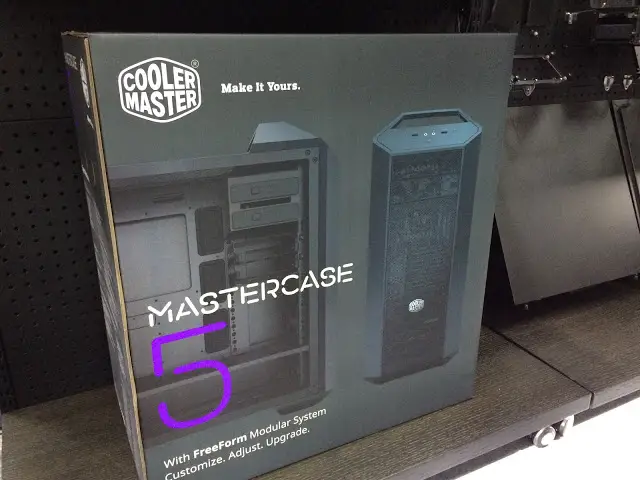 First up, the latest chassis that Cooler Master has truly spent a huge effort on, the MasterCase lineup. A game changer that gives you no excuses to said that the chassis design is the limitation. 
The modular parts of the MasterCase, the frame of the MasterCase being displayed. If you have a queston in mind that sounds like this: "So.. what's so special about this so-called MasterCase thingy?", here's our response to that question: You can pretty much customize the MasterCase to fit pretty much all your needs. Majority of the parts on the MasterCase is modular, there will be no issue with support for long graphics card, support for multiple hard drives, modders friendly design, etc – say no more of "That's not my type of chassis" as that covers pretty much anything you can think of and the only limitation we can see now, is not the chassis design but your own imagination and how do you plan to make it your way .
Representative from Cooler Master Juan Chong and Dong XIe has given us a good introduction on the design, built quality of the chassis itself, awesome thanks to both of them!
Motherboard tray cable management, modular hard drive mount, safe release side panel design, Radiator support and more. Just how far can the MasterCase go? We don't really know but there's one thing for sure, this is the best chassis we've seen so far from Computex 2015 in terms of flexibility where the users can now customize the chassis according to their heart's content.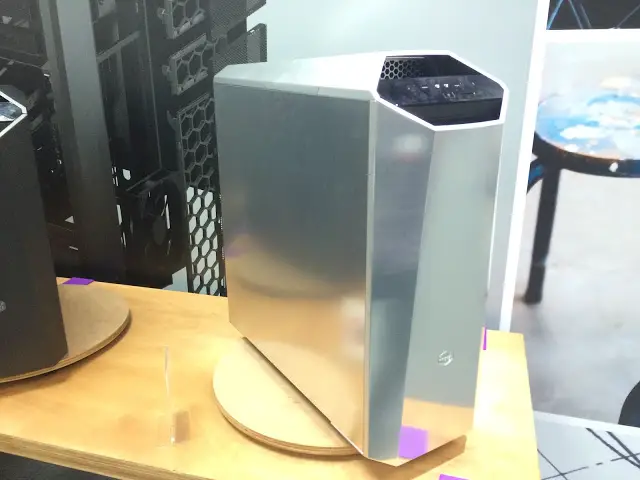 A concept design of the MasterCase that could probably shows up in the coming future.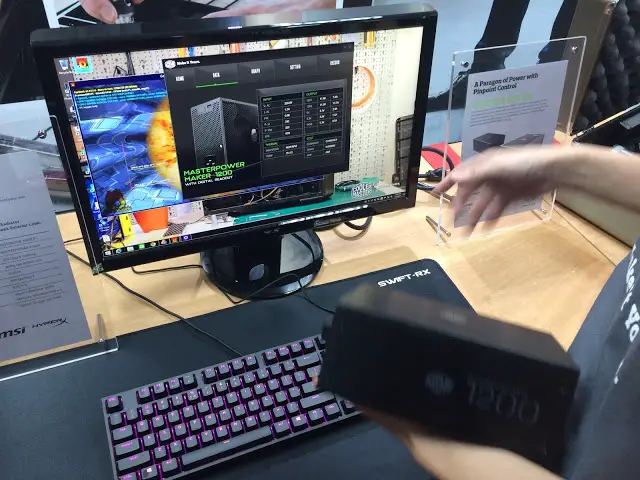 Anyone remember the Digital 1200 Titatnium rated PSU from Computex 2014? Cooler Master has put a lot of effort to refine it to the best and thus, the MasterPower Maker 1200 is born.
Not only that it comes with a cool looking and user-friendly software, the MasterPower Maker 1200 comes with a built in 64-bit ARM processor to ensure you get the readings on real time basis. 
Clean as if it's a bar of chocolate, say hello to the all new mechanical keyboard from Cooler Master, Quickfire XTi which features a dual color LED color shifting features and various modes. 
The new Sentinel mouse that has been refined according to the end user's feedback. We're looking forward for this too!
Water cooling kit from Cooler Master? You bet! Cooler Master will be having their own custom water cooling kit too for the water cooling enthusiasts.
A new cooler that utilize the vapor chamber technology and the silencio fans, looks great but this is still under development.
Modular headphones? Yes, that's right. Removable earcups has been a pretty common feature nowadays, but what if we told you that you can actually change more than that?
Mouse with modular parts that is hold on to the body of the mouse with nothing but magnets. As 3D printing technology is getting a whole lot better, you can have your own design of these modular parts printed out and attach to the mouse. Make it yours!
According to Cooler Master, this is just the beginning of the awesome journey to bring the end user experience to a whole new level and there will be more to come in the near future.