Cooler Master, a leader in design and manufacturing computer components and peripherals, today launched a new mid-tower case that can fit the needs of casual users, gamers and hobbyists alike. The MasterBox 5's straightforward design and flexible interior makes light work of installing or expanding multiple configurations. The case comes with plenty of routing holes and covers for your PSU and drive bay to keep your system organized and clean. The internal layout flexibility of the MasterBox 5 is easy to configure with modular pieces that allow you to remove, slide and rearrange the interior, while at the same time being able to support larger, high-end components, air, all-in-one or DIY watercooling. 
"The MasterBox 5 allows you to unlock your build's inner potential and create a design that follows your personality and preferences," said Wei Yang, Product Manager. "This case is designed for you to install your components with more freedom. With the MasterBox 5, you decide the inside."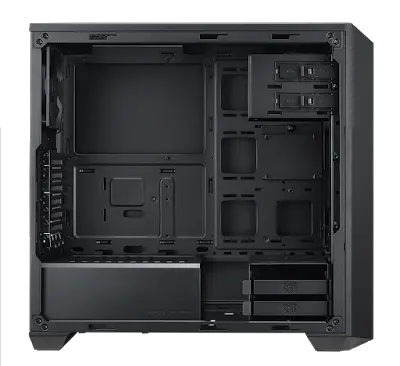 Expansion Support
The MasterBox 5's design and smartly placed tray cutouts make light work of installing or expanding. The motherboard cutouts creatively rearrange space to fit even up to E-ATX sized motherboards. The expansive interior allows you to install two extra-long dual-slot graphics cards (410mm/16.2") while the expansive interior lets you push the limits of liquid cooling with up to 360mm radiator support – all installed comfortably at the same time. 
Flexible Mounting
The modular design of the interior and motherboard tray allows for flexible mounting options. The removable SSD brackets and HDD bays can be rearranged throughout the case. Six routing holes on the motherboard tray allows for mounting options along the front and back, whereas a position on the bottom shelf allows for an HDD bay and SSD bracket to be mounted next to the power supply. Show off or hide your storage with a total of nine SDD mounting positions, including four in the rear. Or remove all HDD bays from the motherboard tray for a clean look and multiple graphics card or DIY liquid cooling possibilities. 
Compact Cooling
Whether you're a fan of air cooling, all-in-one closed loop, or looking to take a step up to DIY watercooling, the MasterBox 5's compact but spacious interior allows you to cool down your advanced components any way you choose. The modular design creates space to fit even the biggest DIY cooling contraptions, as well as supporting four 120mm fans or a 360mm radiator in front.
Easy Fun, Easy Computing
The MasterBox 5 challenges the confines of a small interior by simplifying the build process. Easy, intuitive and flexible arrangements for components and cables makes different system setups possible by having amble hidden space for cable management. The case also includes little perks such as being able to install fans without removing the front bezel, large expansion cutouts for graphics cards installation, dust filters for maintenance, and six routing holes for any system configuration imaginable. A patented Stormguard™ is included, helping you safeguard your peripherals with a security-designed PCI slot cover.
Pricing & Availability
The following MasterBox 5 mid-tower cases are now available for purchase in Singapore, both priced at RM 399.
MasterBox 5 (MCY-B5S1-KWNN-04)
MasterBox 5 Dual Tone (MCX-B5S2-WWNN-01)