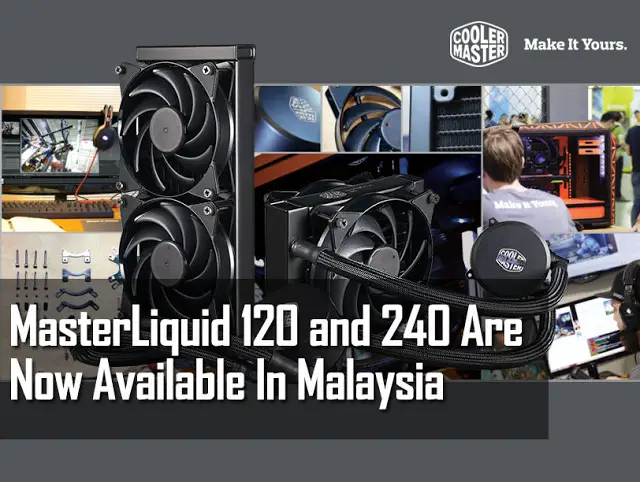 The MasterLiquid 120 and 240 all-in-one liquid CPU coolers that is wholly designed and manufactured by Cooler Master will be available in Malaysia from today onward, priced at RM 339 and RM 399 respectively.
As a self-contained all-in-one liquid cooler,  the MasterLiquid 120 and 240 require minimal setup for installation and use. The pump and radiator ship pressure tested, pre-filled, and sealed directly from the factory to provide maintenance-free operation for years. The MasterLiquid 120 is compatible with nearly all PC chassis that comes with a 120mm fan mount nearby the CPU area. It's very easy to install and it supports the latest Intel 1151 and AMD AM4 sockets.
It's unique low-profile dual chamber pump outperforms its single chamber predecessors in heat transfer. Its design is based on the patented Dual Chamber Technology with FlowOp, featuring a low vibration pump for cool and quiet operation.Its fiber-reinforced polymer (FRP) construction resists a broad range of chemicals and is unaffected by moisture or immersion in water. It is equipped with the MasterFan Air Balance fans to ensure reliability, performance and quiet operation. 
The kink-free, factory-sealed FEP tubing ensures full liquid flow-rate and eliminates any potential evaporation. Unlike its predecessors, the FEP tubing of the MasterLiquid 120 and 240 now comes sleeved out of the box, giving it a touch of premium in overall.