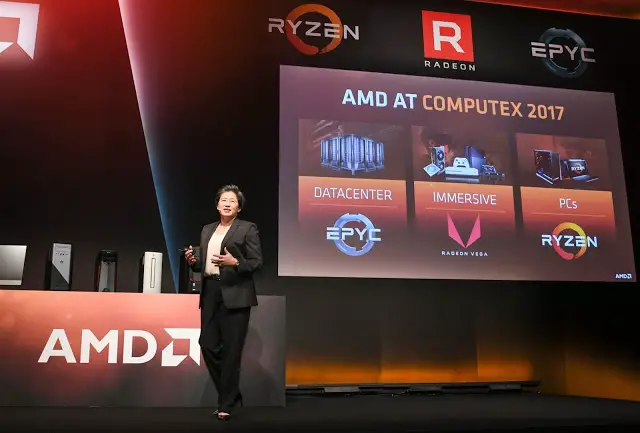 During the AMD press conference today at Computex Taipei, the company had showcased a series of upcoming product timeline and demonstrations. AMD also took the chance and invite top global OEM partners to showcase their new systems based on Ryzen processor.
EPYC Launch
The new EPYC processor lineup is AMD's latest high-performance processors for cloud-based and traditional on-premise data centres. Previously codenamed Naples, the new EPYC processors will deliver the "Zen" x86 processing engine that scales up to 32 physical cores. The first EPYC processor-based servers are scheduled to launch on 20th June 2017.
Ryzen Mobile
AMD also demonstrated publicly for the first time a Ryzen mobile APU in an ultraportable reference design, bringing 4 cores, 8-threads and "Vega" architecture-based graphics into a sub-15mm thickness notebook design. The demo featured the Ryzen mobile-powered notebook playing HD video content.
Ryzen Momentum
Consumers are expected to see more Ryzen 7 and Ryzen 5 systems from OEMs. During the product showcase, Acer, ASUS, Dell and Lenovo has brought us a wide variety of PC systems ranging from All-in-one, towers and laptops.
Acer Aspire GX-281 Desktop
ASUS G11DF Desktop
ASUS Republic of Gamers Strix GL702ZC desktop replacement – the world's first 8-core gaming notebook
Dell Inspiron Gaming Desktop
Dell Inspiron 27 7000 Series AIO – Computex d&i award winner
Lenovo IdeaCentre 720
Lenovo IdeaCentre 510
Ryzen Threadripper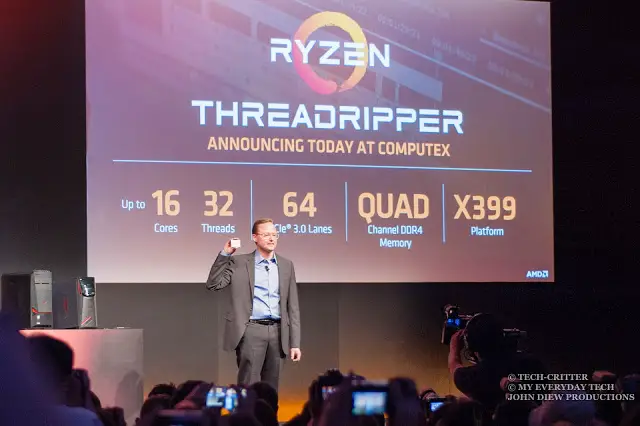 Targetted at the world's fastest ultra-premium desktop systems, the Ryzen Threadripper was announced and scheduled for release in Summer 2017. AMD has demonstrated the power of Threadripper's processing raw power with an ultra fast live rendering of the Ryzen logo. The team also demonstrates the live rendering of a 3D scene with the help of the Threadripper and the Vega-based GPU.
*PS, hey, it supports 64 PCIe 3.0 lanes.
Radeon "Vega" Updates
AMD also announces that the first "Vega" architecture-based graphics card will be called the Radeon Vega Frontier Edition – a premier solution for both machine learning and advanced visualisation. It is expected the card to be available for sale starting 27th June 2017.
Then the highly anticipated Radeon RX Vega graphics card did not make its debut here in Computex Taipei 2017, but the AMD team manage to showcase the graphic quality with a brief gameplay of "Prey". Dr Su mentions that the card is expected to launch at SIGGRAPH 2017 in Los Angeles, California.