Gaming keyboards with mechanical switches are everywhere in today's age and major brands that produce PC parts that also ventured into the peripheral business are basically churning them out regularly. But does anyone remember the guys that manufactured the key switches that let you dive into the proper world of gaming? Yup, we're dealing with the big guys CHERRY for today and they've sent over the MX 2.0S gaming keyboard for us to review with the most recent one being the G80-3000S RGB.
As this is me as a first-timer experiencing CHERRY's product, I'm only going in with a base set of expectations as to how good their gaming keyboard showcases its identity as the carrier of a big name.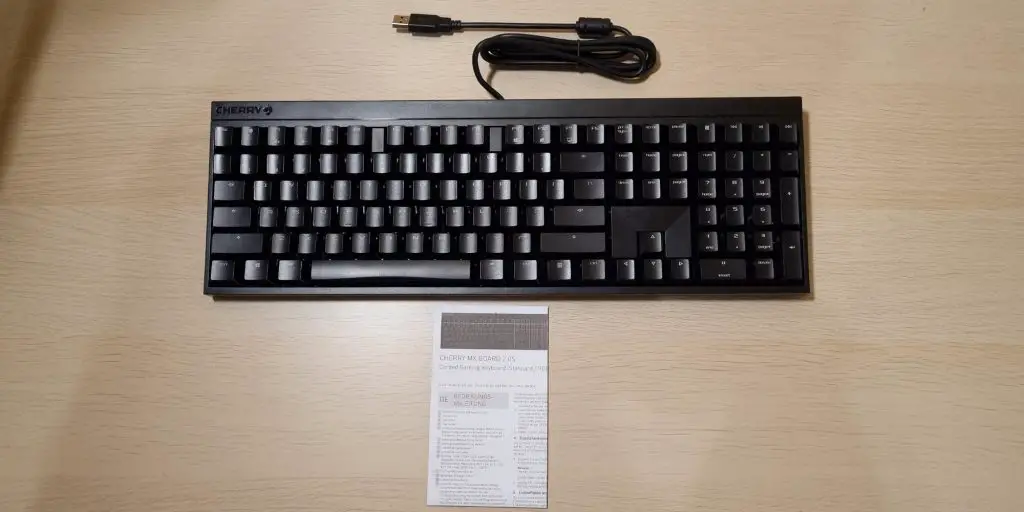 The contents of the MX 2.0S is really really simple – Keyboard and manual, nothing else. At least that's how they keep their prices in check, I think.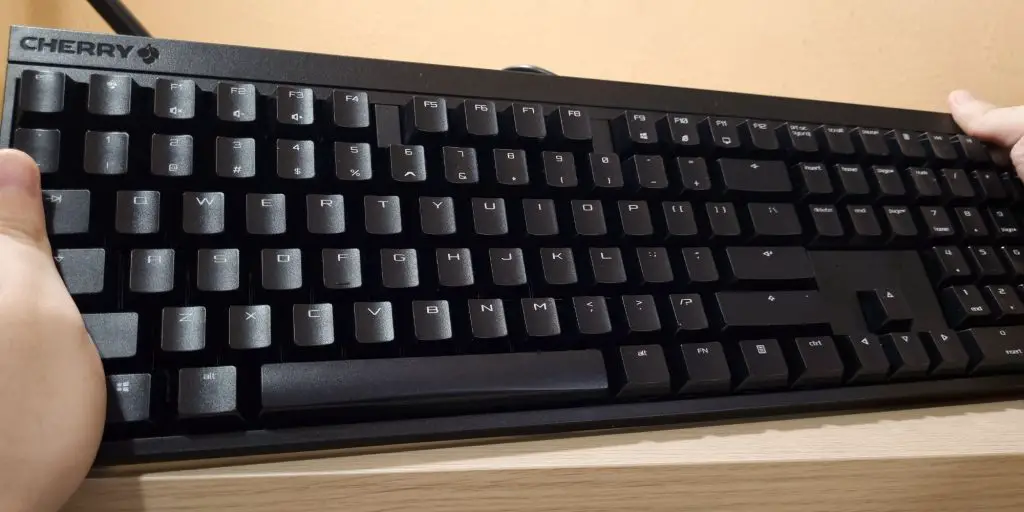 Pulling the MX 2.0S out of the box and the first thing I noticed is the weight which is on the lighter side of things. Checking its specs on the official website and it is listed at 800g so no wonder.
As a 104+5 keyboard, you get all the keys for a full-size layout with an additional 5 being the CHERRY key on the top left and the 4 media keys on the top right.
In terms of flex, it is minimal at best around the edge while the middle part is noticeable but still acceptable.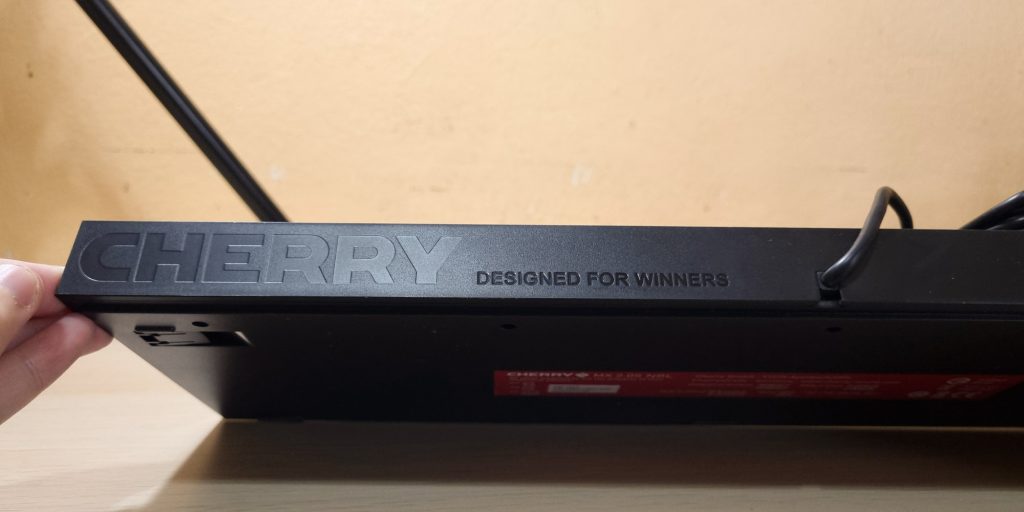 The front portion has the good ol' CHERRY lighted etched while a deeper cut of the DESIGNED FOR WINNERS accompanies it. Well, this is one way of making a stealthy gaming keyboard for the pros.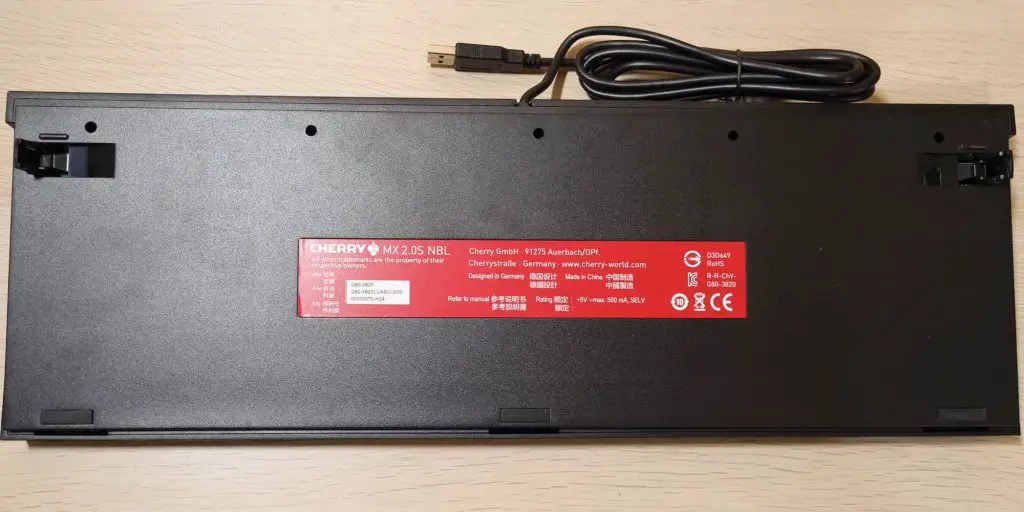 As for the kickstand, you only get one level of elevation and they are a bit unorthodox as the little legs facing 90° sideways essentially make the keyboard "squat" when getting boosted. But over the course of typing with it for a few hours, it doesn't move or slide away so it is definitely stable enough so I don't question their decision about the orientation.
Oh, by the way, the NBL denotation here stands for 'No Back Light' as the MX 2.0S comes with RGB backlight and without backlight. We got one unit each to review which we'll dive into a bit deeper later.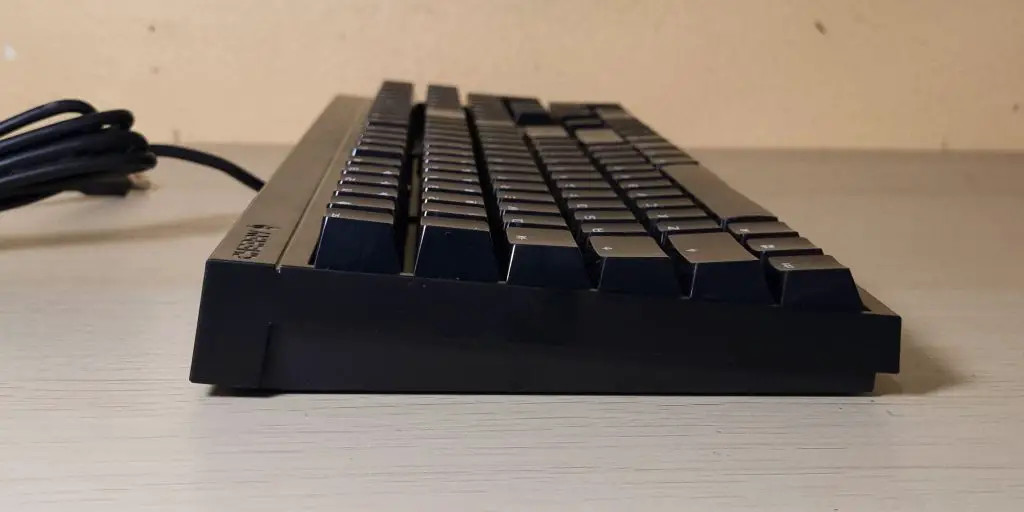 Now comes the first shining point of the MX 2.0S which is the height liftoff between the unit and the table as it is very comfortable for my setup and no wrist rest is required.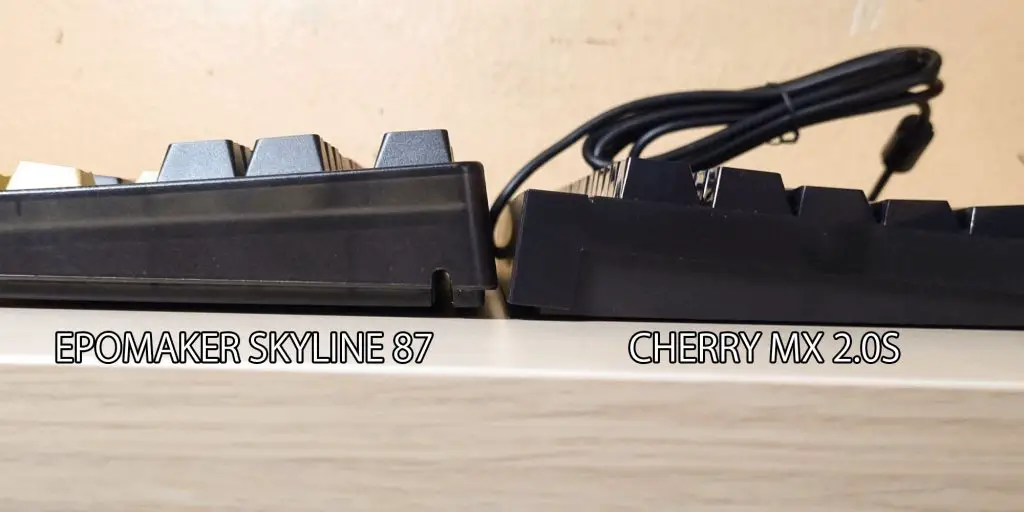 Here's a quick comparison of my personal board versus the MX 2.0S and you can see why I need a wrist rest. If you like a gaming keyboard that is rather short vertically, this might do the trick.
Hopping back to the topic of getting 2 units of the MX 2.0S for review, we received one MX Black and one MX Red for the linear gang but at different weights. As for why the switch housing is different, well the MX Red unit right here is the RGB version so you definitely need that transparency to diffuse some lights while the NBL models can just opt for the flat black color.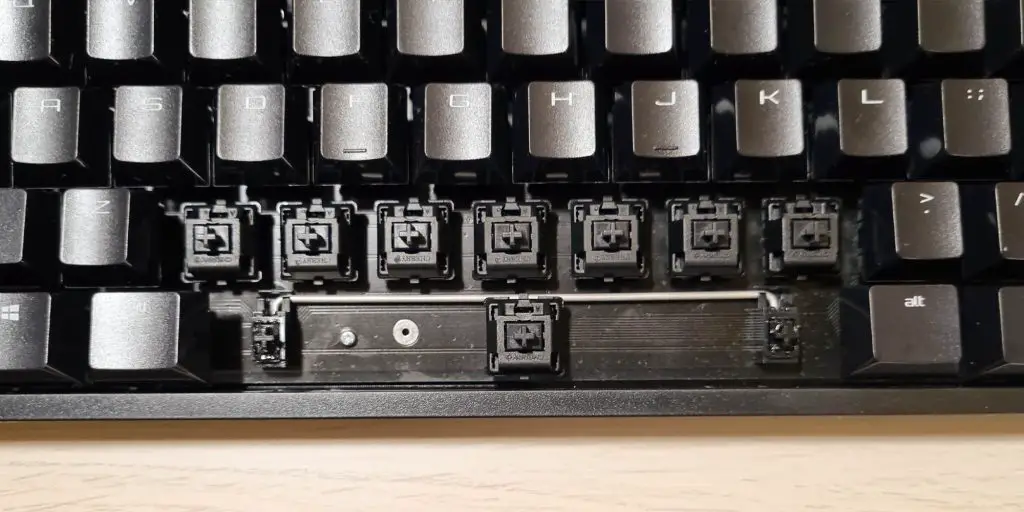 Surprised by the stock typing experience, I went and take a look if they tuned the stabilizers for the Spacebar and Enter, and yep, factory-lubed! But the spread is kinda uneven and a little bit too much in my opinion but still it is better than nothing.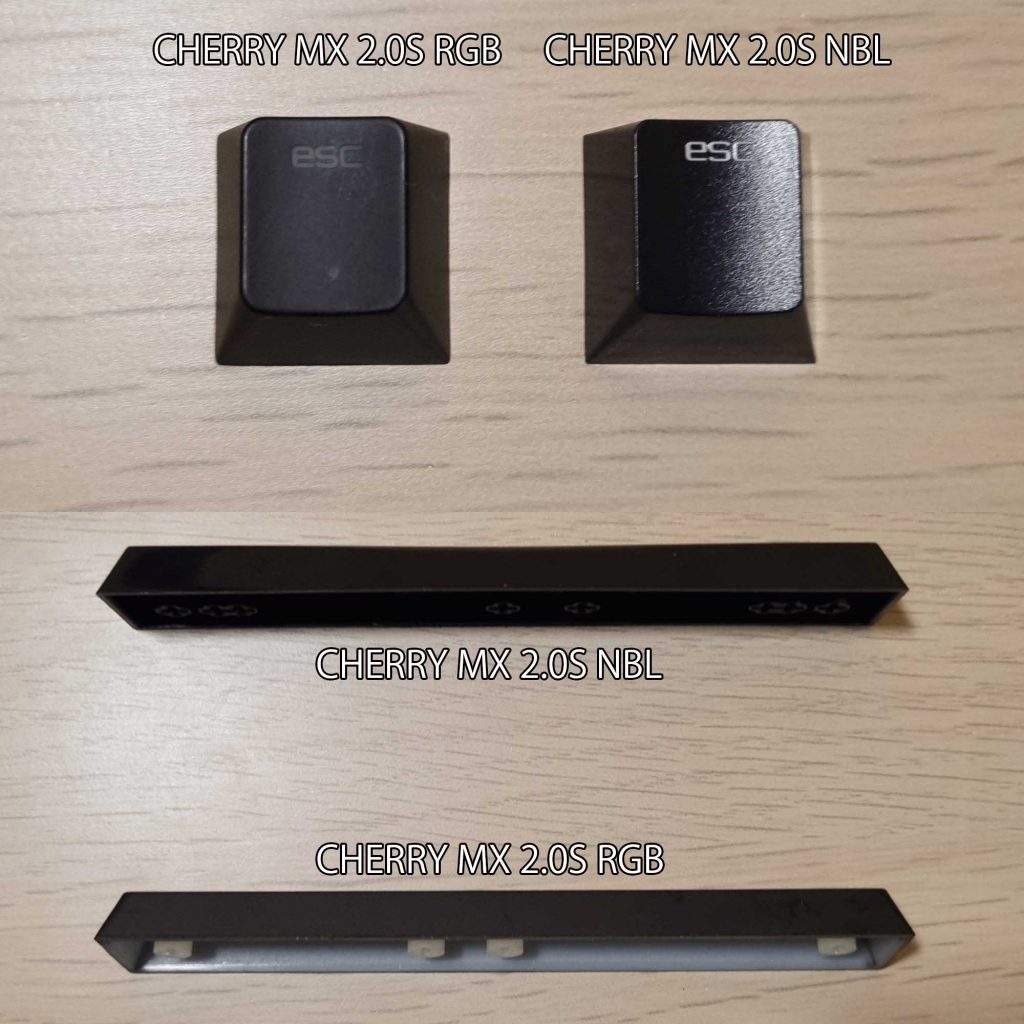 There's also a distinct difference in the keycaps between the RGB and NBL models where the former is shine through and feels like Doubleshot ABS while NBL doesn't have that requirement so it has a rougher and textured surface closer to a PBT feel. Personally, I prefer the latter.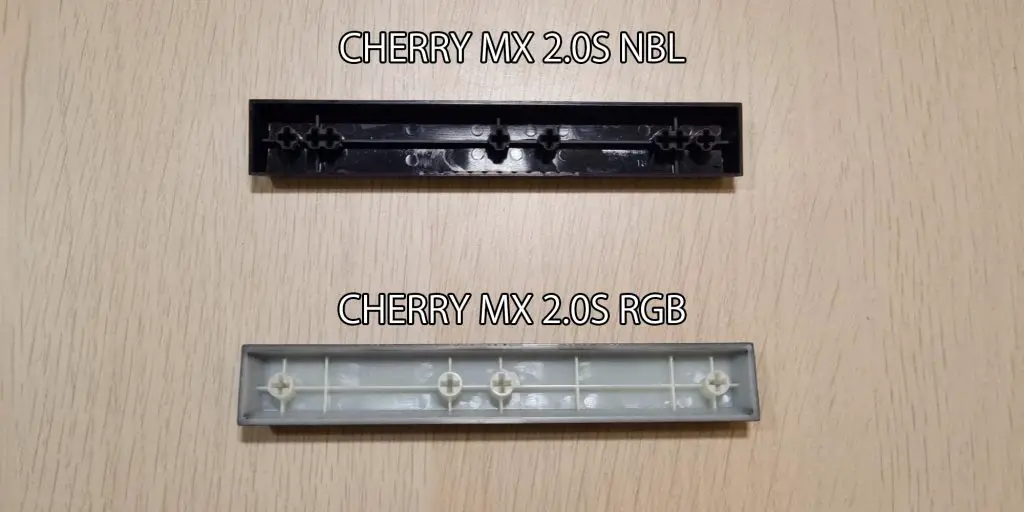 Also, the mold for the spacebar is different as well? Additional stabilizers fittings so you can jack this to other keyboards? Certainly some shower thoughts right here.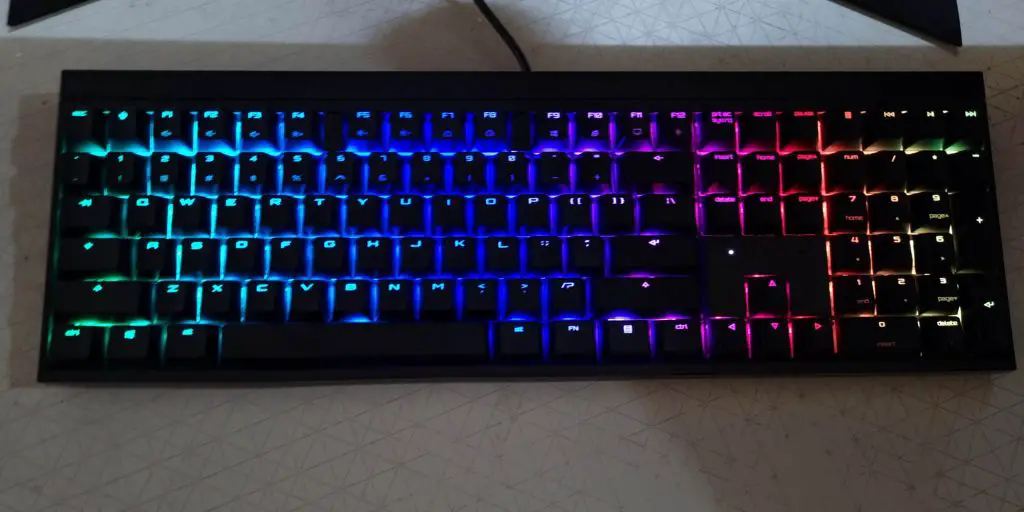 Here's how it looks when hooking the RGB model to my PC. As CHERRY profile keycaps will block the RGB from shining through if the layout is north-facing so the MX Red RGB switches here are facing south.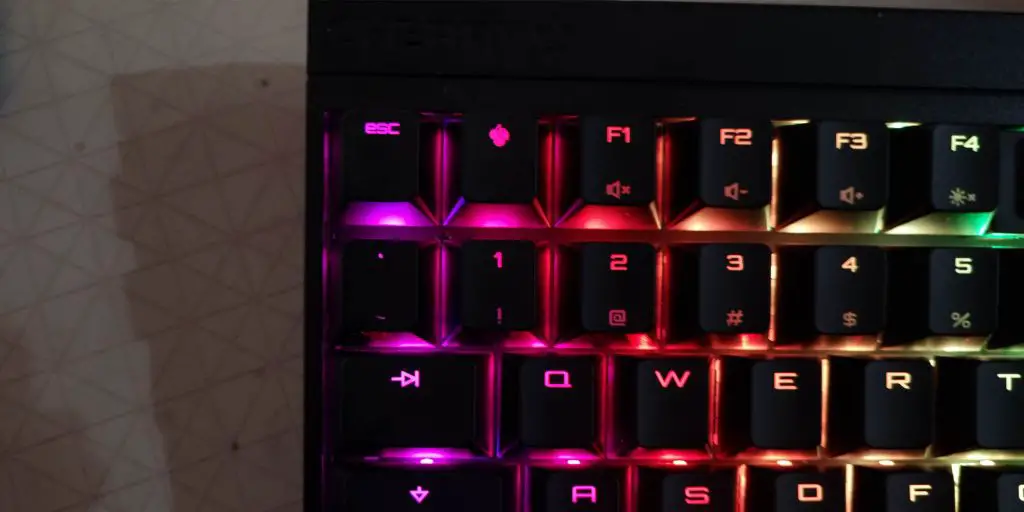 Also, you might be wondering why there's a CHERRY button beside the ESC and F1 button and what purpose does it serve? What does this button do?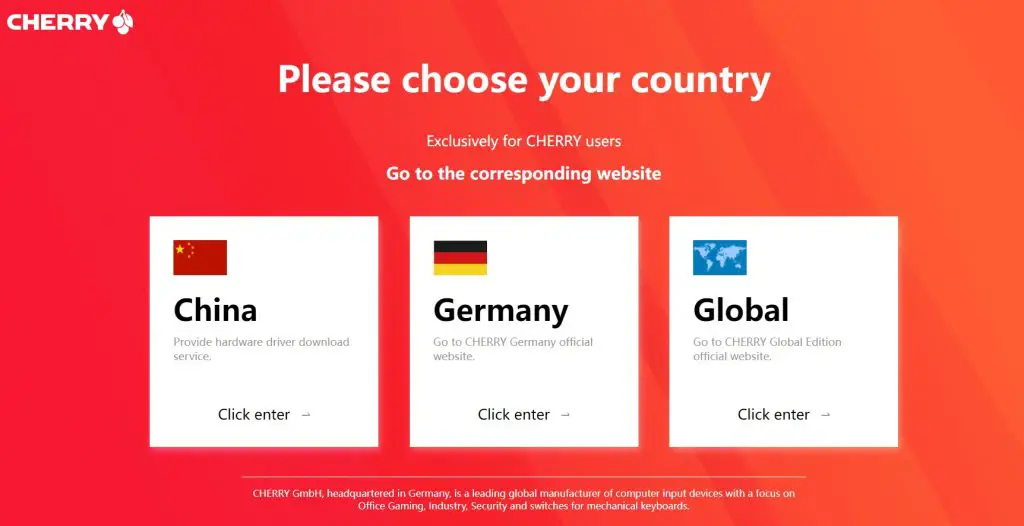 Yup, self-promotion at its finest. It's their own stuff they can do what they like and but I find this really funny.
But jokes aside, if you have the CHERRY Utility software installed, it'll launch that instead.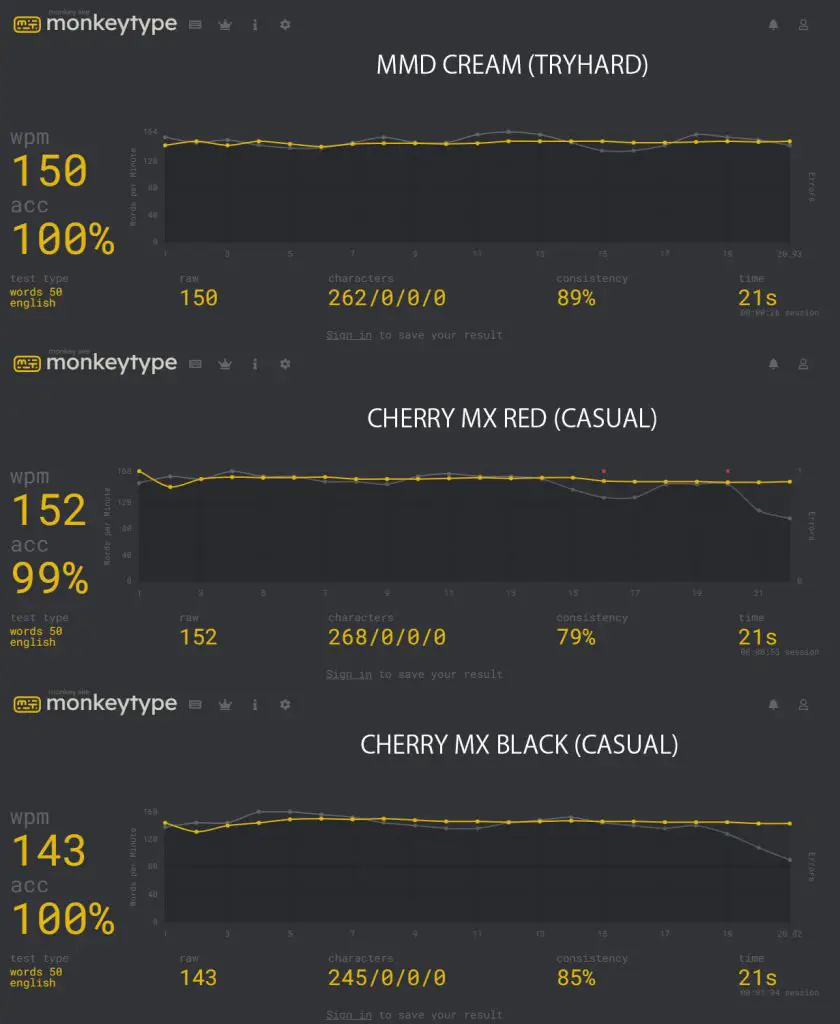 Time to take both of them for a quick spin. As a fellow MX Red user for around 6 to 7 years as I'm a competitive PC rhythm gamer back then, it feels really great to type fast and smooth albeit the switch's specification is technically and definitely feels tougher to actuate than my personal board.
As for the MX Black, and as a first-time user, I really felt the taxing feedback to keep up with my usual speed as I need to apply extra force deliberately and consciously but if you're one of the people that has extra force on the tip, the MX Black will be your choice of switches thanks to its lower chance of misfiring from heavier spring.
As for gaming, it is the year 2022 and it'll have all the basic stuff like full n-key rollover so no more key-stuck moments like back in those days. And if needed, shut off that Windows key to prevent tabbing out.
Just a quick segway, the MX 2.0S actually has a dedicated wrist rest called the CHERRY AC 2.3 that easily snaps to the keyboard via a hook mechanism.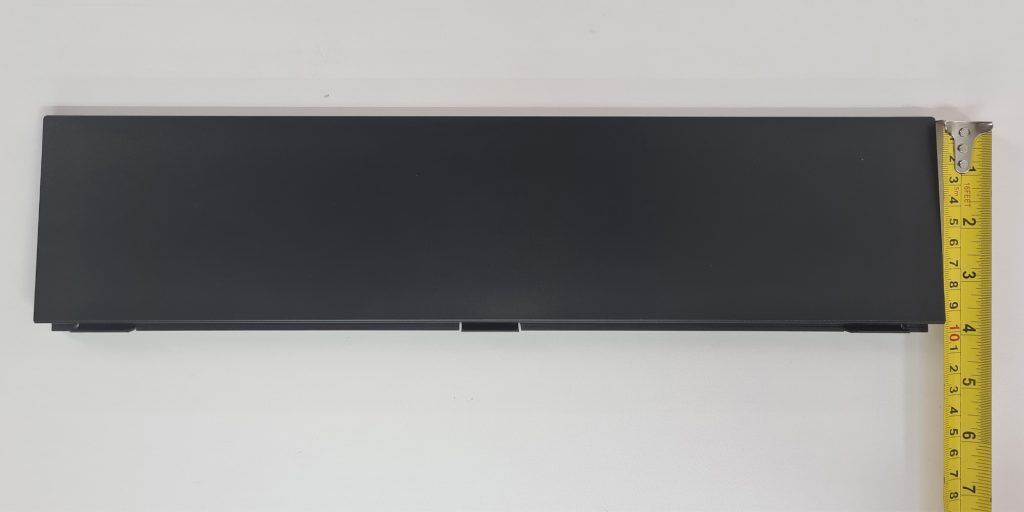 At nearly 10cm wide, you can make sure that it supports your wrist fully without much issue. Although the keyboard is already quite low in terms of verticality as I mentioned before, folks that enjoy a little bit of inclination when typing and gaming or simply want one due to preferences can pick one up separately, and it is available in colors of Black and White too.
Conclusion
So as a whole, I'm pretty satisfied with what CHERRY is capable of doing on their terms when they are the one supplying the core stuff that makes other brands' gaming keyboards shine the most. With how much brands are charging for their overmarketed properties and features that may only get used less than the times you can count your fingers on both of your hands, the direction of the CHERRY MX 2.0S really points to the game of simplicity and it will be sought by those that just want one thing – CHERRY MX switches encased within a shell crafted by none other than the originators. Personally, it is a B+ or even A- if I'm feeling generous in terms of their out-of-the-box experience.
As for how much they are going for in Malaysia, the NBL comes at RM269 while the RGB variant sits at RM359 so that's an extra RM90 that you can consider whether to shell out or not. So if you're really budget constrained, the NBL version is at a really good price point considering it's from one of the most if not the most well-known brand that powers millions of gaming keyboards around the world. The RGB model isn't really that too far gone either since keyboards have consistently become more expensive thanks to "software support" or "premium built quality" and whatnot yet the MX 2.0S reminds me of the good old times of 2010 to 2012 when gaming keyboards is just about giving you the most advantage via mechanical switches and nothing more.
As for switch selection, you pick what you like if you're already one of the mechanical keyboard people. But if you're new to the scene then consider the following:
Pick MX Red if you

Play games that require holding down a key consistently like FPS or high Action Per Minute (APM) genres like MOBAs and RTS
Types fast and with a relatively small force
Types for long periods of time (eg. Writers and Editors)
Does not afraid of misfires

Pick MX Black if you

Have big, muscly hands and fingers that can apply a large amount of force
Seeks the absolute lowest chance of misfire
Doesn't play high APM games and instead prefers RPGs and casual titles (Or you just play games with your controller)
Doesn't type for long periods of time
Where to Buy
For a limited time until the end of 2022, CHERRY Malaysia is offering the MX 2.0S at a lower price which puts the NBL version at RM242 and the RGB version at RM323 with each purchase coming with a free gift.
Although they don't offer MX Black for stock reasons, they swapped it to MX Silent Red instead so more fun for fellow low-noise enthusiasts.