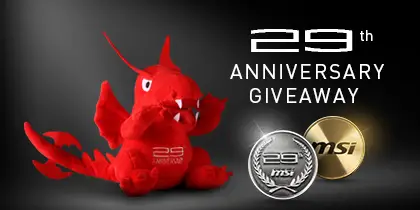 MSI set its foothold in the IT industry as a widely-acclaimed motherboard and graphics card manufacturer and was proudly the world's 1st to launch an overclocking motherboard. Since its establishment in 1986, the core value of Innovation with Style has motivated MSI to constantly challenge the seemingly impossible and has been the driving force behind its technical innovation and achievements. MSI is looking to build a more intelligent future for everyone with its extensive lineup of motherboards, graphics cards, GAMING laptops, All-in-One PCs, servers, industrial PCs, panoramic cameras, smart cleaning robots, vehicle infotainment solutions and GAMING peripherals. For 29 years, MSI has achieved a global footprint with sales in over 120 countries and has been recognized with over 10,000 awards from 350 global media. 
At the core of MSI's innovation remains an unwavering commitment to provide Top Player with Top Choice products. Apart from its partnership with 12 pro-gaming teams around the world, MSI is also an active participant in international gaming tournaments and the host of MSI Masters Gaming Arena (MGA), a world-renowned gaming event, cooperating withthe gaming giants Blizzard and ESL. Unanimously acclaimed by gaming enthusiasts and eSports players around the world, MSI is proudly the world's leading gaming brand!  
Amazing 29th anniversary celebration events and prizes!
MSI launched a series of celebrations and promotions for fans for the upcoming 29 years anniversary. There would be a "Happy Birthday, MSI"event in Julyas well as"29th anniversary video FB sharing" event in August. Fans post photos with MSI productsor sharethe MSI 29thanniversary video on theirFacebook will havea chance to win a Far Cry 4 game code and a mouse pad.In addition, there will be limited MSI 29th anniversary mascot dragons and pins for purchasingthe MSI designated products. Click "Like" to be the MSI fan andgetthe latest events and news.
Event 1: Happy Birthday, MSI 
Event Time: July 16th– July 31st
Winner List Announcement: August 7th
Participants need to post their photos with MSI products on theirFacebook and leave "Happy Birthday, MSI"  with  hashtag (#msi29th) to be qualified for the lucky drawof a Far Cry 4 game code and a mouse pad.
Event 2: 29th anniversary video FB sharing
Event Time: August 1st- August 15th
Winner List Announcement: August 21st
Any participant who gives "Likes" on MSI GlobalFacebook page, sharesthe "MSI 29th Anniversary Video" on personalFacebook page and leaves "Happy Birthday, MSI" on the wallwill be qualified for the lucky draw of a Far Cry 4 game code and a mouse pad.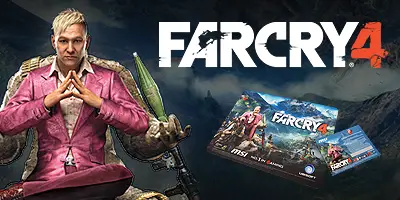 Please Do Pay Attention regarding MSI's 29th anniversary event
Winners must reply their names, phone number, e-mail and address to MSI before Aug.21st for event1 and Sept.4thfor event 2 to retrieve the prices, anytime later than the designated date will be disqualified.
The prizes cannot be exchanged for other equal-value products or cash.
The organizer reserves the right to review the eligibility of participants. Winners will be disqualified and prizes will be recalled if participant takes part in any act of obstructing the fair game principle with malicious computer programs or any other methods or if nonconformance withthe activity rules are detected or reported by a third party.