Ssupd, or Sunny Side Up Design, is Lian Li's spinoff offering a unique builder experience. In this case, Ssupd is catering to the small form factor PC market with their ever-popular Mesh lineup ITX cases.
You can check out our previous tear-down and review the Meshlicious case:
What we have in the studio this time is a new chassis – Ssupd Meshroom S v2. At the expense of a slightly larger volume than the Meshlicious, what Meshroom S is capable of will blow your mind – supporting up to a full-size ATX motherboard in a 14.9-litre case. I must admit, having an SFF case that supports an ATX motherboard is extremely rare, if not, unheard of. The first question that comes to our mind is – Why would you do so?
In order to find out the answer and the actual feasibility, I embarked on a quick journey to build a working PC inside this case.
Ssupd Meshroom S Build Experience video
I strongly suggest you watch the video to better understand my experience while I leave summarized points in the rest of this article.
The Good
Full Mesh Panels
The main selling point of Ssupd so far is its thermal performance. Depending on your fan arrangements, a full mesh case allows a free flow of fresh cool air into the case. In short, better thermal performance.
The entire case's construction is relatively sturdy with rigid frame support. This is quite important as the mesh panels are not the strongest and can be bent if you're not careful enough. But that's perfectly normal because the perforation holes while increasing airflow, also decrease the panel robustness.
Supports up to ATX motherboard
This is the key selling point of Meshroom S. Since the motherboard tray basically covers the entire width of the case, what you're seeing from outside is almost the actual size of the motherboard itself. With that said, you can also opt for an mATX or ITX motherboard.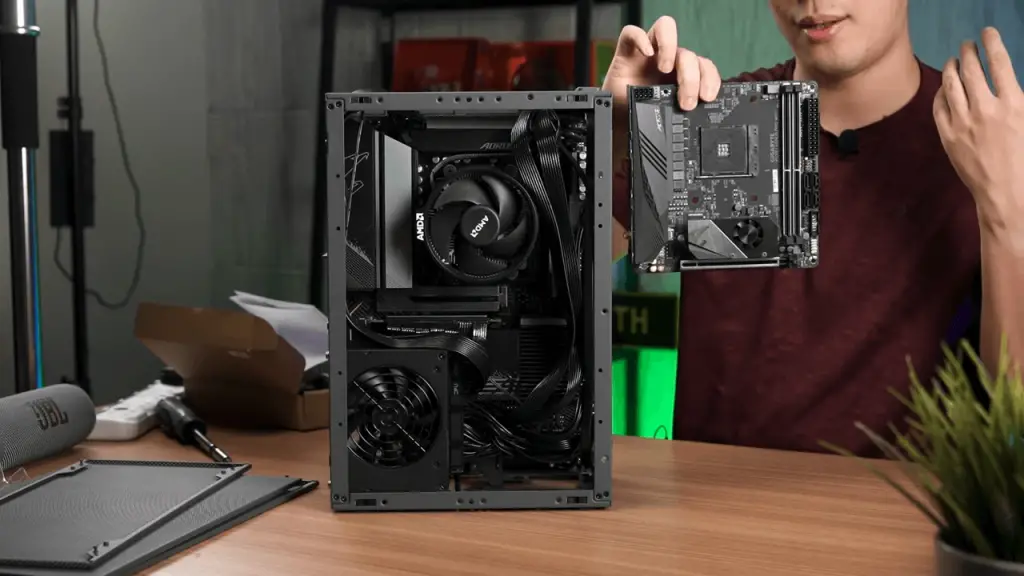 In fact, there are some restrictions when it comes to power supply choices:
Motherboard Choice
Supported PSU
ATX
SFX (125 x 63.5 x 100 mm)
SFX-L (125 x 63.5 x 125 mm)
micro ATX
SFX (125 x 63.5 x 100 mm)
SFX-L (125 x 63.5 x 125 mm)
mini ITX
SFX (125 x 63.5 x 100 mm)
SFX-L (125 x 63.5 x 125 mm)
ATX (150 x 86 x 150mm) with downward tubing AIO
ATX (150 x 86 x 170mm) with front fan only
Lots of Space & Versatile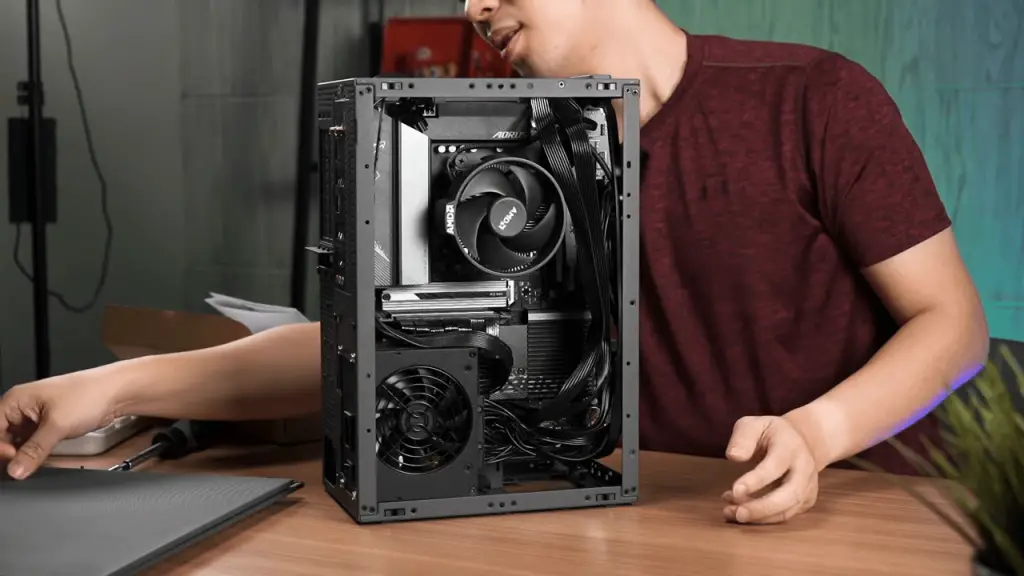 I know it is weird to describe an SFF case as "lots of space". Even with an ATX motherboard mounted inside, I can still find space for the cable routing, albeit it is not as good-looking as hidden cables, but that will do.
My recommendation would be to use the SFX power supply as the provided cables are mostly just the right length to cover the distance to the component. This will save you a bunch of time in cable management.
In fact, this case is so versatile that I can't even list down all the possible combinations of the motherboard, AIO, and GPU support since they all affect each other. For example, if you were to use an ATX motherboard, your only way to mount an AIO radiator is at the right chamber that supports a 240 x 120 x 53mm radiator. The list goes on with a huge compatibility list on the Ssupd website.
The Important
Careful with the ATX/mATX Motherboard Ports Placement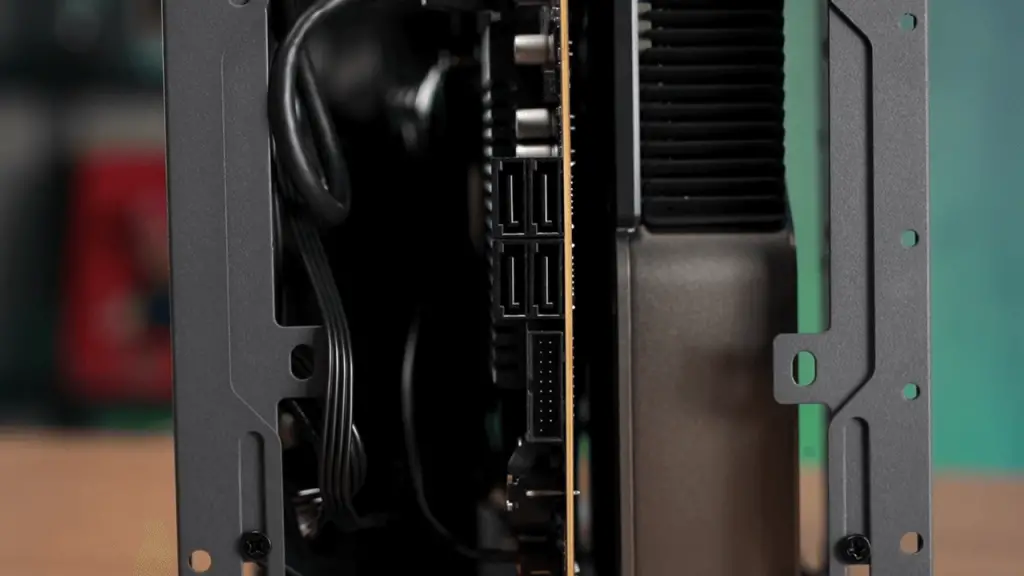 Due to the design of the case, the entire width of the ATX motherboard is basically the maximum supported width of the case, the placement of the motherboard ports such as SATA ports, front panel USB 3 or USB-C ports is extremely important to take note of as the front panel will block the access to the ports. Just like what happened to our B650 AORUS Elite AX's USB3 front panel port and all the SATA ports.
This is a problem, especially for higher-end motherboards that have right-angled facing ports. Cheaper motherboards will not have this issue, because the ports are facing upwards from the motherboard.
Right-angled HDMI/DisplayPort cable is a must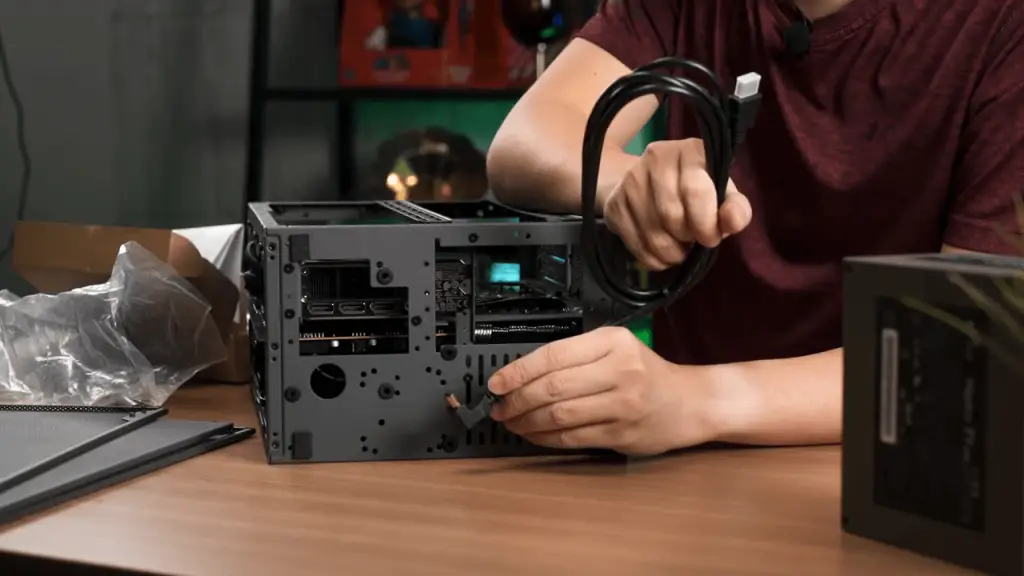 If you're mounting the GPU vertically, you will definitely need to use the included right-angled HDMI cable. However, we all know DisplayPort is superior, and that is another item you will need to spend.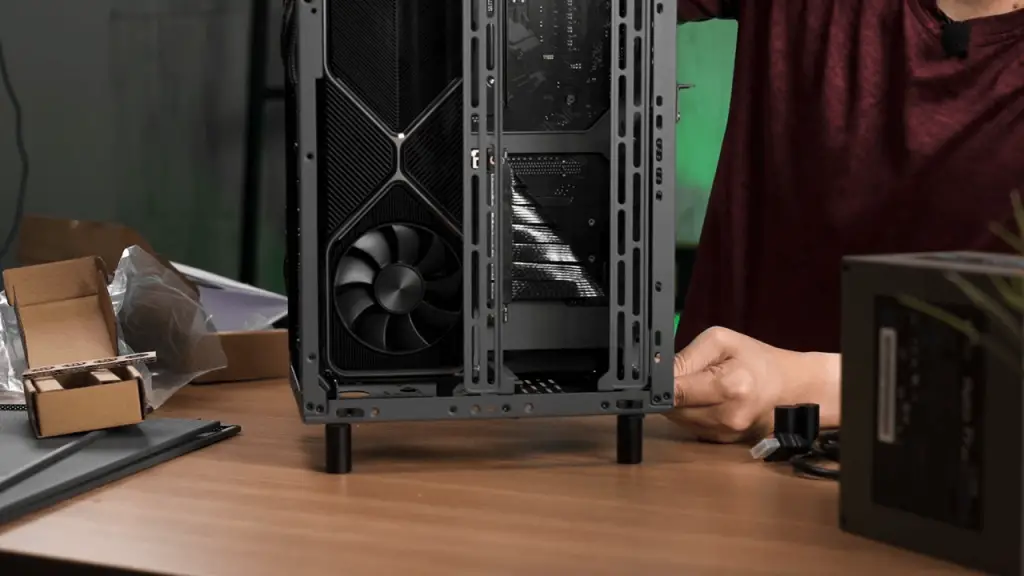 This is probably one of the reasons why there is an option to use an alternative foot that raises the case.
The Bad
Expensive
The Ssupd Meshroom S retails for $159.99 with the inclusion of a short PCIe 4.0 riser cable. Removing the short riser cable out of the equation leaves the case with a $109.99 price tag. If you plan to use an ATX motherboard with this case, you will need to separately purchase a longer 440mm PCIe 4.0 riser cable that costs $70. Ouch.
Having said that how some users can reuse their existing ATX motherboard to save some of the cost of transitioning into a small form factor build, this kind of additional cost ultimately defeats the initial thought of using a cheaper motherboard.
Small Form Factor Builds are not cheap and requires more planning.
Why ATX Motherboard Support??
Because they can.
Jokes aside, I think it is fun to challenge the limit of a PC build. I must give it to the SFF enthusiast community who are always on the edge of finding out the latest and most bizarre way to build a PC. Ssupd has brought this concept to a whole new level with the introduction of the Meshroom S. There are some features that can be better, for example, the weird power button placement at the back, and the lack of proper documentation. Nonetheless, it provides unprecedented flexibility to a SFF build and most importantly the fun of building such a system.