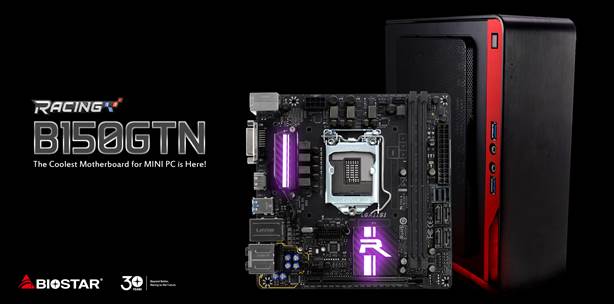 Biostar proudly announces the latest product to become part of the Racing series family of motherboards: the Biostar B150GTN mini-ITX motherboard. This ultra-compact motherboard features all the best from the Biostar Racing series with some new additions and packs them in its small form factor, perfect for gamers looking for a high-performance build with a small footprint, ready to take on the new games of today.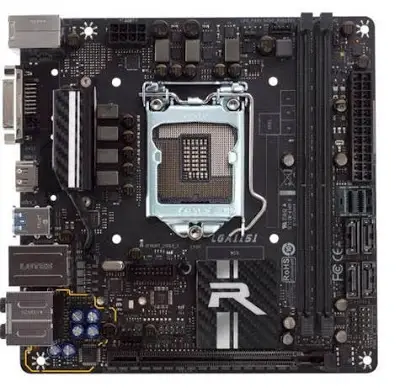 Low-profile, Decked-out Features
The Biostar Racing B150 GTN makes building powerful gaming PCs in the mini-ITX form factor more expressive and powerful thanks to the latest 6th-generation Intel Core processors, the Racing B150 GTN enables gamers to have the latest technology powering their systems for the best experience when they play. Next-generation storage via high-speed U.2 enables support for the fastest storage platforms of today to allow super-fast access to data so games load faster so you can get to the action quicker.
The signature showcase feature that allows gamers to be able to show-off their personal style is back with the RACING B150 GTN with BIOSTAR's exclusive VIVID LED DJ and 5050 LED FUN making it the world's first mini-ITX motherboard with full RGB LED control for both onboard lighting and external lights. Both of these features allows customizable lighting for gamers who want a color-themed rig making your system the flash with brilliance.
Biostar's new Racing B150 GTN supports full-speed x16 PCIe 3.0 x16 graphics cards for maximum support for the latest graphics card from both AMD or NVIDIA allowing gamers to enjoy the unhindered performance with their latest graphics card. Complementing the graphics performance is Biostar's flagship Hi-Fi audio technology to put you in the most immersive listening experience with your games and multimedia content.
With upgrades in mind, Biostar has placed a legacy PS/2 port in the Racing B150 GTN to allow players who prefer legacy peripherals to still use their devices on this motherboard. Video display output via DVI and HDMI are present with four (4) USB3.0 ports for high-speed connection to modern devices.

Super 5 Design
Biostar has built the RACING series motherboard from the ground up, taking into consideration the ever-changing needs of gamers and enthusiasts. The new Biostar Racing Series is proud to introduce the Super 5 Design Concept:
Super Face – all new Racing design theme for visual appeal
Super Power – powerful hardware design
Super Sound – signature Biostar HI-FI audio experience
Super Easy – User- friendly design and accessible touch control
Super Fun – unique DIY concept for enthusiasts and modders
Biostar Racing Series Features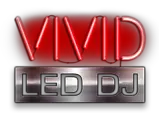 Design your own LED effect with BIOSTAR Vivid LED DJ. Control your motherboard LED light via VIVID LED DJ utility including special effects like music-reactive LED animation.

Expand your chassis looks by connecting 5050 header-equipped LED strips directly on the motherboard and control it via the VIVID LED DJ. Perfect for DIY fans and modders.
Biostar 6+ Experience
The new Biostar Racing Series will carry on the exclusive Biostar 6+ Experience feature set which delivers the best Biostar has to offer: Speed+, Audio+, Video+, Durable+, Protection+ and DIY+.