BIOSTAR is thrilled to welcome the latest addition to its expanding lineup of specialized crypto currency mining motherboard with the introduction of the BIOSTAR TB350-BTC. This motherboard supports AMD's latest AM4 socket designed to work with the latest AMD AM4 APUs. With Bitcoin mining retaking a more attractive pricing lately, both old and new miners are still seeking ways to improve the efficiency and performance of their mining systems.
Add to this the addition of other crypto currency like Ethereum, Zcash and more which have provided so much more for the mining community to work with. With new GPUs offering more efficiency than previous generation, more GPUs can now be utilized for faster ROI. This trend in utilizing multiple VGA cards can cause extremely hot operating conditions which may affect system stability which may lead to operation disruption with breakdowns and failures.
With this latest motherboard, BIOSTAR is the first and only brand to offer a complete crypto mining motherboard lineup for any application making it the strongest family of specializing mining motherboards out right now. Not to mention, BIOSTAR TB350-BTC is the first professional crypto mining motherboard for AMD AM4 platform. This is specially designed for AMD Ryzen lovers. They offer a performance and cost effective solution to make crypto mining easier for all.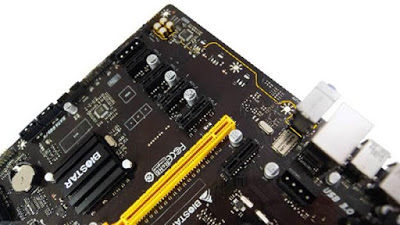 BIOSTAR TB350-BTC with six PCI-e slots for enthusiasts who wish to create an ultimate mining rig to be loaded up with six graphics cards to boost up the mining speed for higher hash rate and make the mining performance most efficient. The uniquely designed two extra AUX power connectors support the sufficient power to enhance the performance of graphics cards for more stable operation.
TB350-BTC is designed to withstand extreme operating conditions that can cause stability issues on traditional components. The enhanced nature of the BIOSTAR PRO Series guarantees its motherboard can endure and avoid issues that can cause downtime and profit loss.
The new BIOSTAR TB350-BTC features support for AMD AM4 processors including AMD A-series APUs. The motherboard will support up to 32GB of DDR4-2667 memory in dual-channel configuration. The board features full Gigabit LAN from Realtek for faster and better network performance. The BIOSTAR TB350-BTC also features support for up to six PCI-e devices allowing maximum utilization of the motherboard for excellent ROI per system.

In terms of rear I/O connectivity, the BIOSTAR TB350-BTC has legacy PS/2 connector support, a single DVI for video output. There's plenty of USB ports in there with USB3.1 ports and USB2.0 ports. There's also the Realtek GBlan port and audio output ports.