ASUS Strix lineups was initially created to replace the old mainstream DirectCU II as the new mainstream choice for the end users, but most of you would probably have noticed the transition when ASUS introduced its variant of the GeForce 980Ti with its new DirectCU III cooler, the ASUS STRIX GTX 980 Ti. Alongside NVIDIA's official launch of its Pascal architecture GeForce GTX 10 series GPUs, rumor of the Strix brand getting absorbed by the already premium Republic of Gamers brand has been confirmed with ASUS introducing its variant of GTX 10 series cards, the ROG Strix GTX 1070 and GTX 1080.We have our thanks to ASUS Malaysia for sending over the ASUS ROG Strix GeForce GTX 1070 to Tech Critter's lab for this review. The review unit we have here is the non overclocked edition, which shares the same GPU clock, boost clock and memory clock as the Founders Edition from NVIDIA – a good opportunity to test out the overclocking capability of this card.
(The ROG Strix GTX 1070 retails at RM2499 and RM2599 for the non-overclocked and overclocked variant)
Specifications
Graphics Processing
GeForce GTX 1070
Core Clock
1860 MHz / 1657MHz (OC Mode)
1835MHz / 1632 MHz (Gaming Mode, Default)
Memory Clock
8000 MHz
Process Technology
16 nm
Memory Size
8 GB
Memory Bus
256 bit
Card Bus
PCI-E 3.0 x 16
Memory Type
GDDR5X
DirectX
12
OpenGL
4.5
PCB Form
ATX
Digital max resolution
7680×4320 (requires 2*DP1.3 connectors)
Analog max resolution
4096×2160
Multi-view
4
Output
Dual-link DVI-D *1
HDMI-2.0b*1 (Max Resolution: 4096×2160 @60 Hz)
Display Port-1.4 *3 (Max Resolution: 7680×4320 @60 Hz)
Recommended PSU
500W
Power Connectors
8 pin*1
Card size
H=40 L=298 W=134 mm
Unboxing
Packaging wise, we're looking at a new ROG packaging (or presumably just for the ROG Strix brand). Instead of going with the usual cherry reds, the ASUS ROG Strix GeForce GTX 1070 ships in a black packaging with a colorful Strix word to emphasize its RGB lighting feature. More of its highlighted features can be found at the back of the box, such as the patented wing-blade fans, auto-extreme manufacturing technology, more of the RGB lightings, ASUS FanConnect and more.
As for the accessories, the ASUS ROG Strix GeForce GTX 1070 comes with a gift card for World of Warships, 2 pairs of velcro straps, and the usual driver CD and user's guide.
Unlike any of the previous ROG graphics card we've seen on red-black accent, the ROG ASUS ROG Strix GeForce GTX 1070 cooler shroud doesn't have any of those but instead, a full black shroud with translucent linings for customizable RGB LEDs on both sides of the fans.
The ASUS ROG Strix GeForce GTX 1070 is equipped with ASUS' latest DirectCU III which features triple 0dB fans engineered with a patented wing-blade design which ASUS claim to deliver maximum airflow with improved 105% static pressure over the heatsink, while operating at 3X quieter volumes than reference cards.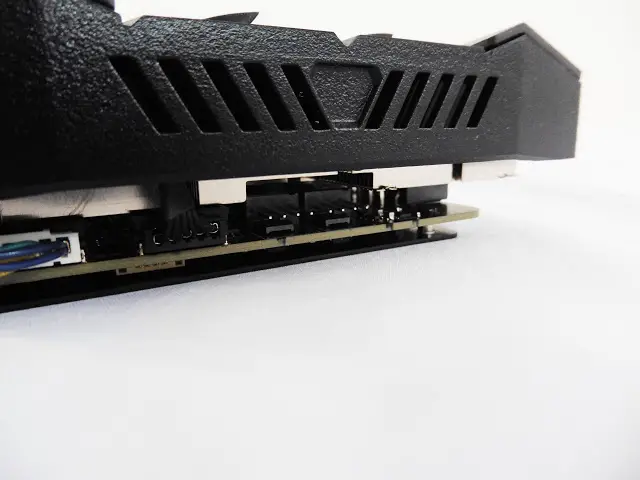 At the front of the card, you'll find these GPU controlled fan headers for effective targeted cooling using system fans.
Power requirement the ASUS ROG Strix GeForce GTX 1070 is just about the same as the Founders Edition, a single 8pin PCIe power connection is all you need. Judging from shape of the heatsink and the cutout on the PCB, we can confirm that the same design are used on other of ASUS' GTX 10 series cards which requires an additional 6pin or 8pin.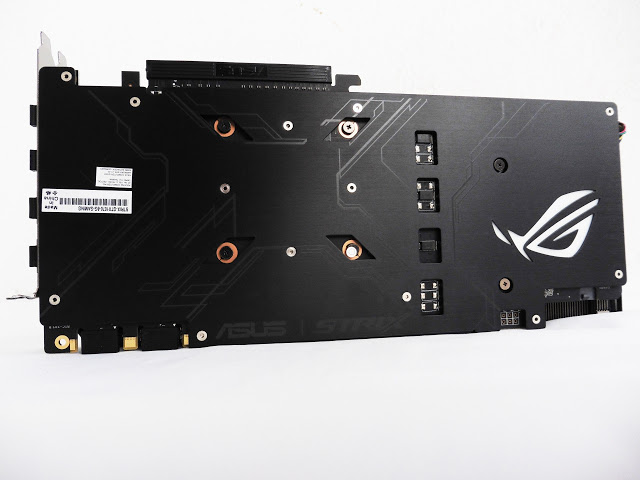 Other than its aesthetics and ROG logo with RGB lighting, the metal backplate here does pretty much the same thing as most metal backplates for graphics cards, which is to enhance the overall rigidity of the card to prevent PCB sagging that usually occurs on graphic cards with a large heat sink.
SLI fingers are still available on the card, but as NVIDIA discourages any setup beyond 2-way SLI. NVIDIA and its partners have released a new SLI bridge that is supposed to support only 2-way SLI and improved performance compared to the older version of SLI bridge that used to comes along as an accessory with motherboards.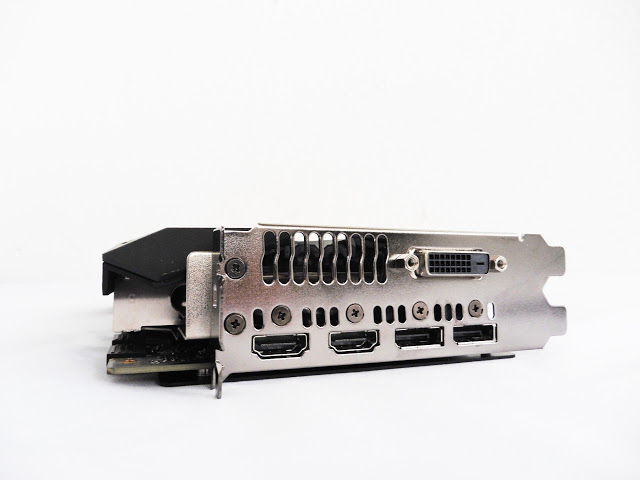 The display output option is pretty common nowadays, 1 x DVI-I connector, 3 x DisplayPort and 1 x HDMI port.
Performance Test
Test Rig Configuration

CPU Cooler
Raijintek Triton 240
CPU
Intel Core i7 4790K @4.6GHz
Motherboard
ASUS Maximus Hero VII
Memory
G.Skill TridentX 2400MHz
Primary Hard Drive
Intel 520 Series 240GB
Power Supply
Be Quiet! Straight Power 10 600W
Chassis
Vector Bench case
We mounted the ASUS ROG Strix GeForce GTX 1070 on our test bench as above and each and every benchmark is conducted in a room of about 30C° ambient temperature.
Performance
We ran a few graphically demanding games and synthetic benchmarks in our possession on a selected settings at 1080p, which is considered as high for much of our test as usual.The final result of each benchmark is presented in the form of the graph below:
Performance Comparison With NVIDIA GeForce GTX 1070 Founders Edition
We've done a performance comparison with a Founders Edition of the GeForce GTX 1070 and the result of the clash between the two beast of a card is as following:
Overclocking
We ran the same graphically demanding games and synthetic benchmark on 1080p with the highest achievable clock speed for both its memory and GPU that is stable enough to be able to complete each benchmark with the following values:
251MHz raise on the GPU core clock
586MHz raise on the memory clock
Extra 20% gain on the power
That's quite a lot considering that this is a reference card and we managed to hit a beefy 2112MHz GPU clock speed on boost during our benchmark session.
Performance Comparison With NVIDIA GeForce GTX 1070 Founders Edition
We've done a performance comparison with a Founders Edition of the GeForce GTX 1070, both overclocked and we're seeing a quite near results as following:
Temperature
Temperature wise, we've observed a pretty decent temperature record of 42°C during idle and 68°C on load while running on default clock speed. Bumping up the GPU core clock with an extra 251MHz results in a higher temperature of 72°C, but it's still considered safe and it's optional to ramp up the cooling fan speed if you're looking into a much lower temperature.
Verdict
Performance wise, the non factory overclocked ASUS ROG Strix GeForce GTX 1070 performs just about the same as NVIDIA's Founders Edition card. Still, aesthetics isn't just what the card has, as we're able to squeeze a pretty good number of performance out of it via overclocking, with 251MHz extra on the GPU clock for a whopping 2112MHz, which is slightly better than the GeForce GTX 1070 Founders Edition we've reviewed earlier. It can definitely do more with a custom BIOS and in fact, there are already enthusiasts who currently working on custom BIOS for the GeForce GTX 10 series cards, and hopefully, the true potential of NVIDIA's Pascal GPUs can be unleashed when it's made available to the public.
With the temperature topped only at 68°C on default clock and 72°C after overclocked without even needing to ramp the fan up to its maximum speed, the DirectCU III cooler works just as good as what ASUS has claimed. Ramping up the fan speed can result in a much better cooling performance, but the fan noise is still an issue that ASUS has to work on.
Price wise, the ASUS ROG Strix GeForce GTX 1070 isn't as budget friendly as AIB partners like Palit and ZOTAC, but it still comes in at a rather competitive price over bigger brands like Gigabyte, MSI, EVGA – its SRP of RM2499 can still be considered as a fair deal if we refer back to the price of ASUS's graphics cards back in the past.
Pros
Solid build quality and good aesthetics
Good overclocking headroom
Excellent cooling performance
Near silent operation even when the fan spins at its maximum speed
Cons
Costly
Fan can be noisy while running on full speed