ASUS Republic of Gamers (ROG) today announced Centurion, a premium true 7.1-channel surround-sound gaming headset designed especially for professional and hardcore gamers. Created during ROG's 10th anniversary, Centurion packs a decade of design and technological expertise into a one-of-a-kind gaming headset that delivers incredibly immersive sound, crystal-clear in-game communications, and amazing comfort with interchangeable ear cups. Together with an intuitive suite of hardware and software features that provide full audio control, this ultimate gaming headset sets a new standard in the proud ROG tradition of providing the best, most entertaining experiences to gamers.
Ultimate sound quality and comfort
ROG Centurion features 10 discrete neodymium-magnet drivers to deliver incredibly realistic and immersive true 7.1-channel surround sound and precise in-game audio positioning. With increased awareness of their in-game environment, gamers can hear every gunshot and footstep clearly, helping them pinpoint their opponents' actions and locations to gain a competitive edge. Centurion comes with a plug-and-play USB audio station, which features a built-in Hi-Fi-grade ESS 9601 headphone amplifier that improves the audio experience even further for brilliant, balanced sound when gaming and listening to music. 
In addition to outstanding sound quality, Centurion is incredibly comfortable, making it ideal for extended gaming sessions. It comes with interchangeable protein-leather and memory-foam ear cups, allowing gamers to customize their headset's fit and comfort to their personal preference. An exclusive Republic of Gamers headset stand is also included, giving gamers a convenient place to store their headset when not in use.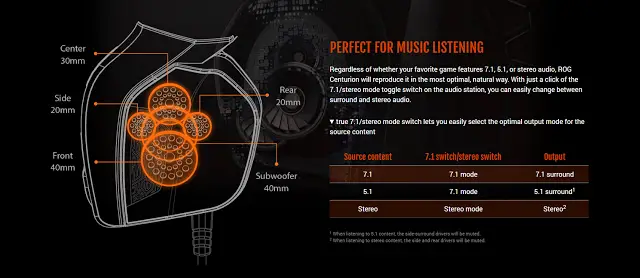 Ultimate in-game communication
ROG Centurion comes with a fully flexible, retractable digital microphone that ensures the best in-game communication with crystal-clear sound and low noise levels. The USB audio station also has a built-in microphone that actively detects and counters more than 90 percent of environmental noise, such as mechanical keyboard sounds and other people's voices, ensuring that distracting and annoying sounds are not transmitted to teammates.
Ultimate audio control
ROG Centurion works together with ASUS Sonic Studio, a full-featured and easy-to-use sound utility that provides gamers complete control over a wide range of audio features, such as equalization (EQ) and 7.1 surround speaker level-balancing. Unlike typical audio utilities with multi-screen interfaces that make configuration complicated and time-consuming, Sonic Studio has an intuitive all-in-one view that puts all the necessary audio controls on a single screen to make adjustments fast and easy.
Sonic Studio also includes controls for Sonic Radar Pro, a unique feature that precisely maps in-game sounds — such as footsteps and gunshots — and displays them on an on-screen overlay, so gamers can pinpoint their enemies for a competitive advantage in first-person shooters.
In addition to Sonic Studio's software audio controls, Centurion's USB audio station features intuitive, dedicated audio controls that gamers can access instantly in the heat of battle without disrupting their game. These include volume controls for the microphone and each surround-sound channel, and four game-audio profiles that boost critical details to provide the best sound for certain gaming scenarios, such as enhancing gunfire or footstep sounds in first-person shooters.
Availability & Pricing
While its MSRP is yet to be confirmed, we can expect for the ASUS ROG Centurion to be available in October.