ASUS has recently launched its #GetTUFGameTough gaming PC hardware giveaway contest, in which participants may win one of the eleven TUF Gaming components or an Intel Core i9-13900K processor, so fellow gamers, it's time to put your luck to the test!
Running from 16th March until 27th April 2023, fans and gamers all across the globe can take part in the ASUS #GetTUFGameTough giveaway contest for a chance to acquire one of the following TUF Gaming PC components:
TUF Gaming Z790-Plus WiFi
TUF Gaming Z790-Plus WiFi D4
TUF Gaming B760-Plus WiFi D4
TUF Gaming GeForce RTX 4070 Ti 12GB
TUF Gaming GeForce RTX 4070 Ti 12GB OC Edition
TUF Gaming LC 240 ARGB AIO cooler
TUF Gaming 1000W Gold power supply
TUF Gaming VG28UQL1A monitor
TUF Gaming GT502 case
TUF Gaming H1 Wireless headset
TUF Gaming M3 Gen II mouse.
All you have to do to enter this contest is just follow the simple instructions given on this link and submit your entry.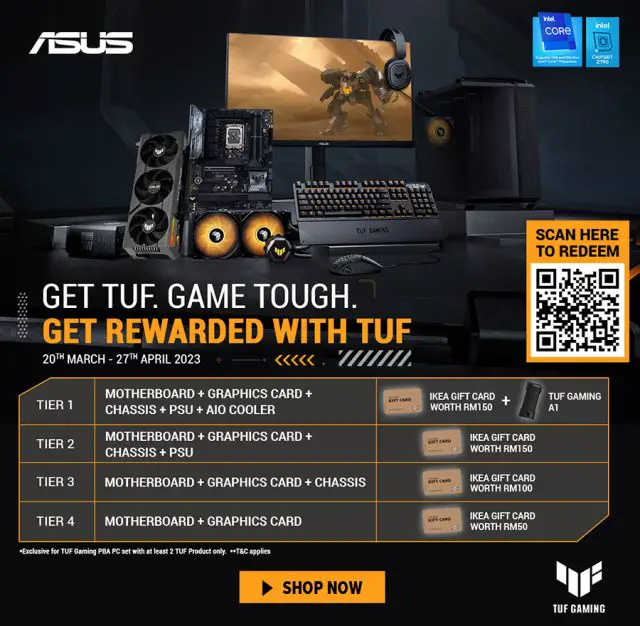 In conjunction with the ongoing giveaway campaign, the 'RewardedwithTUF' promotion is also happening exclusively in Malaysia from 20th March to 27th April.
During the promotional period, shoppers who buy the TUF Gaming PBA PC set with at least two TUF products are entitled to freebies such as IKEA Gift Card and TUF Gaming A1 SSD Enclosure.
And that's not the end; shoppers can also upload a photo of their newly purchased TUF Gaming and share their review on social media with the hashtag #GetTufGameTough #ASUSMY to win even more goodies.
Check out this link for more information on the Rate your TUF Gaming gear campaign.