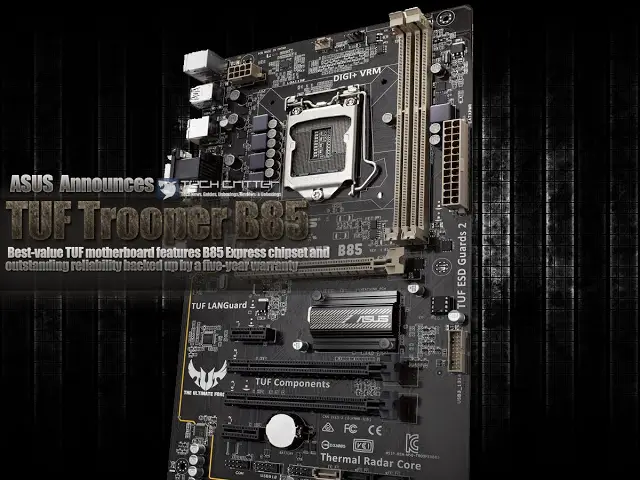 Kuala Lumpur, Malaysia (14th April, 2015)
— ASUS today announced TUF Trooper B85, a rugged, high-value motherboard designed to withstand all conditions and heavy loading, and tested to exacting military standards for total protection to offer exceptional durability and long-term reliability. TUF Trooper B85 is certified by TUF engineers as a server-strength motherboard and is covered by a five-year warranty .
TUF Trooper B85 incorporates many exclusive TUF features, including the military-grade TUF LANGuard Ethernet socket and TUF ESD Guards 2 to protect against electrostatic discharge. Based on the versatile Intel® B85 Express chipset, TUF's newest addition also benefits from ultra-durable TUF Components, high-fidelity TUF Audio with physical shielding, and flexible temperature-management with TUF Thermal Radar Core.
Server-grade reliability and military-grade strength backed by a five-year warranty
TUF Trooper B85 is built with military-certified components so it's tough enough for the most demanding conditions, even under heavy loading. Japanese-made 10K black metallic capacitors offer 20%-better temperature endurance for a lifespan that's up to five times (5X) longer, and TUF's chokes are manufactured using high-grade anti-oxidization materials to provide better heat dissipation and unbeatable durability.
Every TUF Trooper B85 motherboard undergoes punishing burn-in tests, with temperatures of up to 55°C for 48 hours and at humidity levels as high as 90%. Every motherboard is also subjected to a 20-hour extreme-temperature test of up to 60°C at 90% humidity, as well as undergoing rigorous thermal-shock tests. ASUS TUF engineers have conducted over 7,000 hours of strict validation tests to make sure our motherboards are compatible with more than 1000 devices, so TUF Trooper B85 is primed to work with the maximum number of peripherals.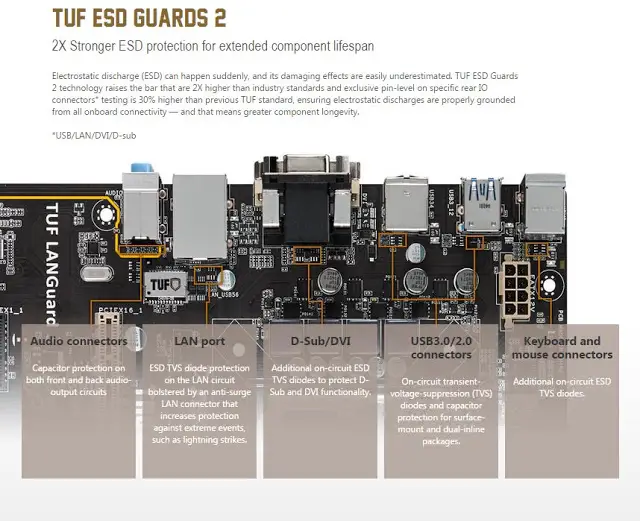 Full and exclusive protection against damage from electrostatic discharges
TUF Trooper B85's LANGuard socket has advanced signal-coupling technology and premium surface-mounted capacitors to improve throughput. Tested to military standards, TUF LANGuard is certified for tough duty to protect the motherboard from lightning strikes and static electricity. TUF Trooper B85 also includes upgraded TUF ESD Guards 2 to defend numerous ports against sudden electrostatic discharge. Engineered to be two times (2X) stronger than before, TUF ESD Guards 2 covers all USB sockets and audio connectors — and exclusive pin-level testing on specific rear input-output (I/O) connectors is 30% higher than the previous TUF standard.
With many whole-build server-grade stability tests also thrown at the motherboard, TUF Trooper B85 can be trusted in all conditions — a pledge backed by TUF's five-year warranty.
Superior LED-illuminated audio trace and flexible cooling controls
With LED-illuminated TUF Audio on board, TUF Trooper B85 makes short work of optimizing audio settings for any type of listening, from online chat to watching movies and relaxing to favorite music. The professionally-engineered hardware design features physical shielding and premium components to ensure precise separation of analog and digital signals, as well as minimizing crosstalk interference. The result is sound output that has exceptional clarity and fidelity, enhanced visually by the gorgeous LED-illuminated audio trace.
TUF Trooper B85 also has built-in TUF Thermal Radar Core for complete and easy management of system cooling. Customizable controls allow users to adjust fan speeds, enabling temperatures to be tuned with a single click. This single-click simplicity is even extended to TUF Trooper B85's live-update feature, ensuring that the board's Thermal Radar Core is never out of date.
AVAILABILITY & PRICING
SRP RM349.00
ASUS TUF Trooper B85 will be available from June in Malaysia from retail dealer. Please contact your local ASUS representative for further information.