The long-awaited AMD RDNA3 architecture GPUs are finally here, with the Radeon RX 7900 XT and RX 7900 XTX as the earliest models to reach the market, starting at US$899 and US$999 respectively. We manage to get our hands on the Radeon RX 7900 XTX reference model from AMD this time around and we'll be comparing it against the GeForce RTX 4080 Founders Edition just to see what kind of performance we can expect from both reference cards and if the RX 7900 XTX really a better value.
Specifications
| | | |
| --- | --- | --- |
| GPU | Radeon RX 6900 XT | Radeon RX 7900 XTX |
| Shading Units | 5120 | 6144 |
| TMUs | 320 | 384 |
| ROPs | 128 | 192 |
| Compute Units | 80 | 96 |
| Ray Accelerators | 80 | 96 |
| AI Accelerators | – | 192 |
| Base Clock | 1825 MHz | 1900 MHz |
| Boost Clock | 2250 MHz | 2500 MHz |
| Memory Type | GDDR6 | GDDR6 |
| Memory Size | 16GB | 24GB |
| Memory Bus | 256-Bit | 384-Bit |
| Bandwidth | 960 GB/s | 512 GB/s |
| Effective Memory Speed | 20 Gbps | 16 Gbps |
| Bus Interface | PCIe 4.0 x 16 | PCIe 4.0 x 16 |
| Additional Power Connector | 2 x 8-pin | 2 x 8-pin |
| TDP | 355W | 300W |
| Recommended PSU | 850W | 800W |
Unboxing & Overview
For those of like to collect reference cards, you're definitely in for the treat. Apart from the new design, AMD has done some changes to the box design, which acts like a display box for a trophy. Compared to the previous-gen Radeon RX 6000 series reference cards, we can see that AMD has put in some consideration to making the unboxing experience a bit more premium for the reference RX 7900 XTX.
Design-wise, the RX 7900 XTX reference card comes in a full black cooler and a new fan design this time, which I think looks really good if compared to the previous-gen reference cards. In fact, I think that it's the best-looking reference card AMD has so far and I'm totally digging it. The lighting elements are very minimal on this one as well, which is the white frosted lines around the middle cooling fan.
Compared to the colossal reference GeForce RTX 4080 Founders Edition from NVIDIA, I'd say that the design makes the Radeon RX 7900 XTX looks a lot more compact despite still being a graphics card with a triple-fan cooler. While it's still a pretty big card, the overall dimension and the 2.5 slot thickness will allow the RX 7900 XT to still be able to fit into most of the mini-ITX PC cases. So to me, it seems to be a better choice for those who are planning on building a powerful small form factor ITX build with the current latest graphics card.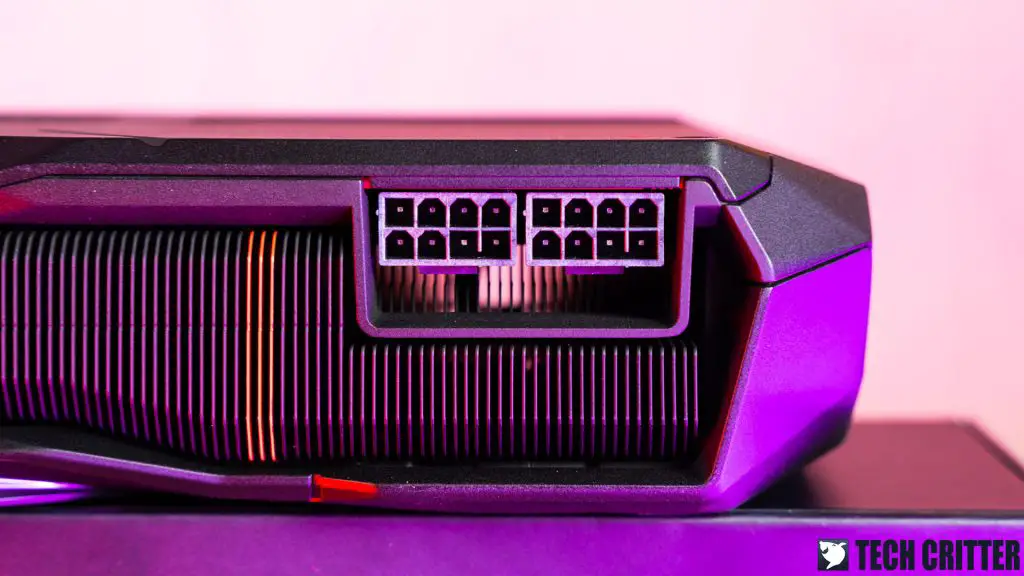 Now for the power supply requirement, AMD suggests that you use at least an 800W power supply with two 8-pin PCIe power connectors to power up the reference RX 7900 XTX. And unlike NVIDIA's approach to embrace the new 12VHPWR standard to reduce the cable count with a single powerful cable that can deliver up to 600W, AMD is staying on the 8-pin PCIe power socket for now, allowing new users to be able to still use their latest graphics cards without the need of any 3rd-party adapter or new power supply.
And for the metal backplate, it's technically part of the main cover of the cooler. Apart from the full-coverage design for better aesthetics, it also helps to keep the PCB in shape, reducing the chance of getting that unsightly sag over the long run.
While NVIDIA has technically ditched USB Type-C as one of the display output options, AMD somehow surprised us with the inclusion of USB Type-C as one of the display output options this time apart from the two DisplayPort and one HDMI port. I'm not quite sure why AMD is doing this but I'm actually cool with this as you can actually use it as a standard USB Type-C port and put it to good use even if you're not using it as a display output.
Test System Setup
We have put together this review by testing the Radeon RX 7900 XTX against the GeForce RTX 4080 Founders Edition using the following setup under an ambient temperature of 30°C:
| | |
| --- | --- |
| CPU | Ryzen 9 7950X |
| Motherboard | Gigabyte X670E AORUS XTREME |
| Memory | Kingston Fury Beast RGB DDR5-6000 CL30 |
| Graphics Card | AMD Radeon RX 7900 XTX / NVIDIA GeForce RTX 4080 Founders Edition |
| Power Supply | Cooler Master M2000 Platinum |
| Primary Storage | Kingston NV2 PCIe 4.0 NVMe SSD 2TB |
| Secondary Storage | WD Black 6TB |
| CPU Cooler | Cooler Master MasterLiquid PL360 Flux |
| Chassis | Streacom BC1 Open Benchtable |
| Operating System | Windows 11 64bit |
For the test, we're using the AMD Ryzen 9 7950X, Gigabyte X670E AORUS XTREME, and the Kingston Fury Beast RGB DDR5 memory kit to ensure that we're able to get the best performance out of both GPUs, as well as to minimize the chances of bumping into any performance bottleneck during the test.
Games Benchmark – Raster Performance
We've tested a handful of games with all the graphics cards used for this comparison, all the way from 1080p to 4k resolution using the highest possible settings and FSR quality preset if allowed. As AMD showing just how capable the RX 7900 XTX is when it comes to gaming in 4K resolution and possibly, some games in 8K resolution as well, I'd say it's pretty unwise for one to get this card just so they can game at 1080P with crazy high frame rates.
Assassin's Creed Valhalla
Control
Cyberpunk 2077
Deathloop
F1 22
Far Cry 6
Forza Horizon 5
Hitman 3
Horizon Zero Dawn
Shadow of the Tomb Raider
The Division 2
Watch Dogs: Legion
While the RX 7900 XTX did perform better than the RTX 4080 just like what AMD claimed, it's not entirely one-sided domination like what we initially expected. The RTX 4080 can still perform better than the RX 7900 XTX on some titles, but seeing how well the RX 7900 XTX can handle gaming in 4K resolution, I'd say AMD has done a really good job in catching up with NVIDIA in just a year.
Games Benchmark – Ray Tracing Performance
Moving on to ray tracing, it's technically AMD's second take on this and I must say, they've done a pretty good job this time. Compared to the previous-gen Radeon RX 6000 series GPUs, the new Radeon RX 7000 series now comes with dedicated ray accelerators and AI accelerators that are supposed to greatly improve the ray tracing performance. Apart from the improvement on the GPU architecture, AMD has also put in a tremendous amount of effort to improve FSR and responded to NVIDIA's DLSS 3 with its upcoming HYPR-RX, a single click performance boost technology combining Radeon Super Resolution, Radeon Boost, and Radeon Anti-Lag.
Control
Cyberpunk 2077
Deathloop
F1 22
Far Cry 6
Forza Horizon 5
Hitman 3
Shadow of the Tomb Raider
Watch Dogs: Legion
As far as the ray tracing performance goes, I'd say the RTX 4080 is still the clear winner for this category even though the test is done using FSR. Then again, we cannot deny that the RX 7900 XTX has put up a good fight this time, as the performance it can deliver with FSR is really commendable. The only downside I can see as of now is games that come with only DLSS support, and games that support only FSR 1.0.
Just like the Control and Watch Dogs: Legion we've tested, there are actually games that only support DLSS, which is not in favor of any of the AMD Radeon cards. If you want to play any of these games in 4K resolution or higher, you'll probably have to leave out the ray-tracing feature.
For games that only come we FSR 1.0 support, I won't recommend sacrificing the graphics quality just for the sake of having higher frame rates, especially when you've paid $999 for this card just so you can finally play your favorite games at 4K resolution, or you just don't feel like paying that extra few hundred bucks for an RTX 4080. The current situation AMD is facing is actually very similar to what NVIDIA faced when they first introduced DLSS, but fret not, as FSR 2.x support should be coming to more titles soon.
Synthetic Benchmark
For the synthetic benchmark, we have 3DMark, UL Procyon Professional Benchmark Suite, and Unigine Superposition Benchmark just for a quick comparison.
3DMark
UL Procyon Professional Benchmark Suite

Unigine Superposition Benchmark

From the benchmark results, we can see similar behavior to what we've seen on the game benchmarks. The Radeon RX 7900 XTX still performs better than the RTX 4080 when it comes to the raster performance, but the RTX 4080 still have the upper hand when it comes to ray tracing performance, as well as productivity benchmark like the photo editing and video editing benchmarks with UL Procyon benchmarks.
Thermals and Power Draw
Now for the thermals and power draw, the RX 7900 XTX is drawing at least 350W on load, which can go higher depending on the games or work the card is dealing with. It's no surprise why AMD recommends at least an 800W power supply for the RX 7900 XTX, but hey, at least you can still use your existing power supply with PCIe 8-pin power connectors.
As for the temperature, while the GPU load temperature peaked only at around 77°C, the temperature on other sensors is a bit concerning I must say. As much as AMD will tell you that these temperatures are actually safe, I'd still get a bit paranoid if there's a component on my graphics card that goes 80-90°C when the GPU is on load. Let's just hope the partners will come up with a better cooling solution when their custom design is available in the market later.
First Impression
Although the Radeon RX 7900 XTX isn't exactly the RTX 4080 killer as we initially expected, the tremendous improvement over just one generation truly impressive I must say. Performance-wise, I'd say the RX 7900 XTX is a true 4K gaming capable graphics card that is technically on par or slightly better than the RTX 4080 on pure raster performance, which is actually good news for those who only care about raster performance and pays no attention at all to the fancy ray-traced elements in games. As far as ray tracing performance goes, NVIDIA is still leading by quite a margin, but it won't be long as AMD is really catching up now, and NVIDIA should be concerned with the progression AMD is having right now.
The only downside for now, apart from the rather high but still seemingly safe temperature across the PCB, are the games that only support DLSS, and games that are still using the older FSR 1.0. FSR 1.0 as some of you might have already experienced with Godfall, looks pretty bad on lower resolutions like 1080P and 1440P if it's not well implemented. While AMD manages to improve the situation with FSR 2.0, we still cannot overlook the fact that NVIDIA's DLSS is still better when it comes to the overall image quality, even with the performance preset. Though, seeing that AMD has come a long way and we can actually see the improvement in each update, I'm really looking forward to HYPR-RX, which is technically AMD's response to NVIDIA's DLSS 3 that will be available in 2023 H1.
Now that we've seen what the Radeon RX 7900 XTX is capable of, I'd say the official starting price of US$999 makes it look a bit more attractive than the RTX 4080, as it offers a better price-to-performance ratio despite not being as powerful as the RTX 4080 in ray tracing performance.
Where to buy? (Affiliate links)