Competition in the GPU market is intensifying with AMD's recent announcement of the availability of the Radeon RX 7600, closely following NVIDIA's showcase of the performance of the GeForce RTX 4060 Ti graphics card. Priced at $269 and aimed at the 1080p gaming segment, it's clear that the RX 7600 will directly compete with the upcoming RTX 4060. As the RTX 4060 will only be available in July and we don't have any previous-gen Radeon cards on hand, we will use what we have on hand to gauge the performance we can expect from the RX 7600.
Specifications
| | | |
| --- | --- | --- |
| GPU | Radeon RX 6600 | Radeon RX 7600 |
| Shading Units | 1792 | 2048 |
| TMUs | 112 | 128 |
| ROPs | 64 | 64 |
| Compute Units | 28 | 32 |
| Ray Accelerators | 28 | 32 |
| AI Accelerators | – | 64 |
| Game Clock | 2044 MHz | 2250 MHz |
| Boost Clock | 2491 MHz | 2625 MHz |
| Memory Type | GDDR6 | GDDR6 |
| Memory Size | 8GB | 8GB |
| Memory Bus | 128-Bit | 128-Bit |
| Bandwidth | 224 GB/s | 288 GB/s |
| Effective Memory Speed | 14 Gbps | 18 Gbps |
| Bus Interface | PCIe 4.0 x 8 | PCIe 4.0 x 16 |
| Additional Power Connector | 1 x 8-pin | 1 x 8-pin |
| TBP | 132W | 165W |
| Recommended PSU | 450W | 550W |
Unboxing
This slideshow requires JavaScript.
Before delving into the performance numbers, let's briefly highlight the design aspects. In terms of design, the RX 7600 looks impressive. For those who prefer small form factor builds, the sleek and compact design of the RX 7600 is appealing, at least that's what I think. I'm quite a fan of this design and if I were to build another SFF system for casual 1080p gaming, this card would be a consideration.
This slideshow requires JavaScript.
Based on the specifications, it has a rated total board power (TBP) of 165W and utilizes a single 8-pin PCIe connector for power. I appreciate AMD's simple design approach and the positioning of the PCIe connector at the end of the PCB for easier cable management. Seeing how the community responds to NVIDIA's decision to go with the 12VHPWR connector, I think AMD will probably stick to the 8-pin PCIe connector that most of us are familiar with for a bit longer.
The display output options are the standard 3 x DP and 1 x HDMI combo you'll find on most graphics cards nowadays.
System Specifications
As mentioned earlier, since we don't have GPUs available for a direct comparison, we have decided to test the RX 7600 against the RTX 3060 Ti, RTX 3070, and RTX 4060 Ti to gain an idea of its performance. Here are the specifications of the test system used:
| | |
| --- | --- |
| CPU | Intel Core i9-12900K |
| Motherboard | ASUS ROG Maximus Z690 APEX |
| Memory | ADATA XPG LANCER RGB DDR5@6000MHz CL30 (16GB x2) |
| Graphics Card | AMD Radeon RX 7600 |
| Power Supply | Cooler Master M2000 Platinum |
| Primary Storage | Kingston KC3000 2TB |
| CPU Cooler | Cooler MasterLiquid PL360 Flux |
| Chassis | Cooler Master MasterFrame 700 |
| Operating System | Windows 11 Pro 64-bit 21H2 (Build 22000.1696) |
Gaming Benchmark – Raster Performance
For the raster performance test, we have assessed the RX 7600 at three different resolutions: 1080p, 1440p, and 4K, to gain a better understanding of its capabilities.
While reasonable frame rates are still achievable at 4K resolution, this only applies to some of the tested titles, and I would caution against pushing the card's limits in this scenario.
The performance numbers improve as we scale down to 1440p, where we can observe above 60fps in the majority of the tested titles, making it playable.
At 1080p, we see an average frame rate of over 80fps across all the tested titles. Overall, the performance is comparable to an RTX 3060 Ti, but it still falls slightly short.
Gaming Benchmark – Ray Tracing
Next, we assess the ray tracing performance with graphics settings and ray tracing set to ultra, alongside the FSR Quality preset, to determine the card's capabilities under these conditions.
The results indicate that the RX 7600 is not suitable for 4K gaming with ultra settings and full ray tracing, as reducing graphics settings and using the performance FSR preset does not significantly improve the situation.
At 1440p resolution, games are playable, but only for titles that are not particularly demanding in terms of ray tracing processing, despite being RT-enabled.
Better results are seen at 1080p resolution, but there are still exceptions for titles that heavily rely on RT processing, such as the infamous Cyberpunk 2077, as well as RT-enabled titles with DLSS support that put even the new Radeon cards at a disadvantage.
It's evident that AMD still has progress to make in terms of ray tracing performance. However, with the increasing adoption of FSR 2.X by game developers, I hope to see more titles receiving this treatment, allowing Radeon cards to compete better in the predominantly NVIDIA-dominated RT titles.
Thermals & Power Draw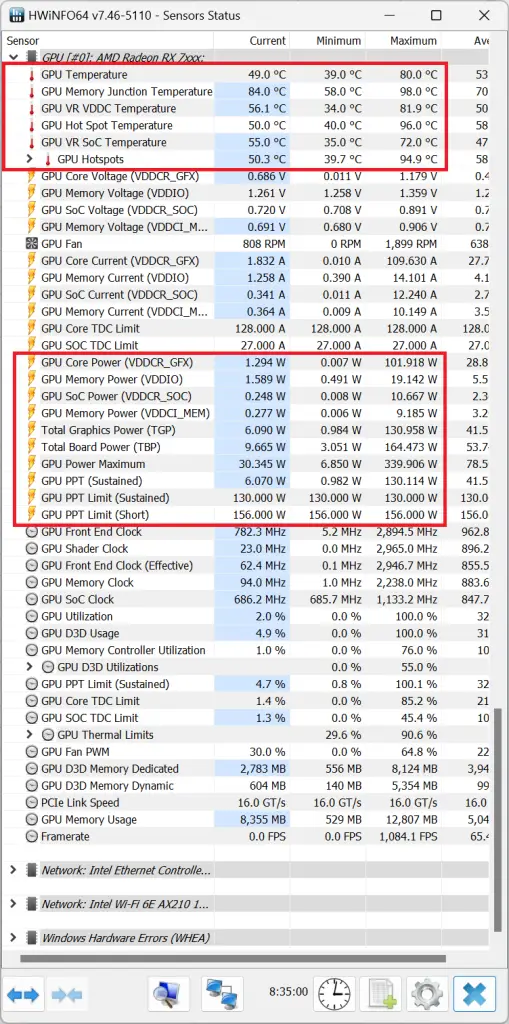 Now, let's discuss thermals and power draw. Compared to the RTX 3060 Ti, the RX 7600 demonstrates better power efficiency, with a peak power draw observed during testing of approximately 164W. This is around 60W lower than the RTX 3060 Ti while still delivering a reasonable performance that is not too far off.
Regarding temperatures, although AMD claims that the RX 7600 may reach up to 105°C on the junction temperature during operation, our temperature readings have not exceeded 100°C on all the relevant sensors. Based on past experiences with AMD Radeon cards, we can assume that the temperatures we are observing here still fall within safe limits. If you're uncomfortable with these temperatures, you'll have to look at the offers from the board partners and hopefully, will have a better cooler design to lower the temperature of these components.
Final Thoughts
The RX 7600 lives up to AMD's claims as a GPU specifically designed for 1080p gaming with high or ultra settings, particularly in terms of raster performance. There are times when it can also deliver a reasonable performance at 1440P resolution, but this is as much as you can get from this card.
Its ray tracing performance, on the other hand, does not match up and requires compromises such as lowering graphics settings and FSR presets for reasonable and playable frame rates. The list of games that currently support FSR 2.x is growing, but even with FSR enabled, the RX 7600 struggles with most of the titles tested when pushing the graphics settings to their limits. This doesn't mean you can't play RT-enabled titles with the RX 7600, but compromises must be made to achieve desirable results.
So, is $299 a good price for the RX 7600? Honestly, it depends on your perspective. If you solely focus on gaming performance, the older-gen RTX 3060 Ti, available for under RM 1300, makes the RX 7600 look inferior, especially considering the cheapest model currently available is priced at RM 1599. However, if you value other features such as AV1 encoding capability, AMD Smart technology suite, AI capabilities, or creative workloads optimized for AMD Radeon GPUs, the $269 price tag can still be considered reasonable.
Where to buy? (Affiliate links)