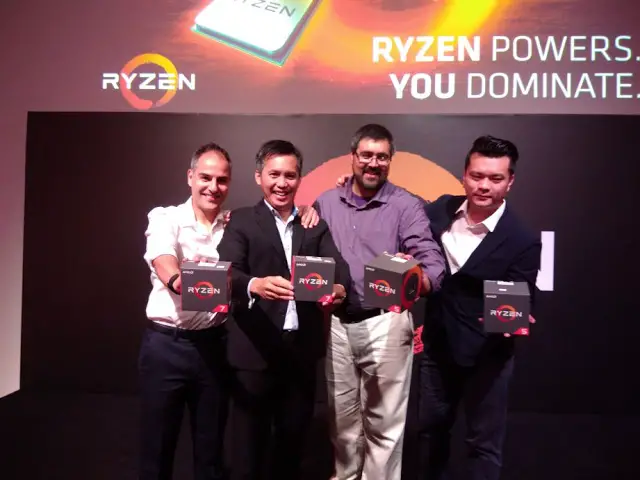 After the long way, a really long wait, AMD has finally got back on its feet with its Ryzen CPU, the too good to be true CPU that the enthusiasts has been waiting for. Although the gaming performance isn't quite on par yet with its competitor due to the lack of optimization, the Ryzen 7 has never stop impressing enthusiasts who wants the bang for the buck CPU for their system.
AMD has officially launches its Ryzen 5 CPU in Malaysia, with starting price of as low as RM819 for its 4 core 8 thread Ryzen 5 1400X CPU. Aimed to shake up the PC DIY market with 'overpriced CPU' with its latest powerful yet surprisingly affordable, the latest Ryzen 5 from AMD might just be the right one for you if the Ryzen 7 is somewhat overkill for your current needs.
Ryzen 5 CPU Overview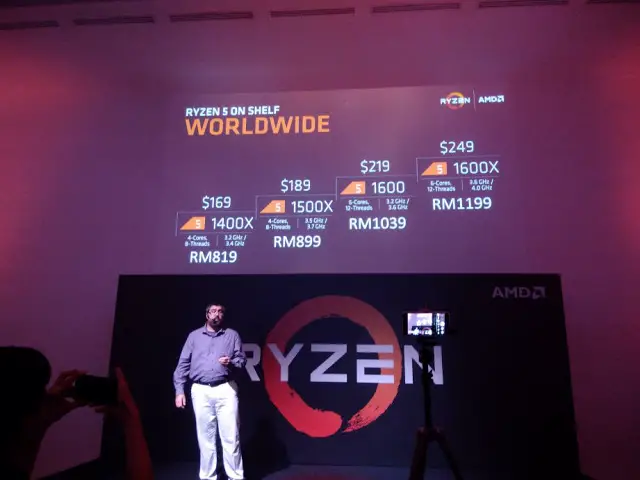 We're told that the Ryzen 5 CPU will significantly disrupt the current market earlier before the launch and looking at the official MSRP, we can clearly see that AMD is going to give its competitor a really hard time in the PC DIY market, especially with price that starts as low as RM819 for its 4 core 8 threads CPU.
The obvious advantage that the Ryzen CPU has over its competitor is the unlocked voltage and multiplier that makes ALL the Ryzen CPU ready for overclocking. Users who wanted to overclock their Ryzen CPU for that extra performance can opt for AM4 motherboards with X370, B350 and X300 chipset.
During the presentation, we can see that AMD positioned its Ryzen 5 CPUs in the same category as the i5 7600K from its competitor, Intel. Other than the single threaded performance, the Ryzen 5 1400X and 1500X benchmark result as according to AMD, crushed the i5 7600K in most of the synthetic benchmark.
Radeon RX 500 Series Overview
Other than the Ryzen CPUs, AMD also unveiled its Radeon RX 500 series graphics card during the Ryzen Launch. Thanks to continuous streamlining of FinFET 14 nm production process, the latest Polaris GPUs Radeon RX 580 and RX 570 cards are even more energy-efficient and better to overclock for some extra performance.
Paired with the latest Radeon Crimson Software ReLive Edition with additional value to gamers through features like gameplay recording and streaming, Radeon Chill technology that dynamically regulates framerate based on your movements' in-game for optimizing power, performance and input lag.
Radeon RX 580 – SDP of $199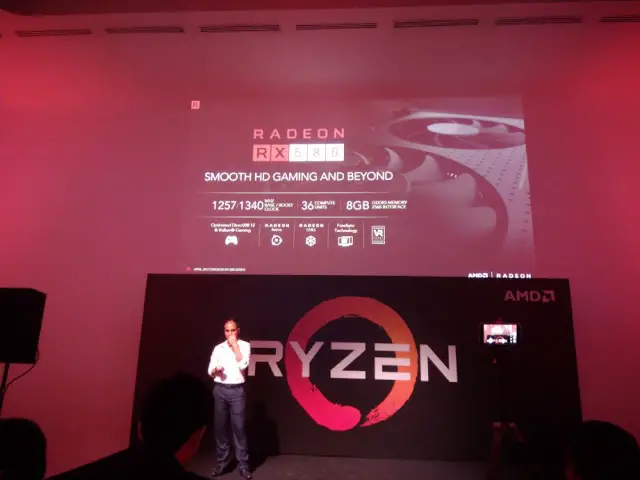 Just like the RX 480, the RX 580 meant to provide a cost efficient alternative VR experience for gamers who is into VR gaming. According to AMD, VR titles such as Superhot, Arizona Sunshine, Serious Sam VR requires a minimum of 100 FPS to be considered as a passing grade for VR gaming. The RX 580 as tested by AMD, are able to deliver a minimum of 109 FPS for these  titles.
Radeon RX 570 – SDP of $169
With 4GB or memory, it's definitely not going to be enough if you're planning to game on 1440p at least with most of the AAA titles nowadays. However, the RX 570 are described by AMD as the ideal upgrade for gamers who game on 1080p. According to the game benchmark result from AMD, the RX 570 are seen to be able to achieve results above the 60 FPS standard on AAA titles such as Doom 2016, Resident Evil 7: Biohazard, Battlefield 1 and Sniper Elite 4 on ultra settings. 
Radeon RX 560 – SDP of $99
Although the overall performance is not as powerful as both the RX 580 and RX 570, the RX 560 are meant to be an upgrade for gamers who has been gaming on a R7 360 or something equivalent to be able to game on 1080p with a reasonable 60 FPS on game titles such as Civilization VI, Doom 2016, Battlefield 1 and the popular eSports title Overwatch.
Radeon RX 550 – SDP of $69
The last RX 500 series graphics card to be mentioned is the RX 550. It's definitely not a choice for those of you who is into awesome looking graphics, but more as a solution for minimal gaming i.e eSports titles with reasonable looking graphics card FPS, replacement for discrete GPU like Intel's IGP for better performance in Adobe Photoshop and Premiere, or a GPU for a HTPC with HVEC and 4K Playback.