AMD has been making moves into the consumer and prosumer space this month where there are new CPUs and GPUs to talk about in which you may or may not gain access to these new goodies. Let's see what they have cooked up.
Ryzen 7 5800X3D with 3D V-Cache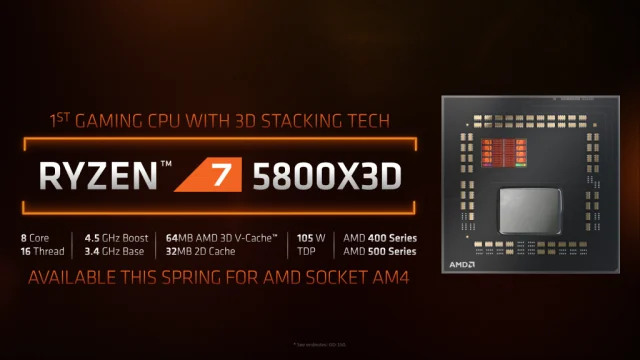 The spotlight of this announcement is none other than the official release of the long awaited Ryzen 7 5800X3D that utilizes a brand new 3D V-Cache technology which is also the brand's very first Ryzen chip to host such architecture. Armed with 8 physical cores and 16 threads, the boost clock will be set at 4.5GHz with a steady flow of 105W power but despite having these numbers, AMD has confirmed that this specific chip is not overclockable so that people get to manage their expectation before dropping down USD449 – the official SRP for the Ryzen 7 5800X3D – for becoming one of the early adopters / gamers harnessing the power of 3D-stacked caches.
Shipping beginning April 20, the processor promises to deliver 15% more performance in 1080p gaming compared to other non-stacking CPUs so there's that.
New Desktop Ryzen SKUs
The Ryzen 7 5800X3D isn't the only new boy in the family as AMD is also adding another set of 6 new SKUs that is "Not 3D" and are your usual standard Ryzen CPUs and they will be made available for purchase starting April 4 globally. Here's the spec sheet and associated SRP for them.
Model

Architecture

Cores / Threads

Base Clock (GHz)

Boost Clock (GHz)

Cache Size (MB)

TDP (W)

PCIe Generation

Bundled Cooler

SRP (USD)

Ryzen 7 5700X

Zen 3

8 / 16

3.4

4.6

36
65
Gen 4
–
299

Ryzen 5 5600

6 / 12

3.5

4.4

35

Wraith Stealth

199

Ryzen 5 5500

3.6C

4.2

19

Gen 3

159

Ryzen 5 5400G with Radeon Graphics

Zen 2

3.7

4.2

11

154

Ryzen 5 4500

3.6

4.1

129

Ryzen 3 4100

4/ 8

3.8

4.0

6

99
Also within the topics of Ryzen chips, AMD is also extendtion the support of the AMD 300 series chipset to be compatible with the Ryzen 5000 series processors across the X370, B350 and A320 variants with selected beta version of BIOS updates become downloadable beginning next month. That's nice for those that are looking to only upgrading their CPU and not the board itself. Another breaking news is ASUS has already tested everything on their own and has revealed that its own offerings of 500 and 400 series will support all 7 new CPUs out of the box while the X370 and A320 update will arrive on March 25. Treat it as an early gift for ASUS fans.
Ryzen Threadripper PRO 5000-WX Series for the Ultimate Workstation
Now we're moving on the professional space with the new Ryzen Threadripper PRO 5000-WX series products, the monstrous chips that will powering OEM machines. Yes, this is an OEM exclusive option which will be debuting on Lenovo's ThinkStation P620 to allow industry workers to harness the superior computing power offered by the Zen 3 architecture. Bolstering a crazy 64 cores and 128 threads with a maximum of 288MB cache, it tears all the large datasets like there's no tomorrow while applications that can take advantage of multi-core pipelines such as 8K footage editing and complex simulation is what the chip is designed for. Additionally, the PRO variant denotes the inclusive of AMD PRO technologies which includes Memory Guard that protects against sensitive volatile data, Secure Processor that validates the legitimacy of every component, and Shadow Stack guarding against memory / instruction specific malware attacks.
So perhaps you're one of such industry people and is looking to grab one of these near 5-figure machines then you'll need to make sure you get the one that is the most suitable for you by scanning through the available SKUs and their specifications first:
Model

Cores / Threads

Base Clock (GHz)

Boost Clock (GHz)

Cache Size (MB)

TDP (W)

PCIe 4.0 Lanes

Memory Support

Ryzen Threadripper PRO 5995WX

64 / 128

2.7

4.5

288

280

128

Up to 2TB UDIMM, RDIMM, LRDIMM

Ryzen Threadripper PRO 5975WX

32 / 64

3.6

144

Ryzen Threadripper PRO 5965WX

24 / 48

3.8

140

Ryzen Threadripper PRO 5955WX

16 / 32

4.0

72

Ryzen Threadripper PRO 5945WX

12 / 24

4.1

70
Radeon PRO W6600X GPU for Apple Mac Pro
Another OEM only selection and the OEM is none other than Apple with its Mac Pro now having the option to opt for the Radeon PRO W6600X graphics card to power through all the graphical intensive tasks of creativity or can be as simple as well-calculated simulations. Despite of this, if you don't know, the Mac Pro already has the W6900X, W6800X and W6800X Duo for the strongest GPU power possible so the W6600X is actually just a mid-tier option compared to the former big brothers. Specs-wise, it will have 8GB of GDDR6 VRAM, 32MB Infinity Cache, and 32 Compute Units with 2048 Stream Processors.
FidelityFX Super Resolution 2.0
Jumping into the software segment, the latest software: Adrenalin Edition 2022 will see AMD's FidelityFX Super Resolution officially hopping onto the 2.0 generation packed with major updates where the software-based upscaling tech now uses temporal data and optimized anti-aliasing to boost image quality and better frame rates all without the need for dedicated hardware-based machine learning components which means any GPU in the modern era is capable of utilizing it as usual. Derived from the FidelityFX branch is the Radeon Super Resolution (RSR) technology now baked into the driver to deliver near-native resolution with increased performance under exclusive full screen modes which is enjoyable by any RDNA-based Radeon GPUs and is toggable within the in-game settings of many thousands of titles.
Other notable features includes:
AMD Link – Now up to 4 users can connect to AMD Radeon GPU-powered rig to play local multiplayer games through the power of streaming while supporting customizable hotkeys and inputs
Radeon Image Sharpening – Achieve better upscaling and post-process effects in video playback and productivity application with a single click
Direct Download – The Software: Adrenalin program can be updated directly by itself; No more manual downloads
Improved Toast Notifications – Provides users with a clearer snapshot on which key features are enabled or disabled whenever they launch a game.
You may grab the new AMD Software: Adrenalin Edition from the AMD Drivers and Support page starting today with FidelityFX Super Resolution 2.0 rolling out to games starting Q2 2022.