AMD has officially launched the Radeon RX 7800 XT and 7700 XT today at Gamescom 2023, finally filling in the gap between the higher-end RX 7900 XTX and the entry-level RX 7600. Based on what AMD showed during the announcement, the Radeon RX 7800 XT and 7700 XT will be going up against the RTX 4070 and 4060 Ti from the green team, respectively.
For starters, the RX 7800 XT features a whopping 16GB worth of GDDR6 memory running at the speed of 19.5 Gbps and a memory bus of 256-bit, while the RX 7700 XT features 12GB worth of GDDR6 memory running at 18 Gbps and 192-bit memory bus. It's clear that both the memory specs are aimed directly at what people in the community are complaining about what's lacking in the competitor's product in this category.
Now for the main GPUs, the RX 7800 XT has a total of 60 unified AMD RDNA3 cores, 60 RT accelerators(2nd-gen), 120 AI accelerators, 64MB Infinity Cache (2nd-gen), and a boost clock up to 2430MHz. The RX 7700 XT comes with a total of 54 unified AMD RDNA3 cores, 54 RT accelerators(2nd-gen), 108 AI accelerators, 48MB  Infinity Cache (2nd-gen), and a boost clock up to 2544MHz.
From the specs, we can see that the redesigned AMD RDNA 3 architecture featuring unified ray tracing and AI accelerators, improved AI acceleration which AMD boasts is capable of delivering over double the performance compared to the previous RDNA 2 architecture, enhanced streaming quality and performance, and support for ultra-high definition encoding.
AMD also teased their upcoming AMD FidelityFX Super Resolution 3 (FSR) temporal upscaling technology. FSR 3 utilizes AMD Fluid Motion Frames technology and game motion vector data to significantly enhance frame rates and image quality in supported games. This technology is expected to roll out across various games and platforms.
Additionally, AMD is introducing the new AMD Software: Adrenalin Edition application, available from September 6, 2023. This update introduces AMD HYPR-RX technology, simplifying the interaction between AMD Radeon Super Resolution (RSR), AMD Radeon Anti-Lag, and AMD Radeon Boost technologies to enhance overall performance. Furthermore, it includes AMD Radeon Anti-Lag+ technology, offering responsive gaming with minimal input lag.
Scott Herkelman, Senior VP and GM of the Graphics Business Unit at AMD highlighted the growing popularity of 1440p displays among gamers due to their vibrant visuals and smooth gameplay. These newly released graphics cards are tailored to deliver the necessary performance and visual quality for fully enjoying modern games on such displays.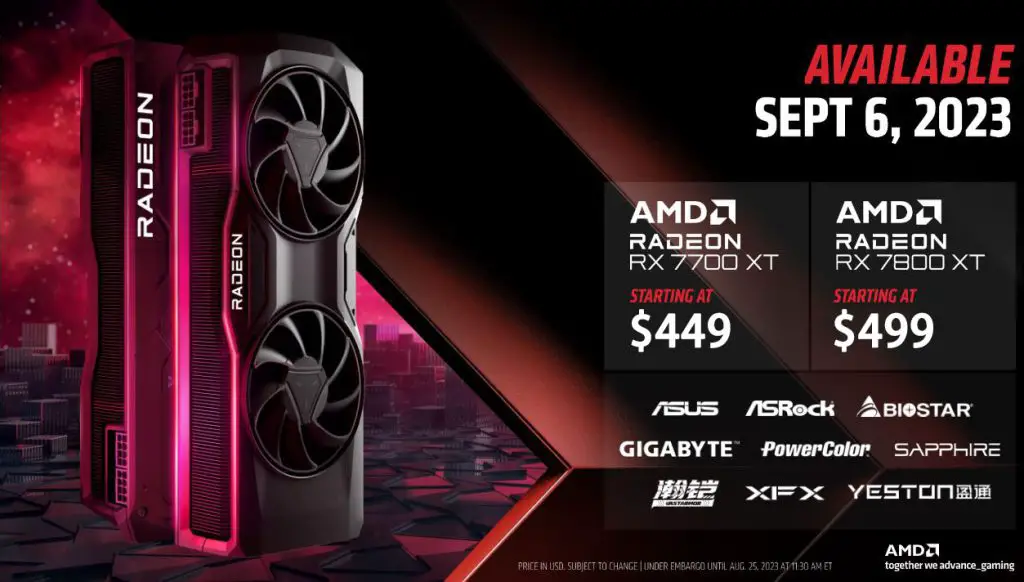 For those eager to get their hands on these graphics cards, the AMD Radeon RX 7700 XT and Radeon RX 7800 XT will be purchasable from a range of board partners and on AMD.com starting September 6, 2023, at the price of $449 and $499 respectively.