AMD today announced that the first desktop systems featuring 7th Generation AMD A-Series processors(previously code-named "Bristol Ridge") with AMD's new AM4 sockets are scheduled to ship in the second half of 2016 in HP and Lenovo devices. Equipped with DDR4 memory, these devices will deliver excellent energy efficiency and broad bandwidth, enabling high-speed processing and smooth eSports gaming, with enhanced HD streaming capabilities.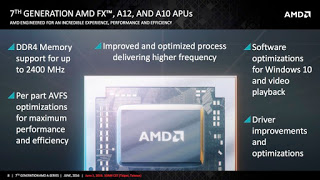 "We are excited for the first consumer release of the AMD AM4 socket and the first integration of our 7th Generation AMD A-Series processors into desktop devices," said Kevin Lensing, Corporate VP and general manager of Computing and Graphics at AMD. "At AMD, we are continually working to drive innovation that our customers want, including superior energy efficiency and the best streaming and graphics capabilities available."
Systems powered by 7th Generation AMD A-Series processors deliver performance, immersive experiences and energy efficiency, with up to four "Excavator" cores. 7th Generation AMD A-Series desktop processors consist of 65-watt and 35-watt versions, offering superior power efficiency and allowing for flexible solutions enabling a wide variety of form factors.
7th Generation AMD A-Series desktop processors also bring enhanced graphics capabilities, augmenting key video playback features supporting up to 4K Ultra HD in both the popular H.264 and new-and-improved H.265 formats. These devices will also feature AMD Radeon Graphics Core Next graphics, with full support for Microsoft® DirectX®12.
The AMD AM4 socket is a new unified socket infrastructure that provides compatibility between 7th Generation AMD A-Series processors and the upcoming high-performance "Zen" based AMD desktop CPU (code-named "Summit Ridge") and expected products beyond.Further details and information will be announced at a later date.