Alongside NVIDIA's official announcement of the GeForce RTX 3080 Ti and RTX 3070 Ti earlier today, ZOTAC as one of the renowned NVIDIA partners too has announced its own variation of the newly announced graphics cards. The RTX 3080 Ti Series feature the AMP Extreme Holo, AMP Holo, Trinity OC, and Trinity models whereas the RTX 3070 Ti Series feature the AMP Extreme Holo, AMP Holo, and Trinity.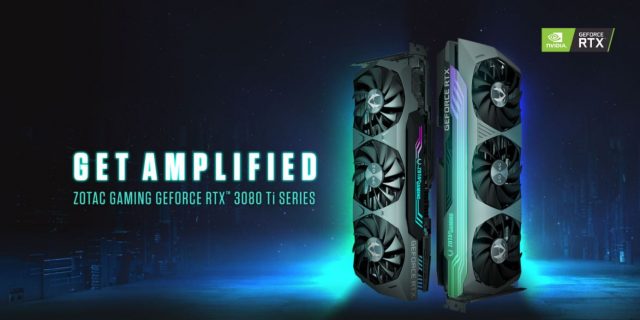 Featuring the unique HoloBlack design that has won the prestigious 2021 Red Dot Award, AMP Holo models deliver factory-overclocked performance out of the box and feature an aurora-like holographic finish allowing the lighting paths underneath to shine through. The Dynamic RGB lighting can be customized with the FireStorm utility enabling the changing of colors and lighting modes.
The AMP Extreme Holo utilizes a new cooler focused on a performance featuring the acclaimed HoloBlack design and design cues from the current ZOTAC GAMING 30 Series models. Trinity adheres to a minimalist design that balances aesthetics with functionality. The reinforced metal backplate emphasizes the RGB lighting infused into the carved paths adding additional detail and airflow.
The ZOTAC GAMING GeForce RTX 3080 Ti Series takes the cooling performance to the next level by taking advantage of a 3-slot thick aluminum heatsink sectioned in up to 3 groups to fully enfold the copper heat pipes for optimal thermal conductivity. A new and improved heat pipe layout is utilized in a more densely packed space, adding up to 72% more direct contact over the GPU than previous-generation models to transfer heat more quickly away from the core.
All the new models of the RTX 3080 Ti and RTX 3070 Ti series tap into the refined IceStorm 2.0 cooling system. Triple fans featuring 11 blades provide up to 10% more airflow than the previous generation's fan designs. The AMP Extreme Holo features three 100mm fans for maximum airflow dynamics. The total count of heat pipes used has increased up to eight, the highest count of heat pipes used in a ZOTAC GAMING graphics card design.
Users can fine-tune and monitor the GPU in real-time with FireStorm, customize or synchronize the effects of individual lighting zones, adjust the fan speed, and more. The AMP Extreme Holo features a Dual BIOS controlled via a soft-switch FireStorm. Users can switch between QUIET mode for lower noise and slightly higher temperatures or AMPLIFY for lower temperatures and faster fan speeds.
Additional enhancements to performance and lifespan include the FREEZE Fan Stop and Active Fan Control features that allow the ZOTAC GAMING graphics cards to be more efficient and quieter. FREEZE stops the fans when the GPU is idle, while Active Fan Control allows users to adjust fan rotations independently.
Availability
The ZOTAC GAMING GeForce RTX 3080 Ti Series will be available starting June 3rd,2021, while the ZOTAC GAMING GeForce RTX 3070 Ti Series will be available starting June 10th, 2021. AMP Extreme Holo will be available in early July 2021.