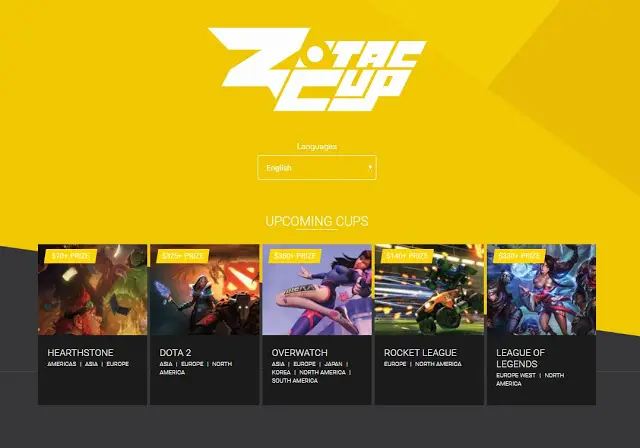 ZOTAC, a leading gaming hardware company and a fully owned subsidiary of PC Partner Group, is pleased to announce the first ever ZOTAC CUP MASTERS, the premier ZOTAC CUP esports competition. Partnering with BattleFy, the ZOTAC CUP MASTERS is a highlight and will be the first esports tournament to happen during Computex where players will pit their skills against one another in one of the most popular MOBA games in the world, Dota 2. The regional qualifiers will begin on March 12th, culminating with the finals which will take place from May 30th to June 3rd at Computex Taipei, Taiwan. Regional qualifier winners will be flown to the venue to participate in the ZOTAC CUP MASTERS Computex finals.
ZOTAC is dedicated to promoting esports and gaming through ZOTAC CUP's online platform. With 10 years of ZOTAC CUP tournaments and thousands of matches played, ZOTAC is pushing to the next level of esports competitiveness with ZOTAC CUP MASTERS where only the best meet the best. ZOTAC CUP MASTERS Computex will bring a grand-sized prize pool of $100,000 USD, so a lot is at stake for all competitors. In addition, the winning team will be invited to ZOTAC China's 10 Year Celebration DOTA 2 Invitational tournament for even more DOTA 2.
"With the growing popularity of esports and our own ZOTAC CUP platform, it made sense to have the ZOTAC CUP MASTERS to establish a stronger connection with gamers and the community and have it be a tournament platform teams from around the world will want to compete on," says ZOTAC Global Marketing Director, Chinny Chuang.
Dota 2 is a competitive game of action and strategy, played professionally and casually by millions of fans worldwide. Players pick from a pool of over a hundred heroes, forming two teams of five players. Dota 2 is also an available title on ZOTAC CUP for gamers from around the world to play in weekly matches.
Players can begin to register for the regional qualifiers on March 7th, and the qualifiers will be played out in March, April, and May. Players must register for the regional qualifiers in their geographic location. The winners from each region will be flown to Taipei, Taiwan to participate in the ZOTAC CUP MASTERS Computex finals. A total of six teams from regional qualifiers around the world plus two top teams via invitation will battle for fame and glory at Computex Nangang Convention Center, Taipei, where the champion will be decided.
Fans from around the world will be able to follow the matches through livestreaming starting from the regional qualifying finals to the Computex finals. The grand final will be livestreamed on the ZOTAC CUP website as well as the ZOTAC CUP Twitch channel. Throughout this period, ZOTAC will also present a variety of fun and exciting activities on the dedicated tournament site for fans and viewers to win. For more information, please visit the following links.