No one expects the year 2020 starts off with a global pandemic ravaging the entire world, at least not the group of people who bought ASUS products that have their warranty ended during the Movement Control Order period. Scared of the products gave out during this period? Well, fear not as ASUS has extended warranties across all products, including ROG lineups for 30 days.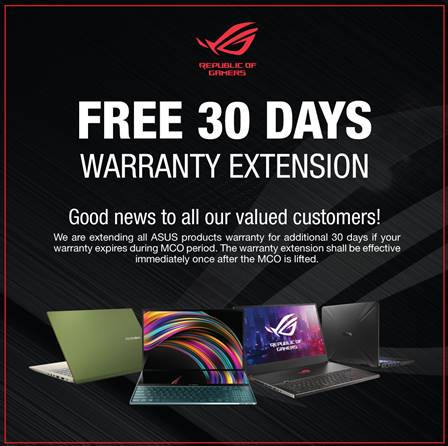 The bonus warranty period will be in effect immediately after the MCO ends officially. Given that the current restriction period is until April 28, we will assume it begins the next day at 29. If your ASUS devices really died within these 2 weeks, at least you have one less thing to worried about which is your wallet.
In case you have not yet registered your ASUS products, head over to the Support site to get started. It is basically an after-sale service webpage that allows you to download drivers, register products for warranty and even request repair services. A broad range of products are included and the user interface is clear, concise, and easy to use as well.