Welcome back to the 33rd edition of Weekly Sun Cycle, this week they have announced several new items from Phanteks, NZXT, and Glorious. Let's find out what are those.
First up are 3 cases from Phanteks: the Eclipse P500A Matte White, Eclipse G360A, and Eclipse G500A. The Eclipse P500A is a mid-tower case featuring an Ultra-fine Performance mesh front panel for optimal airflow and dust filtration.
As for the Eclipse G360A, it comes with a new front mesh panel design for higher airflow intake, paired with a removable fan bracket and pre-equipped 3x PWM DRGB fans while able to accommodate up to 400mm graphics card. On the other hand, the Eclipse G500A offers a better innovative design to the front and top for a quick fan or radiator installation, as well as a fresh look for the front mesh panel.
There's also the LGA 1700 and AM5 Bracket support for the Glacier One MP AIO Coolers. Customers with proof of purchase for any of them and a receipt of LGA 1700 or AM5 motherboards can contact Phanteks to get a compatible bracket.
There are also plenty of cases coming from the NZXT H7 Series this time around. This new ATX case comes in three variants: the H7, the H7 Flow, and the H7 Elite, each features increased thermal performance for CPUs and GPUs, improved cable management channels, and tool-less entry for side panels.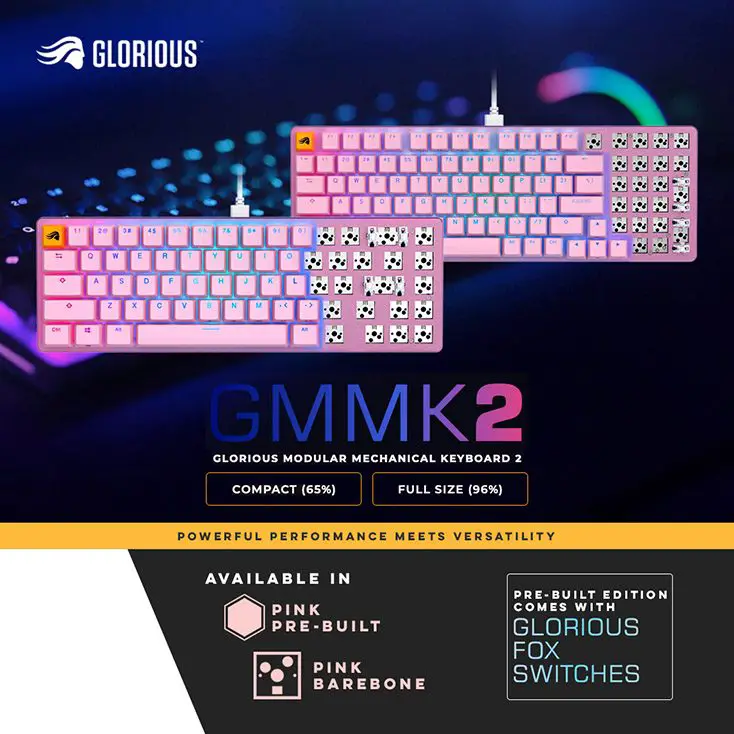 Moving onto the keyboard session, we have the Glorious GMMK 2 Pink which is designed to allow users to personalize it to their specific needs. Select from various layouts and colors, swap the components, and plug in any switch you want to build your dream keyboard.
Also from Glorious, the eye-pleasing Coiled Cables feature a double-braided sleeving design to provide flexibility without losing durability. As it comes in unique colors, users can pair it with their GMMK2 Pro or most USB-C keyboards to create interesting color combinations.
In contrast, the Ascended V2 Cable is a cord kit for the Glorious Model O/O-/D/D- mouse. The patented braided cable is ultra-flexible and light, giving users an almost wireless feel when they use their mouse.
Pricing
The Glorious GMMK2 Pink, Coiled Cable, as well as Ascended V2 Cable, is now available to purchase while the others are still at their finalizing stage.
Glorious GMMK2 Pink

65% Pre-built — RM499
65% Barebone — RM335
96% Pre-built — RM499
96% Barebone — RM335

Glorious Coiled Cable

Available in Forest Green, Electic Blue, Glorious Gold, Cobalt Blue — RM219

Glorious Ascended V2 Cable — RM65