When it comes to PC cooling solution, wide variety of aftermarket CPU coolers is available as a substitute for those who seeks for better cooling solution other than having the stock CPU cooler that came along with the CPU. While there's a large number of good CPU coolers from various brands to choose for, we don't really came across  many decent aftermarket cooler for graphics card from these brands. Probably because of that most graphics card often comes with a custom cooler of its own brand that is claimed to be able to perform much better than the reference cooler, accompany by the low demand from the PC enthusiasts community.
The's only a few of brands by far that has a graphics card cooler in their product is and just to name a few – Arctic Cooling's Accelero(s), GELID Solutions's Icy Vision, Prolimatech's MK-26, but these coolers performs pretty well and with some doing even better than the coolers that various brands take pride of.
We thank Prolimatech for providing us a sample of their MK-26 Black Edition (The Prolimatech MK-26 Black Series retails at RM269) for today's review, just as the same as their MK-26 but with the fins all colored in black. without anymore delay, let's move on with the review and find out how will the MK-26 perform.
Specifications
| | |
| --- | --- |
| Design type | Dual Radiator |
| TDP* target | 0 – 320 Watt |
| Mounting system | Omni-mount universal tool-free kit |
| Dissipation Fins |  x 0.5mm Nickel plated Aluminum |
| Fin spacing | 2.0mm |
| Pipes | Ø 6mm, type; sintered metal powder wick. |
| Fin to pipe contact | Nickel solder |
| Fan compatible & recommended specifications | 2 x 140mm fans or 2 x 120mm fans |
| Recommended fans specifications | 140mm / 1000rpm .  120mm / 1200rpm . |
| Weight | 570g |
GPU Support List
Packaging
Plain background without much description on it, picture of the product along with its name, Prolimatech kept their packaging plain and simple as usual. Many might find it not that appealing at first sight, but let's not judge a book by its cover for now at least.
Features of the MK-26 is clearly written at the back of the box is very straight forward and minimal marketing jargon or gimmicks can be seen here.
The compatibility list shows the supported graphics card model but we don't find the R9 290X Matrix Platinum that we're about to test with it anywhere in the list. Still, nothing to worry about as we have confirmed that it'll most definitely fit without any issue.Content
Comes with loads of accessories, here's what we have:
User's Manual
Heatsink pre-applied with thermal pads
Bracket to hold the MK-26 from the back
Fan clips for mounting 120mm/140mm fans
Prolimatech Sticker
A Syringe of Prolimatech PK-3 thermal paste
Mounting bracket (kindly refer to the GPU support list)
Closer Look
Somewhat reminded us of the Prolimatech Black Genesis, the Prolimatech MK-26 is made up of 2 section of black colored fins to provide as many of surface area as possible along with 6 nickel plated heatpipes going through each of the fins for heat transfer, the MK-26 gave us the first impression of a very solid potential cooler.
The MK-26 is a little tall, the gap in between the base with the fins will provide sufficient space for a fairly good airflow.
Flipping it around, we can clearly see the heatpipes that is sandwiched in between the upper plate and the GPU die contact point.
The GPU die contact point of the MK-26 wasn't the mirror surface as we've expected, unlike what is commonly seen on higher end coolers. There's three holes in the base that will fit the metal plate used for specific model of graphics card.
The name of MK-26 can be seen at the end of the longer section.
Installation
The graphics card we'll be using for the test is the renown ASUS R9 290X Matrix Platinum, pre-installed with the DirectCU II cooler that ASUS always takes pride of.
Taking apart the DirectCU II cooler and left the PCB naked, we start by sticking the VRM(s) heatsink provided to provide extra cooling for the VRM(s).
As mentioned previously, the 3 extra holes that was meant for the metal plate given.
The metal plate to provide better direct contact point with the GPU die but it's advised to apply thermal paste in between the GPU die contact point and the metal plate.
The Mk-26 installed onto the ASUS Radeon R9 290X Matrix Platinum, ready to tame the beast.
Fans can be mounted on it to improve it's performance and we recommend the Prolimatech's very own Ultra Sleek Vortex 14, but it'll require a different set of fan clips from Prolimatech.
A view from the side, the black fins matches the black PCB of the card very well but it does make the card much thicker than ever. From the looks of it, it seems that it might obstruct SLI / Crossfire configuration on a mATX board.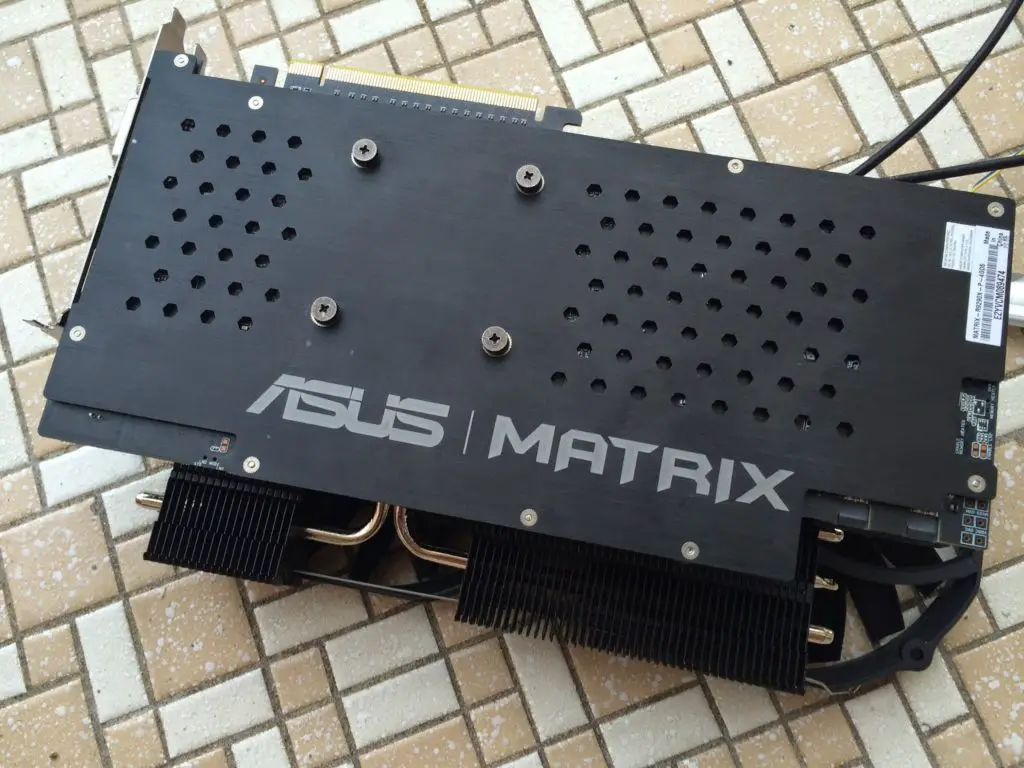 Since the Asus R9 290X Matrix already has a backplate installed, we won't need to install the backplate that came along with the MK-26.
Plugging everthing in, you can clearly see the MK-26 protruding out of the GPU, slim type chassis with narrower dimensions will probably have trouble in this aspect so do be mindful of this.
Performance Test
Test Rig Configuration

CPU Cooler
Corsair H80
CPU
Intel i5 3570K
Motherboard
ASUS Sabertooth Z77
Memory
Corsair Vengeance 4GB x 2
Primary Hard Drive
Intel 330 Series 120GB
Power Supply
Seasonic X660
Chassis
Corsair Carbide Series 300R
Graphics Card
ASUS R9 290X Matrix Platinum
We've fired up a quick but heavy GPU stress test with the system listed as above, we're using the GPU stress test utility FurMark with its Furry Donut stress test for maximum heat output under room temperature of 30ºC. The stress test is run separately :
DirectCU II cooler
MK-26 only
MK-26 with 2 Prolimatech Ultra Sleek Vortex 14
Temperature reading from FurMark stress test doesn't actually represents the actual temperature you will be getting from majority of graphic intensive games, but it did the job for us to get the highest thermal output from the GPU and through that we're able to observe the cooling performance of the cooler attached to the GPU die.
As you might have already know, the reference R9 290X is known to have a very hot operating temperature of 95°C. The MK-26 did fairly well even without fans by staying below 50°C during idle, but when we fired up the FurMark stress test, the MK-26 running under fanless condition reaches 92°C pretty fast, doing a little better than the stated operating temperature of 95°C but still far from beating the DirectCU II is which maintain the R9 290X Matrix Platinum at 89°C. Adding up a pair of USV14 gave it a boost to shed  that extra heat away and runs 4°C lower than the DirectCU II cooler.
Final Thoughts
Size wise, the Prolimatech MK-26 is undeniably huge, small form factor build will face trouble fitting it into a slim type chassis and having a SLI/Crossfire configuration on a mATX motherboard with narrower PCIe X16 or X8 lanes.
If you're on a standard or larger build without those limitations, the capability of shaving away that 10°C extra from the 95°C operating temperature is not something that most 3rd party VGA cooler is able to do, making  the Prolimatech MK-26 will be a great VGA cooler to consider for.
Pros
Solid build quality
Almost tool free installation
Rock solid performer
Compatible with a huge list of graphics card
One of Prolimatech's very best PK-3 thermal compound is included
Most 120mm and 140mm will fit
Cons
Enormous size that will not fit in many slim type chassis
The extra height will make SLI/Crossfire setup impossible on mATX motherboard with narrower PCIe X16 or X8 lanes
Fan clips for slim type fans must be purchased separately