It's been a while since our last encounter with renowned 3rd party manufacturers such as EVGA, Gigabyte, MSI and ASUS being this aggressive in launching a new graphics card. As soon as NVIDIA announces its new Maxwell GM206 based mid-ranged GTX960, which positioned below the GTX970, GTX960 from various brands were seen on the shelves almost immediately. 
Many thanks to MSI in provision of the MSI GTX 960 Gaming 2G for today's review. The SRP is at RM999, a rather surprising price to begin with, not as what we've expected for compared to the past NVIDIA's GPU of its tier. 
Specifications
Model Name

GTX 970 Gaming 2G

Graphics Engine

 NVIDIA GeForce GTX 960

Bus
Standard           

PCI Express 3.0

Video Memory

2GB GDDR5

Engine Clock

1216MHz Core (Boost Clock:1279MHz) (OC Mode)

1190MHz Core (Boost Clock:1253MHz) (Gaming Mode)

1127MHz Core (Boost Clock:1178MHz) (Silent Mode)

CUDA Core

1024

Memory Clock          

7010 MHz

Memory Interface

128-bit

Interface

DVI Output : Yes x 1 (DVI-I)

HDMI Output : Yes x 1 (HDMI 2.0)

Display Port : Yes x 3 (Regular DP)

HDCP Support : Yes

Accessories

1 x 8-pin power
cable

1 x DVI to VGA
adapter

Software                   

MSI Afterburner

Dimensions

 267mm x 139mm
x 3640mm
Overview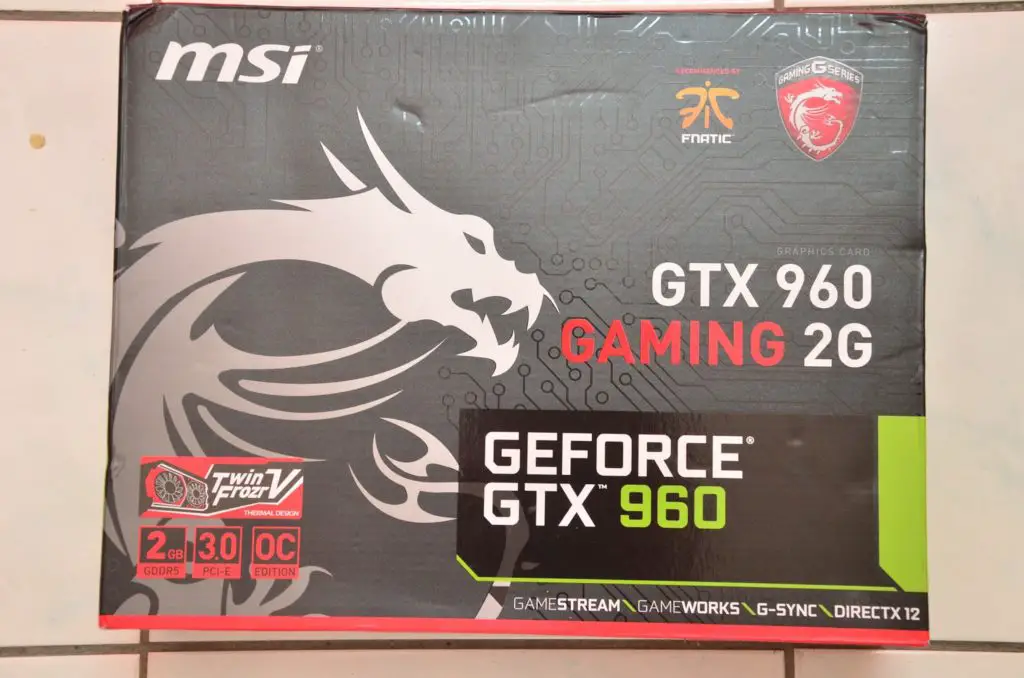 Since the announcement of the Gaming Series line, MSI's product that falls under that category, a print of the Gaming Series dragon will be on the box. With the details on the bottom left of the box, we can get a brief idea of what the MSI GTX 960 Gaming 2G offers – Twin Frozr V cooler, 2GB GDDR5 memory, PCIe 3.0 interface and it is factory overclocked out of the box.  
At the back you'll find a brief introduction on the new Twin Frozr V i.e Torx fan design, SuperSU Pipe, Zero Frozr, gaming app, etc.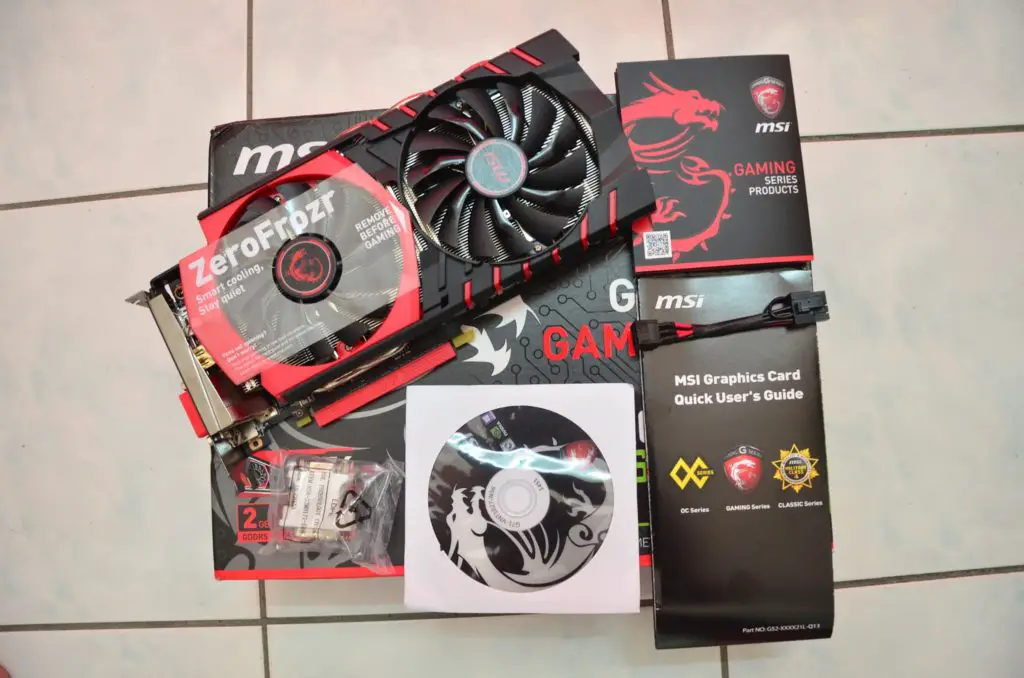 What's in the box? Aside of the MSI GTX 960 Gaming itself, you'll get a product catalog, user's guide, driver CD, 4-pin molex to 8-pin PCIe adapter and a DVI-VGA adapter.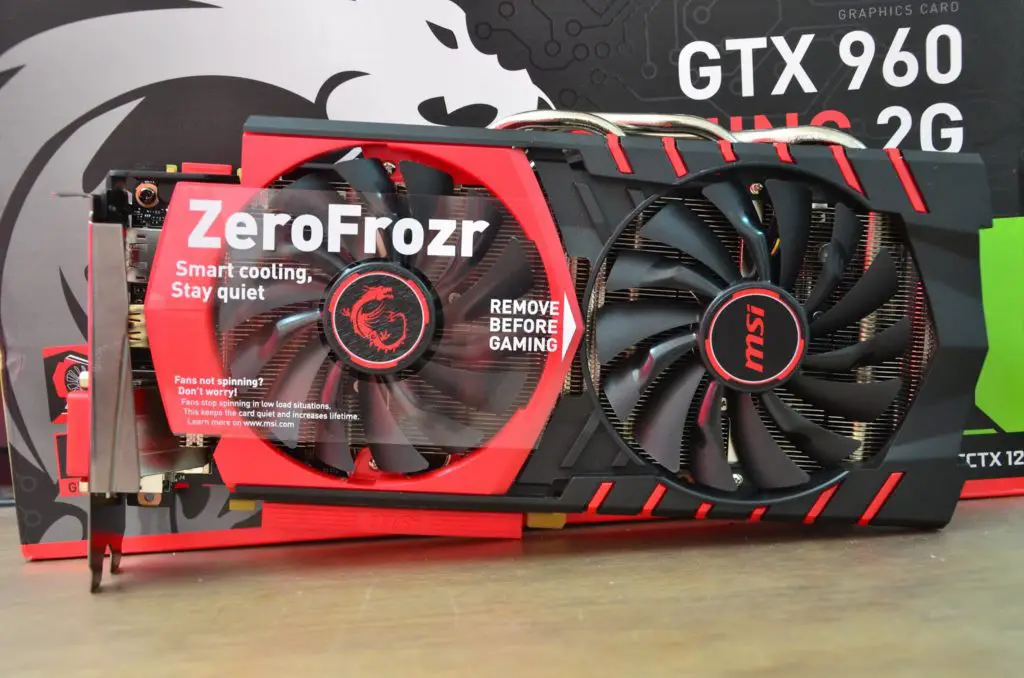 The MSI GTX960 Gaming uses the same cooler found on the MSI GTX980 Gaming, the impressive Twin Frozr V with the Torx fan where MSI claimed capable to generate more airflow to maximize air dissipation to heat sink compared to traditional fan design.
Heat is transferred from the smooth nickel plated copper base through the heat pipes arranged in the shape of the letter S and U throughout the aluminum fins, which pretty much explains how the SuperSU pipes got its name.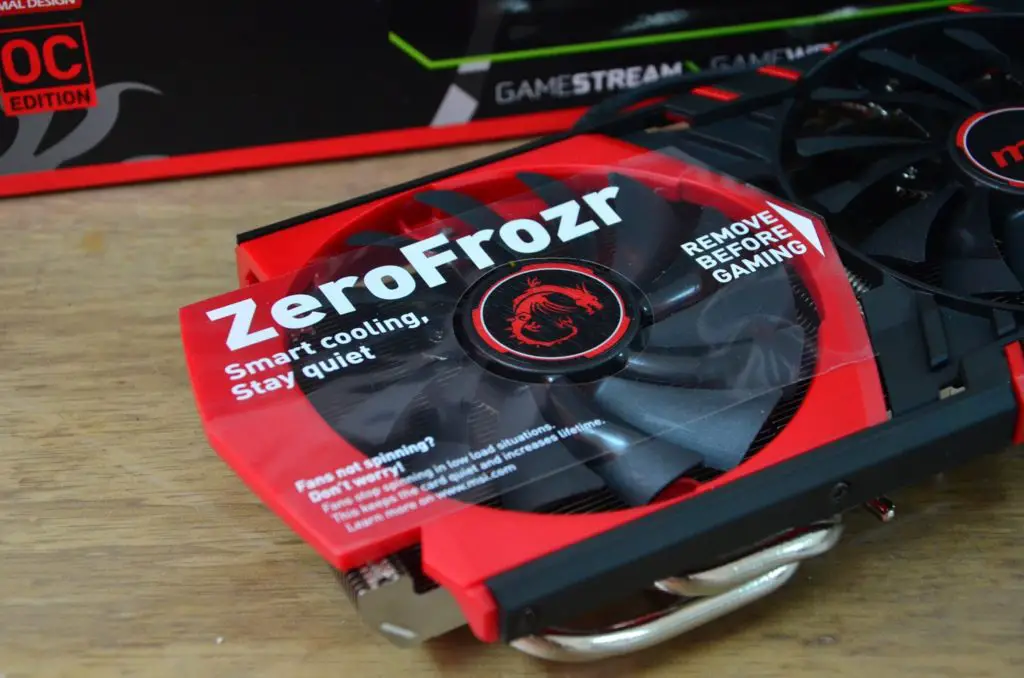 If you've been reading our past reviews on NVIDIA GTX900-series graphics card, the Zero Frozr is actually something similar to the 0db fan design where the fan will not be spinning when it is operating under 60°C to reduce noise and increase the fan's lifespan. Once the GPU reaches 60°C, the fans will turn on to cool the card down.
The MSI Gaming Series logo shines bright during operation.
Don't let the presence of 8-pin PCIe power connector on fool you – powering up the MSI GTX 960 Gaming requires only a 400W power supply. 

The MSI GTX 960 Gaming is capable of 2 way SLI configuration.

The MSI GTX960 Gaming comes with a total of 5 output display ports to satisfy your needs for multiple display monitor, sporting 3 x DisplayPort, 1 x HDMI and 1 x DVI-I.
Removing the Twin Frozr V cooler reveals something rather interesting – that empty spaces!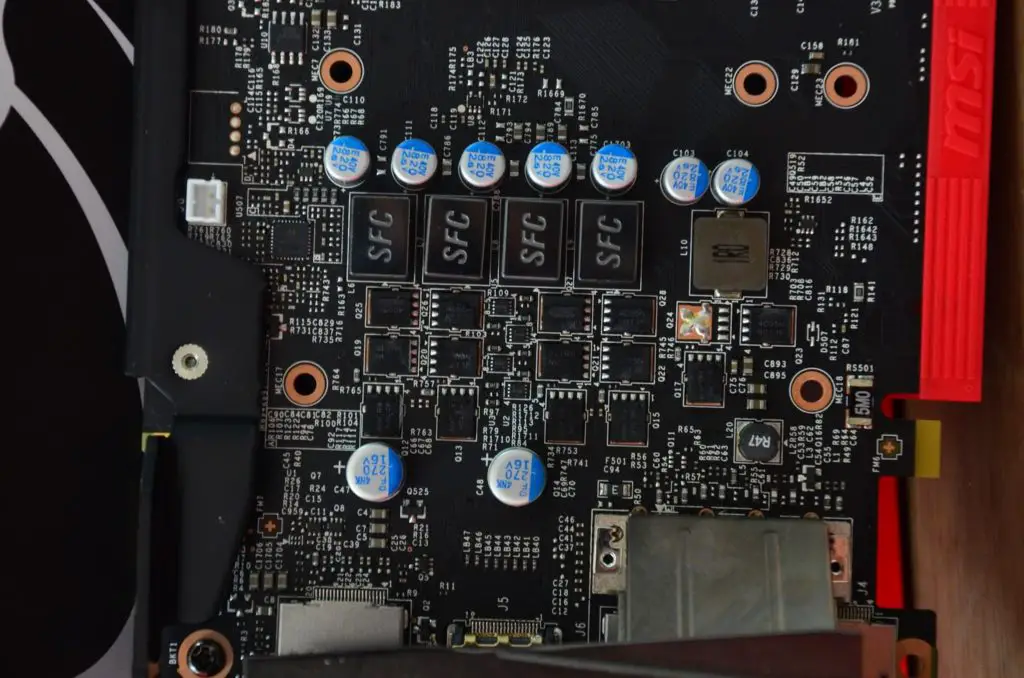 Super Ferrite Chokes (SFC) automatically regulates the power based on the current load to help boost overclocking abilities and system stability. The SFC is also used in the power supply of CPU and other important components.
Samsung K4G41325FC-HC28 VRAM is used on the MSI GTX 960 Gaming are rated to run at 7000 MHz GDDR5 effective.
The heart of the graphics card, NVIDIA's MAXWELL-G206-300-A1.
There's no metal backplate like the ones we find on higher end models, but there's a side frame that will still provide a certain degree of support on the PCB to reduce sagging. 
Test
Rig Configuration

CPU
Cooler

Corsair H100

CPU

Intel
Core i7 4790K

Motherboard

MSI Z97 MPower

Memory

Kingston HyperX Fury 8GB

Primary
Hard Drive

Kingston HyperX Fury 120GB

Power
Supply

BitFenix
Fury 550G

Chassis

–
We've conducted our test by installing the MSI GTX 960 Gaming to our test bench as above and each and every benchmark is conducted in a room with 30C° ambient temperature.
Performance
We ran a few graphically demanding games and synthetic benchmarks in our possession at the resolution of 1920 x 1080, 4x Anti-aliasing.The final result of each benchmark is presented in the form of the graph below: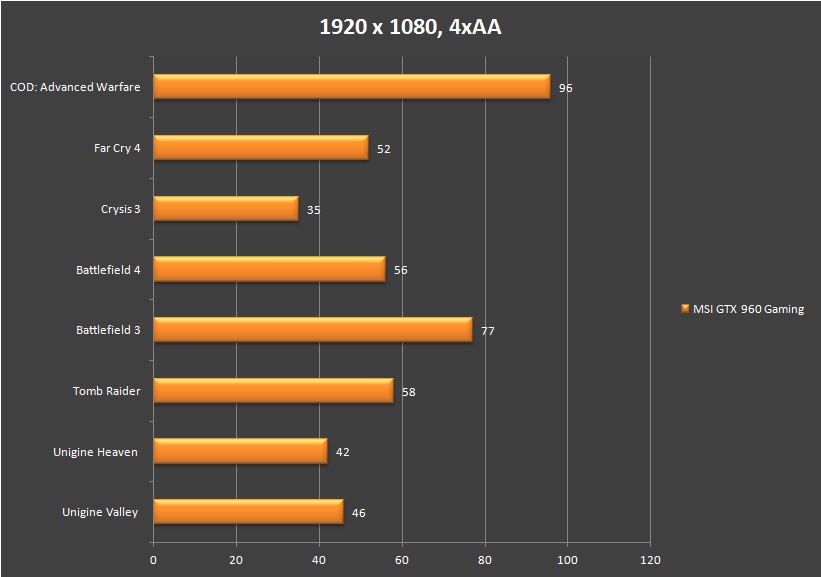 Overclocking
Due limited voltage adjustment, we've only managed to push the ASUS STRIX GTX960 to its a highest stable clock that is able to complete Futuremark 3DMark Fire Strike benchmark of the following values:
GPU Clock on 1449 MHz
VRAM on 8312 MHz
1.2V on the GPU Voltage
The initial Fire Strike score with the MSI GTX 960 Gaming on stock clock speed is 6810.
After applying our overclock settings, we manage to achieve a higher score of 7744. Compared to the initial run result of 6810, that's a 13.7% improvement in performance.


Temperatures
Performance gain via overclock seems pretty good for a card that runs only on a 128-bit memory bus, but what impressed us more is its cooling performance. With idle temperature hovering around 39°C under fanless condition (fan not operating) and peaked only at 66°C when stressed with FurMark, which is something to be expected from MSI's TwinFrozr cooling technology.
Verdict
The MSI GTX960 Gaming has proven itself to be quite capable when it comes to overclocking. With limited voltage tweaking, we've managed to get the GPU clock to run on a stable 1449 MHz and memory clock of 8312 MHz. Compared to the GPU stock boost clock of 1216 MHz and memory clock of 7010 MHz, a 19%-ish improvement in Fire Strike result and a good average performance gain for the game benchmarks. 
MSI Gaming series graphics card comes with its own 0db fan design (ZeroFrozr) that shares many similarities with the 0db fan design on both ASUS Strix and Palit JetStream cards, but its SRP of RM999 is definitely not going easy on the wallet compared to the previous generation card of its tier and you could probably opt for a higher end GTX970 of other brands by forking out a little bit more on the budget. Given its good performance, temperature and decent overclocking capability, we'd say that the MSI GTX 960 Gaming is worthy of a silver award from us at www.tech-critter.com.
Pros
Aesthetic appearance
Factory overclocked
Decent performance even though it's running on 128-bit memory bus
Good overclocking potential
Comes with a metal frame for enhanced rigidity and protection against PCB sagging
Able to maintain a decent idle temperature even without cooling support from fans
Low temperature on full load
Cons
Costly
Limited overclocking capability due to NVIDIA's Green Light Program
Performance could be better if it's running on 192-bit or 256-bit memory bus