The new 12th Gen Intel Core processors and Z690 chipset motherboards are finally here but early adopters don't have to ditch their DDR4 memory kit yet as there are actually Z690 chipset motherboard variants from the Intel board partners that will still support DDR4 memory. The TUF Gaming Z690-PLUS WIFI D4 is one of the latest Z690 chipset motherboards from ASUS that supports DDR4 memory and we'll be taking a quick look at it to see what kind of features to expect from the motherboard.
Package & Accessories
At the front of the box, we can see some of the features which can be expected on this motherboard i.e support for 12th Gen Intel Core processors, Intel Optane Memory, Windows 11, and PCIe 5.0. You'll also find the product specifications at the back of the box, along with some other features such as USB 3.2 Gen 2×2, M.2 SSD support, etc.
The accessories pack includes a TUF certificate of reliability, TUF Gaming stickers, driver CD, user guide, 2 x SATA cable, and a Wi-Fi antenna that come with a magnetic base. It might not seem like it to some but I think the Wi-Fi antenna is probably one of the noteworthy mentions this time because the magnetic base is finally back.
The ASUS TUF Gaming Z690-PLUS WIFI D4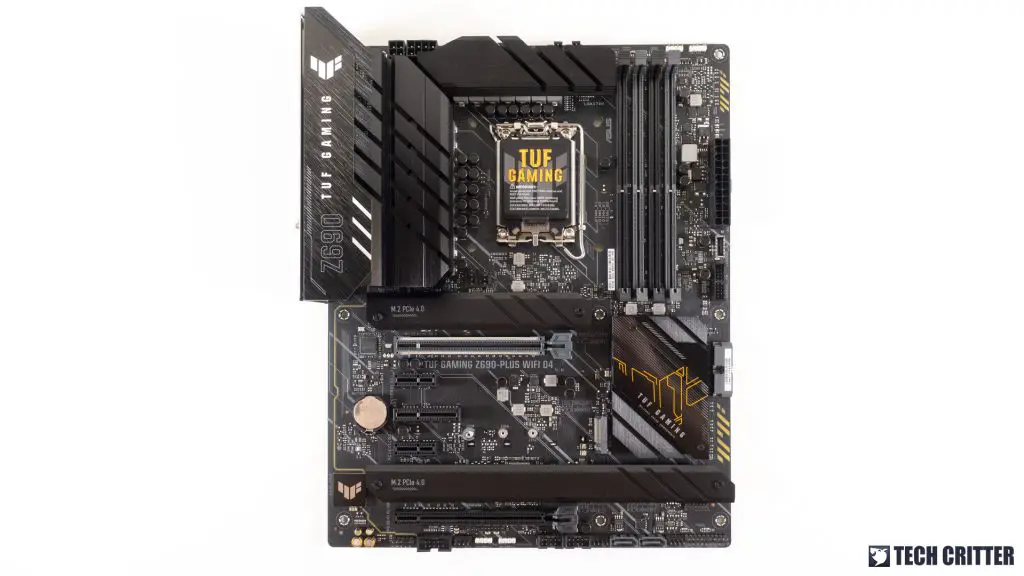 Design-wise, the TUF Gaming Z690-PLUS WIFI D4 is back with the normal ATX motherboard shape that many of us are familiar with. The overall design is pretty similar to its predecessor but it's equipped with support for DDR5 modules and PCIe 5.0, which are some of the latest features only the 12th Gen Intel CPUs and Z690 chipset have for now.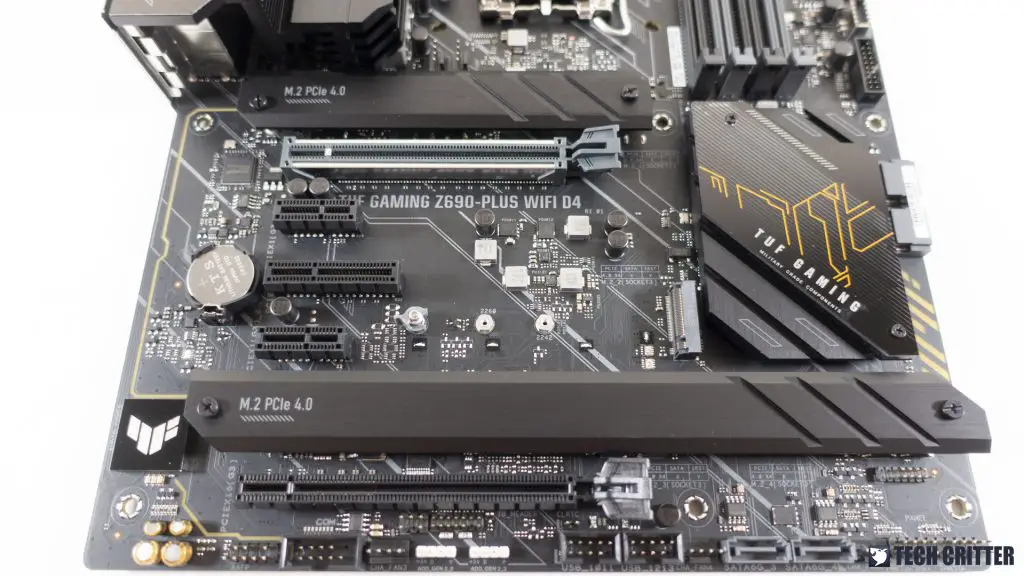 The expansion slots you'll find on the TUF Gaming Z690-PLUS WIFI D4 include a PCIe 5.0 x16 slot, a PCIe 3.0 x16 slot with x4 mode support, a PCIe 3.0 x4 slot, and two PCIe 3.0 x1 slots.
Aside from the M.2 slots located near the chipset heatsink, you'll find more M.2 slots underneath both the long and short M.2 heatsinks, making up a total of four M.2 slots on the TUF Gaming Z690-PLUS WIFI D4. According to the official Intel Z690 chipset schematic diagram, the first M.2 slots are connected to the CPU while the rest of the three are connected to the PCH, all capable of support up to PCIe 4.0 for your high-speed storage device needs.
There are still SATA ports on the TUF Gaming Z690-PLUS WIFI D4 for SATA storage devices but instead of having all the SATA ports grouped in a cluster, ASUS decided to have two groups of SATA ports placed in different locations on the motherboard.
For the power design, the TUF Gaming Z690-PLUS WIFI D4 has an 8-pin and 4-pin for 12V EPS and features 14+1 power stages. While it might seem like the TUF Gaming z590-PLUS WIFI has a better power design at first, but if we compare it with the information we have on hand, the actually has a more powerful MOSFET that is rated at 80A each instead of the 50A rated MOSFET on its predecessor.
Under the VRM heatsink, we can see arrays of power stages with Sic659 label on it, which is supposed to be the new MOSFET from Vishay, rated at 80A each, and an ASP2100 PWM controller to deliver the power required to drive the latest 12th Gen Intel Core processors.
Despite not having a Q-code debug LED, the TUF Gaming Z690-PLUS WIFI D4 is still equipped with a series of debugging LEDs to make troubleshooting easier, one of the QOL features you can find on this motherboard. Unlike the higher-end Z690 chipset models,  the TUF Gaming Z690-PLUS WIFI D4 will come with support for DDR4 memory modules up to 4 DIMMs, a maximum of 128GB in capacity, and frequency up to DDR4-5133 via overclocking.
The onboard audio of the TUF Gaming Z690-PLUS WIFI D4 is a Realtek S1200A audio codec underneath the TUF logo cover and the Nichicon Audio Capacitors that can be commonly seen on a lot of motherboards nowadays. It has an SNR ratio of up to 108dB according to the official specifications, which should be enough for most gamers out there.
For the rear I/O, you'll get a total of eight USB ports, a DisplayPort and HDMI port if you plan to use only the Intel Integrated Graphics, 7.1-ch audio, Intel 2.5GbE LAN and Wi-Fi 6 for the network connectivity. The USB ports include four USB 3.2 Gen1 ports, two USB 3.2 Gen2 ports, one USB 3.2 Gen 1 Type-C port, and one USB 3.2 Gen2x2 Type-C.
First Impression
The TUF Gaming Z690-PLUS WIFI D4 packs all the features you can expect on an enthusiasts-grade but budget-friendly Z690 chipset motherboard for users who wanted to give the latest 12th Gen Intel Core processors a try but with a limited budget. We don't exactly know what kind of performance difference to expect until it's put to the test but given that Intel actually mentioned that the 12th Gen Intel Core processors will perform just as powerful when paired with the DDR4 memory modules, users who are still rocking on their powerful DDR4 memory modules are in luck.
That's all for now and we'll be back with the actual numbers very soon to give you a better idea of what kind of performance you can expect on the new 12th Gen Intel Core processors and Z690 chipset when paired with DDR4 memory instead of DDR5.