TEAMGROUP has just launched its latest high-performance T-FORCE VULCAN SO-DIMM DDR5 memory designed for laptop gamers who are seeking stronger and faster next-generation DDR5 memory.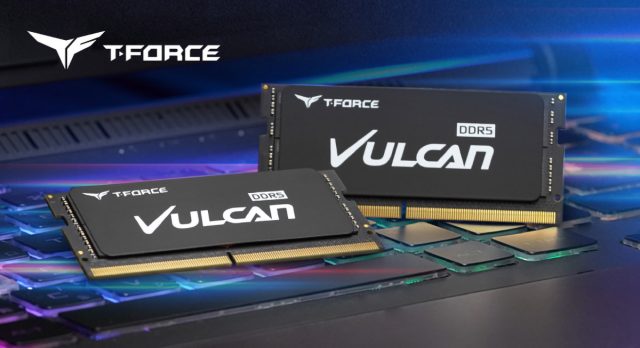 Boasting a high frequency of 5,200MHz and up to 64GB of capacity, the T-FORCE VULCAN SO-DIMM DDR5 provides users with quicker load times and faster boot-up speeds while an ultra-thin graphene heat spreader keeps the laptop temperature in check.
On top of that, the memory runs at 1.1V which means it consumes significantly lower power than DDR4 memory, enabling users to experience higher gaming performance and extend the battery life of their gaming laptop.
Equipped with high-quality ICs for both stability and compatibility, the T-FORCE VULCAN SO-DIMM DDR5 Memory also supports on-die ECC to detect and correct bit errors.
Availability
While there are no words on its pricing yet, TEAMGROUP has confirmed that the memory will be arriving sometime at the end of April 2023.
Kindly refer to the link below for more detail on the T-FORCE VULCAN SO-DIMM DDR5:
https://www.teamgroupinc.com/en/product/vulcan-so-dimm-ddr5